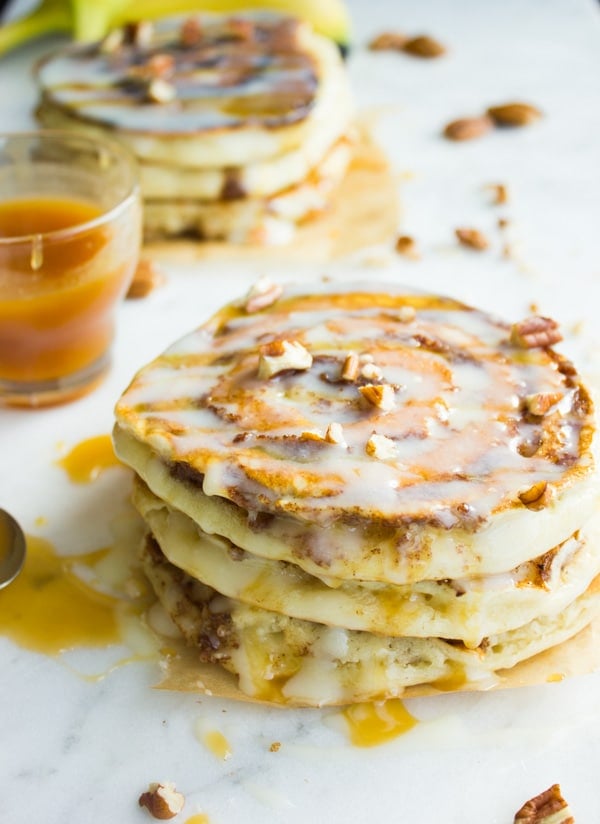 Here's a banana cinnamon roll swirl pancakes recipe that will forever make you a banana cinnamon roll swirl pancake addict! Tender fluffy airy pancakes with a swirl of cinnamon, pecans, banana and sugar — a perfect cross between cinnamon rolls and banana bread and pancakes! Perfectly drizzled with cream cheese icing and caramel sauce, this is a five star breakfast right at your fingertips!
Before things get out of control because I know. I'll get all kinds of blames and shames now for detracting people from their healthy lifestyles, as I bring these DIVINE pancakes to light…I will simple say—hello—can you even imagine how AMAZING these pancakes are?? Ok seriously, they're much lighter than they look—I put a ton of effort in this recipe to make this claim, so don't run away just yet.. 😉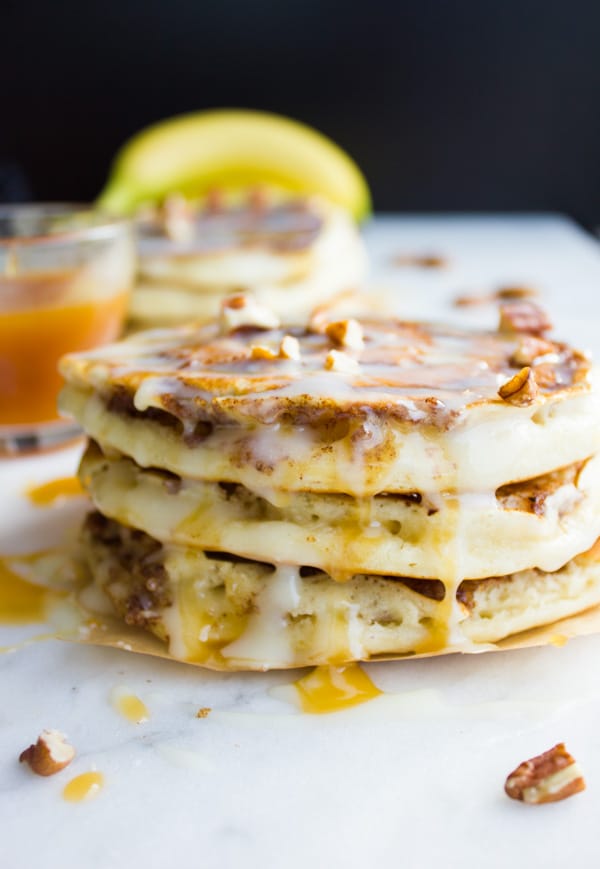 You guys remember these YUMMY baklava pancakes with Maple syrup? They were fluffy, tender, pillowy, cake-y perfection? That's my favorite texture for a pancake and I always use this "base recipe" for this ultimate pancake texture and then I find myself playing around with flavors, toppings, swirls–you name it! Not only do I love that texture, I love that pancake-y taste of that base recipe. So it's not "chalky" tasting like some pancakes I had, it's not salty, it's not too sweet, and it's not eggy tasting either (yes indeed, I DID have all these sorts of pancakes! Ughh!)
Now for the record, I can't claim I grew up on fluffy pancakes–I grew up in Paris and the delicate French crepes were dominating. My mom made them as often as every weekend and sometimes weekday evenings. And when we went out-we would still buy the fresh crepes on the streets of Paris, slathered in jam or nutella. Now don't get me wrong, I absolutely LOVE French crepes, but I just missed out on pancakes! And I definitely missed out on something like these banana cinnamon swirl pancakes!!
Seriously if you're thinking I'm this excited because I have a soft spot for cinnamon rolls and cinnamon rolls anything–in a way you are right– i am obsessed with cinnamon rolls! Like this cinnamon rolls muffins recipe–a quick convenient way of making a divine cinnamon roll, or these pumpkin cinnamon rolls –decadent, soft and lighter than air cinnamon rolls—if you make those recipes you will reason with my obsession! you will actually join in! 😉 And now with these banana swirl cinnamon roll pancakes–hello–it only gets better!!
Banana mixture
pancake cooking
banana swirled pancake
flipped and cooked
So here are a few things to know about this amazing recipe–if you've met some cinnamon rolls pancakes before you'll know they're swirled and studded with a butter sugar cinnamon mixture–which is a good thing no denying! But I lightened things up and added more flavor with the banana here. So the swirl in this recipe has no  butter (yes NONE) and just a tablespoon of sugar because it has mashed bananas. It's got plenty of cinnamon for a boost of flavor and tiny pieces of ground pecans for a slight crunch and nutty taste. Now that's quite optional but oh so good! Any nuts will be perfect here by the way, hazelnuts would top my list.
About the bananas, and this short message goes directly to my adorable little sister for two reasons. A—because her birthday is tomorrow—Happy Birthday sweetest sister!! And B—because she's the only one I met who doesn't like banana desserts! You could use pumpkin puree or apple sauce. I've made this also with butter, vanilla, sugar and cocoa powder–and I loved it, while the girls approved this banana version the most! So I strongly recommend you give it a shot and then play around with as many variations as your heart desires!
So banana swirl cinnamon roll pancakes in a snap: you'll puree a banana, add to it a bit of sugar, plenty of cinnamon and crushed pecans.  Then you'll place this in a ziploc bag and make the pancake batter in one bowl. You'll drop a 1/4 cup of pancake batter on your skillet and then snip off the ziploc bag, and swirl the banana mixture on top of the pancake starting at the centre and moving out (it doesn't have to be perfect!) Then you'll wait a few seconds until the pancake doesn't jiggle and flip it to cook on the other side.. and it's done!
Easy breezy DELICIOUS pancakes all ready to be dressed up! I love a bit of cream cheese icing and a touch if homemade caramel sauce on top. Some more crunchy pecans and a fork please!
Just a couple of tips to get these banana swirl cinnamon roll pancakes perfect every time— don't snip large tip off the ziploc.. start small and test it on  a plate to make sure it makes a good stream of about the size of a cooked linguine pasta. Then when making the swirl make sure to leave at least half inch border around the edges of the pancakes without swirling– because it may leak and burn and make a bit of a mess for you.. start swirling only after the pancakes have been cooking for a few seconds ..and finally..do not be rushed to flip your pancakes after they're swirled. Wait for a few seconds. I always shake the skillet a bit until I feel the pancakes and banana swirl mixture don't jiggle anymore or melt into each other..that's when I flip.
Serve these divine pancakes with any toppings you love–I suggest this cream cheese icing and homemade caramel sauce and make them right away this weekend, share them and double enjoy! 🙂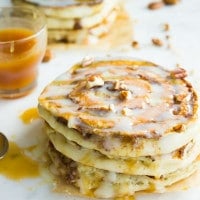 Banana Swirl Cinnamon Roll Pancakes
Ingredients
For the pancakes:

1

cup

of all purpose flour

1½

teaspoon

of baking powder

½

teaspoon

of baking soda

pinch of salt

1

large egg

1

teaspoon

of vanilla

¾

cup

of buttermilk

(or yogurt)

2

Tablespoons

of oil

(or melted butter)

2

Tablespoons

of sugar

For the banana pecan cinnamon swirl:

1

large very ripe banana

, mashed or.pureed (no chunks)

1

tablespoon

of confectioner sugar

2

tablespoons

of cinnamon

1

teaspoon

of vanilla

2

tablespoons

of finely crushed pecans

(any nuts or almond flour)

To assemble:

Cream cheese icing

Homemade caramel sauce
Instructions
Preheat an electric griddle to medium low and spray (or swab) it with a thin layer of baking oil. Alternatively, preheat a non stick skillet over medium heat low heat and spray or swab a thin layer of oil on it.

Make the pancake batter : In a large bowl, add the four mix ingredients and whisk them until all well combined. In another bigger bowl, add all the wet mixture ingredients and whisk them well. Add the flour mix into the wet mixture and using a spatula or even a wooden spoon, mix the pancake batter well until no more flour mixture is visible but the batter is still lumpy.

In a small bowl, combine all the banana swirl ingredients and mix them well then transform them into a ziploc bag and seal it.

Take your ¼ cup measuring cup and fill it a little over half way with the pancake batter and pour it on top of the hot griddle or skillet.

Wait for 15 seconds until the pancake starts to cook and then take your ziploc with the banana mixture and start swirling the banana mixture starting at the center and going in concentric circles till you reach about a half an inch away from the border of the pancake. Leave at least a half inch border without swirling to avoid any mess.

Wait for about 20.seconds until you shake the skillet slightly and feel the pancake and swirl mixture do not jiggle anymore. Then use a spatula and flip the pancake. Cook the pancake for about 30 more seconds until cooked through. Repeat with the remaining batter and swirl.

Serve the pancakes drizzled with cream cheese icing and caramel sauce if desired and enjoy.