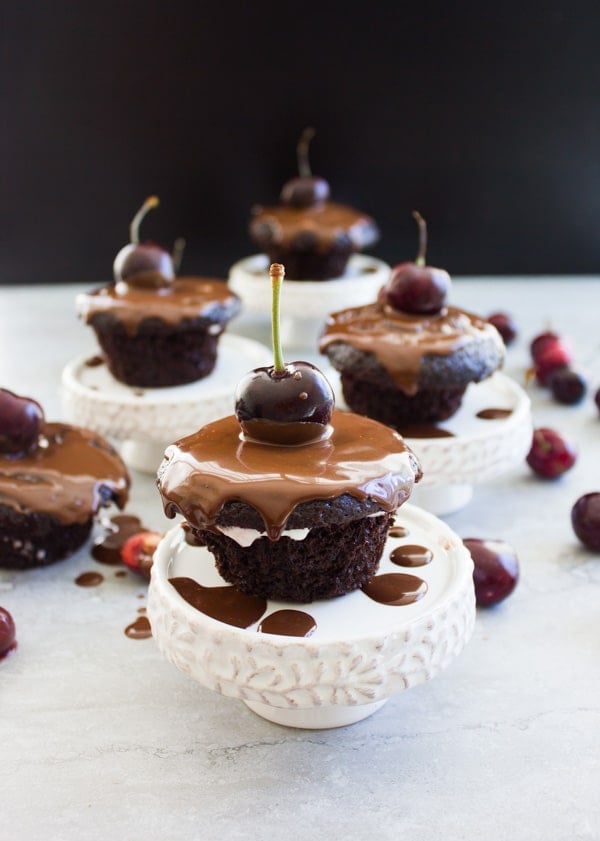 This Easy Mini Black Forest Cupcakes recipe is a simplified version of the classic favorite. It's much quicker, easier and just as divine—so you won't miss out on that deep dark chocolate taste, the creamy sweet cherry filling, and the luscious chocolate ganache on top! A super simple recipe to enjoy or impress with. Give yourself a baking challenge and you'll enjoy a divine taste of success!
I heard it's national Chocolate Day today!! Is it? Happy Chocolate Day friends 🙂 It's really worth celebrating and specially now I've noticed it's been quite a while I haven't posted anything chocolate-y on the blog! How and where did the time go?!! I guess I was swamped with a never ending "to-do" list—which didn't include a special treat like these Black Forest Cupcakes! But today it's treat day.
I actually have another reason to treat myself–it's the day after my cooking class. So since I've been cooking all evening yesterday, today I treat myself to a baked treat and no cooking lol. To be honest I've been having awesome cooking classes since we moved a few months ago. It's always awkward when I go in to a new cooking school because it's that feeling of who's nice and who's not, who expects what and etc.. But I've been so thankful so far my experiences have been amazing with the 2 new cooking schools I'm working with! And the guests who attend are always what make the class fun! Yesterday I had one of those fun classes. Lovely people came in, I made a Romantic French Dinner menu which reminded me of the years I lived in Paris, and everyone was enjoying the class and food!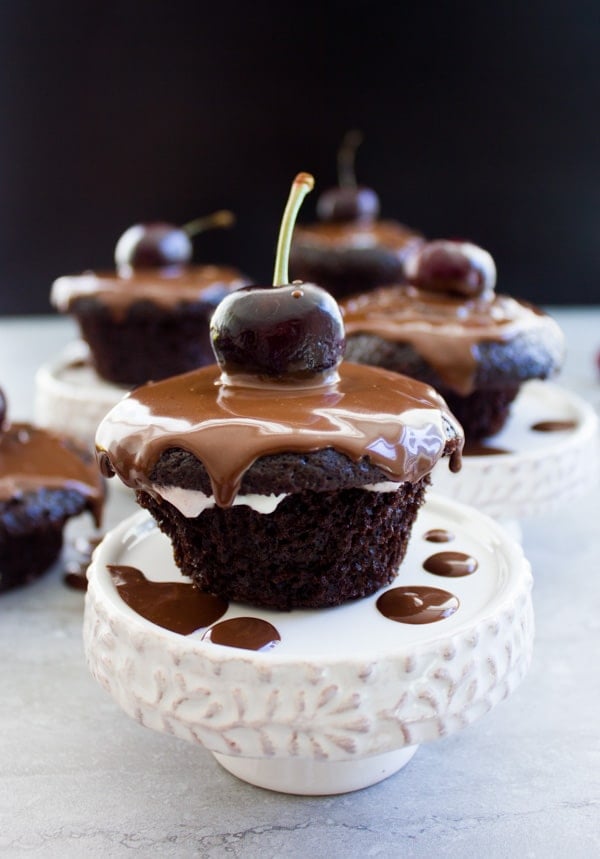 So while we didn't make those sweet Black Forest cupcakes yesterday, we still made a mini Pear Blueberry Vanilla Clafoutis for dessert ( Keeping it French for the cooking class). And I can't stress enough how I love mini everything when it comes to food! There's a myth that making food in mini or individual servings is harder or more time consuming. But the truth is, it's just the opposite. You may spend a few extra minutes of prep work—but you save more minutes during cooking/baking. Just take a look at those mini raspberry cheesecakes, mini chocolate pudding cakes, kale veggie mini frittatas, chocolate dipped mini pavlova, mini Brooklyn Blackout cakes, Tri-colored mini potato gratins..and you'll know what I mean!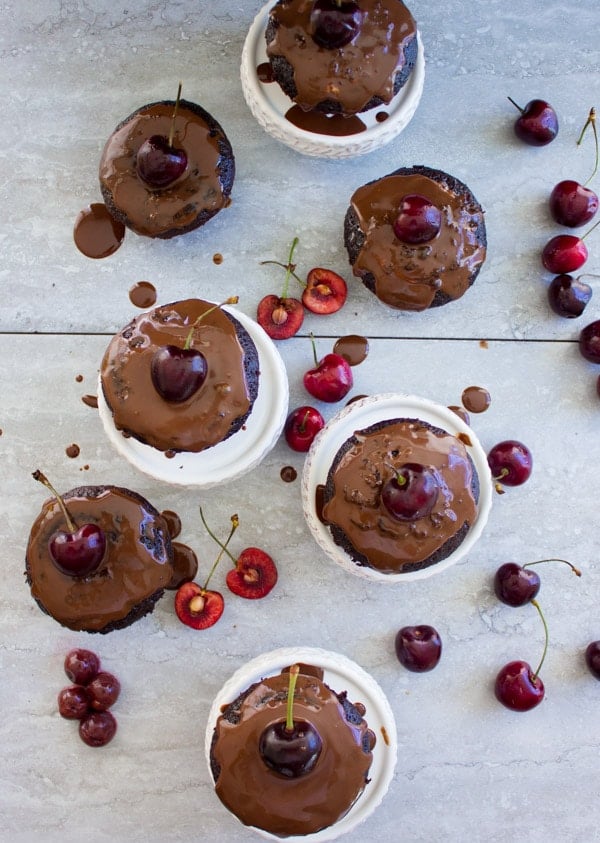 Back to these Black Forest Cupcake beauties. They start with one of my all time favorite chocolate cakes which you'll find in this Mini Brooklyn Blackout cakes recipe. It's a light as air, yet intensely chocolate-y chocolate cake! I love me a fluffy chocolate cake. And this one happens to be so simple and seriously fool proof—so you can't go wrong with it. The filling is a classic mashed cherries with vanilla whipped cream. You can use frozen cherries or canned (I prefer frozen and thawed). You'll simply chop those cherries and add them to the whipped cream (which I love adding a bit of cream cheese to it for richness).
Quick How To:
Once the cupcakes have baked, you'll slice the tops off and using a melon baller, scoop out as much of the bottom part as you can, leaving the cupcake shape intact. Then you'll fill the scooped area with the sweet rich cherry mixture and place the chocolate cupcake top back over the filling. And it's that easy and it's that GOOD! Now you can serve them as is for a lighter fruitier version of the Black Forest cupcakes, or you can go the extra mile ( which I strongly recommend!) and make a 1 minute chocolate ganache to drizzle over your cupcakes.
The basic ganache is simple a 1:2 ratio of cream to chocolate. So you'll be melting 1/4 cup of cream with 1/2 cup of chopped chocolate in a microwave safe bowl and then whisking them together until smooth. That's it. Pour this luscious velvety smooth chocolate ganache over your cupcakes and you're in for a REAL treat! I love making those ahead of time—they keep beautifully in the fridge for up to 5 days! They also transport quite well so make them for a potluck, coffee morning, or Birthdays! And since we're all thinking of Valentine's Day now—how sweet and special would those be?!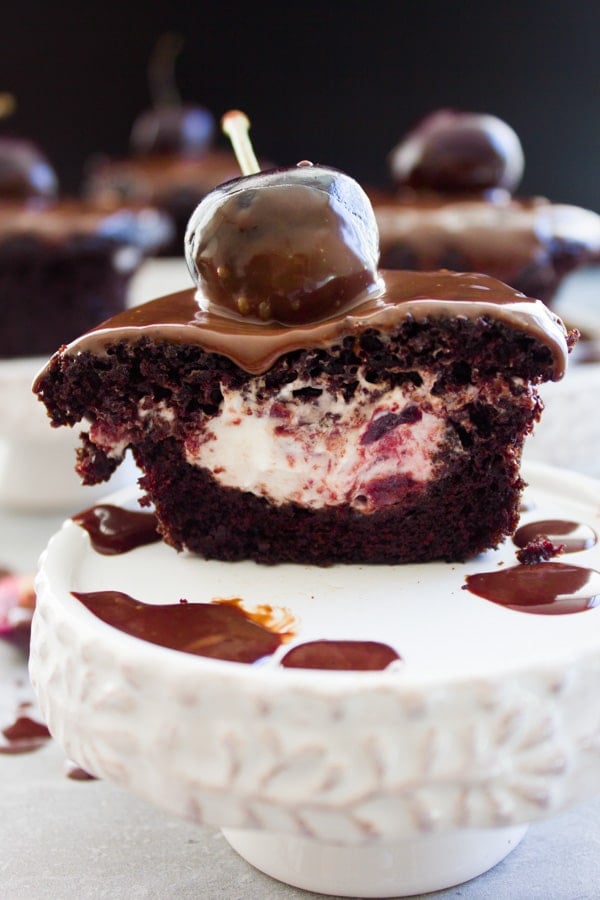 These Black Forest cupcakes are easily personalized to your taste—think raspberries, strawberries, figs or any fruits you love with chocolate! Add in chocolate chips or nuts to your fruit cream filling for a more chocolate-y cupcake. You can also go for a white chocolate ganache. Make them as is or twisted, you'll LOVE them! Super simple, super fancy looking and super YUMMY tasting dessert! Enjoy! 🙂
Recipe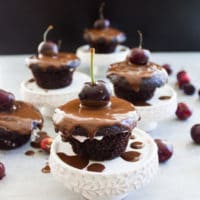 Easy Mini Black Forest Cupcakes
Ingredients
1

fluffy chocolate Cake recipe from this Mini Brooklyn Blackout Cakes

Cherry Filling:

1/2

cup

of heavy whipping cream

2

ounces

of Cream cheese

1/3

cups

of confectioner's sugar

1

teaspoon

of vanilla

2/3

cup

of diced frozen pitted sweet cherries

Chocolate Ganache:

1/4

cup

of whipping cream

1/2

cup

of chocolate pieces

(or chips)
Instructions
Preheat the oven to 375 degrees F. Prepare the fluffy chocolate cake and bake in to a standard muffin pan.

Meanwhile, prepare the cherry filling. In a large bowl, add the cream, cream cheese, confectioner's sugar and vanilla. Using an electric mixer, whip up the filling until fluffy and stiff—about 2 minutes. Then gently fold in the diced cherries. Cover the cherry mixture and set in the fridge until ready to use.

When the muffins are done, allow them to cool for a few minutes. Then using a small knife, slice off the tops of the muffins. Take a melon baller and scoop out some of the cake from the bottom part of the muffins while keeping the shell intact.

Spoon about a tablespoon (more or less to taste) of the cherry filling in the bottom of each muffin bottom and place the muffin top over it.

Make the ganache: In a small microwave safe bowl, add the cream and chocolate then microwave for 40 seconds. Take a whisk and whisk the chocolate until smooth. Let the chocolate ganache cool for a couple of minutes (the ganache will thicken as it cools). Spoon a tablespoon (more or less to taste) of the chocolate ganache mixture over each of the muffin tops. Enjoy 🙂