These mini Brooklyn blackout cakes recipe is a chocolate lovers dream. Super tender, light and fluffy chocolate cake that is layered with silky creamy chocolate pudding and covered all over with more chocolate cake crumbs. As intensely chocolatey as they are, these cakes are actually very light and don't leave you feeling heavy at all!
This is another chocolatey treat—no one can get enough chocolate around here! But these mini Brooklyn blackout cakes are really one of the most tender pillowy soft chocolate cakes you'll ever have! And they have no butter or cream, for that they absolutely don't leave you feeling heavy or guilty—just a feel good chocolate dessert.
These mini Brooklyn blackout cakes are super tender for two reasons, they start with a pillowy light chocolate cake—which an old recipe from Hershey's—I believe widely known as the Hershey's chocolate cake. It gets all of its moisture from: water! Super obvious, but super brilliant—And so it has just a little bit of oil, an egg and milk with cocoa powder and it's all ready. The batter for this particular cake is very runny, almost like a thick syrup, not cake. Which makes it ideal for this recipe—a simplified version of the Brooklyn blackout cake.
I tried to cut out the steps of baking two cakes and splitting each in half then filling each layer with a chocolate pudding. So I made use of this runny batter chocolate cake recipe and baked it in a baking sheet as a whole large sheet of thin chocolate cake. Then I took a circular cookie cutter and cut out many tiny cake circles, and I topped them all with a nice layer of chocolate pudding.
Once all cakes are topped with the pudding and ready, I stack two on top of each other. And another trick by baking the chocolate cake like this in a baking sheet into a large thin layer and cutting it out, is I get plenty of crumbs from cake pieces that missed the cut. I then take those cake pieces and crumble them into fine crumbs, and stick them on the tops and sides of the stacked, pudding layered chocolate cakes.


It might sound like many steps, but in fact it's very simple. The cake this way bakes in just 15 minutes. And now on to the filling. I always like to prepare it ahead of time, it's always best to have it ready beforehand so it's nice and cold when you need it.
These mini Brooklyn blackout cakes are made with a light chocolate cake, but the best part is the filling right? You have two sinfully chocolatey chocolate pudding filings, one is the good old chocolate pudding recipe. This is a dense creamy chocolatey pudding that's cooked on the stovetop for just a few minutes and chilled to pudding perfection. It makes a beautiful compliment to the tender light cakes.
The other option is this instant chocolate chia pudding—another dense creamy chocolate pudding that's zapped in a blender for an instant chocolate fix! The beauty of this pudding is it's obviously much healthier and sugar free. But it has a different taste than the good old chocolate pudding, so at the end—let your taste guide you, or the calorie count you're following guide you, or just try them both and save each for a separate occasion! Try them today and enjoy!:)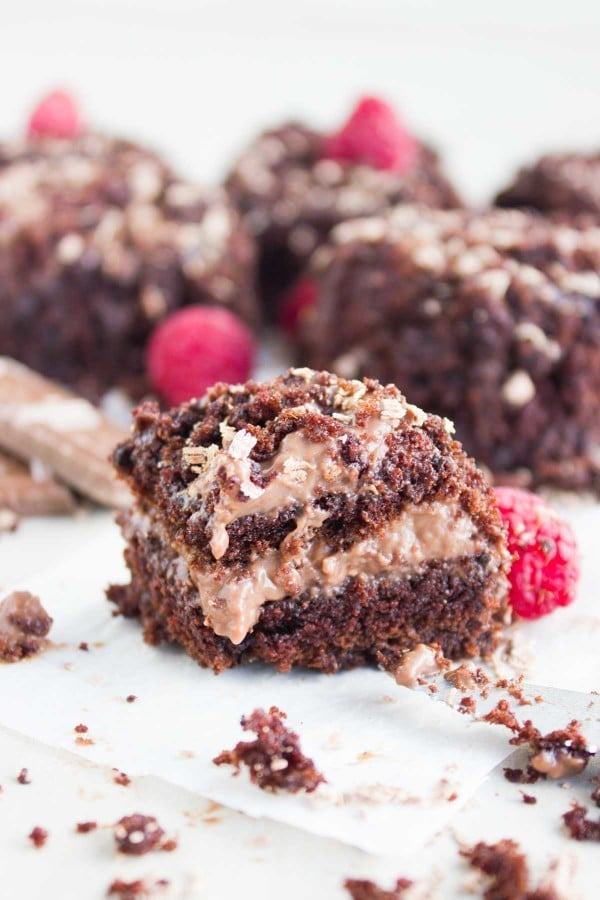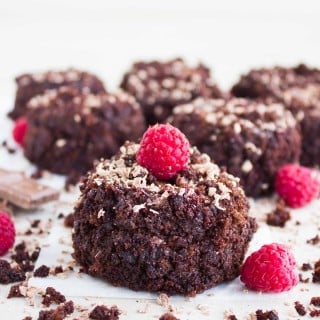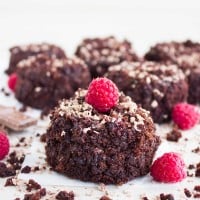 Mini Brooklyn Blackout Cakes
Ingredients
3/4

cups

all-purpose flour

1/3

cup

of cocoa powder

3/4

teaspoon

of baking powder

3/4

teaspoon

of baking soda

pinch of salt

1

egg

1

cups

sugar

1/2

cup

of milk

1/4

cup

of oil

1

teaspoon

of vanilla

1/2

cup

of boiling water

Filling:

Good old Chocolate Pudding

Instant Chia Chocolate Pudding
Instructions
Preheat the oven to 375 degrees F. Line a medium size baking sheet with parchment paper.

In a bowl whisk the flour, baking powder, baking soda and salt.

In another large bowl, whisk the sugar, cocoa powder, egg, milk, oil and vanilla and whisk it well. Then add in the flour mixture.

Add the hot boiling water to the cake batter ad whisk it well.

Pour the cake batter on top of the parchment paper lined baking sheet and bake for 12-15 minutes until it sets. Let the cake cool down for 10 minutes while you get the pudding ready.

If using the

good old chocolate pudding

, remove it from the fridge for about 10 minutes while the cake was baking to remove some of the chill out.

Take a cookie cutter (size and shape of your choice) and cut out as many pieces of the chocolate cake as you can.

Then take about a tablespoon of the pudding and top each cake with it, spreading all the way to cover the tops and sides of each cake piece.

Stack those pudding cake pieces on top of each other—as high or low as you like.

Finish off the sides and tops with extra pudding. Take the left out cake pieces that are wasted and crumble them into tiny crumbs.

Stick those cake crumbs on the tops and sides of each stacked cake to cover it all up and serve.
Nutrition Facts
Mini Brooklyn Blackout Cakes
Amount Per Serving
Calories 152
Calories from Fat 54
% Daily Value*
Fat 6g9%
Cholesterol 15mg5%
Sodium 80mg3%
Potassium 88mg3%
Carbohydrates 25g8%
Protein 2g4%
Vitamin A 36IU1%
Calcium 29mg3%
Iron 1mg6%
* Percent Daily Values are based on a 2000 calorie diet.