This shop has been compensated by Collective Bias, Inc. and its advertiser. All opinions are mine alone. #KingOfFlavor #CollectiveBias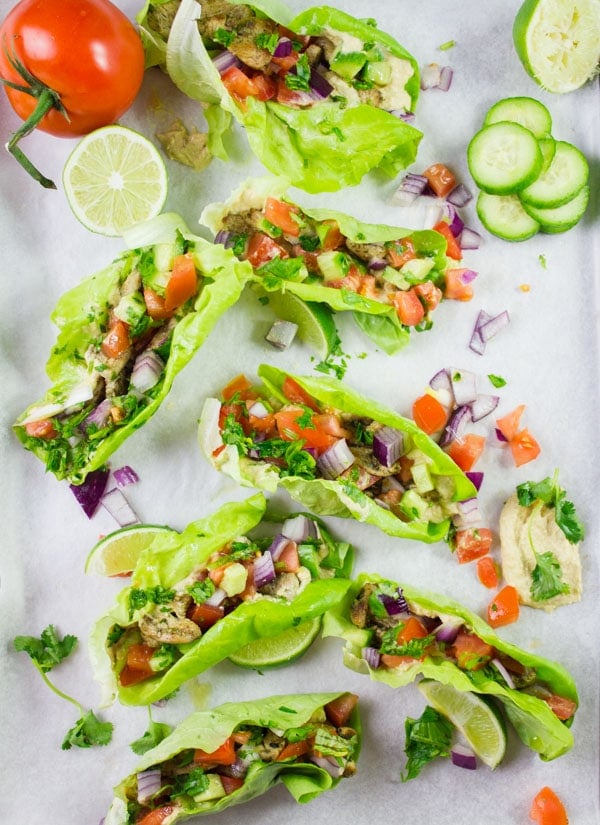 Craving succulent flavorful chicken shawarma? Here's one my favorite ways to serve it up—a Chicken Shawarma in Lettuce Cups recipe that packs all the flavors and spice, the hummus and toppings, minus the guilt! This recipe is just perfect for a healthy light dinner or for entertaining—thinking of healthy Big Game party food yet? Look no further!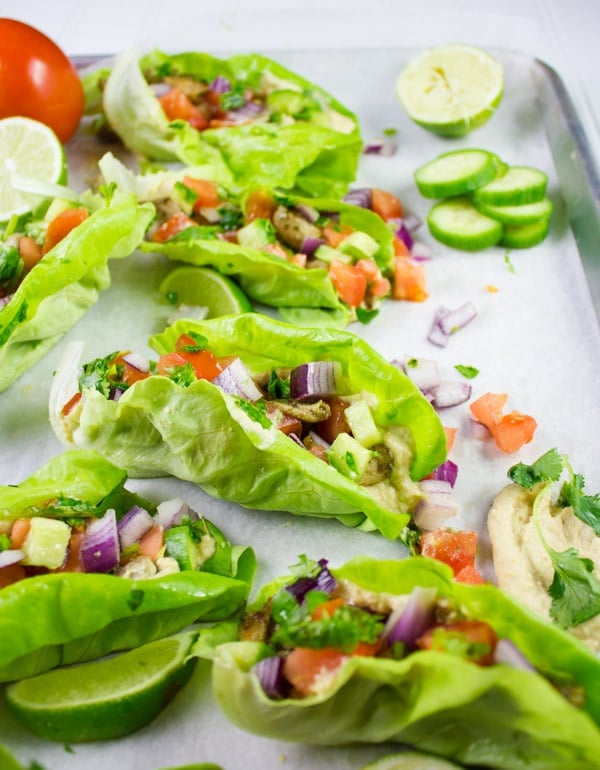 Hey Happy 2017 ! YES it's here already! How's your year starting off—like resolutions and all? Well mine is sort of dragging some bits and pieces of 2016, you know like kids still getting over some flus and fevers from Christmas. So I'm still trying to hang on to the Holiday mood, even though I should move on to New Year's resolutions and goals.
Ok goals is a bit of an exaggeration, let's just stick to resolutions. I've made a whole big list, it stretches from things like: being happier with the little things + less whining about them, volunteer more at the girls' school, stick to my chiropractor sessions, never swap my lunch for a big cup of coffee and more..oh and also cut back on some carbs! Speaking of carbs, they're still one of my best friends—but I'm trying to cut some off, specially after the Holiday season. So if a recipe can be just as good without, then I'm all for it. Because well we all know there are some recipes and times in life when we simply can NOT cut off our beloved carbs. But before we get to the food, I wanted to share this amazing sweepstakes hosted by El Yucateco®. El Yucateco® is giving entrants the chance to win one-of-a-kind tailgating and homegating packages and MORE!
#KingOfFlavorSweepstakes (Super Bowl)
Today's chicken shawarma is a perfect example of finger licking deliciousness minus the carbs. And with the playoffs, I LOVE having healthy flavorful options like that because everyone's sick of salads already. So imagine all the flavors of chicken shawarma, and even better since I added my newly discovered favorite hot sauce: El Yucateco® to the marinade!. Do you remember those juicy flavor packed GameDay Habanero Mini Burgers? I've used the same El Yucateco® sauces to flavor up the humble burger and take it to another level—more finger licking Big Game food for you to try!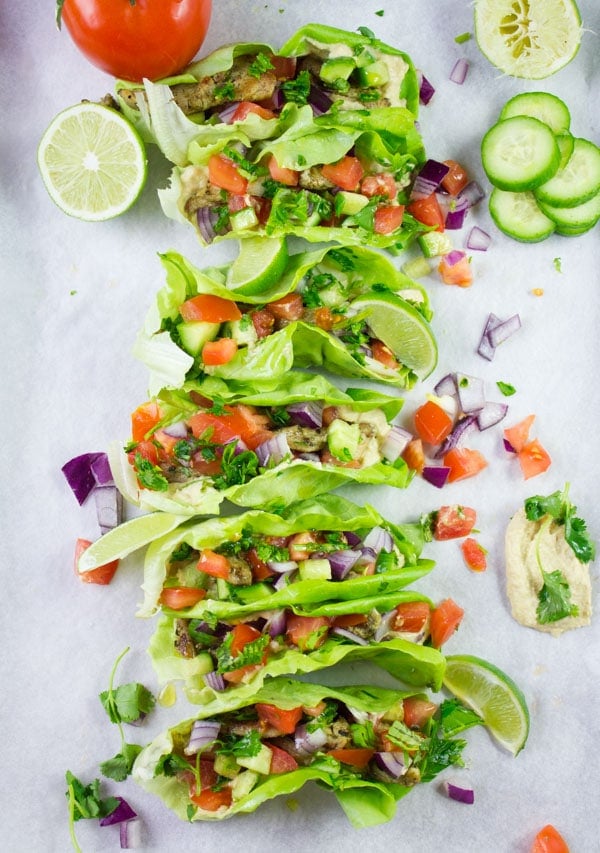 The beauty of these chicken shawarma pick me up lettuce cups is that they're really different from your good old fajitas or your classic shawarma. It's like they're a fusion, the best of both worlds. The chicken is flavored with all the classic shawarma spice, and then some El Yucateco® Green Habanero sauce is added over to infuse much more flavor—real habanero flavor. There are a few varieties of these sauces which I've tried and loved. The Red Chile Habanero (which was the star of my habanero burgers recipe), the Black Label which is GREAT to use with this recipe instead of the Green Habanero for a smokey roasted habanero flavored chicken wrap. Now add some salsa to that version and you've got another great healthy recipe to enjoy!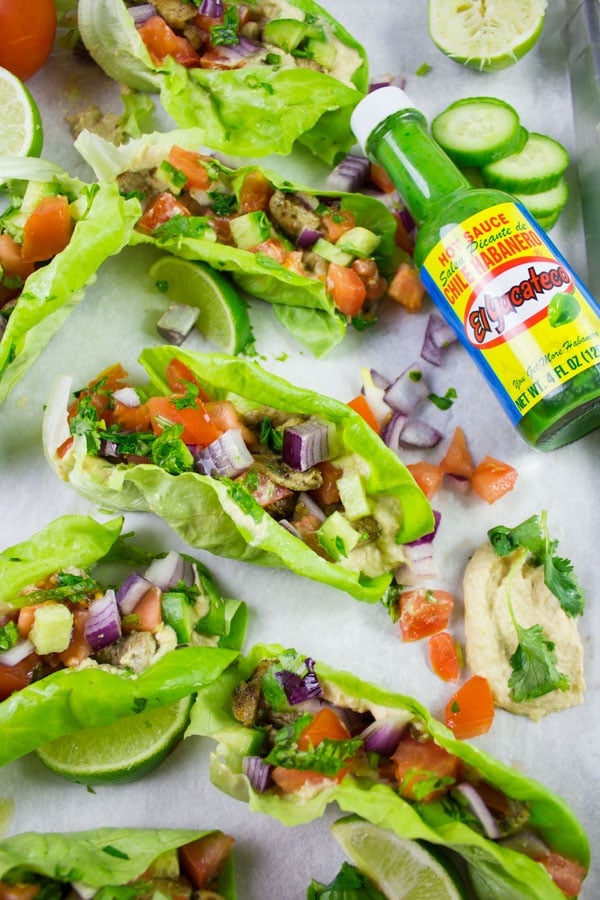 Back to the chicken shawarma for Game Time. A few times I've hosted with team themes, colors and everything. It went great on some occasions, and not so well on others—depending who the guests were and which team won or not. SO for the last couple of years, all my Big Game parties have been just about the game, the company and the FOOD. And I have to say, it's been so much more fun this way 🙂 A few tips I always stick to: Chose food that's prepared well in advance (hint hint this chicken shawarma), always chose food that's in individual portions (or pick me up style). Even if you're making let's say a dip, once the dip is made, divide it into individual cups (clear plastic cups are best) and serve the dip in pick me up cups. Have your favorite chips and popcorn in small plastic cups too. Don't focus too much on sweets or desserts, I always go for fruit kebabs or fruit platter. Drinks, drinks, drinks! Having a drink bar is so easy and your guests will love mixing and matching drinks all along the Game. Be sure to have toppings, syrups and more fruit for the drink bar too. Use disposable everything for easy clean up. Prepare the table set up the night before, and have the food portioned and ready a couple of hours before the Game, that way you can relax and enjoy the Game too!! And finally, HAVE FUN! 🙂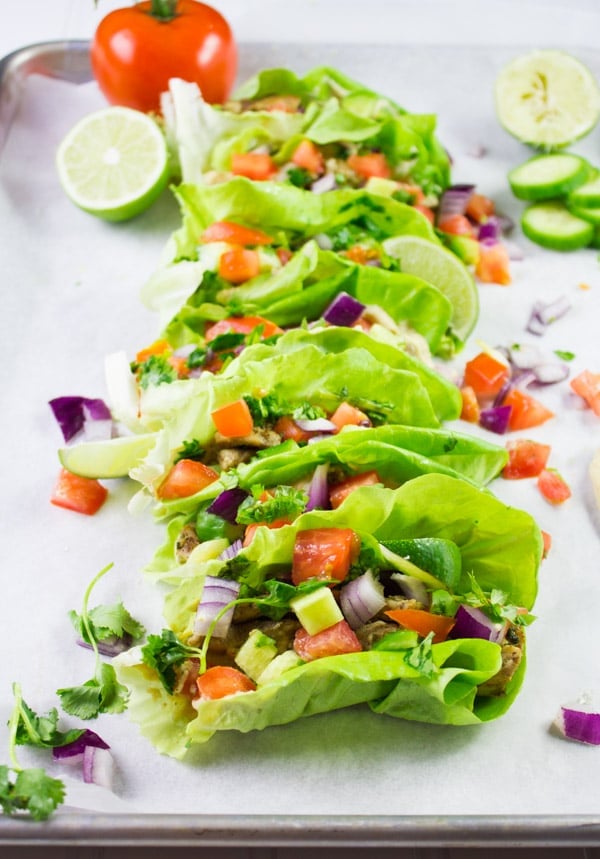 Here's how easy these chicken shawarma in lettuce cups come together. You'll cut the boneless skinless chicken breast into small strips, then you'll season it with salt, pepper, oregano, minced garlic, allspice, fresh cilantro, lime juice and a heaping quarter cup of El Yucateco® Green Habanero sauce. Toss everything together and sauté the chicken over high heat until cooked through. Then comes the fun part, assembling the chicken wrap. I love using Boston lettuce cups because they're pliable and easy to shape, yet they're sturdy enough to handle my toppings.
A spread of hummus at the bottom of the lettuce is essential to get all the fillings and toppings to stick together to the lettuce, and it adds so much flavor. You can definitely use store-bought hummus, but I would urge you to make this Ultimate Hummus Dip if you can spare 5 more minutes. I pile up the flavor packed chicken over the hummus, some diced tomatoes, red onions, cucumbers and a mixture of chopped parsley and cilantro leaves. A squeeze of lime over that and you're all set. Once all your toppings are piled up, press the wrap firmly with your fingers so it holds together and sticks together (thanks to the hummus). Arrange those healthy bites of chicken shawarma goodness on a tray and watch them disappear at your next Game Time party or gathering.
Look for the El Yucateco® hot sauces in the ethnic aisle of your local grocery  store (you'll find it with the salsas). I bought mine at Walmart, but I found them at Target and many other stores. They're cute glass bottles that fit perfectly in your purse—great way to sneak them at your next potluck 🙂 And try different varieties to make this chicken shawarma in endless ways! Like the El Yucateco® Black Label for a smokey roasted habanero flavor and top that with a mango salsa for example. Use guacamole to spread over the lettuce or sour cream instead of the hummus.
Either way, you need to try this recipe—it's just that GOOD! And a healthy way to kick start 2017 with plenty flavor. If you're making this for a crowd, try it for the playoffs. It's made well in advance and kept in the fridge, it's also easy and quick. Or you can prepare the chicken and toppings and let your guests assemble their own wrap—like a taco/fajita bar! Seriously delicious. ENJOY! 🙂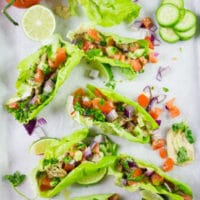 Chicken Shawarma In Lettuce Cups
Craving succulent flavorful chicken shawarma? Here's one my favorite ways to serve it up—a Chicken Shawarma in Lettuce Cups recipe that packs all the flavors and spice, the hummus and toppings, minus the guilt! This recipe is just perfect for a healthy light dinner or for entertaining—thinking of healthy Big Game party food yet? Look no further!
Ingredients
Shawarma:

2

lbs

boneless skinless chicken breasts

, cut up into strips ( roughly half inch wide and 1.5 inch long)

1/2

teaspoon

of salt

1/2

teaspoon

of black pepper

1

teaspoon

of dried oregano

1

teaspoon

of allspice

4

large cloves og garlic

, minced

juice of 1 lime

1/4

cup

of minced parsley and cilantro combines

1/4

cup

of El Yucateco® Green Habanero sauce

2

teaspoon

of olive oil for sautéing

Assembly:

2

heads of Boston lettuces

, leaves disassembled form the stem but left whole

1

cup

of Hummus

(store bought or this Ultimate Hummus Dip)

1

cup

of diced tomatoes

, about 2 large ones

1

red onion diced

2

small cucumbers

, diced

chopped cilantro and parsley leaves

lime juice
Instructions
In a large bowl, add the chicken and all ingredients for the shawarma without the oil. Toss the chicken and flavoring together and set aside to infuse the flavors for 10 minutes at least and up to 1 hour.

In a large skillet over high heat, add the olive oil.

When the skillet is well heated, add in the chicken.

Sauté the chicken stirring every minute until it's cooked through and slightly golden. Turn off the heat and allow the chicken to cool for just a couple of minutes to be easier to handle.

Take one lettuce leaf at a time, and spread a tablespoon of hummus over the length of the lettuce and going slightly to cover half the sides.

Pile up some chicken over the hummus and top that with tomatoes, cucumbers and onions.

Sprinkle some chopped cilantro and parsley and a squeeze of lime.

using your fingers, press the chicken wrap firmly so the sides of the lettuce stick to the toppings and holds it's shape. The hummus will make the whole wrap stick together.

Arrange the chicken shawarma wraps on a tray and serve.Enjoy 🙂

This recipe can be prepared 8 hours in advance, wrapped and kept in the fridge. It will be served cold in that case.

The chicken and toppings may be prepared separately 2 days in advance. The chicken can be heated a the time of assembly.