It's cherry season, and that means we need a Sweet Cherry Buckle recipe. A sweet treat that comes together in a bowl, and layered on a baking pan with fruit at the bottom. It bakes into a fluffy cake like dessert with a buckled top. The buckle is spiked with a bit of the fruit, while the remaining cherries stay at the bottom—sweet and juicy! If you're not a cherries person, go for blueberries, blackberries, raspberries, peaches..or a combo maybe?
You guys I love this cherry buckle so much that I bored my husband with it for so many years. It's one of those no brainer quick fruit desserts that you can pull up last minute for a crowd. Now for the record, the hubby is not a fruit dessert person (unless he's faced with no other option)— he'll always look for anything chocolate, and when he gives up, he'll go for the fruit dessert. This buckle recipe is made in a similar way to one of his favorites—those incredibly divine Mini Chocolate Pudding Cakes. A MUST TRY recipe for chocoholics 😉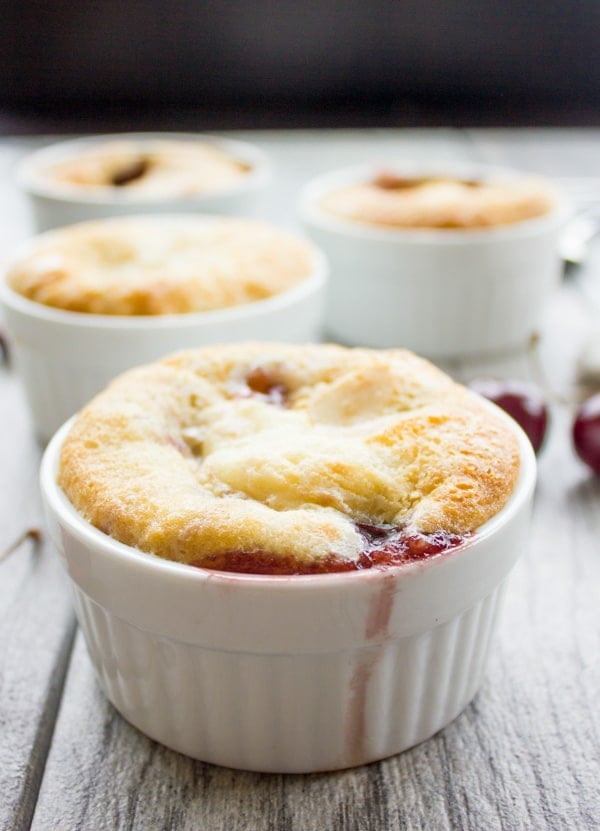 Back to this sweet cherry buckle. It's such a special recipe and dear to my heart as I got it from a dear old friend. My husband used to live in Miami and had a really sweet neighbour who used to often bake some treats and share them with him. When we got married, she did the same for me. And she connected me to a few other of her baking friends from across the nation. At that time, I was like in my early 20's and the baking friends were a group of grandmas who spent their time baking and sharing their recipes online. I don't know what it was that made absolutely fall in LOVE with that group.
It could be the LOVE for baking and sharing recipes, but mostly I was in LOVE with their kindness. They treated me like their little kid, they encouraged me, they helped me, they shared their knowledge generously…in a way they reminded me of my mom—at the time my parents were in Vienna and I used to miss my mom terribly, and they always made me feel better. I used to hang out with this wonderful group of ladies more than I did with my friends!
So one lovely lady J. used to live in Oregon handed me this Cherry Buckle recipe. It was like her go to fruit dessert with friends and family, and was a hit every single time. I tried it and loved it! I made it at a few occasions and it was truly a HIT. The beauty of this cherry buckle is you can make it with any juicy fruit—any. Think a type of berry or a combo, peaches, mango, apricots and probably pears. The most important TIP here is to make sure the fruit is cut up into dice size pieces and the fruit has to be FROZEN.
This tip makes sure the cherries will hold their shape once the cherry buckle is baked. If you use berries ( I know J's favorite berry here is blackberry, and it's really fabulous!), make sure your berries are frozen. Strawberries are another great berry for the buckle, but I always cut them up and freeze the chunks, same with peaches, apricots and mangoes. I personally don't love the apples/pears version —just because there are so many great ways to use them up. If you've got some apples and pears, I urge you to try this Pear Blueberry Vanilla Clafoutis ( a silky smooth French fruits dessert), or these Apple Pie Stuffed Apples ( a light twist on apple pie), and for an even lighter, gluten free apple dessert—try these Baked Apples with Granola Crunch. Oh and if you're looking for a whole wheat treat—my absolute favorite Whole Wheat Apple Muffins will be you favorite too!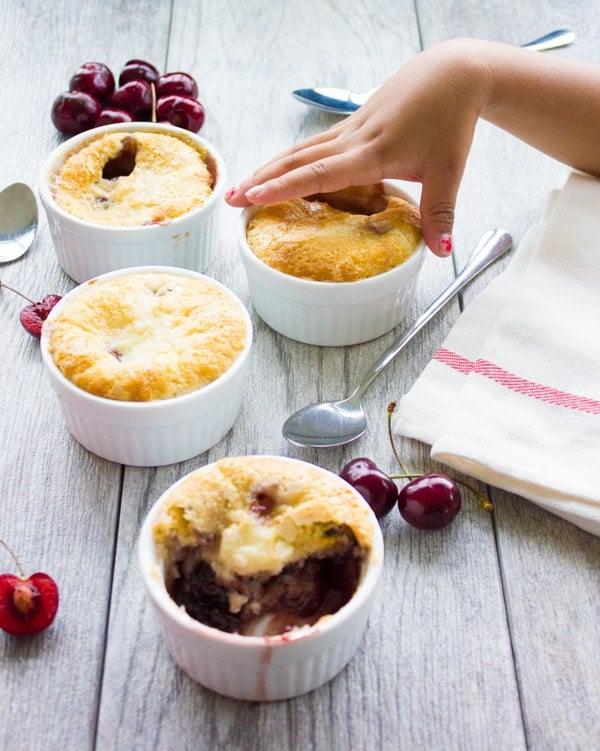 Now back to this divine cherry buckle—it comes together in a blink and the photos below are best to show you that! Basically a quick cake batter is made in a single bowl using just a whisk. Take your ramekins—I love making this cherry buckle in individual ramekins like that rather than a large baking dish. I feel this way it bakes faster, and it's portioned and ready to serve. Plus whatever is leftover remains in shape and in the fridge for up to 4 days. However you can always make the buckle into a large baking dish and cut it up during serving.
Berries at the bottom
Cake batter over the berries
Sugar Mix over the cake
How water over the mix
Right out of the oven
So you'll scatter the frozen berries at the bottom of the ramekins and pour the batter evenly over the berries. Then you'll sprinkle a mix of sugar and cornstarch over the batter evenly among the ramekins—making sure not to mix the layers. And finally you'll pour hot water over the starch-sugar mixture, again making sure not to mix the layers. Then the buckle bakes into a divine fruity moist cake-y dessert with a delicate buckle like topping! 🙂 Now make it and enjoy! 🙂
Sweet Cherry Buckle
Ingredients
1 16

oz

. bag of frozen cherries

For the Cake:

3

Tablespoons

melted butter

( or coconut oil if Vegan)

1/2

cup

granulated sugar

1/2

cup

milk

( Can use Soy or Almond Milk if Vegan)

1

cup

all purpose flour

1/4

teaspoon

salt

1

teaspoon

baking powder

Topping:

1/2

cup

white sugar

1

Tablespoon

cornstarch

Water:

3/4

cup

boiled hot water
Instructions
Place the frozen cherries into a 8 ramekins or a 9 inch baking pan.

Make the cake by mixing the dry ingredients into a bowl (flour, baking powder, sugar and salt). Use a whisk and mix them, then add in the milk and melted butter, and whisk again.

Spoon the batter mixture over the top of the berries evenly and spread with the spoon but it won't cover completely.

Next mix the topping together in a bowl until the cornstarch is completely combined and no lumps are left.

Sprinkle this mixture evenly over the top of the batter among the ramekins, and do not mix in.

Next pour the water over the top of everything and again, do not mix the layers.

Bake in a 375 degree oven for 25 minutes until the buckle is puffed and slightly golden. For the 9 inch baking pan, the buckle bakes for 1 hour. Serve and Enjoy! 🙂