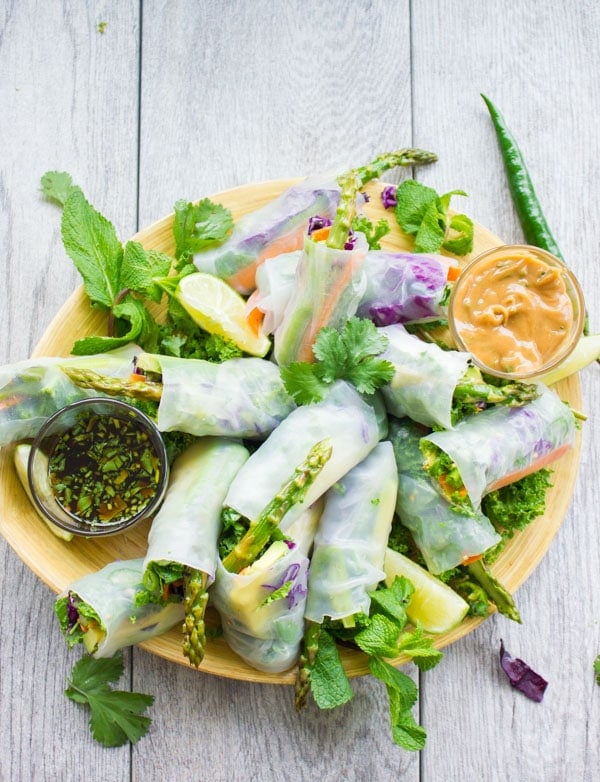 Do you love the freshness and vibrant colors of those Thai Style Rice Paper Rolls you see near the sushi stations everywhere? Here's a really simple and easy version of these favorite rice paper rolls, one that you can make with any set of ingredients you have on hand. All you need now are a couple of quick dipping sauces—a sweet spicy peanut dipping sauce and a chilli soy cilantro dipping sauce. Dip in and enjoy!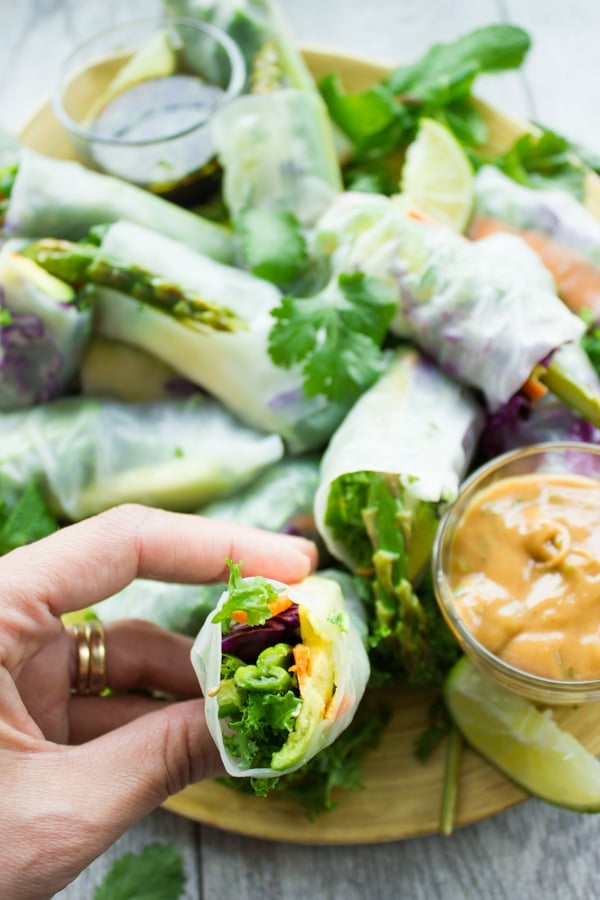 Well yes it's another round of healthy fresh simple and goodness packed food. Still recovering from an overload of vacation food—and I really don't mean to sound picky or iffy here, because I'm not. But having nearly 3 meals a day eating out is super hard. It feels GREAT at first, and almost exciting to try a new place, new item on the menu or a new version of a classic favorite. But after the first week, everything suddenly tastes heavy, tastes awkward and just feels bad. And that's when you start to lose interest at reading menus and start to crave simple things YOU made at home. Things as simple as a breakfast muffin, a good old salad or a plain butter tossed pasta.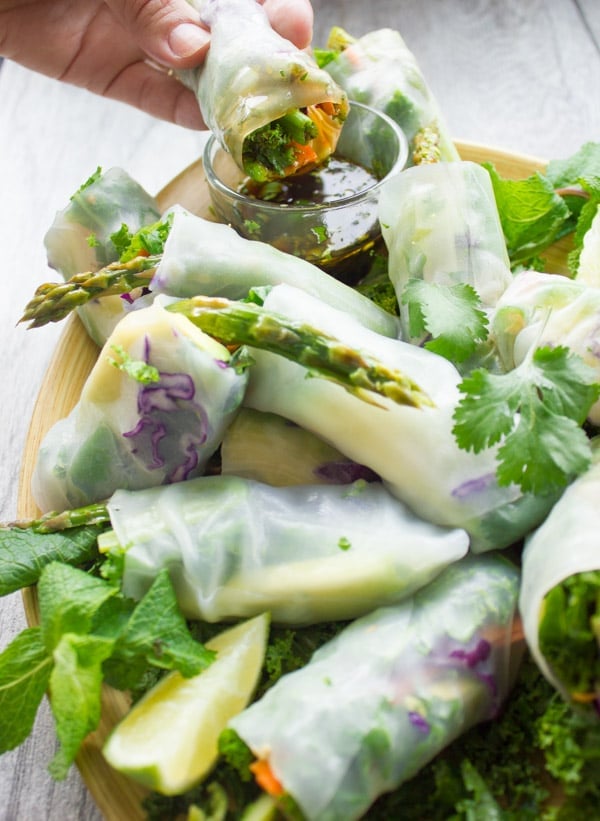 I'm still at a stage of craving fresh light as air meals. Oh and not because I'm on a diet—which I probably should be after all I ate this vacation! But because I feel great surprisingly full! At the same time I should mention this as a disclaimer—all my above statements can change in a blink of a chocolate second 🙂 So please don't take me seriously and be surprised if you come across a sudden decadent recipe post on the blog anytime soon. I always say this at my cooking classes and here I say it again—always follow your mood and eat what makes you happy 🙂 And happy doesn't always mean chocolate or sugar for me, like today these rice paper rolls are pure happiness 🙂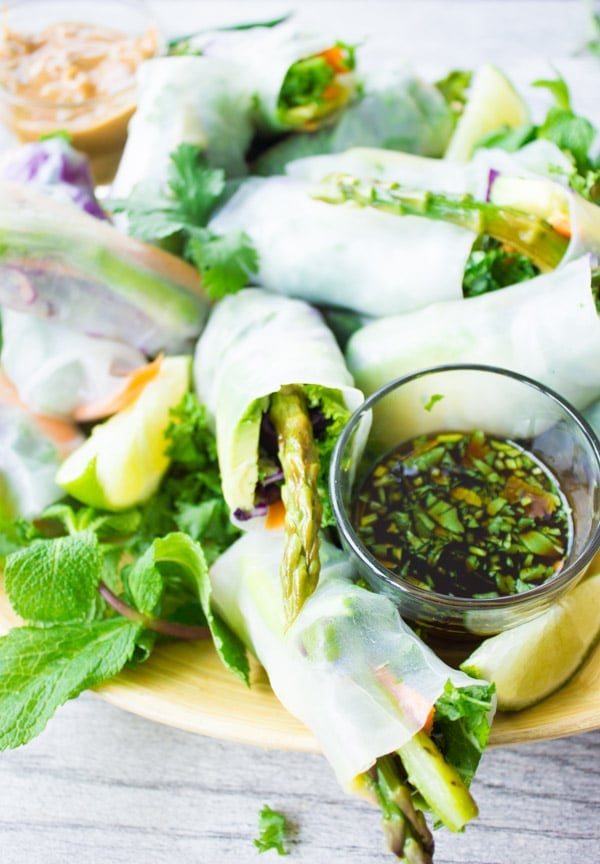 Basically today's recipe is like clean up your fridge day. Everything and anything goes. Fruits, veggies, meats, tofu, herbs, noodles, nuts..everything. Imagine textures, tastes and vibrant colors that you can wrap in these rice paper rolls. If you've got some extra time on hand, or probably planning a fun lunch for friends, then you can make so many variations. And leftovers here are the BEST! They make the best snack or lunch for you to pack up the next day 🙂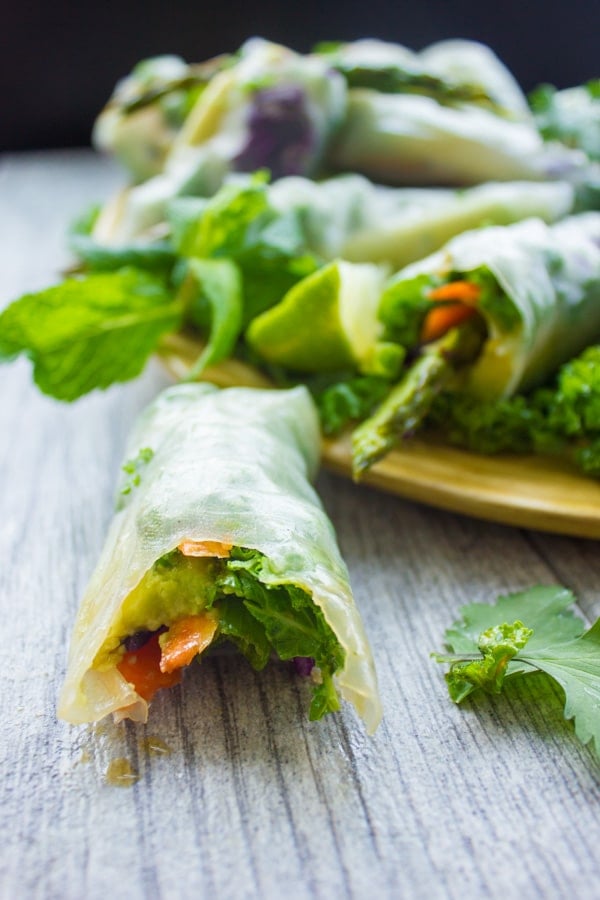 Ok so here are a few magic tips to make these rice paper rolls a success every time. Let's start with the race paper, make sure they're not broken or trimmed when you buy them. The rice papers are sold in about 3 different sizes, it's totally optional which size you chose but the most commonly used size is the 8 1/2 inch diameter—almost the size of a flour tortilla. Also the most commonly used one is the all rice paper rolls, but you'll find some with starch, tapioca and a combo of rice flours.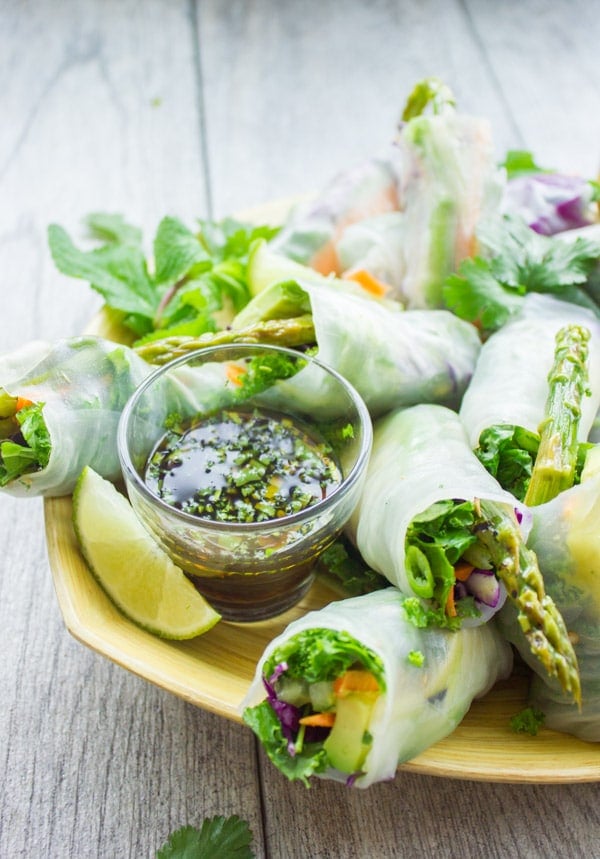 When it comes to your fillings, there are no rules or limits except for one thing. Don't overstuff your rolls at all! It's super tempting to keep on piling up goodies in to your rolls, and it's super drooling imagining all those fillings as you pile them up..BUT..if you overstuff your rice paper rolls, you won't be able to roll them without tearing them apart lol So try to be as minimal as possible, but that doesn't mean you'll skimp on any flavors.
Quick How To
To make the rice paper rolls, you'll need to soak the rice papers in a shallow plate or bowl of hot water (boiling is ok) for a few seconds. Another tip: don't over soak them to a point where they becomes fragile and tear up easily. Soak your rice paper sheets until they start to soften and become malleable, but not fragile. Then layer your fillings along the centre of the rice paper sheet, and start folding it over tucking the edges. Then slice each in half or leave it as is. They taste great as is, and even better with dipping sauces.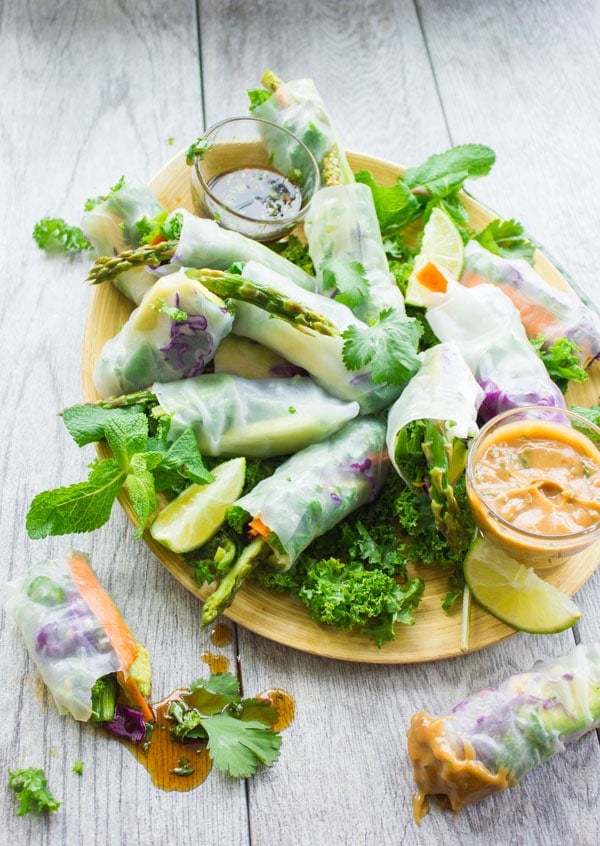 Dip!
For my dipping sauces, I make two easy simple fresh sweet and spicy versions. The first one is simply peanut butter, lime, mint, cilantro, soy sauce and brown sugar. The second one is rice vinegar, soy sauce, chilli sauce, cilantro, lime and garlic. Really quick and easy if you happen all the ingredients on hand, and they can be used for your salads, sandwiches, grilled anything, veggies plus they stay in the fridge for a month. Now grab your favorite bunch of ingredients, chop chop chop, roll roll roll and eat eat eat!!:)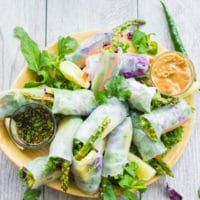 Thai Style Rice Paper Rolls with Two Dipping Sauces
Ingredients
Small pack of rice paper rolls

( any size, the ones used above are 8.5 inches in diameter)

1

or more cup of sliced purple cabbage

1

cup

of sliced carrots

1/2

cup

of sliced scallions

1/2-2/3

cup

of cilantro leaves

2

avocados

, pitted and sliced

1

cup

of chopped kale leaves

1/2

cup

of mint leaves

[b]Peanut Butter Dipping Sauce:

1/2

cup

of smooth peanut butter

2

tablespoons

of hot water

1

lime juice

1

tablespoon

of brown sugar

1 1/2

tablespoon

of cilantro leaves

1

tablespoon

of mint leaves

1

tablespoon

of soy sauce

1/2

or more tablespoon of chilli flakes

(more or less to taste)

Soy Sauce Dipping Sauce:

3

Tablespoons

of soy sauce

1/4

cup

of rice vinegar

2

tablespoons

of sweet chilli sauce

1

garlic clove

, minced

2

tablespoons

of minced cilantro

1

tablespoon

of sesame oil
Instructions
Prepare your fillings. In a large shallow plate, add some hot water (boiling is ok) to fill up half way up the plate.

Place the rice paper rolls one at a time in to the hot water plate and let it soak for a few seconds until it softens and becomes malleable—but not fragile and slimy.

Place the sheet of rice paper roll on your counter, flattening it to it's original circular shape.

Along the centre of the rice paper roll (length-wise) start arranging your fillings—add more or less, swap any ingredient you prefer.

Start rolling your rice paper from the edge near you and then tuck the corners and continue rolling until it forms a firm roll.

Repeat with the rest. Chill the rice paper rolls until ready to serve. When serving, slice each roll in half and serve on their own or with dipping sauce.

To make the Peanut butter dipping sauce—mix all ingredients together in a bowl using a whisk. Add in more hot water if needed to thin out the sauce. For the soy dipping sauce: mix all ingredients in a bowl and serve. Enjoy 🙂