This shop has been compensated by Collective Bias, Inc. and its advertiser. All opinions are mine alone. #SoHoppinGood #TopYourSummer #CollectiveBias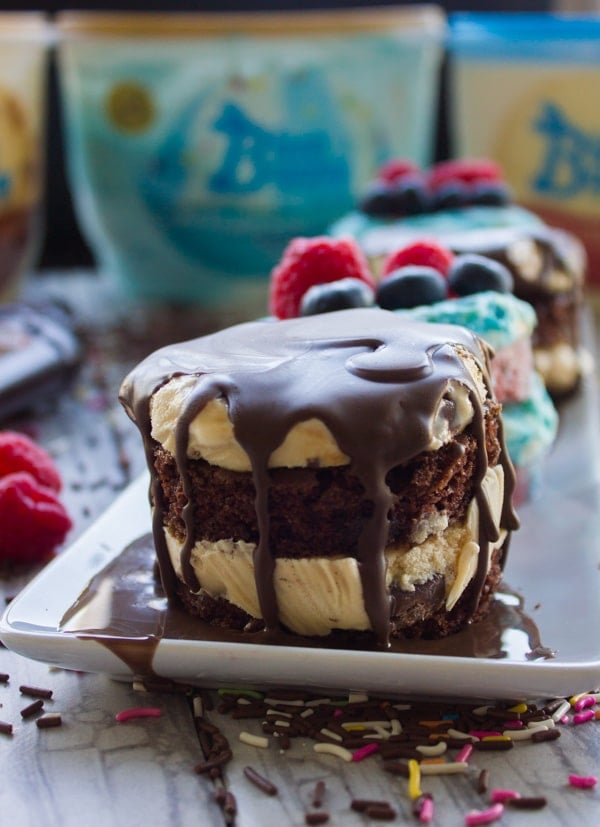 This homemade summer ice cream cake recipe is one of my favorite ways to make the most out of ice cream and beat the heat this season! I always make two versions for the ice cream cake—a really healthy one and a little less healthy one, so that way you and your guests can pick their way. This recipe is the perfect combo of cool refreshing ice cream with a touch of divine from the chocolate cake or a touch of fruit from the watermelon..or a perfect combo of both!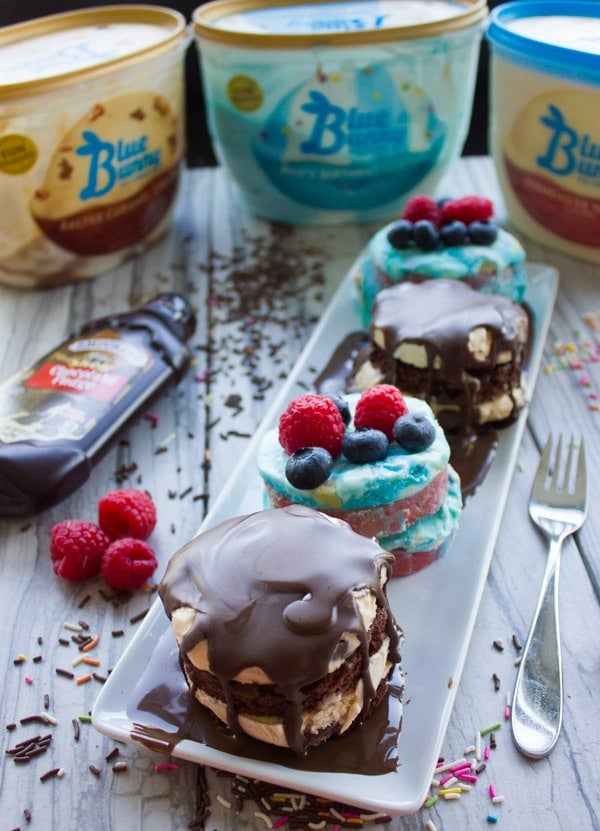 Ice cream lovers I know you're feeling me right now. There's never a bad time for ice cream but there's a really perfect time, and for me that's all summer long! It's a treat on its own —specially  if it's Blue Bunny® ice cream! The ice cream is divine, the flavors are amazing loaded with swirls and chunks of yumminess. I picked today the Blue Bunny® Salted Caramel Craze™, the Blue Bunny® Blu's Birthday Party™ and the Blue Bunny® Homemade Vanilla™ Ice creams.
Ice cream in the freezer @Walmart
Smucker's sauce right next to it @Walmart
Take a look at that swirl! Seriously sooo good.





And the best thing is, with the new Blue Bunny® ice cream package, you can totally see all this swirl and chunk goodness. So the Blue Bunny® Salted Caramel Craze™ is a lovely caramel base ice cream with a salted caramel swirl and hidden chocolate chunks—yes really all of that in a scoop of ice-cream! And the Blue Bunny® Blu's Birthday Party™ is honestly my girls' favorite, it's a sweet vanilla base with a birthday cake like flavor plus chunks of cake and sprinkles. And while the Blue Bunny® Homemade Vanilla™ may sound classic, it's actually a really rich and really good classic.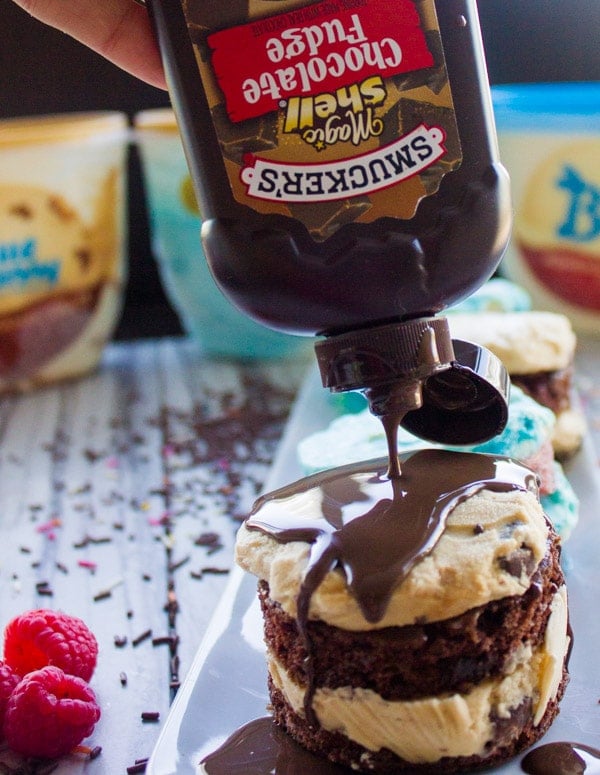 So while I admit these flavors among the many rest are really good on their own, they also pair perfectly with anything—fruits, cakes, pies, sauces, you name it. Today I'm pairing it with cake, some fruit and a super cool Ice cream sauce from Smucker's Ice cream toppings— Smucker's Magic Shell Chocolate Fudge Flavored Topping. This sauce is very chocolate-y so it pairs wonderfully with my salted caramel craze, and the magic part is, the sauce is very smooth and runny but when it hits the ice cream, it forms a hard chocolate shell in seconds. So in today's Ice cream cake recipe, I poured quite a bit of this magic sauce (intentionally) so that I have a nice hard chocolate shell over the top of my ice cream and I still get a nice smooth runny chocolate sauce at the bottom of my cakes—I'm a chocoholic, I'm bad, I know, I can't help it..;)
Ok now let's get to the good stuff. This summer ice cream cake is super simple but looks quite fancy. A few years ago I made some ice cream cookie sandwiches at a cooking class, and it was the talk of the cooking school. It started when someone requested to make these perfect looking ice cream sandwiches, not the classic rustic scoop style ice cream sandwiched between the cookies. So the trick is simple and really easy. You need the ice cream to be the same shape and size as your cookie or in today's case, cake.


To start off I make a light and tender milk chocolate cake. The batter takes 2 minutes (one bowl and one whisk is all you need), and I pour it over a parchment lined baking sheet so it bakes in 8-10 minutes. Then I cut out the cake using a 2 inch round cookie cutter—here you can use any shape, any size. And for the ice cream, just line a baking sheet in plastic wrap (double layer to be safe. You'll need to keep the ice cream at room temperature for about 10 minutes, we're not looking for it to melt, just for the ice cream to be slightly smooth and spreadable. Then you'll spread the ice cream over the plastic lined baking sheet. Keep in mind the thickness is completely optional—so depends if you like a thin or thick layer of ice cream between the cake shells.


This sheet pan goes back into the freezer for a couple of hours until the ice cream hardens up again. And now you'll take the same cookie cutter you used for the cakes, and cut out the ice cream. Then you'll simply stack them up however tall your like. I love always keeping the top layer ice cream (that's totally optional) so that i can drizzle sauce, scatter fruits or sprinkles.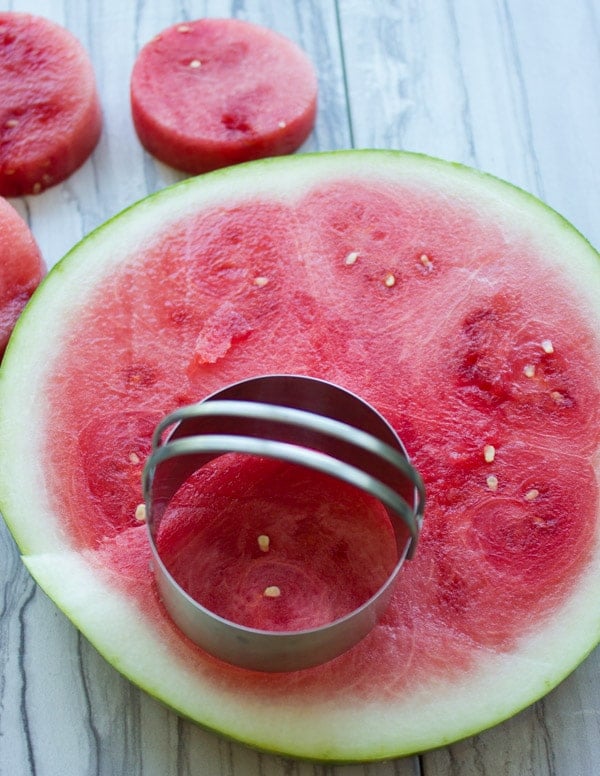 My other version of this ice cream cake involves a healthier twist, so instead of chocolate cake, I use watermelon rounds. Again I slice the watermelon in rounds and use the same cookie cutter to cut out even shapes of the watermelon and stack them with ice cream layers. For fun (and it was my girls' choice) I layered the Blue Bunny® Blu's Birthday Party™ ice cream between the watermelon slices. Once layered, the cake and watermelon stacks can be enjoyed right away, or frozen until you're ready to serve them.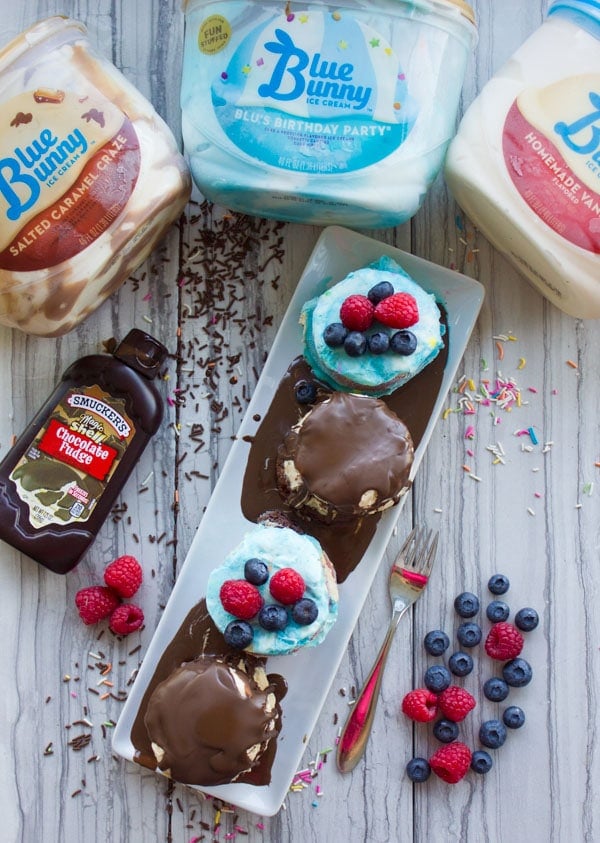 The variety of cake, ice cream flavors and toppings here are endless. I bought all of today's ingredients and found so many more to chose from at Walmart (love a store where I can shop while my girls can pick up a little toy too). One of my favorites is the Blue Bunny® Cherry Pickin Chocolate™. When I use it on this chocolate cake, it makes a perfect frozen Black Forest cake. Think of your favorites—cheese cake, banana, peanut butter and pair them with any type of cake, cookies or fruits. And also, think of making this summer ice cream cake into one large cake, or loaf pan—always remember to layer the pans with plastic wrap and stack up layers of cake and ice cream, then freeze and enjoy! Beat the heat and have yourself a fabulous summer Ice cream cake now! And be sure to check out some other creamy dreamy ice cream recipes here.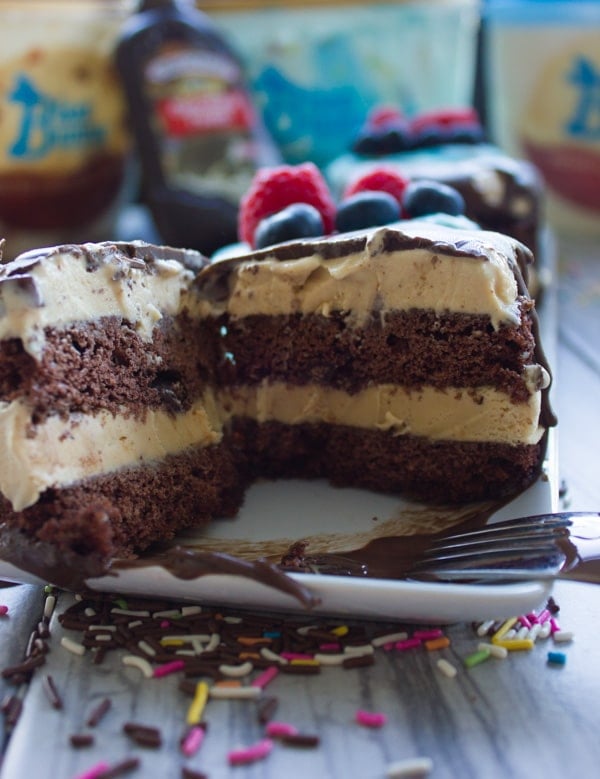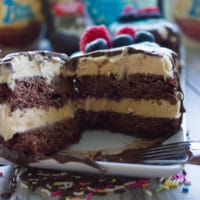 Homemade Summer Ice Cream Cake
Ingredients
For the Cake:

1

cup

+ 1 tablespoon of all purpose flour

1/2

teaspoon

of baking powder

1/2

teaspoon

of baking soda

pinch of salt

1/4

cup

of cocoa powder

1

cup

of buttermilk

1

egg

2

tablespoons

of oil

1/2

cup

of light brown sugar

2

ounces

of melted milk chocolate

Your favorite Blue Bunny Ice cream flavors: I used-

Blue Bunny® Blu's Birthday Party™

Blue Bunny® Salted Caramel Craze™

Blue Bunny® Homemade Vanilla™

Watermelon cut up into slices

(optional)

Smucker's ice cream topping—I used Smucker's Magic Shell Chocolate Fudge Flavored Topping
Instructions
Preheat the oven to 400 degrees. Line a standard size baking sheet with parchment paper. In a large bowl, add the flour, baking powder, baking soda, salt and cocoa powder. Whisk them well until no more lumps appear. Make a well in the centre and add in the remaining ingredients, then whisk them to form a batter. Pour the batter over the parchment paper and spread it evenly. Bake the cake for 8-10 mins at most.

To make the ice cream stacks, have the ice cream at room temperature for about 10 minutes. Line a baking sheet with double plastic wrap. Spread the ice cream over the lined baking sheet to the thickness you prefer. Freeze the sheet for a couple of hours to harden the ice cream.

Use one type of cookie cutter (any shape any size you prefer) and cut out the cake. Use the same cookie cutter to cut out the watermelon.

Use the same cookie cutter once the ice cream is ready to cut out the ice cream.

Stack the ice cream and cake in layers as tall as you like, starting with cake and ending with cake or ice cream.

Stack the watermelon and ice cream stacks the same way.

Use the Smucker's Magic Shell Chocolate Fudge Flavored Topping over the top, fresh berries, sprinkles, nuts and your favorite toppings. Enjoy!