These pesto stuffed shrimps recipe is one you will be making time after time. Succulent, tender, sweet and flavor packed butterflied shrimps are stuffed with a sun dried tomato basil pesto and baked till perfection. This pesto stuffed shrimp is the perfect appetizer, finger food, main seafood course and the perfect way to impress at your next gathering or potluck!
There aren't enough words for me to use when it comes to this gorgeous pesto stuffed shrimp recipe..I've made it countless times at my "seafood feast" cooking classes and it's a hit every single time— and even though I've changed the filling several times, it's always a winner. I can bet that you'll do just the same thing—it's the kind of recipe that makes you feel—wow why stop here?! And you'll keep trying different fillings and different sizes of shrimps!
I have to say that every time I make anything shrimp at all, I think of my wonderful dad—because he's allergic to shrimps, yet loves them terribly! So we always feel bad enjoying shrimps so much in front of him or even behind his back!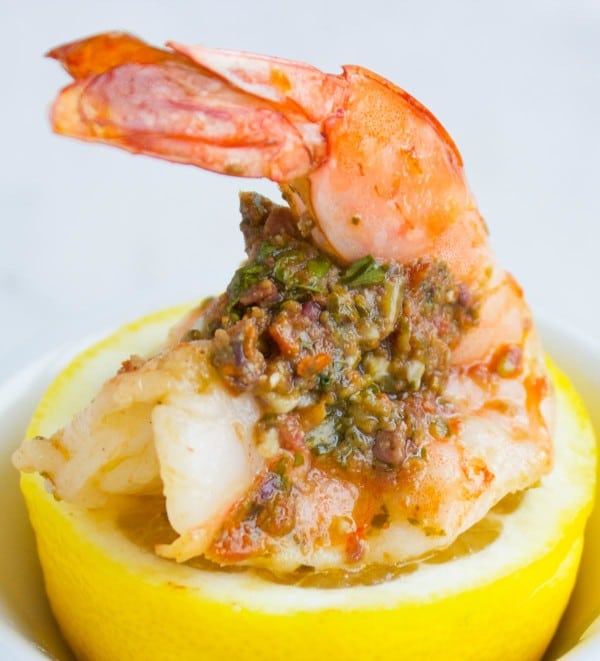 This particular recipe reminds me of a young gentleman, Abe and his wonderful mom.  Abe is a 13 year old boy who's mom is a friend of my friend, and when I met him– I connected with him immediately because of his love for "good food"! I was impressed with how he connects to good food rather than fast food like most of his age group. He even came to a few of my cooking classes, and out of all attendees, I would say he was probably the real food critic!
So this gentleman Abe, was there during a cooking demo shooting done at his house where I featured this fabulous pesto stuffed shrimps recipe, and he enjoyed them so much that his mom told me she's made them several times after that! And that sun dried tomato pesto has become her go-to sauce along side chicken, salmon and pasta!





Once your pesto is ready, all you'll need to do is butterfly your shrimps. And as fancy as this sounds, it's actually quite easy and the photos above say it all. Firstly, lay each shrimp on a flat surface and run a small serrated knife along the back of the shrimp making sure to go along the whole length of the shrimp. Go as deep as you can along the whole back of the shrimp, but not all the way through so that each shrimp is still intact. Open up the back into a "butterfly" shape and lay it flat on a baking sheet with the butterflied area on the bottom and tail on the top. Then place a tiny spoon of the filling on the now back of the shrimp just under the tail area. Press the tail over the filling to secure it, and bake them at a high temperature for just a few minutes and you're left with gorgeous pesto stuffed shrimps!
Hope you give those a try and enjoy them as much as many people have! Serve them as a main dish, finger food or appetizer. Serve them warm or cold. Try them and enjoy!:)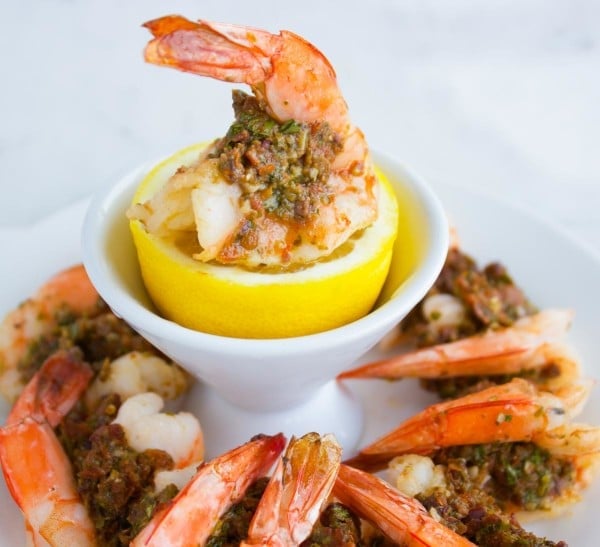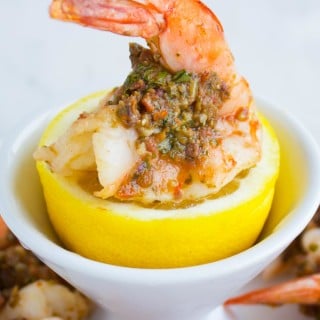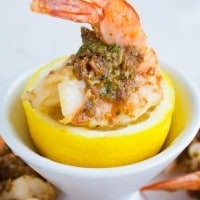 Pesto Stuffed Shrimps
Ingredients
2

lbs

fresh or frozen

(and thawed) shrimps—preferably 15-16 count or bigger

1/2

teaspoon

of salt

(or to taste)

1/4

teaspoon

of fresh black pepper

(or to taste)

2

Tbsp

. extra virgin olive oil

Sun-Dried Tomato Pesto
Instructions
Preheat the oven to 475 degrees F.

Butterfly each shrimp by using a small paring knife, run the knife along the back of each shrimp (but do not go all the way through) and ending right before the tail.

Using your fingers, flatten the shrimp cut-side down on a plate.

Repeat with all remaining shrimp.

Season with olive oil, salt and pepper.

Arrange shrimp in a single layer on a parchment-lined baking sheet.

Take 1 teaspoon of mixture and place on top of each shrimp; carefully securing the mixture by pushing the tail on the filling.

Bake for about 6 minutes or until the shrimps are opaque and totally cooked through.

Place each shrimp on a thin slice of lemon and serve.

Note

if using frozen shrimp, thaw before using
Nutrition Facts
Pesto Stuffed Shrimps
Amount Per Serving
Calories 193
Calories from Fat 63
% Daily Value*
Fat 7g11%
Cholesterol 381mg127%
Sodium 1369mg60%
Potassium 121mg3%
Carbohydrates 1g0%
Protein 31g62%
Vitamin C 6mg7%
Calcium 219mg22%
Iron 3mg17%
* Percent Daily Values are based on a 2000 calorie diet.