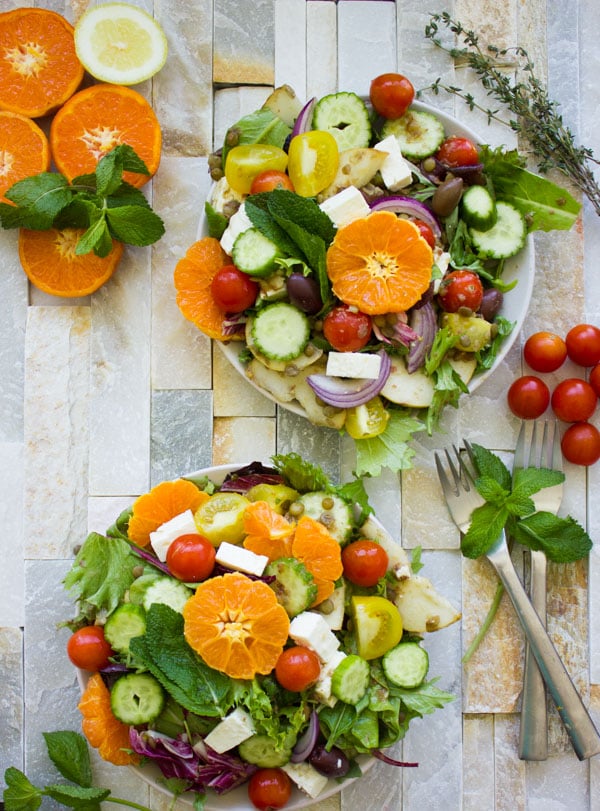 This orange lentil Greek Salad recipe is a perfect Summer or Spring meal on its own. It makes a great bbq side dish, a picnic salad, a next day lunch box favorite and a late night binge that you can feel good about! It's a perfect balance of flavors and textures as it is, but there's plenty of room for you to throw in your favorite ingredients and tweak it in endless ways to fit your mood every time! And bonus–dressed up with a vibrant Orange Olive homemade Greek Salad dressing that brightens up the salad.
Hello SPRING, hello beautiful warm weather finally!! I'm still crossing my fingers—at some point 2 weeks ago I was about to write this exact sentence when we were hit by a cool wave and drop in temperatures…for now I'm living the moment, welcoming Spring, excited for Summer and never looking back! 🙂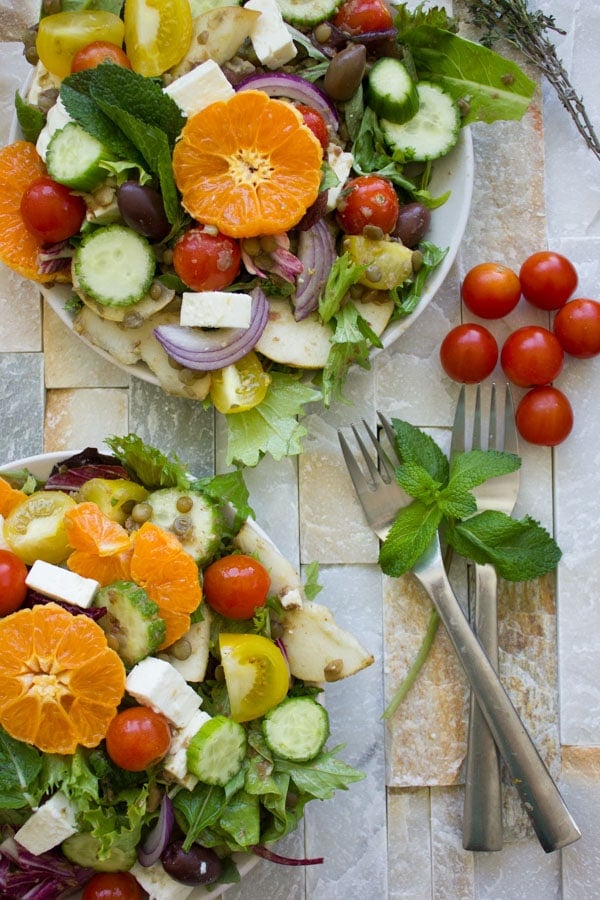 So are you feeling the salad LOVE yet? I'm absolutely all for salad dinners, and my husband is definitely on board. Actually it's all he would eat. Because apparently men DO complain too—and we're always accused of being the complainers..So my husband ALWAYS complains that I make him fat lol Yes like I'm on a mission to destroy his weight goals. And funny enough all my friends envy him..So we reached a common ground and agreed to make salads for as long as we don't get bored!
So this fantastic Orange Lentil Greek Salad is the beginning of this season's salads collection, but can I just remind you of this rainbow power grilled haloumi salad and this fabulous salmon asparagus sweet potato Nicoise—both are one of my favorite seasonal salads, and I urge you to give them a try—each has it's own charm and at has it's own YUM moment that you can't miss! And if you're craving a Greek pasta dinner in 10 minutes—yes really 10 mins, here's my pick for you : 10 minute Greek cheese tortellini 🙂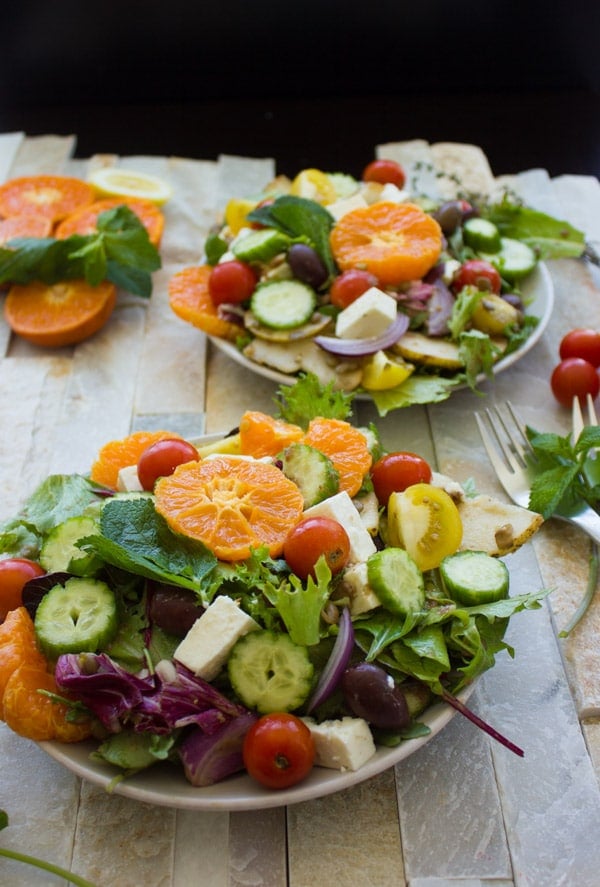 Ok back to our insanely delicious lentil Greek salad. So lentils, beans, chickpeas are so big this year—and for a good reason. They're so good for you, good for the farmers, good for the environment, and taste super GOOD too! I picked green lentils today because I love them, and I had plenty on hand to use..You can certainly use your favorite. And if you're wondering what's the perfect way to cook lentils to a creamy tender texture—you can read about it in this Mexican style lentil detox salad. if you already cooked lentils before, I'll share this tip with you in case you missed it—never salt your beans/lentils/chickpeas before they're completely cooked.


So once your lentils are perfectly cooked, the salad comes together in a breeze. For the record, you can use any grain you like, or make this salad without lentils or grains, I just love adding a hearty feel to my salads so they're a perfect meal on their own. I love using salad greens, sliced clementines or roanges, sliced pears, cucumbers, tomatoes, red onions, kalamata olives and feta cheese (leave this out if you're vegan). If you've got strawberries, throw them in, apples, green olives, anything you love.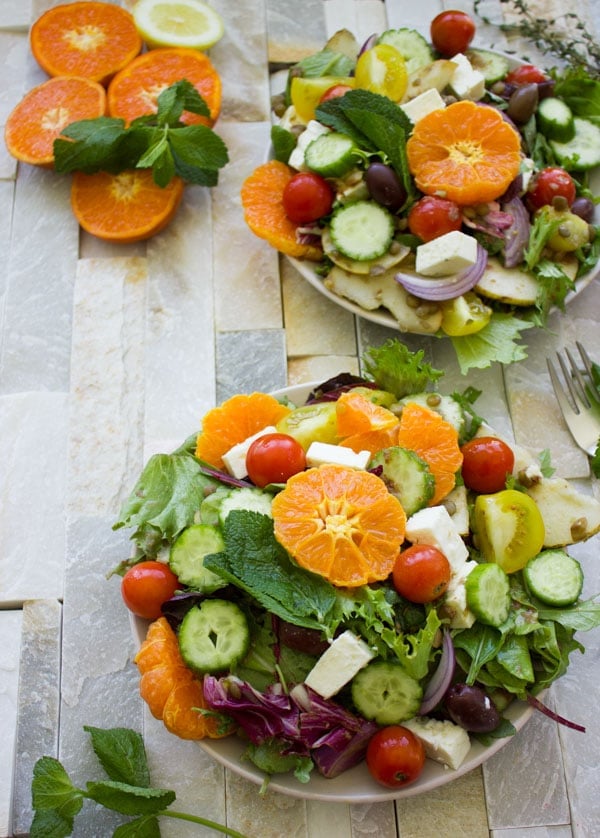 And what's a perfect orange lentil Greek salad without a fantastic dressing? I love using this Honey Greek Salad Dressing (homemade Greek salad perfection) or today's orange vegan version. It's a combination of garlic, oregano, vinegar and orange juice, mustard, black olives and for the sweet orange touch : orange marmalade finishes it off. Simply process all these ingredients for a smooth dressing, or chop them and add them to a sealed container and shake it well. Now I promise you, once you try making your own Greek salad dressing—you won't ever buy store bought again, ever… 😉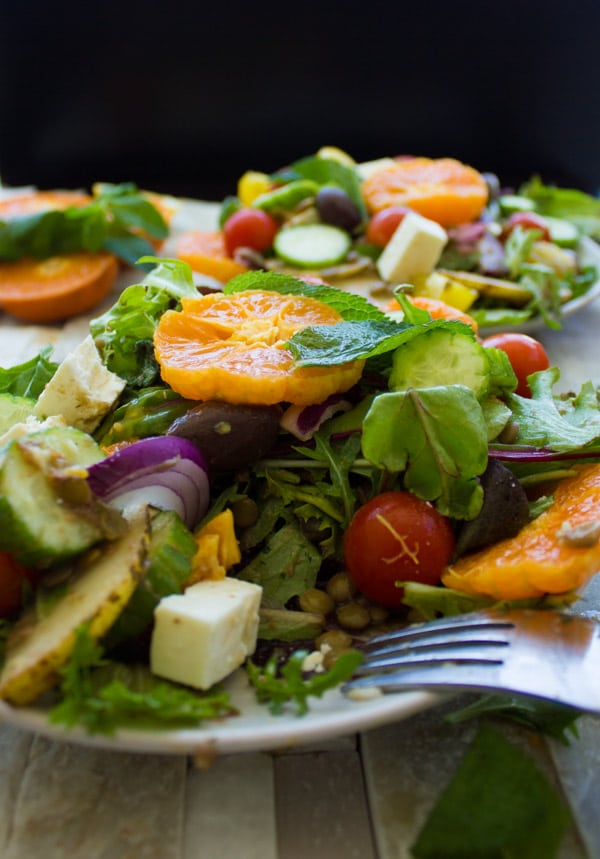 Make a large batch of this salad, and dress only the portion you need each day. Store the dressing in a container in  your fridge for up to a month. And store the plain salad in the fridge in a sealed container for 3 days. This Orange Lentil Greek Salad makes a fabulous full meal, very filling, hearty and tasty..plus it's vegan and gluten free! Take it to your next potluck, bbq, picnic, office lunch, anywhere you can think of—this salad will not disappoint 🙂 Now enjoy !:)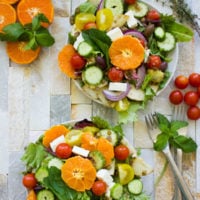 Orange Lentil Greek Salad
Ingredients
For the lentils:

1/2

cup

of lentils

1

cup

of water

1/4

teaspoon

of salt

For the salad:

3

cups

of spring mix

2

oranges sliced

1

red onion sliced

2

cups

of cherry tomatoes

1

pear sliced

2/3

cups

of kalamata olives

, pitted

1

cup

of sliced cucumbers

1/4

cup

of chopped mint

1/3

cup

of cubed feta cheese

(optional, omit if vegan)

For the dressing:

2

tablespoons

of pitted olives

1

tablespoon

of mustard

1

teaspoon

of dried oregano

1

garlic clove

1

tablespoon

of vinegar

2

tablespoons

of orange juice

2

tablespoons

of orange marmalade

1/4

cup

of olive oil
Instructions
Cook the lentil in the water, bring the water to boil on high heat. Then lower the heat to low and cook the lentils until tender for 25-30 mins. Once cooked, add the salt and cool the lentils to room temperature and colder.

Prepare the salad ingredients in the meantime.

For the dressing, place all the ingredients in a food processor and process until smooth.

To finish the salad, toss the salad ingredients, cooked lentils and salad dressing.