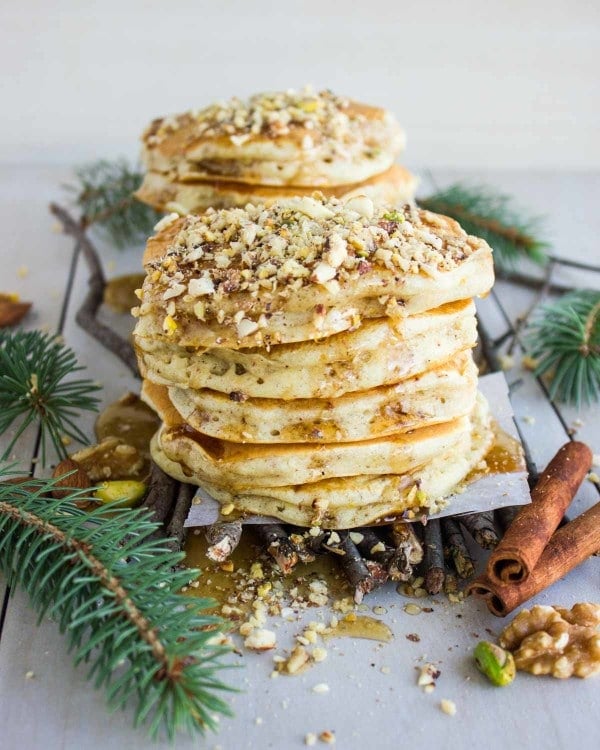 There's nothing like good pancakes to enjoy and share with friends and family. This baklava pancakes with maple syrup recipe is just as satisfying and comforting as classic pancakes, only more dressed up and offers more contrast in textures to your taste buds. It's the pancakes you'll make when you're looking for comfort and dessert at the same time. It's pancakes you'll make more often than you expect!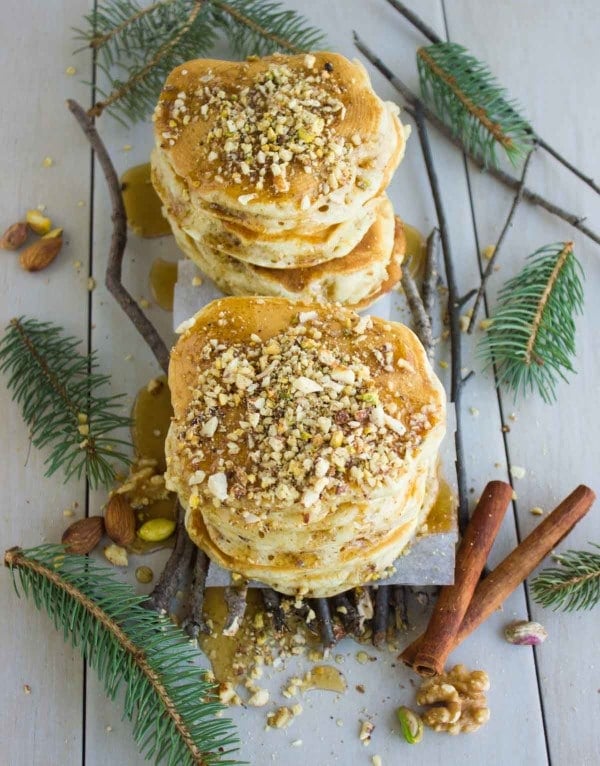 I'll have to admit that growing up, pancakes weren't a breakfast staple at my home. We were living in Paris at the time and the delicate, oh so delicate and perfect French crepes conquered our breakfast table. And I suppose my mom (just as I find myself in many cases now) didn't risk breaking our breakfast routine so pancakes made quite a late appearance.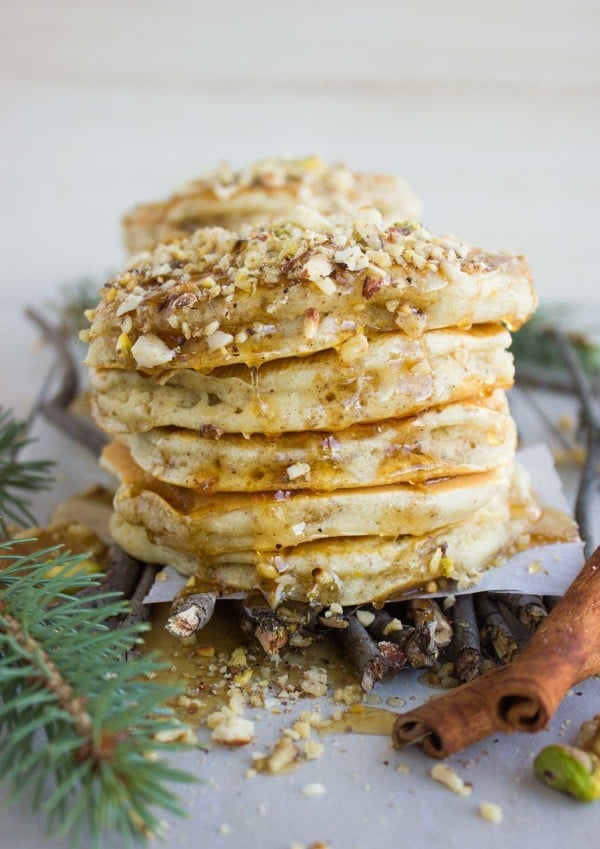 As it turns out, I now find myself making pancakes more often than I expect! I love the classic vanilla pancakes, and many times I love flavoring and dressing up my pancakes for different occasions/seasons and feel like I had a treat, but still had my pancake comfort. These baklava pancakes are a perfect example of those occasions.
Yesterday I took my littlest one and went to a fabulous Maple syrup making festival with 3 other families-one of the best Spring activities to do with kids if you're in Canada! The forest was beautiful, the weather (yes I said weather) was gorgeous!, the kids had a great day outdoors, and we all learned a thing or two about Maple syrup making! We also all tasted the freshest possible Maple syrup there is! and bought a few Maple syrupy things to take home.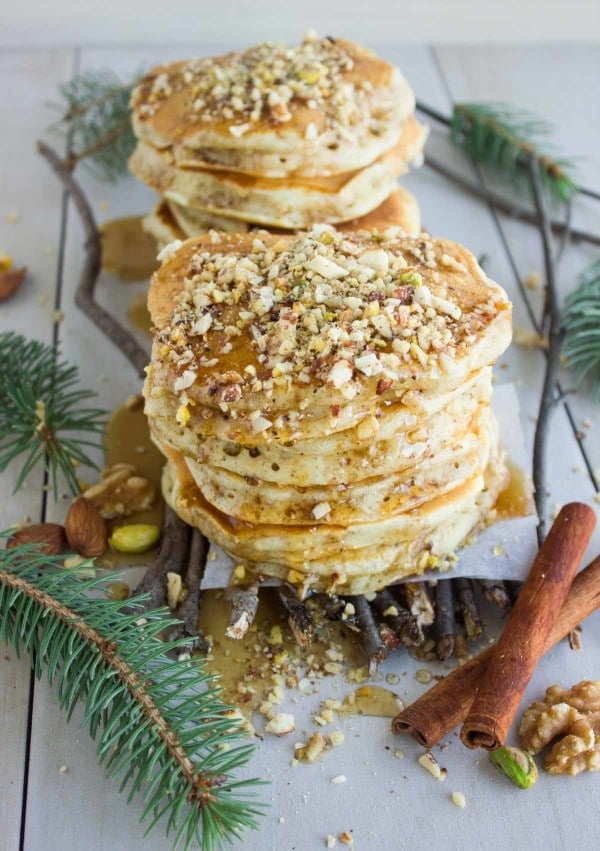 As part of the festival, there were fresh pancakes served with Maple syrup which we all enjoyed! And that was about when I started realizing how fabulous that fresh Maple syrup would be with nuts! And even more with a touch of cinnamon, a hint of orange zest maybe? and of course the base of it all-the pancakes!
So as the day went by, I found myself collecting tiny wood sticks and green spikes from Maple trees. I'm sure some of the families were probably thinking and wondering what I was up to..in all cases, I kept on collecting while watching my little miss J. having a great walk in the forest holding her hands, sharing the cutest gossip and yummy maple lollipops with her friend, little miss I. 🙂
So back to the baklava pancakes! They're like all pancakes – a snap to make. Flour, baking, baking soda and a pinch of salt mixed together in a bowl. Eggs, buttermilk, vanilla, oil (or melted butter), a touch of orange zest, cinnamon, little bit of sugar and plenty of toasted crushed nuts ( I used a combo of walnuts, pistachios and almonds, but feel free to use any nuts or just one type) all mixed together. Then the flour mixture is ever so gently folded into the nut mixture until no visible flour remains, but lumps are very very welcome to remain. They will offer tenderness and fluffiness to your pancakes, so make sure you don't get rid of them! Cook the pancakes adjusting the size and thickness to your taste, I love mine a little on the thick side and smaller side—I guess for better pancakes stacking!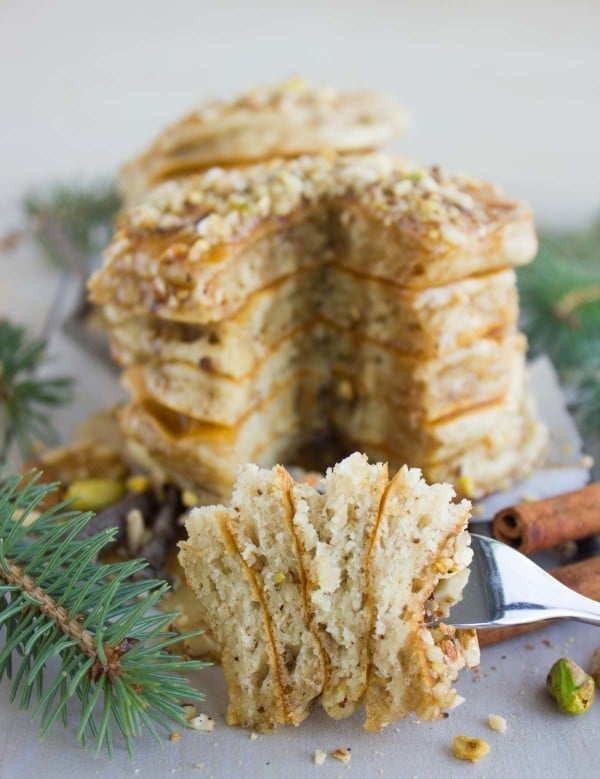 All that's left for this beautiful stack of pancakes is a nice drizzle of the freshest Canadian Maple syrup you can find! And plenty of extra toasted crushed nuts to top with! And finally a nice big fork to enjoy! 🙂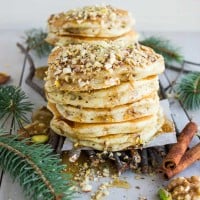 Baklava Pancakes with Maple Syrup
Ingredients
Flour Mixture:

1

cup

of all purpose flour

1 1/2

teaspoon

of baking powder

1/2

teaspoon

of baking soda

pinch of salt

Wet Mixture:

1

large egg

1

teaspoon

of vanilla

3/4

cup

of buttermilk

(or yogurt)

2

Tablespoons

of oil

(or melted butter)

2

Tablespoons

of sugar

1/2

teaspoon

of orange zest

1/2

teaspoon

of cinnamon

1/4

cup

combined of crushed toasted pistachios

, walnuts and almonds

Canadian Maple Syrup for serving

1/2

cup

of combined crushed toasted nuts for sprinkling
Instructions
Preheat an electric griddle to medium low and spray (or swab) it with a thin layer of baking oil. Alternatively, preheat a non stick skillet over medium heat low heat and spray or swab a thin layer of oil on it.

In a large bowl, add the four mix ingredients and whisk them until all well combined.

In another bigger bowl, add all the wet mixture ingredients and whisk them well.

Add the flour mix into the wet mixture and using a spatula or even a wooden spoon, mix the pancake batter well until no more flour mixture is visible but the batter is still lumpy.

Take you 1/4 cup measuring cup and fill it a little over half way with batter and pour it on top of the hot griddle or skillet.

With the back of the 1/4 cup measuring cup, spread the pancake batter gently into a circular shape.

Let the pancakes cook for 1 minute before flipping them on the other side and let them cook for an extra minute or minute and a half (cooking times will depend on the size and thickness of your pancakes).

Stack your pancakes (if using smaller sizes), drizzle them with fresh Maple syrup and top the with plenty of nuts.