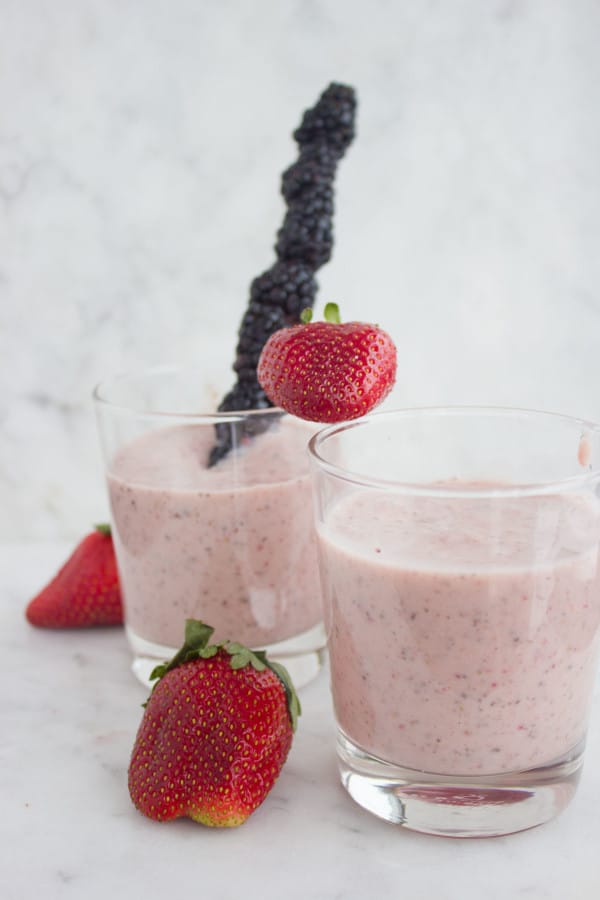 This banana berry avocado chia smoothie recipe is so creamy and luscious yet super fresh and light with absolutely no added sugar. If you've never had avocados in your smoothies, be prepared to be pleasantly surprised—not at the avocado taste because you won't ever taste avocados, but at the creamiest silky smooth smoothie feel you'll ever have!Before I get into the avocado issue again, because I know many of you will have doubts and I completely feel your doubts. I just wan to first say, this is my kind of smoothie—really creamy, thick, not too sweet or heavy feeling and not too "milky" tasting—rather fruity.
So this banana berry avocado chia smoothie is all of that. The chia seeds, if your remember this divine instant chia chocolate pudding recipe, adds plenty of thickness and body to the smoothie. If you add too much of it, it turns into an instant pudding too. So I add just a bit of it for texture and also for plenty of goodness from it's health benefits. Another thing that adds body to the smoothie is of course the banana—although I am not a die hard banana dessert person, I love it in my smoothies!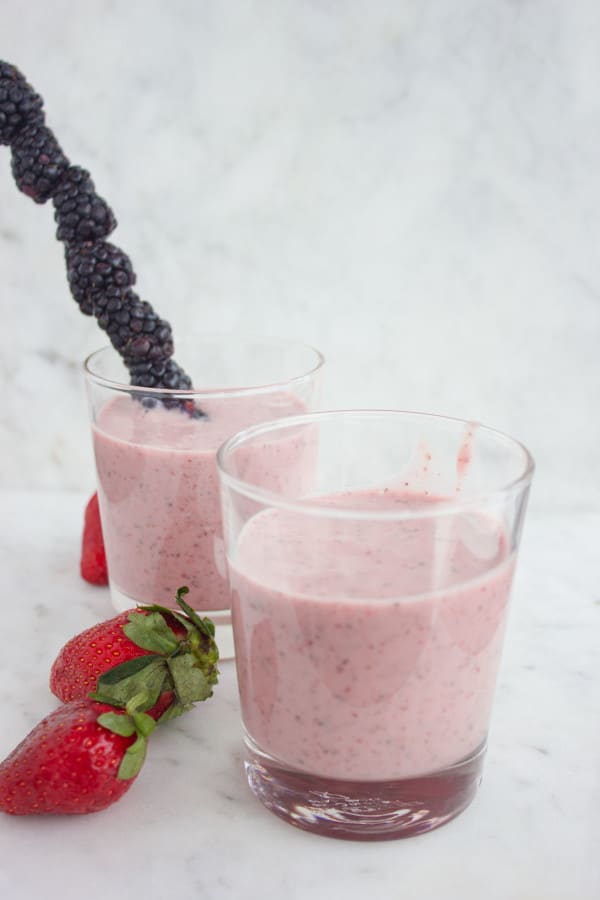 The sweetness in these banana berry avocado chia smoothie comes mainly from the sweet berries and banana. I've experimented a few times when I made smoothies with berries not in season and not super sweet and added some vanilla Greek yogurt to the smoothie, and it worked like a charm. I removed some of the milk and replaced half the amount with the yogurt— so 1/2 cup of milk was removed, and 1/4 cup of yogurt went right in.
So now the avocados. If you're a lover of avocados like me—then you have nothing to worry about, and if you're a lover of avocados but just a bit skeptical—you still have nothing to worry about. If you're too skeptical, I assure you the taste of avocados is completely masked by the beautiful sweet ripe berries, banana and milk. Avocados are actually quite neutral tasting, that's why they makes the best guacamole (hint—this classic Mexican guacamole) and are often used in sweets ( a fabulous recipe for that is coming up!) because they have a buttery smooth texture and a really neutral taste with an amazing load of omega-3 goodness! When it comes to this banana berry avocado chia smoothie, the avocado offers a silky smooth creamy texture and a neutral taste that balances off all the berry banana flavors, plus a load of health benefits—so I really hope no matter how skeptical you are, you close your eyes, put that avocado in and enjoy every sip! 🙂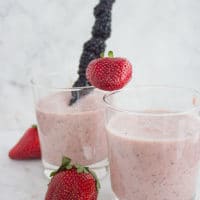 Banana Berry Avocado Chia Smoothie
Ingredients
1

cup

of cold milk

(whole, low fat, fat free or coconut milk for vegan) Or half milk half vanilla Greek yogurt

2

cups

of cold mixed berries

(I used here strawberries and blackberries)

1

small avocado

, diced

1

large ripe banana

, chilled

2

tablespoons

of chia seeds

juice of 1 orange

, chilled
Instructions
In a blender, blend all ingredients together until smooth.