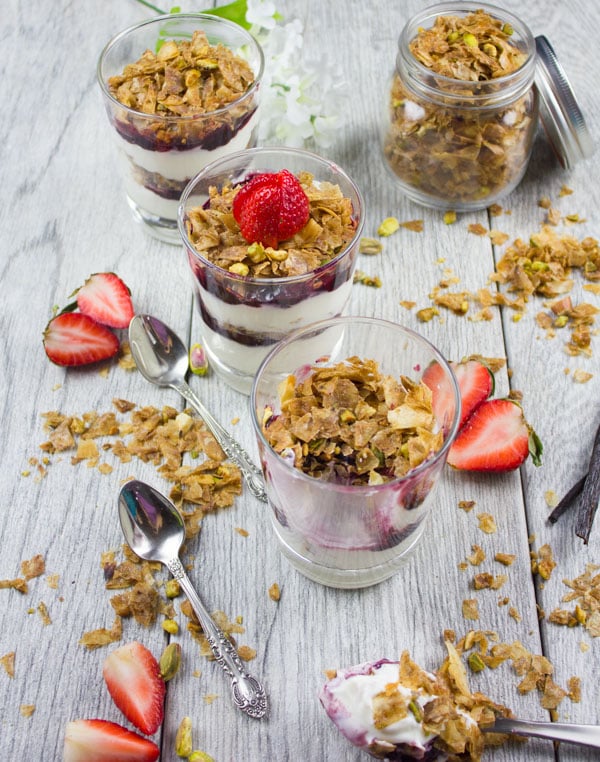 Move over granola and granola yogurt parfait, This Baklava Yogurt Parfait with Homemade Baklava Crumbles has taken over your crown! It's like taking yogurt parfait to a whole other level. More so it's like taking your breakfast to a really luscious level. And even better, it makes a perfectly divine dessert that's actually good for you and loaded with yogurt goodness! No matter how you looked at yogurt parfait before, this recipe is a heavenly version of it. 🙂
This luscious recipe is sponsored by The Dannon Company and The J.M. Smucker Company—makers of high quality delicious yogurts and jams. All thoughts and opinions expressed are my own.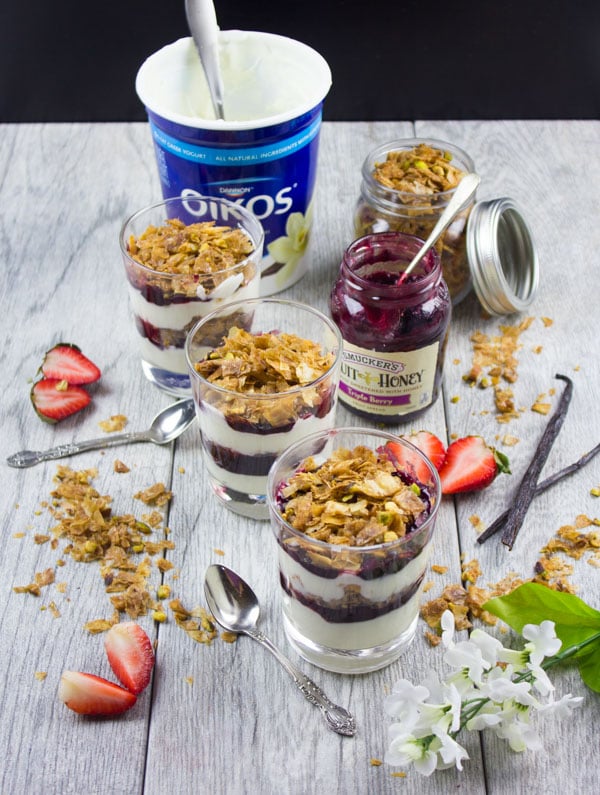 Today's recipe is like a dream come true. The ultimate combo of our favorite things—a yogurt parfait and a baklava dessert. All in one cup. Better yet, all in one spoon with every bite. Plus a touch of honey and mixed berries to round off the sweetness. It feels like a really divine dessert to me, but I'll happily make it for a special breakfast or brunch, too! In fact, it's one of those recipes you can make in advance and requires no baking. That's what luscious dreams are all about, right? 🙂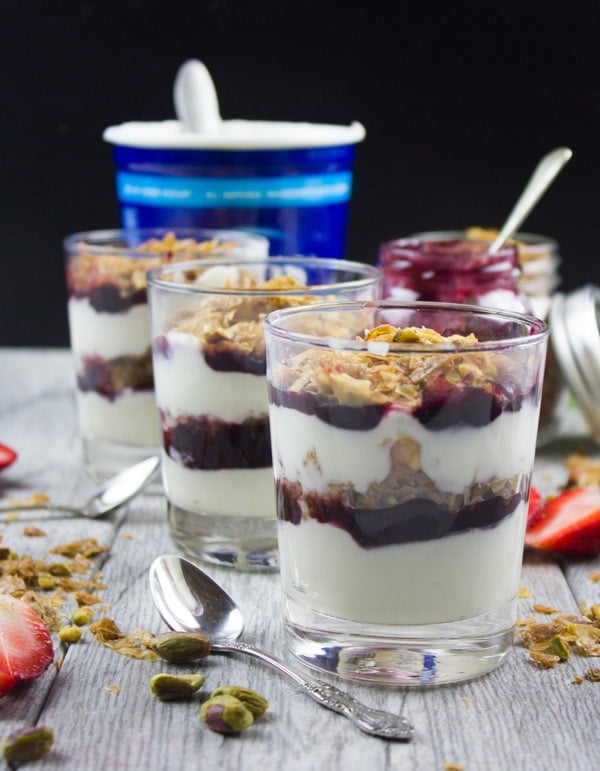 I've been quite lucky to discover the Kroger stores in MI since I haven't seen them back when I used to live in Miami. And for a foodie like me, finding a food retailer I can love is like finding gold! 🙂 And to make these Baklava parfaits today I headed there to buy my favorite Dannon yogurt and the new Smucker's Fruit and Honey jams. I hadn't tried them before, but I am so hooked on them right now!! I can absolutely taste the sweetness and flavor of honey with my berries, which is out of this world! I picked the mixed berries to pair with my baklava yogurt parfait but I'm sure the other flavours would work just as amazing! For my yogurt, I chose my favorite Dannon Oikos Greek (Vanilla). Again, any flavor would work beautifully—I just went with the classics and then I'm going to start exploring the different twists to this recipe!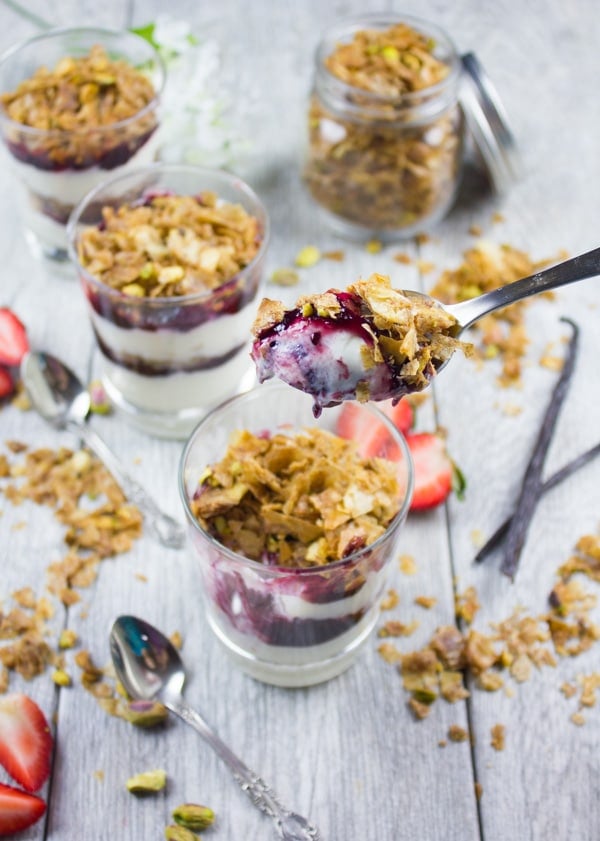 I'm so excited to share this baklava yogurt parfait with you guys, I know you'll totally absolutely like fall head over heels in LOVE with it.Can't wait for you to try them! 🙂 My neighbour was visiting the next morning after I made those parfaits and I had just 1 left in the fridge, so I thought I'll share it with her and have her guess what it was. She didn't bother guessing, she just devoured the whole cup and asked me for the recipe! And it starts with these addictive homemade baklava crumbles!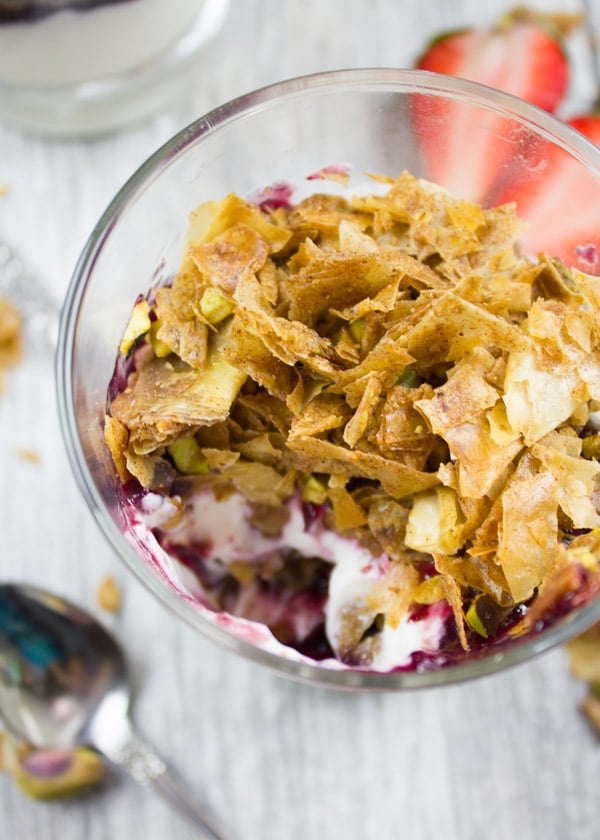 Homemade Baklava Crumbles
There's something quite intimidating about making baklava, so these baklava crumbles are a great way to get you started. You'll simply need some phyllo dough, cut it up with scissors or tear them up with your hands into a large bowl. Then you'll add pistachios (any nut or combo of nuts work great!) and spice. I've used cinnamon and a pinch of nutmeg. And for a touch of sweetness, I've added some confectioner sugar. Finally, you can't have baklava without the butter so you'll need a bit of melted butter to toss these shreds together.
Spread those phyllo shreds on a baking sheet and bake them for just 8-10 minutes until lightly golden. And that's it! Perfect baklava crumbles for you to snack on, use for yogurt parfait, use instead of cereal, top them over your baked goods and breads, sprinkle them over some roast fruit..just plain enjoy them! And the good news is these baklava crumbles will stay in an airtight container for over a month!
Quick Step By Step 
Now it's time to indulge. Creamy vanilla Greek Dannon yogurt—which I would just eat as it is for dessert anytime! Mixed berry honey Smucker's jam—which has totally become my favorite combo of jam! Homemade baklava crumbles—which has taken over my granola jars! Combine all of that together in layers of sweet, creamy, divine, fruity, crunchy and nutty goodness! Start off with the yogurt, a layer of jam and a crunchy layer of baklava crumbles.. breakfast extravaganza!
Making the Baklava Yogurt Parfait
I love leaving it up to you when it comes to how much yogurt versus jam versus baklava, because it's really a taste thing. For me and since it's a yogurt parfait, the yogurt is largest chunk of this dessert. The jam is a thin layer of fruity honey berry sweetness to freshen up the dessert. When it comes to the baklava crumbles, again it's a thin layer about double that of the jam (again, that's just my taste) because I love to taste the crunch, the nuts and that contrast in textures is heavenly! The combo of creamy yogurt, chewy fruity jam and crunchy baklava with nuts is perfection.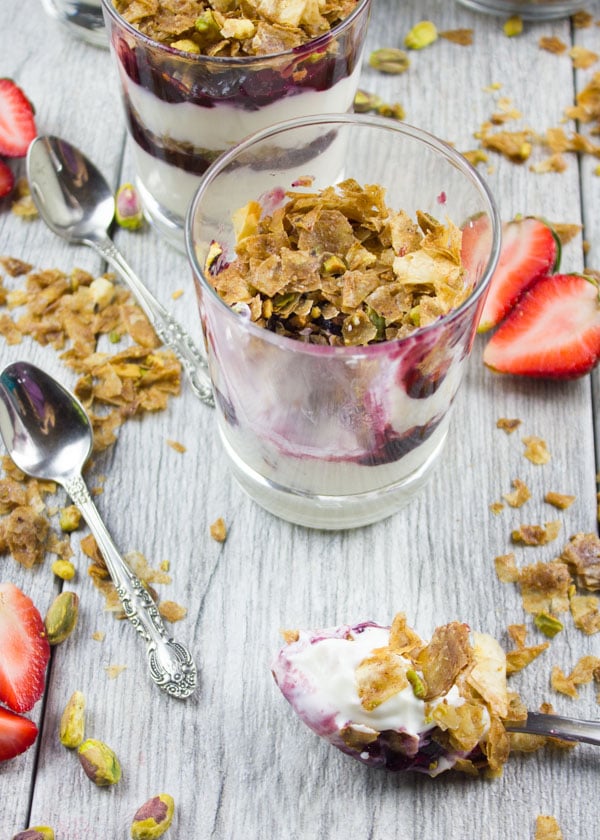 The beauty of this dessert or breakfast dream is that you can make it way ahead of time. The baklava crumbles are made at least a mont ahead of time. The yogurt parfait assembled and ready, covered up with plastic in the fridge can be made at least 3 days ahead of time! So it's a great way to entertain this season, think of a nice fresh light dessert with the gorgeous warm weather coming up! And better off if you prepare the baklava crumbles ahead of time, you can serve all the ingredients separately. And have your guests assemble their own baklava yogurt parfaits for a fun make-it-your-own dessert!
Recipe
Go ahead and indulge yourself in baklava yogurt parfait heaven for dessert, snack or breakfast and enjoy!! You can't miss out on this recipe! 🙂 Enjoy 🙂 Oh and you can download this coupon to your Kroger card and save $1.75 on Dannon and Smucker's products!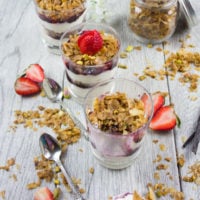 Baklava Yogurt Parfait with Homemade Baklava Crumbles
Ingredients
Baklava Crumble:

4

sheets of phyllo dough

, thawed

1/2

cup

of shelled unsalted Pistachios

(any other nut or combo of nuts is ok)

1/3

cup

of Confectioner Sugar

1/8

teaspoon

of nutmeg

1/2

Tablespoon

of cinnamon

4

Tablespoons

of melted butter

Yogurt Parfait:

1

carton of Vanilla Dannon Yogurt

(Greek preferably but any other type or flavor would work)

1

jar of Smucker's Triple Berry Fruit and Honey Jam

(any other flavor would work too)
Instructions
Preheat the oven to 350 degrees.

Take the phyllo dough sheets and layer them over each other. Take any edge of the phyllo dough rectangle and roll out the dough into a tube shape.

Use your scissors to cut out a fourth of an inch strips of the rolled phyllo dough over a large bowl.

Add the pistachios, sugar, nutmeg and cinnamon over the phyllo strips and use your hands to toss the mixture together—don't worry about tearing up pieces of the strips because it will crumble anyway.

Add the butter a tablespoon at a time to the phyllo mixture and toss everything very well.

Now spread the phyllo mixture on a parchment lined baking sheet and bake for 10-12 minutes. You'll need to rotate the baking sheet and toss the phyllo mixture gently with a wooden spoon to make sure the heat is evenly distributed.

Remove the baklava crumble from the oven when it turns golden and slightly crisp. The crumble will crisp up more as it cools.

To assemble the baklava yogurt parfait:

In a glass cup ( bowl or any serving cup of your choice) start layering 2 tablespoons of yogurt at the bottom, followed by a tablespoon of jam, followed by a tablespoon and a half of baklava crumble.

Repeat the same process twice (more or less to your taste) and serve the baklava parfait right away or wrap it up and chill for unto 4 days. The baklava crumble can keep in an airtight container for up to a month. Serve the baklava yogurt parfait and Enjoy 🙂