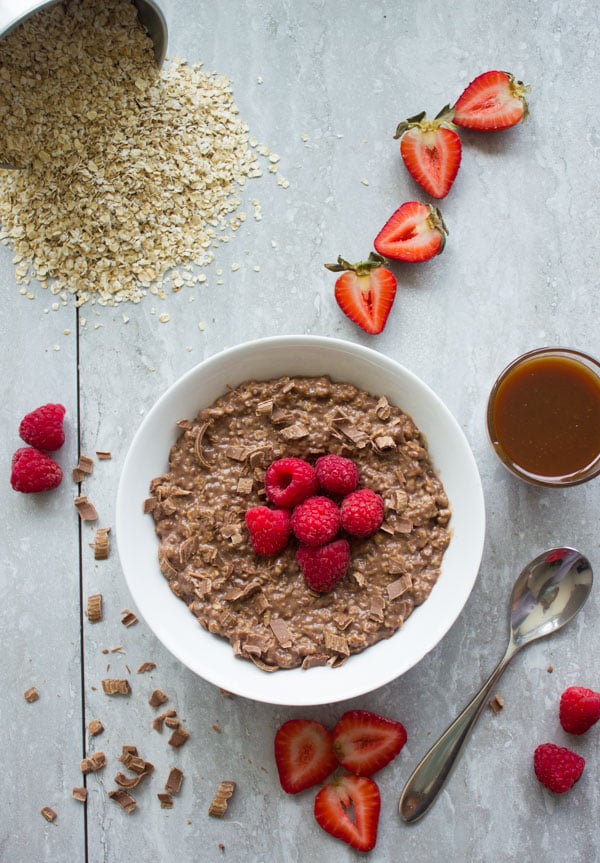 This Chocolate Oatmeal Breakfast Bowl recipe is the perfect start to the day! A healthy, filling breakfast that will kick start your morning, and at the same time, a chocolate treat that will boost your mood for the day 🙂 It's the kind of recipe you can play around with endlessly to make it feel more like a dessert if you feel like it..or boost it up to make a perfectly perfect breakfast bowl. I have to say, it's hard to pick which way is best..maybe a bit of both!
Happy Father's Day to all the wonderful Dads out there! Every year we make a big fuss about Mother's Day and tend to low key Father's Day, this year ( so far) we have plans for Father's Day! Girls made all sorts of crafts and cards for hubby and we're planning a fun trip. But what's the perfect father's day without the perfect breakfast?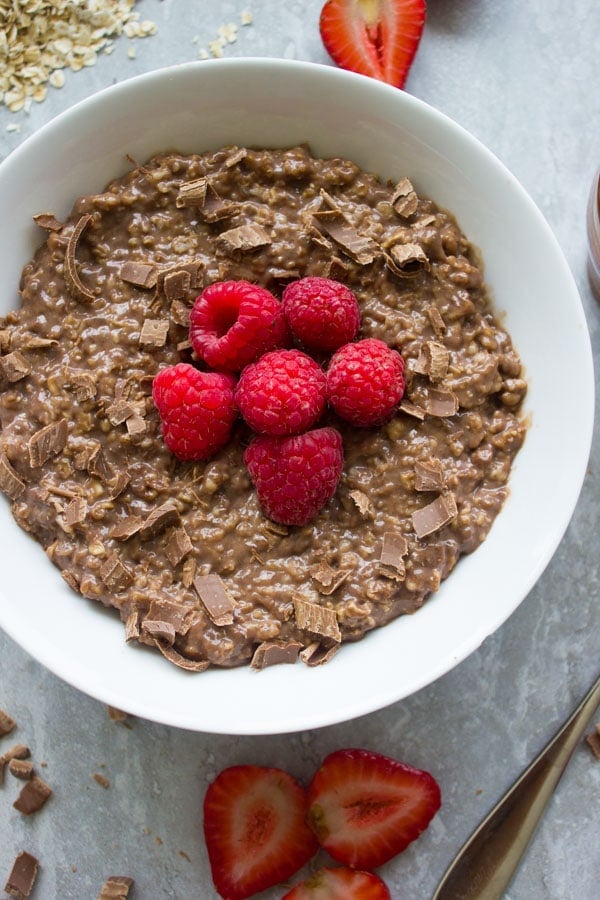 My sweet Dad on the other hand is so far away from me this year, so all I can do is post this chocolate oatmeal bowl for him, because I know for sure, this would make my dad's morning perfect. My Dad is a die hard chocoholic. A serious one. And he's very much a health conscious guy, so a decadent chocolate mousse tart wouldn't lure him as much as this chocolate oatmeal bowl. And for that I'm making this recipe today, Love you sweetest and kindest DAD!
Alright so how would you serve up this chocolate oatmeal breakfast bowl? There's plenty of factors to consider here—first off, do you like your oatmeal warm or cold? Do you like your oatmeal to be more of a pudding consistency or a watery consistency? Do you like it to be sugar free, and if not how would you sweeten it? And finally, which type of milk is your favorite? This recipe can be mae vegan with coconut milk, almond milk, soy milk or your favorite..and can be made with regular milk ( any fat concentration works)..and it could be made with water, but I really wouldn't..Milk is my absolute choice.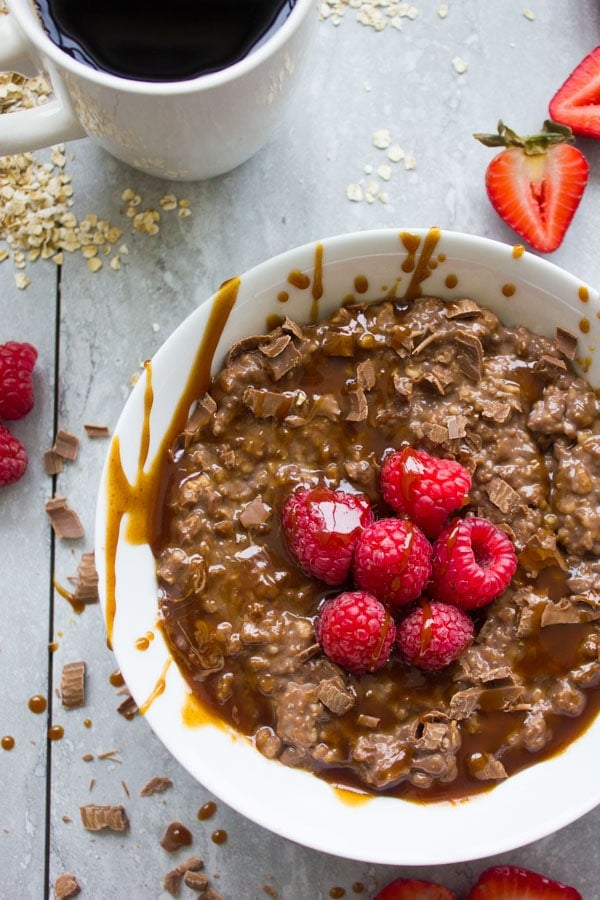 So because I'm thinking of my dad today, I know he likes his oatmeal on the cold side, and I know he LOVES caramel (in moderation) so I'm drizzling it with my favorite homemade caramel sauce, and I'm making it a bit on the pudding consistency because that's his favorite too! Then I topped it with more chocolate shavings, fresh raspberries and it's all ready! If I were serving this to my mom, oh boy, I would drizzle plenty more caramel sauce, some chocolate sauce, plenty of nuts, whipped cream on top and then some berries (sorry mom, but that's the truth 😉 ). My hubby on the other hand falls perfectly in between, but because he's watching his weight, he would do just the chocolate chips and nuts.
Now it's your turn—how would you serve this? Some of my favorite toppings are nuts, they add an amazing crunch to the smooth oatmeal. Berries, melted chocolate, honey, maple syrup, bananas, and chopped Mejdool dates. If you're a spice person, add in some cinnamon and chai spice ( you can find it in these Orange Chai Spice Date Muffins) or a touch of cayenne ( hello Caramel Stuffed Spiced Brownies).
A few tricks to get this recipe to your taste on the first time, use 1/4 cup less of milk if you're serving this warm. And use 1/4 cup more if you like a loose consistency. If you prefer a super smooth pudding like texture, blend the chocolate oatmeal when it's cooked and serve it smooth. Or you may want to check this crowd pleasing instant chia chocolate pudding, or this good old chocolate pudding recipes—both are seriously easy, one of them instant quick, and both ultra satisfying. However, for the record, a blender-ized chocolate oatmeal pudding has a different deeper oati-er taste, so depends on what you're looking for 🙂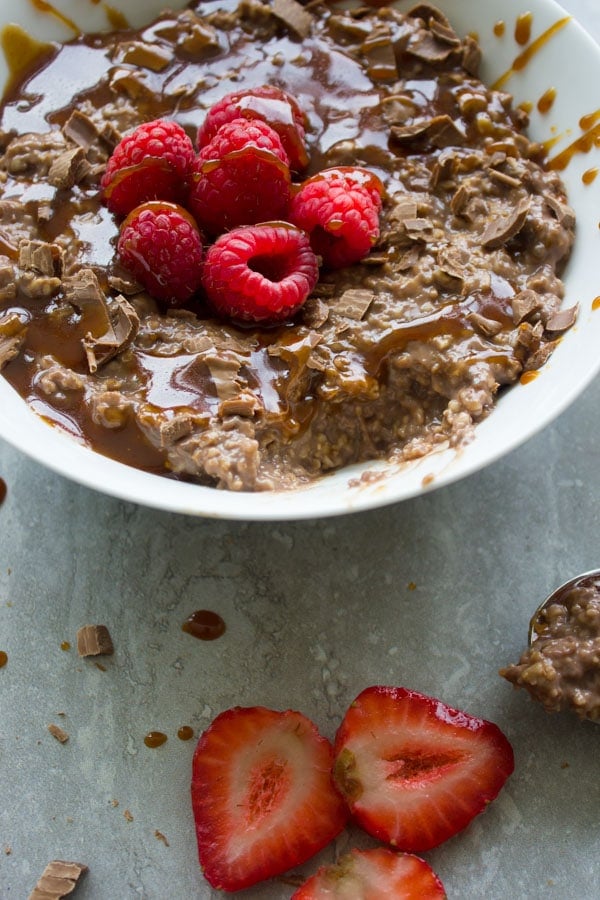 For this chocolate oatmeal breakfast bowl, I use the microwave (feel free to use the stove if you're not microwave friendly). Simply add the oats ( I used quick cooking oats—for the obvious reason of "quick"), a tablespoon and a half of coco, a tablespoon of brown sugar (substitute maple syrup, honey or your favorite sweetener) and chia seeds ( I love using chia seeds or 2 reasons, they add plenty of fibre goodness and they thicken up the oatmeal uniformly) and  then I add the milk. Then microwave until it bubbles. Cover and chill. That's all you need. I added 1/4 cup of coffee replacing the same amount of milk for an extra deep chocolate flavor—that's optional but seriously good!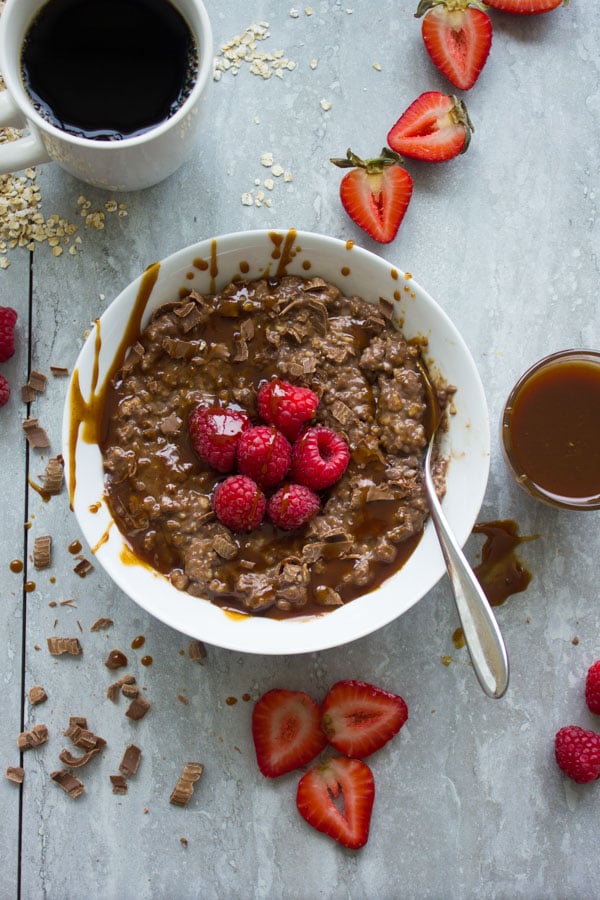 Now it's your turn, imagine your favorite way to start the day, and adjust this recipe to your taste..enjoy 🙂 This quantity makes 2 seriously extra large bowls–feel free to make 4 out of the recipe rather than 2 😉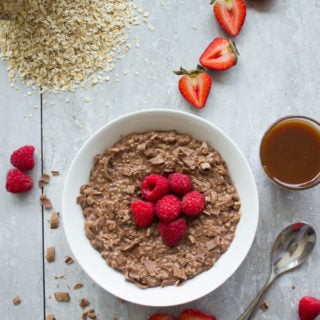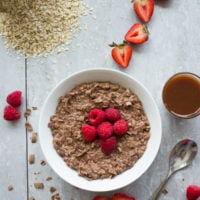 Chocolate Oatmeal Breakfast Bowl
This Chocolate Oatmeal Breakfast Bowl recipe is the perfect start to the day! A healthy, filling breakfast that will kick start your morning, and at the same time, a chocolate treat that will boost your mood for the day.
Servings
2
extra large or 4
Ingredients
1

cup

oats

( I used quick cooking)

3

Tablespoons

Cocoa Powder

Dutch Processed is best

2

tablespoons

chia seeds

2

Tablespoons

Brown Sugar

(use maple syrup, honey or any sweetener or skip all together)

1

teaspoon

vanilla extract

2 1/2

cup

Milk

( any type) **see notes

1/2

cup

brewed coffee or espresso

( optional or replace it with more milk)

Toppings:

Homemade Caramel Sauce

Melted chocolate

Chopped nuts

Fresh Berries

Honey

Maple Syrup

Granola

Chocolate pieces

Spices
Instructions
Use 2 large bowls, place 1/2 cup of oats in each bowl, 1 1/2 Tablespoons of cocoa Powder, 1/2 teaspoon vanilla, 1 tablespoon of chia seeds, 1 1/2 cups of milk and coffee total ( or all milk) in each bowl. Microwave the bowl for 2 minutes, mix the oatmeal with a spoon and microwave for another minute until it has bubbles.

*use 4 bowls and divide the above into 2 for a smaller size bowl.

Cover the bowl with plastic wrap and let it sit for at least 30 minutes or over night. Chill if you prefer a cold oatmeal.

Serve with your favorite toppings.

** This liquid produces a thick oatmeal closer to a pudding consistency, served cold. If you prefer a warm oatmeal, remove 1/4 cup of liquid per bowl. If you prefer a runny oatmeal texture, add an extra 1/4 cup to 1/3 cup of liquid per bowl.
Nutrition Facts
Chocolate Oatmeal Breakfast Bowl
Amount Per Serving
Calories 466
Calories from Fat 153
% Daily Value*
Fat 17g26%
Cholesterol 30mg10%
Sodium 140mg6%
Potassium 712mg20%
Carbohydrates 63g21%
Protein 18g36%
Vitamin A 495IU10%
Calcium 461mg46%
Iron 3.8mg21%
* Percent Daily Values are based on a 2000 calorie diet.