This cream cheese icing recipe is the simplest and best you'll ever have! Made with only 3 main ingredients, yet flavoured in endless ways. It only takes a few seconds to make and stores in the fridge for at least 2 weeks! Make it full fat or fat free, both equally delicious and worth every drop.
If I had to pick a favourite icing, this cream cheese icing by far will be my winner.  When cream cheese is added to a humble icing, it transforms it into a creamy lucious sauce with a bit of a tang that balances out the sweetness. I've made this icing using full fat, low fat and fat free cream cheese, and I can't say I full fat is best as you probably expected. Full fat adds a sense of heaviness that works best on lighter baked goods, fat free works great with added flavouring, and in my opinion low fat works best overall.
When it comes to flavouring your icing, the possibilities are endless! the recipe below as a base is flavoured with vanilla, which is the most common and most likely the taste everyone is familiar with. But, this icing is amazing with any kind of citrus zest and juice—it becomes a fresh yet creamy icing that is just the perfect sweetness on an already sweet baked good. Another way I love to flavour this icing is by keeping the vanilla and adding to it spice—nutmeg or cinnamon or cardamom or chai spice for a more exotic taste. Feel free to play with it and make it suit everything you bake!
When it comes to how thick or runny your icing goes, it's a personal preference or in some cases it depends on the type of baked good you're pouring it on. I like mine on the thicker edge most of the time unless it's a citrus flavoured icing—I tend to like them on the runny side, it gives it an extra sense of freshness. The recipe below as you can guess, is on the thicker edge.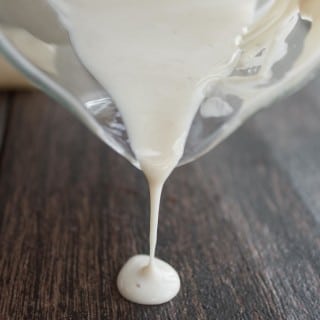 Cream Cheese Icing
This cream cheese icing recipe is the simplest and best you'll ever have!
Ingredients
4

ounces

of room temperature softened cream cheese

( full fat, low fat or fat free-your preference)

1/2

cup

of confectioner's sugar

1

teaspoon

of vanilla extract

2

tablespoons

of milk

( any type)
Instructions
Place all the ingredients in a bowl and whisk them up. If the icing feels to thick, add milk a little bit at a time and whisk to make sure it doesn't thin out. If you feel the icing is too thin, add a tablespoon of cream cheese with a tablespoon of confectioner sugar and whisk it in.For the citrus flavours, add the zest of 1 citrus of your choice and substitute the milk with the juice of that citrus.
Nutrition Facts
Cream Cheese Icing
Amount Per Serving
Calories 651
Calories from Fat 360
% Daily Value*
Fat 40g62%
Cholesterol 128mg43%
Sodium 378mg16%
Potassium 196mg6%
Carbohydrates 66g22%
Protein 8g16%
Vitamin A 1523IU30%
Calcium 145mg15%
Iron 1mg6%
* Percent Daily Values are based on a 2000 calorie diet.