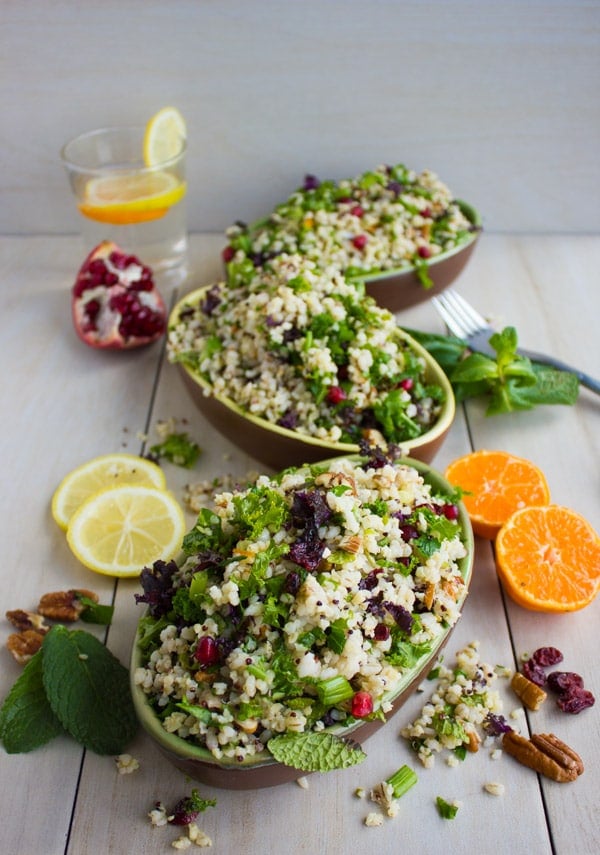 This mixed grain kale citrus salad recipe whips up in minutes and powers you up for a long time! All the grains are cooked together in a single pot and then tossed with kale, cranberries, nuts, plenty of fresh mint and a citrus dressing to brighten up your palate. This is the type of salad you serve warm, cold, main dish, side dish, left over lunch the next day, picnic day, any way any day basically! And hello it's VEGAN 🙂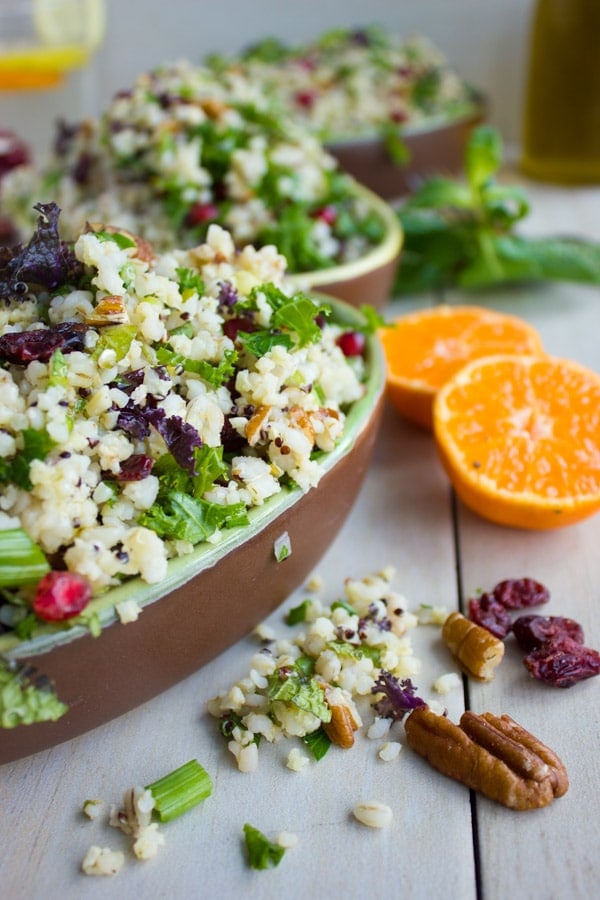 Well it's no secret I have a thing for salads. And I love making full meal salads–so I don't fuss about anything next to it, and also, so I don't feel guilty when I enjoy a sweet treat with my coffee later 😉 But that's not to say you can't have a nice serving of grilled chicken or fish with this awesome mixed grain kale citrus salad. So whatever your mood and schedule look like, then swoop this salad in accordingly 😉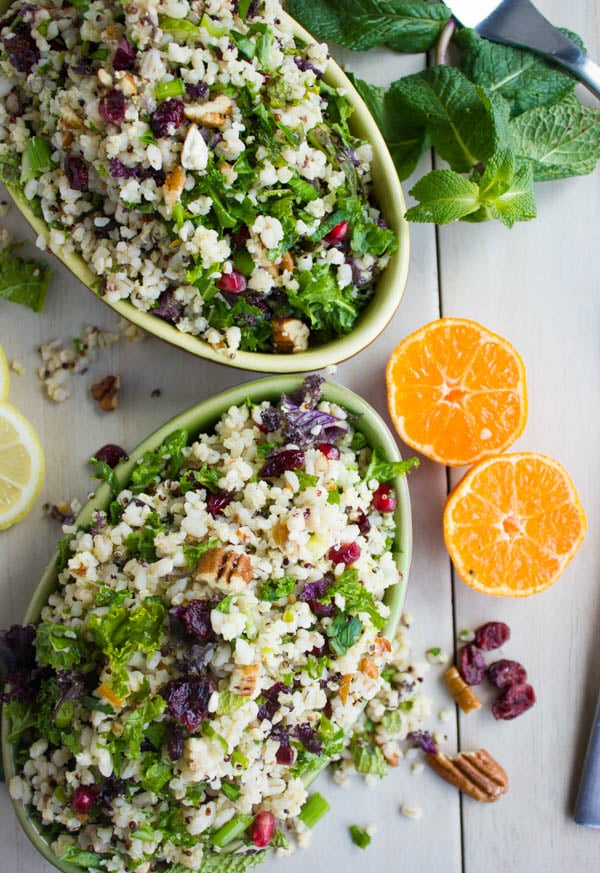 A while ago I had a really cool neighbour from France, she loved mint tremendously. She put it on everything, literally. I love mint too, and no matter how she tried to convince me to add it on some recipes instead of my other fabulous herbs—she couldn't…But with this salad–mint is pure LOVE, and that simply reminded me of her 🙂 It's like a burst of freshness in your mouth! If I had to replace it, I wouldn't. I would absolutely not. If I just had to, maybe I would do dill—it's vibrant and pairs well with zesty tones (speaking of, if you've got some dill right now make this sweet mustard dill sauce or this dill cauliflower rice!).
In brief this mixed grain kale citrus salad comes together like this; rinse off your grains–i used quinoa, faro, millet and whole wheat bulgur today. Measure them up in cups–i used 1 cup. Add double that in water with a bit of salt and bring to a boil, then lower the heat to the minimum and let the grains cook for about 20-30mins. You may need an extra 1/4 cup of hot boiling water if you feel some grains are still tough (barley and faro are usually the toughest).
During this time, make your dressing. It's clementine season, and this means plenty of CITRUS love coming your way! I love mixing clementine juice, clementine zest, a bit of lemon juice, a dash of marmalade for a sweet citrus kick, some mustard, seasoning and olive oil. If you've never made a dressing before—it's a lot easier than you think: you simply need a container, place all the ingredients in it and then seal the container. Now shake the container as hard as you can for a few seconds and BOOM you made dressing! You might want to check this honey Greek salad dressing. And for a slight twist on this dressing—you can check this Buckwheat Persimmon Salad 🙂
Speaking of citrus, here's a flashback—no matter how you shy away from baking, this citrus poppy seed loaf with yogurt glaze is a simple straight forward citrus popping DELICIOUS cake you can't miss!!
So what else can you add to this mixed grain kale citrus salad? I love to add scallions, cranberries, chopped kale, fresh mint, fresh parsley, pecans and pomegranate arils. If you're a garlic person, throw some in the dressing (1 small clove), if you're serving this cold, add in cucumbers and tomatoes, or fresh peaches, apples, and pears. If you love a Greek twist, add in olives and fresh oregano. Basically it's a one recipe fits all kind of salad—so make it today and enjoy! 🙂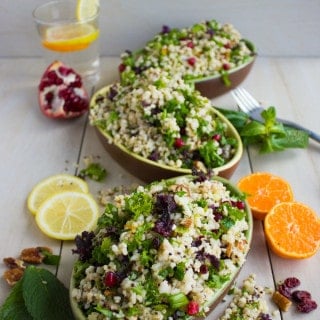 Mixed Grain Kale Citrus Salad
This mixed grain kale citrus salad recipe whips up in minutes and powers you up for a long time! All the grains are cooked together in a single pot and then tossed with kale, cranberries, nuts, plenty of fresh mint and a citrus dressing to brighten up your palate.
Ingredients
1

cup

of mixed grains

( I used 1/4 cup of quinoa, 1/4 cup of faro, 1/4 cup of millet, 1/4 cup of whole wheat bulgur)

2

cups

-2 1/4 cups of water

1/4

teaspoon

of salt

1

cup

of chopped fresh kale

2

large scallions

, finely chopped

1/3

cup

of chopped fresh mint

1/4

cup

of fresh parsley

1/3

cup

of cranberries

1/4

cup

of chopped pecans

1/3

cup

of pomegranate arils

For the dressing:

1/4

cup

of clementine juice

zest of 1 large clementine

(1/2 tablespoon)

1

teaspoon

of lemon juice

1/2

tablespoon

of orange marmalade

1

teaspoon

of mustard

1/8

teaspoon

of salt

pinch of black pepper

1/4

cup

of olive oil
Instructions
Rinse all the grains together with cold water. Strain any excess water.

Place the water and grains in a medium pot over high heat until the water starts to boil. At this point, lower the heat to the lowest setting, and cover the pot.

Allow the grains to cook completely—this takes 20-30 mins depending on the type of grains.

If you feel some grains are still tough, add in 1/4 cup of water and keep the heat low, then wait for an extra 10 mins at most until the grains are all cooked.

In the meantime, prepare the dressing: In a small container, add all the dressing ingredients together. Then seal the container and shake it vigorously for a few seconds until the dressing is all emulsified.

When the grains are ready, add in the salt to them. Never add the salt before the grains are fully cooked.

While the grains are still warm, toss them with all the remaining ingredients and dressing. Serve the salad warm or cold.
Nutrition Facts
Mixed Grain Kale Citrus Salad
Amount Per Serving
Calories 242
Calories from Fat 162
% Daily Value*
Fat 18g28%
Sodium 287mg12%
Potassium 226mg6%
Carbohydrates 17g6%
Protein 4g8%
Vitamin A 2247IU45%
Vitamin C 38mg46%
Calcium 75mg8%
Iron 2mg11%
* Percent Daily Values are based on a 2000 calorie diet.