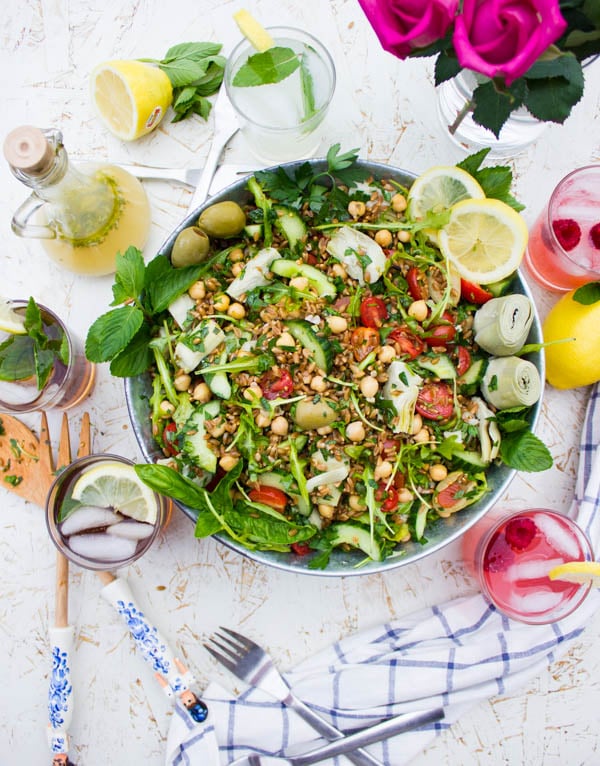 Summer is my perfect excuse to eat more salads, they're refreshing, filling and feel light as air. Today I'm making a Mediterranean Farro Salad with a Sweet Zesty Lemonade Dressing recipe. As scrumptious as it sounds, it's also as easy as can be! It's the kind of salad you can have as a full meal or pair it with anything you're throwing on the grill 🙂
This post has been sponsored by the Coca-Cola Company—Makers of quality food products for every household! All thoughts and opinions are my own.
Am I the only one wishing Summer never ends?! It's been a crazy season for us, outdoor fun, lots and lots of BBQs, event after the other and just overall madness. I'm probably one of the few moms in the group who doesn't complain because I just feel alive in this kind of weather—it takes me back to when I used to live in Miami 🙂 While the majority of other moms are feeling tired and drained, I keep reminding them it'll be over in a blink and we'll all be dreaming of sunshine again!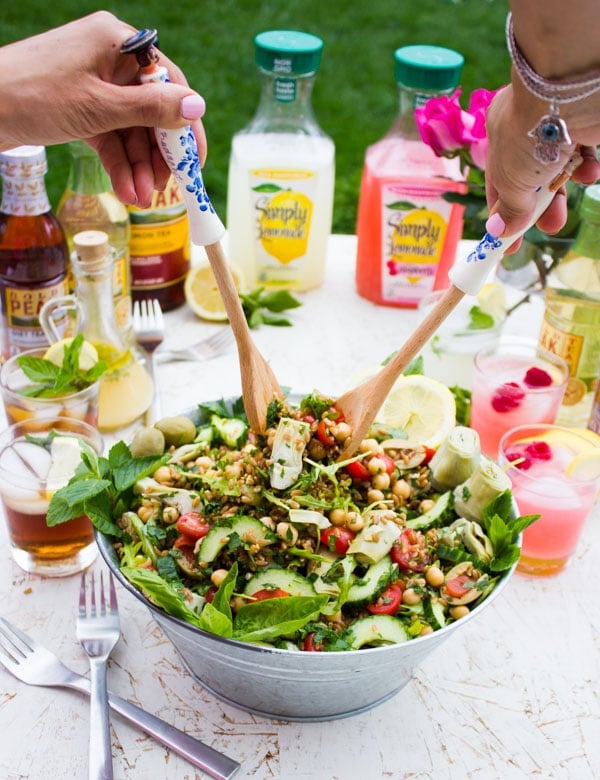 Aside from all the Summer fun, I also can't get enough of light and fresh summer food! Delicious and filling salads, BBQ's and plenty of icy cold lemonades and iced tea! Before I go into details about this farro salad and get all excited about it, I'm likewise just as excited about my favorite summer drinks—Simply Lemonade®  and Gold Peak®  Iced Teas!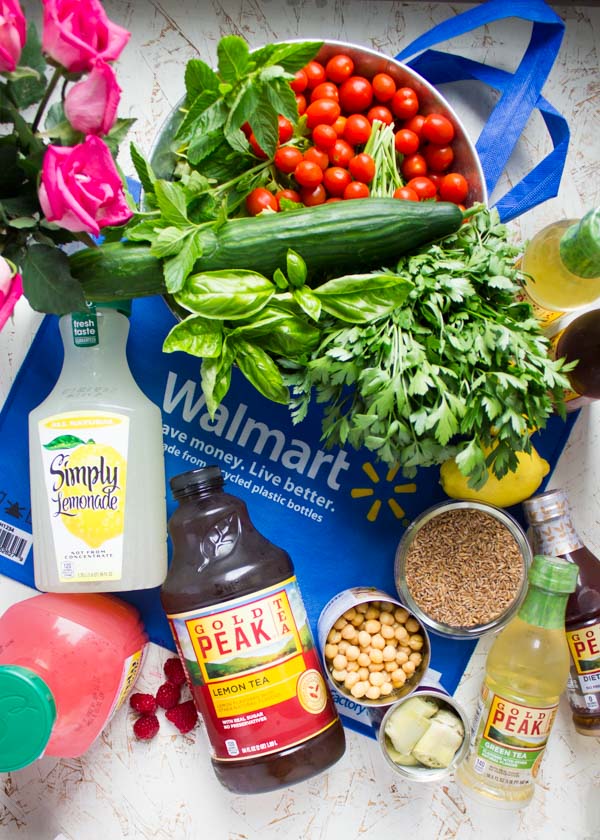 I've shared this Summer Pasta Platter with Sweet Tea Dressing recipe last year and it's a HIT every single time I make it! It's summer pasta salad perfection dressed up with a sweet basil iced tea sauce that's to die for! And it's certainly because of my favorite Gold Peak Iced Tea! This year I moved to a new suburb and luckily I found my local Walmart to be just 5 minutes away. It quickly became my go to store for everything you can imagine—groceries, toys, home, summer fun, school supplies, flowers..everything!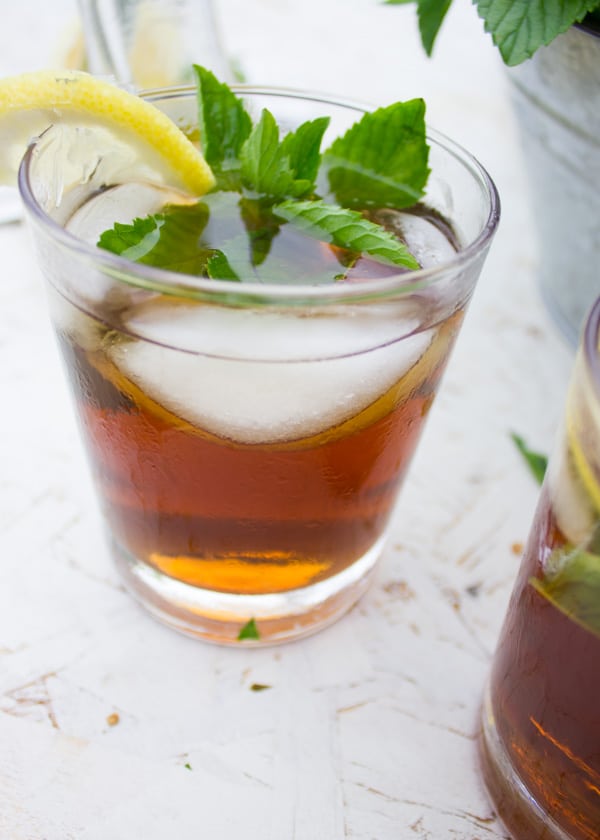 Last weekend, my cousin was visiting from NY and I chose this farro salad recipe because we both have a thing for farro! My grandma used to make it all the time, and she even used to make a sweet version of it. I know it seems unheard of but it's actually quite good! If you're not familiar with farro—I encourage you to give this ancient nutty Mediterranean grain a try 🙂 Farro is chewy, has a slightly nutty wheat-y taste with an exceptionally high fibre and protein content!
So for my cousin, I went to Walmart and packed all those goodies! The freshest produce for my salad, farro grain, summer's favorite drinks from the fridge aisle—Simply Lemonade and Simply Lemonade with Raspberries (I've also loved the mango version!). And delicious Gold Peak iced teas which you'll find at the drinks aisle. The flavors are endless, I keep trying one after the other and still can't decide which would be my favorite flavor!
There are so many ways to cook farro. It's certainly easily soaked overnight and cooked the next day just like you would do lentils. Similarly it could be cooked like rice ( 1 part farro to 3 parts liquid) and finally it could be cooked like pasta—which is my favorite way. Because farro has a nice chewy texture, I prefer cooking it in boiling salted water until it reaches my favorite aldente texture and then draining it. The water can be flavored with bay leaves, garlic, onion, spice and can even be replaced with stock. For today's farro salad, I preferred simple salted water because I wanted other flavors to shine.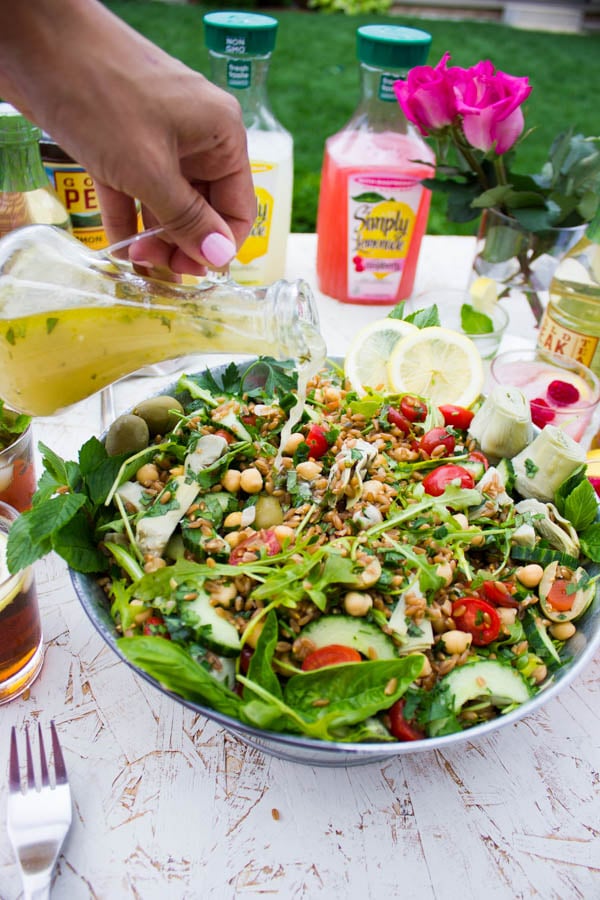 Now what to add on to your farro salad is completely and totally up to your imagination 🙂  I've made this a Mediterranean inspired salad because it reminds me of my grandma. Another thing I love about it is, you can pair anything with these Mediterranean flavors! Grilled chicken, steak, shrimp, salmon..you name it! And above all it's great and filling just as it is, paired with nothing! 🙂 I've loaded mine with cherry tomatoes, cucumbers, Sicilian olives, artichokes, chickpeas, arugula and a bunch of chopped mint, basil and parsley.
When it comes to the dressing, I've made a divine lemonade dressing! And I say DIVINE because it's the ultimate Lemon dressing dream—not too tangy, not too sweet, super lemony and packed with freshness!   So what's the secret ingredient? My all time favorite Simply Lemonade 🙂 It's got the perfect balance of sweet and tang. So I paired that with a touch of garlic, a hint of mustard (for texture), some fresh basil and olive oil. Simple easy and quick. This simple goodness of a dressing is what makes the farro salad POP with flavor!
So it's a great idea to make plenty of it and use it on all your salads this summer! Even pasta salads. And if you're a mayo kind of person, add 2 tablespoons of mayo to the dressing to turn it into a creamy sweet and tangy lemonade dressing or sauce 🙂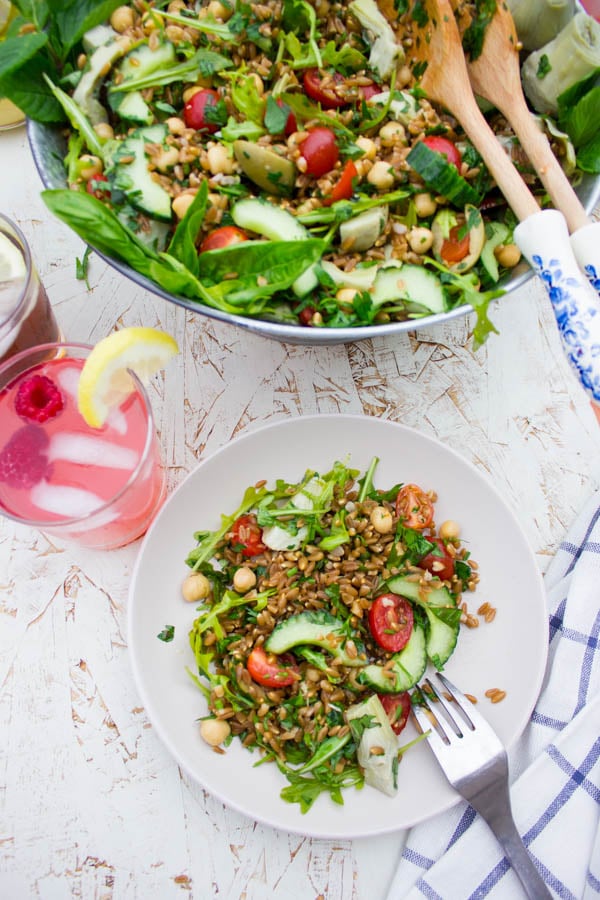 Make yourself a nice big bowl of this Mediterranean farro salad with a divine lemonade salad dressing and enjoy cold lemonades and iced tea with your loved ones! 🙂 Don't miss out on the amazing savings for these drinks and more at your local Walmart! And if you're looking for more ways to indulge this summer–here's an amazing source of recipes, freshness and inspiration! My cousin and I devoured this farro salad and I can't wait for you to make it too! Don't forget to tag me when you do and enjoy what's left of this gorgeous season! 🙂
Mediterranean Farro Salad with Sweet Zesty Lemonade Dressing
Summer is my perfect excuse to eat more salads, they're refreshing, filling and feel light as air. Today I'm making a Mediterranean Farro Salad with a Sweet Zesty Lemonade Dressing recipe. As scrumptious as it sounds, it's also as easy as can be! It's the kind of salad you can have as a full meal or pair it with anything you're throwing on the grill 🙂
Ingredients
Farro Salad:
1

cup

of uncooked farro grain

4

cups

of boiling salted water
Salad Ingredients:
1

cup

of arugula

2/3

cup

of cherry tomatoes sliced in half

1

cup

of sliced cucumber

2/3

cups

of canned chickpeas

1/2

cup

of sliced Sicilian olives

1/3

cup

of minced onions/scallions

1

can of artichokes quartered

2/3

cups

of minced fresh herbs

a mixture of mint, parsley and basil
Sweet Lemonade Dressing:
1

small clove of garlic minced

1

teaspoon

of honey mustard

1

cup

of Simply Lemonade

2

tablespoons

of minced fresh basil

squeeze of half a lemon

1/2

cup

of olive oil

1/4

teaspoon

of salt

more or less to taste
Instructions
Too cook the farro: Bring the salted water to a boil and just as if you would cook pasta, drop in the farro grain and cook until it's chewy and aldente—this may take up to 50 minutes. Farro has a nice chewy bite so it won't mush up easily on you.

Drain the cooked farro and place it in your salad bowl.

Make the Lemonade Dressing: Add all ingredients in a glass container. Seal the container and shake it vigorously until well blended.

Pour1/4 cup of the dressing over the hot cooked farro before adding the remaining salad ingredients—this adds plenty of flavor to the farro.

Add the salad ingredients to the salad bowl and toss the salad well, then pour more of the dressing over the salad and toss again.

Serve the salad right away and enjoy!