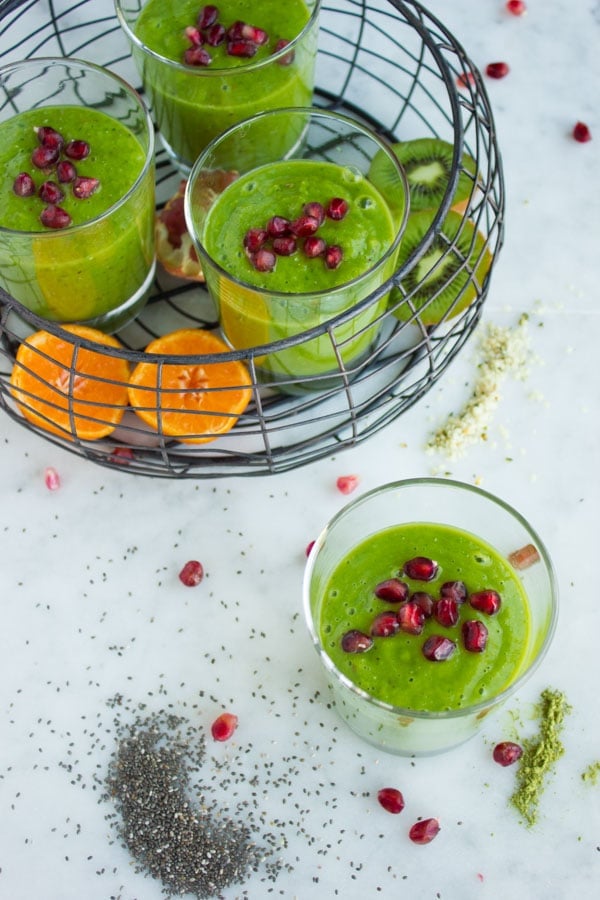 This hemp matcha kale power boosting smoothie recipe is the one and only ultimate smoothie you'll ever make! Think immune boosting, metabolism boosting, detox, anti-oxidant, energy boosting, and above all that think DELICIOUS-refreshing-sweet-quick-easy and versatile! It's almost too good for words, and almost no words are good enough for this ultimate smoothie! A MUST have recipe!
I seriously can have this hemp matcha kale power boosting smoothie everyday! And I actually have it many versions depending on whatever fruits I have on hand, but the ultimate power boosting stuff doesn't change.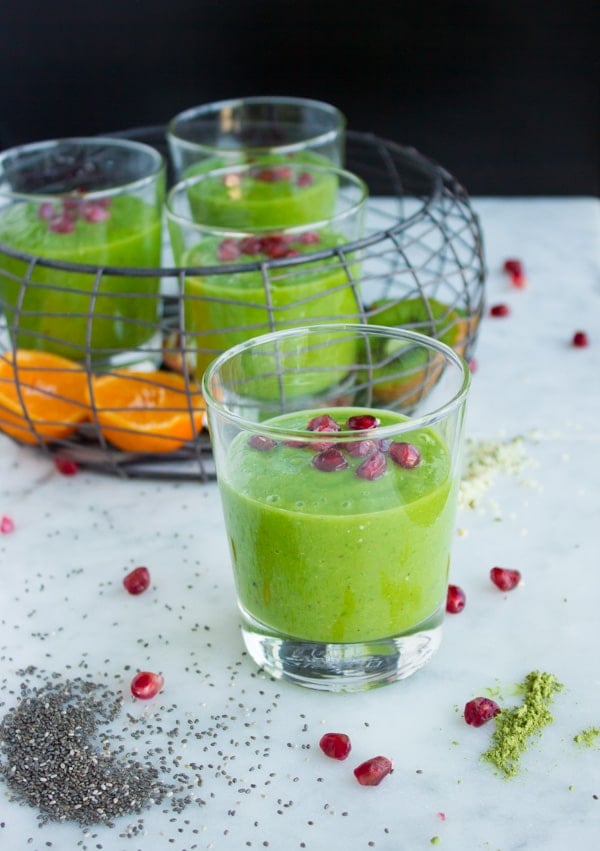 A while ago when green smoothies started the "cool" movement of spinach/kale smoothies, I was one of the first "cool" people to fall for them. And while they are still cool, they don't shout power and boosting goodness like this one here. So many goodies I LOVE adding here and so many reasons why you will LOVE adding them too!
Hemp seeds—this tiny little seed that BURSTS omega 3 and omega-6, Vitamin E, a ton of protein and MUCH more!! This fascinating seed is neutral tasting with a bit of a nutty hint, and it's smooth and creamy in texture once it's pureed. I've used it before in this protein packed nut free hemp basil pesto—for obviously the protein factor, and because I needed a nut-free version for a kids' playdate 🙂
Chia seeds—it's almost no secret now, chia is the magic tiny black seed that packs fibre, protein, amino-acids, omega-3 and minerals. Aside form it's health benefits, this slightly crunchy seed has magical thickening properties which I use to make this instant chia chocolate pudding.
Matcha—this Japanese anti-oxidant power house is originally green tea. But grown, cultivated, hand picked and ground in a unique way that makes it nearly 150 times a powerful anti-oxidant than regular green tea!  Aside from that, it has plenty of fat burning, energy boosting, anti-cancer, memory enhancement, detoxing and immune boosting factors among many others! Matcha tastes like ultra sweet pure green tea and just a little bit goes a LONG way.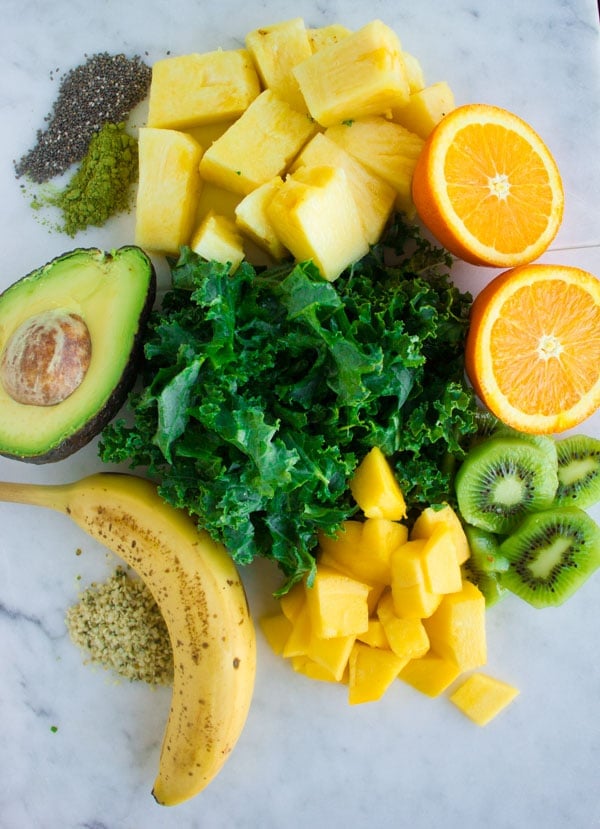 Along with all those fabulous boosting seeds, this hemp matcha kale power boosting smoothie has kale—another favorite of mine, and another powerful ingredient! An avocado—which I used in this banana berry chia avocado smoothie. I love avocados in smoothies for two reasons, the nutritional benefits is one, and the other is the amazing CREAMY texture the avocado provides without altering the taste at all—I promise! And then comes the fruit, which is what makes our smoothie naturally sweet.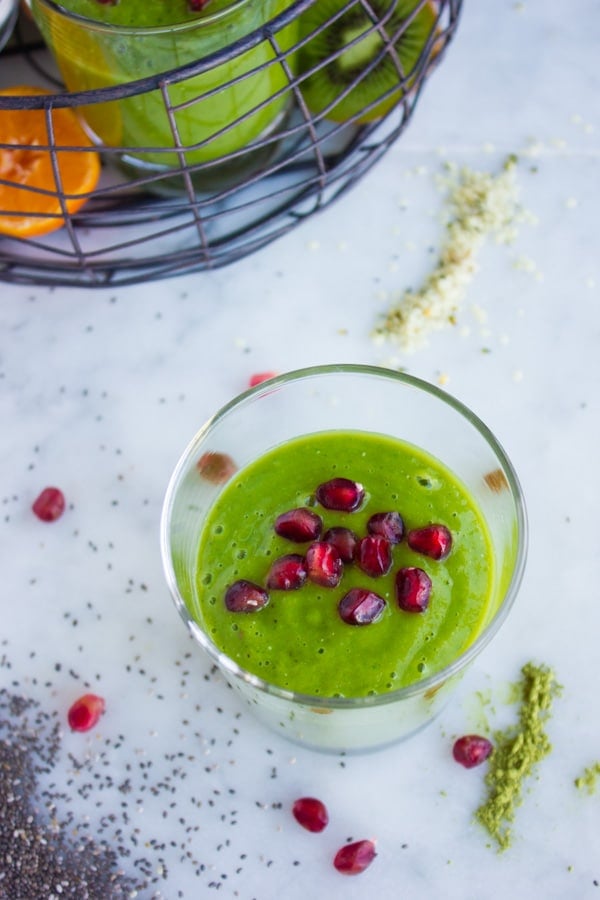 When it comes to fruit, this hemp matcha kale power boosting smoothie is as flexible and versatile as you can imagine! I rarely skip a banana, bananas give my smoothie another creamy luscious texture with a nice boost of sweetness. Orange. Orange gives plenty of juice and fluid to my smoothie—which is absolutely needed. Melon is another great source of fluid. Today I'm adding pineapples, kiwi and mangos—for 2 reasons, because I love the fluid and sweetness they offer. If you have only pineapple on hand, that works just as well. Or Mango. If you have both then that's even better!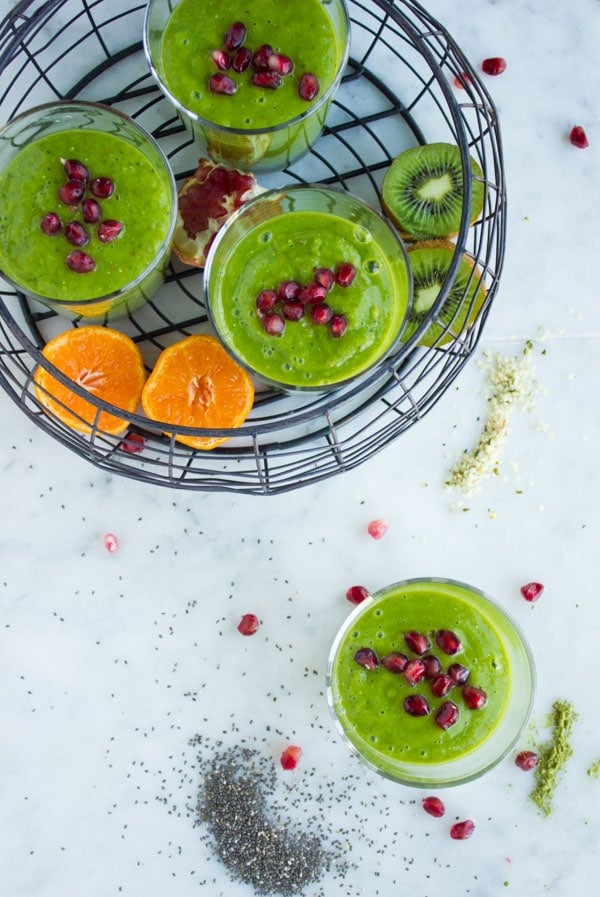 So here's the recipe as I made it today—I strongly recommend you keep the same amounts of the magic boosting seeds as they are. I strongly urge you not to replace the avocado, banana or orange. And feel free to replace spinach with kale. And when it comes to fruit, try it as it, and then try adding and switching around your favorites! Make this AMAZING hemp matcha kale power boosting smoothie and take it work, drink it in the morning, or evening to boost up your energy level. Or simply make it and enjoy it as a really refreshing, sweet and DELICIOUS drink!! Enjoy 🙂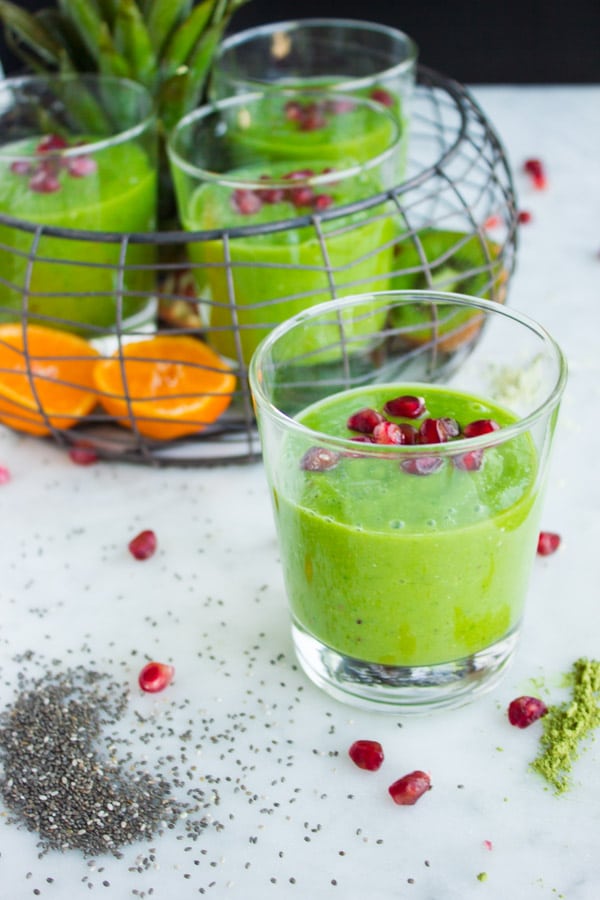 Hemp Matcha Kale Power Boosting Smoothie
Ingredients
2

tablespoons

of hemp seeds

1 1/2

tablespoons

of chia seeds

1

tablespoon

of matcha powder

1

small avocado

(or half a large one)

1

banana

juice of 2 oranges

1 1/2

cups

of stemmed kale leaves

1/2

cup

of mango chunks

1/2

cup

of sliced kiwi

3/4

cup

of pineapple chunks

To sprinkle:

Pomegranate arils
Instructions
Blend all ingredients in the blender and serve sprinkled with pomegranate arils.