This buckwheat persimmon salad recipe is simple, fresh, quick, absolutely delicious and filling yet completely gluten free, vegan, light and sweet! It makes a perfect side dish to any roast or fish, and it makes a perfect meal on it's own if you're vegetarian or trying to cut back on carbs. Make this salad with any fruits and veggies you have on hand, it's versatile and takes just 15 mins of your time!
Are you over those nutella stuffed chocolate chip cookies yet? Let's freshen up and healthyfy the blog a little bit, enter– this lovely buckwheat persimmon salad! I can almost say I love all foods of the world, and I can say I'm anything but a picky eater. But I can't brag about all my favorite foods like I LOVE to brag about my salads—because a nice plate of salad really really cheers me up. Just as a nice bowl of soup lifts me up on a rainy or cold winter day. Salads however cheer me up any day—there are salads that are fresh and energizing, perfect for Spring and Summer. There are salads that are warm, hearty with a pure comfort feel and perfect this time of year–seasonal favourites are like  blackberry pecan roast veggie power salad and quinoa autumn harvest salad.
So this warm and delicious buckwheat persimmon salad was pulled up last minute as a potluck for a kids' Christmas party. I only found out it was a potluck the day 0f…we had other shopping plans that morning and I came home hoping to find inspiration from my fridge! Luckily I had plenty of nice baby spinach, gorgeous purple curly kale, and sweet persimmons. Are you a fan of those sweet little orange beauties? I tasted persimmons when I was about 14 or so in Moscow. They were a super popular fruit there, and we had never heard of it! I remember half of my family loved them and the other half not at all..
Persimmons taste mildly like papaya when they're ripe. Some people will argue they taste like dates, tomatoes and many other things. I think it's better to taste them yourself ad find out! The trick to picking them is to remember this; there are two types of persimmons, one that's firm in texture and looks more like a disc shape (called fuyu)—these are sweet even if they are firm. Another type looks more like a small acorn squash or bucket shape (called hachiya), these need to be really ripe and soft, otherwise they tend to have an unpleasant astringent taste that clings to your tongue and teeth. I used here a combo of both.
The buckwheat persimmon salad comes together like this—toasting buckwheat in olive oil, adding some water and cooking it over low heat for 15 mins. Chopping veggies and fruits in the meantime and tossing them. Putting dressing ingredients in a jar and shaking it till the dressing is emulsified. Toss everything and there you have it—a DELICIOUS salad is ready before your eyes!
So as usual whether I'm making the buckwheat persimmon salad or any other salad, I am all about the dressing and making the dressing and no matter what you argue with me—yes I will always try to convince you to make your own. And here's why. Bring yourself a nice container with a lid. Dump a nice bit of vinegar or lemon juice, then some punch of flavor like minced garlic or shallots, then some herbs fresh or dried like oregano, then something sweet like honey or jam, then a teaspoon of mustard for taste and binding, then season, then some olive oil to emulsify..then cover up that container and shake it vigorously. And guess what—you've got yourself an unbelievably GOOOOOD salad dressing!!! You can add in extras like capers, olives, sundried tomatoes etc.. and you can make this with different sweeteners, vinegars, etc.. you will fascinate yourself, I promise! In case you're wondering, for this lovely salad, I used lemon juice, apricot jam, mustard, fresh thyme, fresh parsley, garlic and olive oil to dress it up. Enjoy! 🙂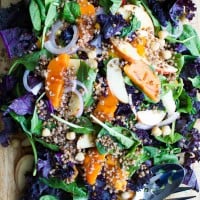 Buckwheat Persimmon Salad
Ingredients
2

cups

of fresh baby spinach

2

cups

of chopped purple kale

(or any kale, lettuce, spring mix)

3

persimmons

, peeled and sliced

1/2

a red onion

, sliced

1

gala apple

, sliced (or your favorite apple)

1 1/2

cups

of toasted buckwheat kasha

, cooked **see note

Dressing:

1

smal garlic clove

, minced

2

tablespoons

of apricot jam

1

tablespoons

of lemon juice

1/8

teaspoon

of salt and pepper

(or to taste)

1

teaspoon

of fresh thyme leaves chopped

1

tablespoon

fresh parsley leaved

, minced

2

tablespoons

of olive oil

1

teaspoon

of Dijon mustard
Instructions
**cook buckwheat kasha:

Toast 3/4 cup buckwheat kasha in a teaspoon of olive il over medium high heat in a small pot. Add in 1 cup of water and bring to a boil. Then cover the pot, lower the heat and cook the kasha for 15 mins until the water is absorbed and the kasha starts to open up.

For the salad: toss all ingredients together.

For the dressing: Place all ingredients in a container. Close the container with a lid and shake the ingredients vigorously until the dressing is emulsified.

Toss the salad with the dressing and serve.
Nutrition Facts
Buckwheat Persimmon Salad
Amount Per Serving
Calories 239
Calories from Fat 54
% Daily Value*
Fat 6g9%
Sodium 30mg1%
Potassium 407mg12%
Carbohydrates 43g14%
Protein 7g14%
Vitamin A 3271IU65%
Vitamin C 35mg42%
Calcium 55mg6%
Iron 2mg11%
* Percent Daily Values are based on a 2000 calorie diet.