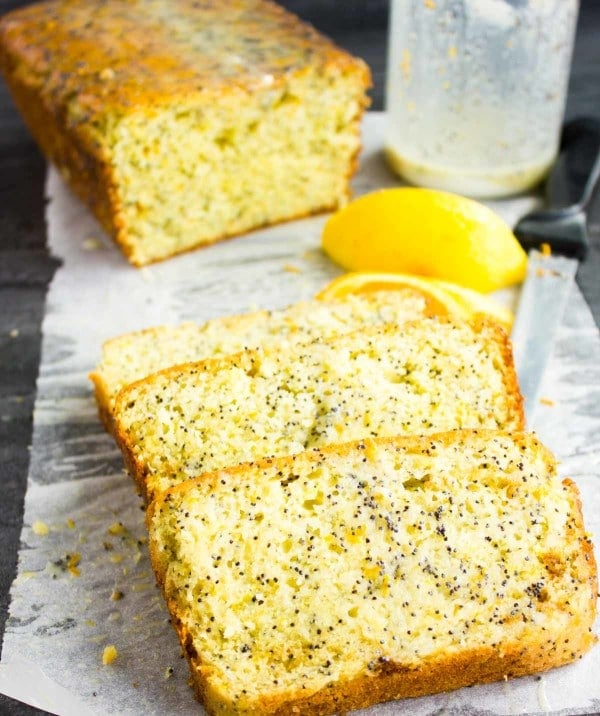 This tender, light and fresh lemon citrus poppy seed loaf with yogurt glaze recipe is a twist on a classic favorite. It's perfectly lemony and orange-y, not too sweet, and has a soft airy texture that contrasts the bite from the poppy seeds. The glaze is extra special made with Greek yogurt, more citrus juices and more poppy seeds for a lovely finish to the cake. This cake takes 10 minutes to prepare and can be made into muffins or the recipe can be doubled to make a bigger cake. It's the perfect fresh treat to pull up when you're rushed.
I have a soft spot for lemon desserts, and luckily my family does too. So this cake is a perfect solution for making everyone happy in about an hour. It doesn't require any fancy baking technique or rare ingredients. All you really need is a whisk and a bowl with a handful of staple pantry items. It's one refreshing treat that shouts hello summer–and I absolutely need this now!
I love to make this cake in a loaf pan, but if you cut all ingredients in half, it can be made in a circular or square pan. I've also made this citrus poppy seed loaf with yogurt glaze into muffins and they were wonderful! They bake for only 20 minutes as muffins, 30 minutes for circular or square pan (half recipe) and full recipe like now in a loaf pan, it bakes in 50 minutes.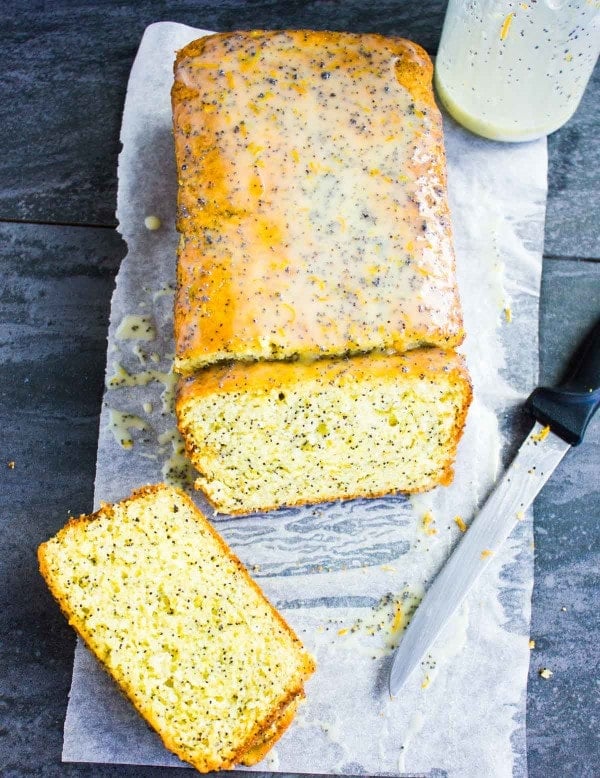 This refreshing burst of sunshine citrus poppy seed loaf with yogurt glaze starts with whisking wet ingredients and dry ingredients separately, then fold everything together, pour into a pan and bake. It's as easy as that. Now while the cake is baking, the glaze should be happening.
The glaze in my opinion is quite essential for many reasons. Firstly because the cake has minimal sugar and it needs just a hint of extra sweetness. But the beauty of this glaze is it isn't overly sweet either, thanks to the use of Greek yogurt, lemon and orange juices. The glaze is unbelievably fresh, it's made with vanilla Greek yogurt, lemon zest, orange zest and orange juice. To add extra texture, I add a teaspoon of poppy seed to the glaze so it compliments the cake beautifully. So think of this lovely glaze as a thin layer of extra lemony freshness that is slightly sweetened with confectioner sugar—more than a glaze.
If you love lemon cakes or desserts, you have to try this! And if you're just looking for a fresh treat to pack for work or to a friend's place or just for you.. try citrus poppy seed loaf with yogurt glaze and enjoy!:)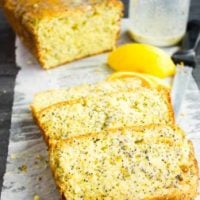 Citrus Poppy Seed Loaf with Yogurt Glaze
Ingredients
2/3

cup

of granulated sugar

Zest of 1 large lemon

Zest of 1/2 an orange

Juice of 1 large lemon

Juice of half an orange--about 3 tablespoons

2/3

cup

of oil

2

eggs

1/2

cup

of buttermilk

2

Tablespoons

of poppy seeds

2

cups

of all purpose flour

2

teaspoons

of baking powder

1/4

teaspoon

of baking soda

pinch of salt

Yogurt Glaze:

1/2

cup

of Greek Yogurt

1/4

cup

of confectioner sugar

zest of 1 lemon

2

tablespoons

of fresh orange juice

1

teaspoon

of poppy seeds
Instructions
Preheat your oven to 375 degrees. Lightly oil a standard loaf pan size, or an 8 inch cake pan, square round or a muffin pan.

In a large bowl, whisk the sugar, all zests, juice, oil, eggs and buttermilk until well combined. Then add in the poppy seeds and mix well.

In a separate bowl, mix the flour with baking powder and baking soda and salt.

Using a rubber spatula, gently fold the dry ingredients into the lemon mixture and pour into your preferred pan.

Bake (middle rack) for about 20 minutes ( always check 5 minutes before or after depending on the pan size you chose) until a toothpick inserted in the middle of the cake comes out clear or with just a few moist crumbs.

Remove from the oven and allow to cool for 10 minutes before removing it from the pan. Glaze the cake while still warm.

For the glaze: Whisk all ingredients in a small bowl until nice and smooth. Add a little more juice if you prefer a runny glaze or a little more confectioner sugar if you prefer a thicker glaze.