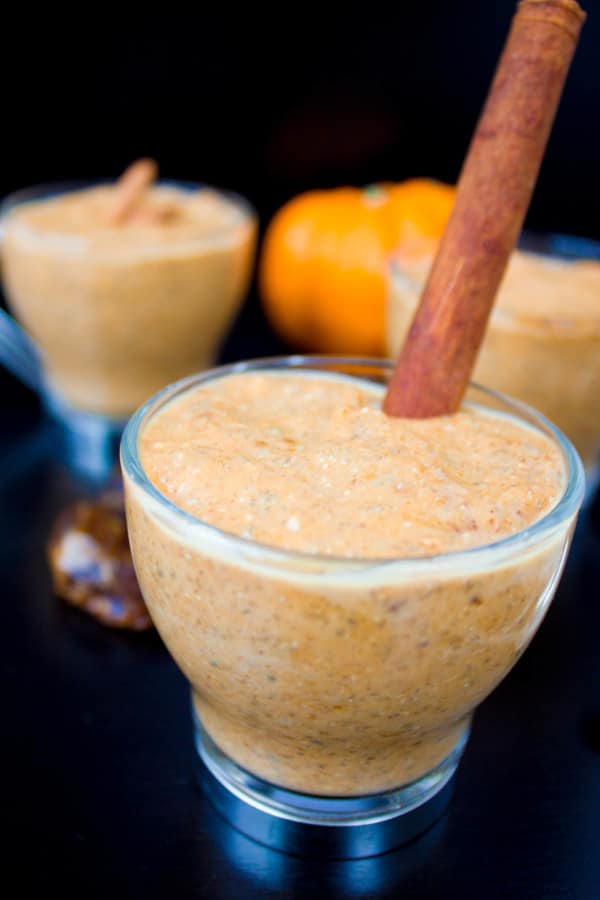 This instant chia pumpkin pudding recipe is a speedy sweet treat that will fix up your pumpkin craving with absolutely no guilt. Chia seeds, pumpkin, dates and almond milk blend up together for an instant creamy, sweet, pumpkin-y pudding. Spice it up with pumpkin spice if you like, or sweeten it with maple syrup for an earthy woodsy maple flavor, or just leave it plain and simple pure pumpkin goodness.
A long while ago I made this instant chia chocolate pudding—which I go back to, time after time when I need a guilt free chocolate fix, or when anyone counting their calories visits. It's pure chocolate goodness, vegan and gluten free, thick and creamy pudding. So this instant chia pumpkin pudding is just a seasonal version of it.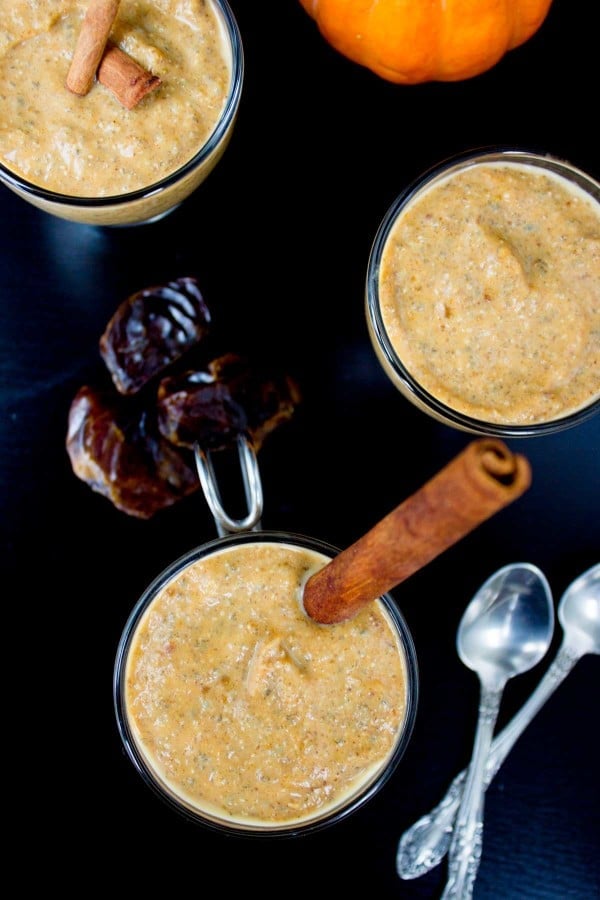 I tasted a version of a chia pumpkin pudding a few months ago, and that's how this recipe came into action. That version had maple syrup, and I could taste that beautiful earthy flavor which perfectly compliments the pumpkin. And that original one I tasted had more plump gel like chia seeds and textures which means the chia seeds have been soaked in the milk for a while and not blended. So while I loved it, I felt I needed to tweak things around.
I picked dates to sweeten my instant chia pumpkin pudding because I love their neutral flavor, and their smooth texture when blended. But again, maple syrup would be a great substitute or honey. I found the only down fall to using dates is, they give a little darkish tone to the brighten orange pumpkin pudding made with maple syrup or honey. Then I spiced it up with a dash of pumpkin spice and an extra dash of cinnamon—because that's just a preference. If you're in love with pumpkin spice this season or chai spice, add away! And if you're looking for just the sweet pumpkin-y flavor not overwhelmed by any spice, then just take them off.
Chia seeds are one of the super healthy superfoods you should really try to get more of, and they have a wonderful characteristic of thickening up instantly upon blending, or long soaking. I wrote a bit more on them in this instant chia chocolate pudding recipe. Now if you're not bothered about what's healthy these days and what's not—just think of them as thickeners to give you that "instant" pudding effect with no waiting around or chilling time.
The instant chia pudding can be made using any type of milk you prefer. I used almond today because my friend happens to be vegan and that was her preference. She wanted something super fast she can pull up with no fuss on a busy day, something that gives a healthy sweet treat feel and that also works with her diet. She was pleasantly surprised! And she suggested I use it as a pumpkin pie filling—which isn't the healthiest thing, but actually quite a fabulous idea that has been stirring in my mind! Will test it out and report back!
If you feel I am over doing pumpkins lately on the blog—I hear you, I really do. And I ask you to get some pumpkin fever too while you can! Otherwise I would ask you to bare with me, I make the best of it every Fall and then gradually move on 🙂 And while we're at it, this instant chia pumpkin pudding is one you will enjoy! 🙂
Instant Chia Pumpkin Pudding
Ingredients
4

pitted Mejdool dates

1/2

cup

of pumpkin puree

3/4

cup

of almond milk

(or your preference)

2

tablespoons

of chia seeds

pinch of pumpkin spice

(optional)

extra pinch of cinnamon

(optional)
Instructions
In a blender, add all ingredients and blend well. Serve.

Note:

Use 2 tablespoons of honey or maple syrup instead of the dates.