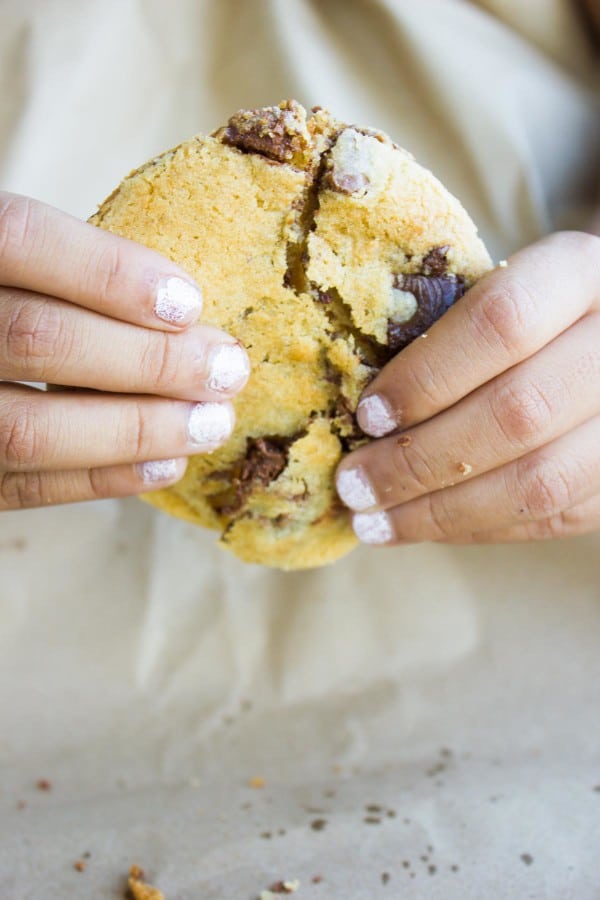 This nutella stuffed chocolate chip cookies recipe is a must have for homestyle chocolate chip cookie lovers! It's made more divine and extra chocolate-y with melting nutella stuffed in the center, and you won't miss out on the sweet buttery and chewy chocolate chip cookie experience! It's a tiny extra step that makes every moment worth it once you take a bite!
Today's recipe is super fabulous and much talk about it is coming up! But first, I wanted to ask you guys–have you heard of yummly? It's a really cool website that allows you to organize, store, find and share  everything about food and recipes! I mean it's like having your own personalized recipe box online. So no matter how picky you are about your ingredients, food type, diet, anything–you'll find what you're looking for and save it on yummly! Did you see the cute orange button at the bottom of all my recipes that says "yum" ? Well all you have to do is click "yum" on that recipe you like and it's saved in your recipe box! Yummly promises to be the largest, most powerful, and most helpful food site in the world, and I agree! You can check out my page on yummly here http://www.yummly.com/page/twopurplefigs where you can see all my recipes displayed and "yum" some fabulous you probably missed!
Ok chocolate chip cookie lovers, meet your match—the nutella stuffed chocolate chip cookies are IN and they aren't going back! And once you try them, you won't go back either. They're super chewy, super chocolate-y, buttery, perfectly sweet comforting cookies. They're more of a treat than just a good old cookie. The nutella isn't overpowering (unless you want it to be and over stuff the cookie), it adds that extra melting sweet chocolate feel, and the cookie dough has the perfect homestyle feel—so it's not too puffy, nor too flat and it's very very chewy.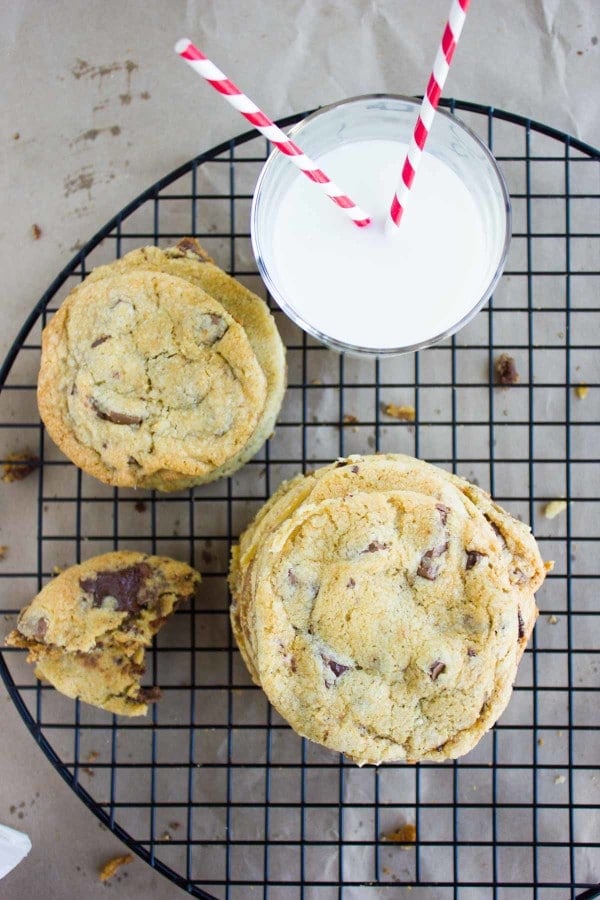 So before we get started, let's set the record straight—these nutella stuffed chocolate chip cookies aren't your light healthy cookies, they won't really help you diet, but they will help you be in the best chocolate chip cookies happy mood ever! Just one of these is enough to get you right there, so don't skimp on them if you're trying to diet, maybe make them and bake one everyday…ok I'm not a dietician, I'm a foodie and all I know is these are just SOOOOOO good for you cookies!
We made these nutella stuffed cookies last weekend, we had unexpected gorgeous weather and the girls had a playdate at the park. As they were getting impatient to leave, I thought I'll get them busy and make cookies to take with us to the park, so all the tiny hands got messy happy making them, eating them, photographing them and sharing them with friends at the park..actually even the seagulls at the park had their share of those nutella stuffed chocolate chip cookies! Who knew they loved chocolate this much!
The dough is a breeze to make, you'll need to beat the softened butter with sugars with an electric mixer for about 3 minutes, add an egg and then quickly beat in the flour, baking soda and baking powder. The chocolate chips (I use chocolate chunks from a chocolate bar) go right in and get folded in with a spatula. I love love using a mix of dark and milk chocolate bits here, this adds a unique feel to the cookie when every bite is chocolate-y in a different way. And by adding nutella, the chocolate experience is elevated to a whole other level!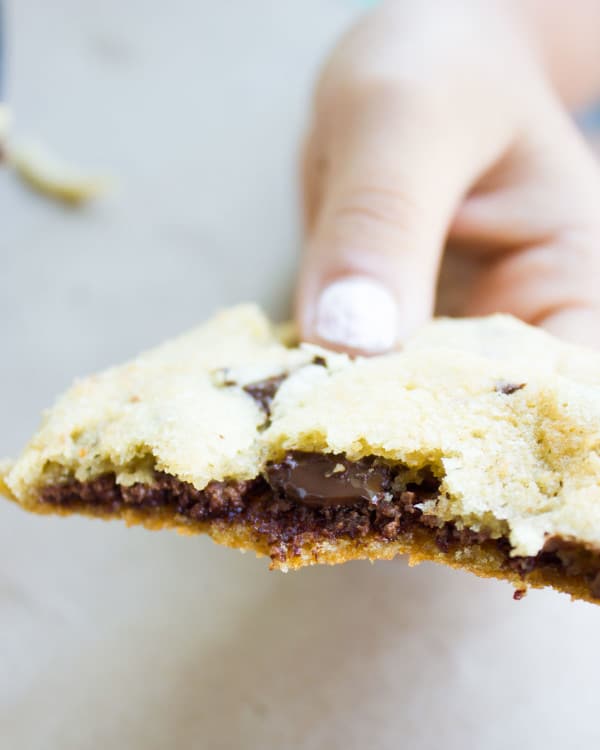 Once the dough is ready, you can take ball sizes (the size you want—no judging here) and flatten the dough on the palm of your hand, then take a teaspoon of nutella (more or less—no judging again) and place it in the center, then fold the cookie dough over the nutella and roll it gently with both your hands. At this point you can flatten the cookie a bit and they're ready for chilling or baking. Baking these nutella stuffed chocolate chip cookies right away will make them a little flatter than if the dough was chilled for an hour prior to baking.
Out of the oven and go ahead now enjoy one or two or three no judging…:)
As you can see my tiny helping hands are anything but helpful when it comes to taking photos of their favorite cookies!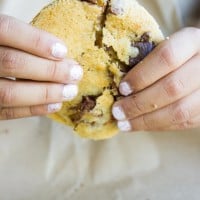 Nutella Stuffed Chocolate Chip Cookies
Ingredients
7

tablespoons

of unsalted butter

, softened at room temperature

1/2

cup

of light brown sugar

1/2

cup

of granulated sugar

1

egg

1

teaspoon

of vanilla

1 1/4

cups

of all purpose flour

1/2

teaspoon

of baking powder

1/2

teaspoon

of baking soda

pinch of salt

1 1/4

cup

of mixed dark and milk chocolate chunks

1/4

cup

of nutella

(more or less to taste)
Instructions
Preheat the oven to 350 degrees F. Prepare a parchment lined baking sheet.

In a small bowl, whisk the flour, baking power, baking soda and pinch of salt.

In a bowl, using an electric mixer, beat the butter and sugars for 3 minutes until the mixture is light and fluffy.

Add the egg and vanilla and beat them with the sugars until just blended. Then add in the flour mixture and mix it in with the mixer for another minute.

Using a spatula fold in the chocolate chunks.

Take golf size balls of dough (bigger or smaller according to your preference) and flatten it on the palm of your hand, place a teaspoon of nutella in the center and fold the dough over it rolling it back gently into a ball.

Flatten the ball slightly into a cookie shape and place on the cookie sheet.

Chill the baking sheet as is, covered with plastic wrap for about an hour and then uncover and bake the cookies for 12-14 minutes (depending on the size).

Alternatively you can bake the cookies right away.

Or you can freeze the cookie dough shaped as is and baked straight from freezer for an extra 2 minutes.