'Tis the Season! It's time to smell the heavenly cookies baking and enjoy every bit of them 🙂 I'm making a classic today, but with such a delicious twist! These Holiday Maple Linzer Cookies are buttery, not too sweet, flecked with a touch of orange zest, studded with almond flour and stuffed with a divine lick your spoon Maple frosting! OMG you won't miss out on the jam here!
Today's divine recipe is sponsored by my friends at Real Layers , makers of delicious, allergen friendly and luscious ready-to-spread buttercream frostings made with real butter and other wholesome ingredients. They're available at all Whole Foods Market stores in Ontario, Longo's and many other retailers across the GTA. Follow @reallayers on IG, FB, Twitter to stay in touch with all their updates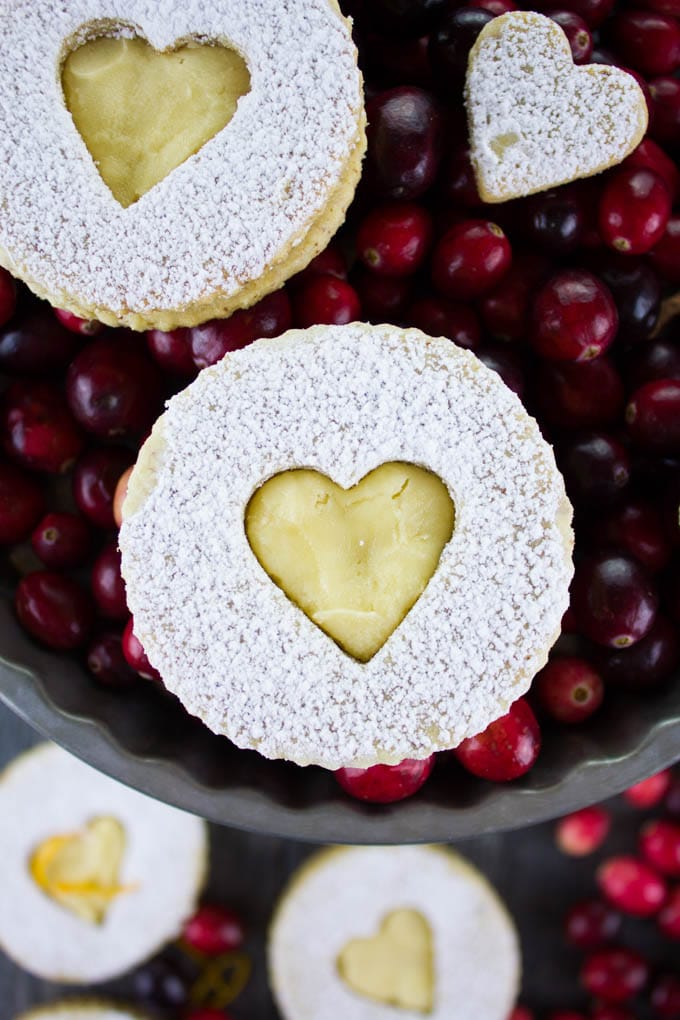 I've got much to catch up on this Holiday season. I can however safely say I'm done with the gifts, which is a huge chunk of my to-do list! Now whatever time I have left, I plan on making it all about the food 🙂 Dear Holiday food, I can't wait to dive in!! I'm taking care of baking this year, just like I did with Thanksgiving. I don't mind that growing trend in my family at all! Baking is therapeutic and puts me in such a good mood, my kids are having a blast baking with me, and above all, my home always smells so good!! So it's a win win for me!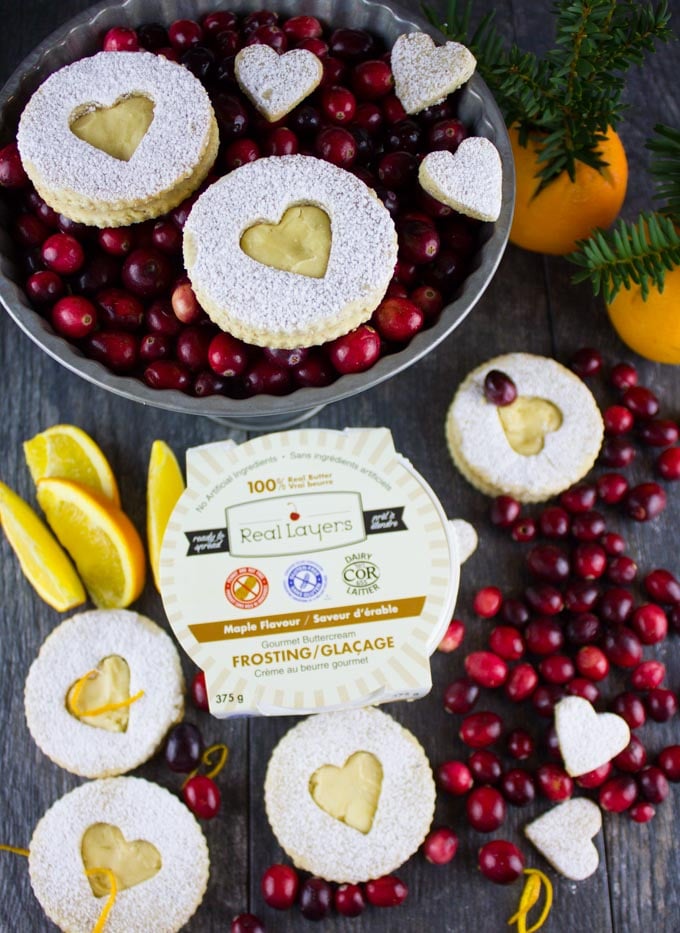 These divine Linzer cookies are the perfect gift this Holiday season. I've made them four times already, and they've disappeared before I even thought of how to wrap them! There's the girls who lick the maple frosting with their fingers and then move onto the cookies, there's hubby who sneaks in a few to work for his midday coffee, and then there's me. I claim I need to try one everyday with my coffee just to make sure they still taste good, but we all know that's not how it goes lol, I end up having a couple with my coffee, and secretly bake another batch to hide that!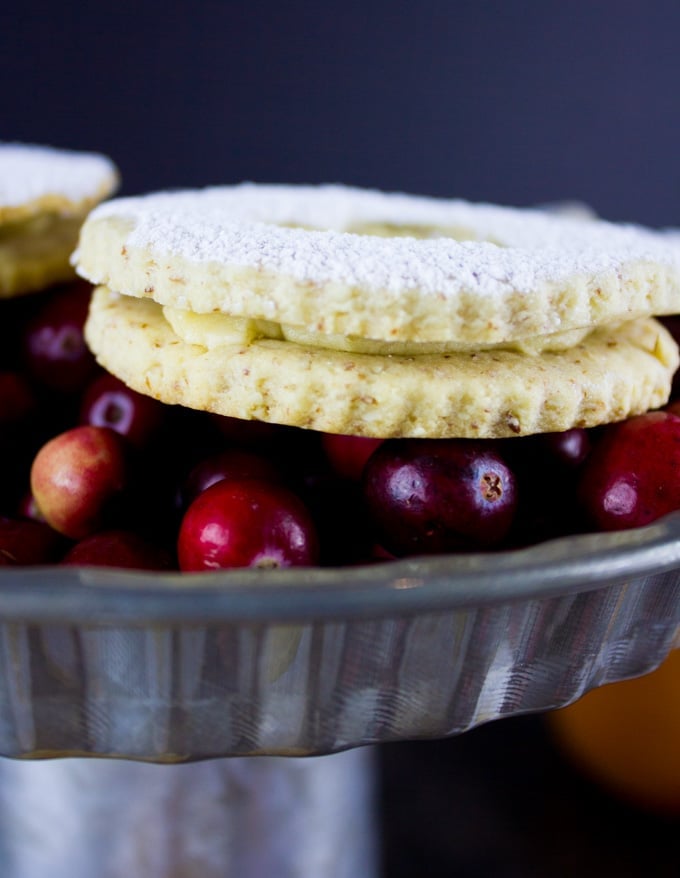 To me Linzer everything reminds me of Vienna and the sweet three years I lived there with my family. I still very much long to go, specially that my sister still lives there and it's been a while I haven't been. The Linzer torte is more common there than the cookies, it's basically the same idea as the cookies but in a pie/tart form with a lattice crust. It's a staple during the Holiday season, and I know the Linzer cookies are a staple here for many of us. They're so easy to make, they're just as buttery but tastier than our average sugar cookies and they certainly look so festive!
Before I get to details of how easy this recipe is, even if you call yourself a non-baker you'll probably change that after making these Linzer cookies! I want to share a secret. If you've been reading my blog for a while now, you'll know that I'm from scratch, real ingredients kind of blogger. I rarely opt for a store bought shortcut unless it feels TOTALLY like homemade for me. Not just that, likewise it has to be a product that I know I would make use for on different occasions—not just once.
These Real Layers ready-made buttercream frostings I picked up a few months ago out of curiosity, honestly. And also because on a few occasions I was discouraged from finishing off a cupcake project since I didn't have time to make and chill my homemade frosting. They were put away in my pantry for another month before opening the Vanilla flavoured one for a school bake sale. My little miss J licked her way off those cupcakes like no tomorrow. And while this seems like normal for kids, again, if you read my blog, you'll know how little miss J is undoubtedly the pickiest kid ever lol.
Next I tried their chocolate frosting on brownies, OMG so good! Here I am today using Real Layers Maple frosting in place of jam for my Linzer cookies and I can not, can not, express just how delicious they are!! That maple taste is so beautifully rich in the frosting without being overly sweet. It's perfectly balanced. The texture is so beautifully creamy and fluffy, on some level, I shouldn't blame my kids for licking the frosting before eating their cookies lol. It's really this GOOD and I can't urge you enough to try it!
Ok now let's make Linzer cookies! Beat some unsalted butter, sugar, orange zest, some orange juice and vanilla until nice and fluffy. Add an egg to that and then mix in some ground almonds (almond flour) and regular flour. Use a spatula to mix that together and make a nice smooth dough. It's best to chill the dough for just an hour or so before rolling. While you can roll the dough on a floured surface, I've found it's best to roll out the dough between two sheets of wax/parchment paper.
Now the fun part! Choose your favorite cookie cutters, make sure one is smaller than the other. I chose a circular one and a small heart one. Cut out  all the dough with the large cookie cutter, and then cut out the middle of half of those cookies with the smaller one. Once baked, dust the cookies with the heart centre with confectioner sugar. And then spread a generous teaspoon of maple frosting on the full cookie (not dusted ones). Sandwich the cookies using the bottom maple frosted cookie and top it with a sugar dusted heart cut out cookie.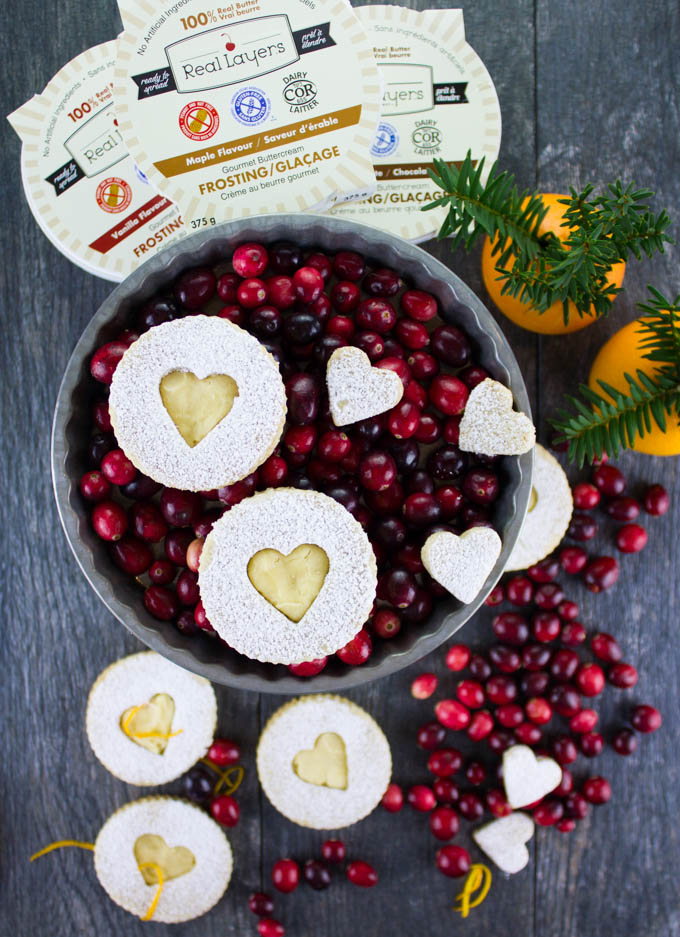 So delicious! These cookies can stay at room temperature for at least a week! So make plenty! Enjoy and share some love!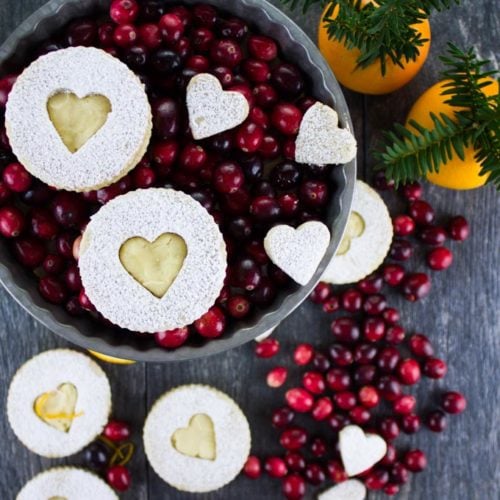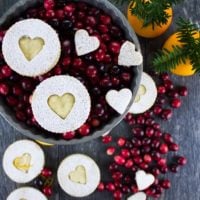 Holiday Maple Linzer Cookies
'Tis the Season! It's time to smell the heavenly cookies baking and enjoy every bit of them 🙂 I'm making a classic today, but with such a delicious twist! These Holiday Maple Linzer Cookies are buttery, not too sweet, flecked with a touch of orange zest, studded with almond flour and stuffed with a divine lick your spoon Maple frosting! OMG you won't miss out on the jam here!
Ingredients
1

stick

8 tablespoons unsalted butter, at room temperature

1/2

cup

sugar

Zest of 1 orange

2

teaspoons

of orange juice

1 1/2

teaspoon

of vanilla

1

egg

1 1/4

cup

ground almonds

finely ground but not almond flour

2

cups

all-purpose flour

pinch

of salt

1/2

cup

of Real Layers Maple Frosting
Instructions
In a large bowl, beat the butter and sugar together at medium speed until smooth, about 3 minutes, scraping down the bowl as needed. Add in the orange zest, orange juice and vanilla, and beat for a few seconds to incorporate. Add the egg and beat for 1 minute more.

Add the ground almonds and flour and pinch of salt and use a spatula to mix the dough together until smooth.

Divide the dough in half and chill the dough for 30-60 mins.

Working with one half at a time, put the dough between two large sheets of wax/parchment paper. Use a rolling pin to roll out the dough, turning it over frequently so that the paper doesn't cut into it, until it is about 1/4-inch thick. Repeat with the second dough.

Preheat the oven to 375° F.

Peel off the top sheet of waxed paper from one piece of dough and, using a 2-inch round cookie cutter, cut out as many cookies as you can and transfer the rounds to parchment lined baking sheets.

Repeat with the other dough. Take a smaller (heart or any shape) cookie cutter and cut out the centres of each cookie. Place those cut out cookies on a parchment lined baking sheet too and bake the cookies for 11 to 13 minutes, or until the cookies are lightly golden and firm to the touch. Transfer the cookies to a rack to cool to room temperature.

Dust the cookie tray with heart cut out cookies with confectioner sugar.

Take a teaspoon of maple frosting and spread over the there baking sheet with the full circle cookies.

Now sandwich the cookies together with a maple frosted circular bottom cookie and top it with a heart cut, sugar dusted top cookie.

Re-roll the scrape and bake, frost, dust the same way and enjoy! 🙂
Nutrition Facts
Holiday Maple Linzer Cookies
Amount Per Serving
Calories 221
Calories from Fat 72
% Daily Value*
Fat 8g12%
Cholesterol 14mg5%
Sodium 23mg1%
Potassium 31mg1%
Carbohydrates 33g11%
Protein 5g10%
Vitamin A 20IU0%
Vitamin C 1mg1%
Calcium 30mg3%
Iron 1mg6%
* Percent Daily Values are based on a 2000 calorie diet.