Holiday baking is off to a great start here! This Festive Cranberry Pistachio Holiday Biscotti Recipe is light as air, easy to whip up and taste like pure Holiday joy! It has a fabulous crunch, a sweet cranberry and pistachio taste with a spike of orange. For a more festive feel, half of them are dipped in some melted white chocolate and sprinkled with more crushed cranberries and pistachios!! Oh yes your Holiday cookie exchange this year is about to get super delicious!
It feels a bit too early to start talking Holiday baking, but sooner than you it, you'll get in to it..and I just wanted to give you a heads up with this pure JOY of a Holiday cookie exchange recipe. It's tastes, feels and looks like the Holidays!
Lately our cookie exchanges have all been "kiddie" friendly because the girls love baking with me-but that also means our baking has been typical anything chocolate. This year I'm hosting two Holiday cookie exchange parties, so everyone will get their cheer! And this Holiday biscotti recipe is my pick. Here's why.
The colors, the flavors—cranberry, orange and pistachio, they scream festive! It's a cookie that stores well for a long time—at least 2 weeks, and so it makes great Holiday gifts too. It's light as air—made with no butter, just a touch of oil, and made with egg whites only. Egg whites not only add to the light as air feel of the Holiday biscotti, but it also adds such a perfect crunch. It's a recipe you need to try this Holiday season!
Now yes I mentioned they're light as air, and I'm sure you can spot the white chocolate dipped biscottis..yes I'm not denying them. I'm actually pushing for them. I mean we've skipped the butter, we're using only egg whites, we're all for festive and it's the Holidays so YES we're pushing for the white chocolate dipped Holiday biscotti. And not only dipped, but dipped and sprinkled with finely crushed cranberries and pistachios for an insanely delicious cookie!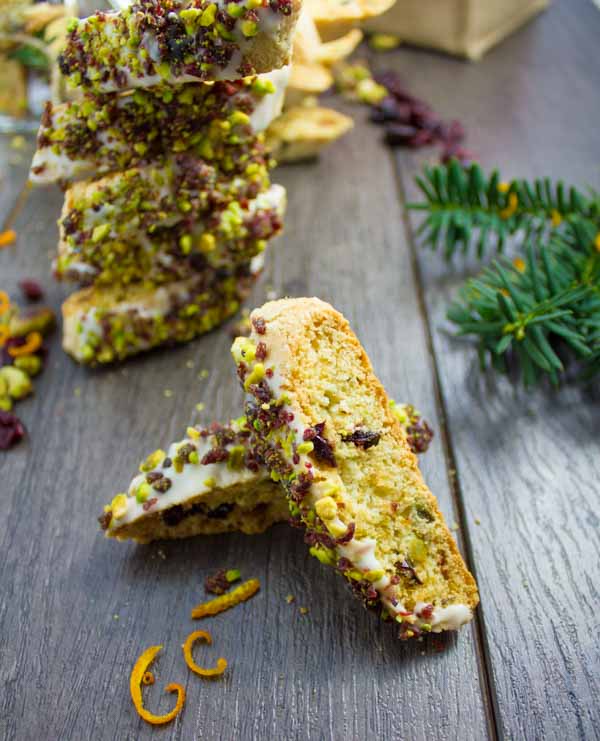 Here's the step by step breakdown of this must try recipe this season! You'll add sugar and orange zest in a bowl, add in some oil and egg whites. Use simple a wooden spoon to mix them up, and then go in with the flour and baking powder mixture. Use the same wooden spoon to mix them up and half way, add in the cranberries and shelled pistachios. then continue with the wooden spoon until all mixed up.
Now you'll divide the cookie batter in half and form a long long with each half—here's the trick, I made those into small-medium sized biscotti and that's why I made 2 logs. If you want bigger bakery style biscottis, then use the dough to make only one log. And if you want those mini cute looking bucatini cookies then divide the dough into 3 or 4 logs. Then you'll flatten the logs on top with your hands gently and they hit the oven.
After baking, the logs are sliced diagonally into 1/2 and inch thick slices. And here's another trick—the sharper the angle you slice the log at, the longer your biscotti will look, while the smaller angle you slice on, the more your biscotti will look smaller. It's a personal taste, and I've made both options here so you can see most of the dipped biscotti are sliced at a smaller able, who the plain ones are sliced at a bigger angle so they look taller.
Once sliced the biscotti slices goes back in to a lower oven for 12 minutes to crisp up. And then the fun part. It's optional, but really worth it. Melt the white chocolate in a microwave safe bowl and dip the tops of  each biscotti in the white chocolate, then dip that in to a bowl of crushed cranberries and pistachios ( I use my mini food processor to finely crush the cranberries and pistachios). Let the white chocolate set at room temperature or in the fridge for a speedy set up. Now grab your friends, wrap some Holiday biscotti gifts for them, make some coffee and enjoy!!
Oh did I mention there's an awesome fun #CookieEggChange Twitter Party on December 1st at 9 p.m? Join us for recipes, ideas, chat and best of all–amazing prizes!! For more info on Burnbrae Farms, be sure to follow them on Facebook, Twitter and Pinterest. See you there! 🙂
Disclosure: I am participating in the Burnbrae Farms campaign managed by SJ Consulting. I received compensation in exchange for my participation in this campaign. The opinions on this blog are my own.
Festive Cranberry Pistachio Holiday Biscotti
Ingredients
2/3

cup

of sugar

zest of 1 orange

2

tablespoons

of oil

1/3

cup

of egg whites

2

cups

of flour

1 1/2

teaspoons

of baking powder

pinch of salt

1/2

cup

of cranberries

1/2

cup

of shelled unsalted pistachios

Optional for dipping:

1

cup

of white chocolate chunks/wafers

1/4

cup

of cranberries + 1/4 cup of shelled unsalted pistachios

, both minced together in a food processor
Instructions
Preheat the oven to 400 F. Line a baking sheet with parchment paper and set aside.

In a small bowl, add the flour and baking powder and mix them well.

In a large bowl, mix the sugar, orange zest and oil using a wooden spoon or whisk. Add in the egg whites and mix well.

Add the flour mixture to the sugar mixture and using a wooden spoon mix them, and half way add the pistachios and cranberries and then continue mixing until the cookie dough is ready.

Divide the cookie dough into 1 or 2 or 3 or 4 (depending not he size of biscotti desired) and shape into a log ( or 2 or 3 or 4 logs depending not he size you chose). Press the tops of the log gently to flatten it and bake the cookie log for about 25 mins until slightly golden and set.

Lower the oven to 325F.

Remove the cookie logs form the oven and use a sharp serrated knife to slice the cookie log diagonally into half inch thick slices.

Place the biscotti slices back on the baking sheet and bake at 325 for 12 mins until crips ( the biscotti will harden as it cools down).

To make the dip (optional):

Melt the white chocolate in a microwave safe bowl for 1 min.

Place the pistachio and cranberry mixture in a another bowl.

take each biscotti and dip the top of it in the white chocolate mixture allowing the excess chocolate to drip off. Then dip it right into the crushed pistachio cranberry mixture.