There's nothing like some sweet OREO Cookie Balls coated with marshmallows dipped in your hot chocolate to make this Holiday season even more festive!
How's everyone's Holiday planning shaping up?! I'm quite ok this year shockingly lol. I probably adapted the "less is more" motto this year and it's been working beautifully for me! And the best part is, it applies to everything!
So for example, these OREO cookie balls. How divine and luscious do they look?!! And they required no baking, no fussing and they're really the perfect Holiday treat with your hot chocolate.
OREO COOKIE BALLS RECIPE
As obvious as it is, these OREO cookie balls are awesome because they're made with OREO! Everyone's favorite cookie 🙂
You can certainly pick your favorite flavor from OREO, or use the Birthday Cake one like I did! We're always stacked up with this particular one because it's my girls's absolute favorite!
You'll find them at your local walmart store, and even better, you'll find so many special savings on Family Size OREO products!
This OREO cookie balls recipe is really and truly two main ingredients, the OREO cookies pack and an 8 ounce pack of room temperature cream cheese. At that point it's divine, but to make it extra special and even more divine, I dip it in meted chocolate and coat it in marshmallows.
The recipe can be made well in advance and stored in your fridge before serving. These OREO cookie balls with marshmallows are great for a Holiday morning hot chocolate by the fireplace. Or, a late night Holiday hot chocolate treat also by the fire, with plenty of good laughs and family time!
I recommend no more than 5 days of preparing in advance for these OREO COOKIE BALLS.
Once you're ready to serve, simply make your favorite hot chocolate and dip one OREO cookie ball right in and watch it melt!
As these cookie balls melt, expect your hot chocolate to taste super creamy and extra chocolate-y—which is seriously what everyone needs this Holiday season!! 🙂
First of all, start processing the OREO cookies and cream cheese for 2 minutes until smooth.
The mixture will look smooth, yet shapes and hold its' shape well. Ideally a small ice cream scoop is all you need to shape the OREO cookie balls, however you can also use your hands.
Now, you'll need to chill the mixture for only 10 minutes while you melt some semisweet chocolate. Likewise, you can use only dark chocolate if you prefer, or milk chocolate. I've used semisweet chocolate today 🙂
Use a toothpick to hold each OREO cookie ball and then dip it nearly all the way through in the melted chocolate and right away stick it in a bowl of marshmallows. You can use your hands to make sure the marshmallow stick well to the OREO cookie balls.
And finally, you'll chill the ready OREO cookie balls for an extra 10 minutes until the chocolate sets completely! Now it's time to devour!

TIPS FOR OREO COOKIE RECIPE
These OREO cookie balls are super addictively delicious, however they're super messy fun to make! So be prepared for chocolate finger licking, marshmallow munching and OREO crunching things to happen while you're making them 🙂
Use an ice cream scoop for uniform looking OREO cookie balls.
Chilling the OREO cookie balls before dipping them in chocolate helps the chocolate to stick well on the OREO cookie ball.
When dipping the balls in marshmallows for coating, wait a few seconds for the marshmallows to stick to the chocolate before removing the OREO cookie balls from the marshmallows plate.
Hands are best to help the marshmallows stick together.
Store the OREO cooke balls in the fridge for a week at most and use them daily with your hot chocolate or as they are for a delicious chocolate dream!
Make this super luscious recipe this Holiday season! It's a crowd pleaser, super easy and quick to make, so you'll have plenty of energy to enjoy family 🙂
HOLIDAY RECIPES
Homemade Hot Chocolate Recipe & Hot Chocolate Bar
Luscious Easy Chocolate Truffles
Fool Proof Homemade Dinner Rolls
Mixed Nuts – Sweet and Spicy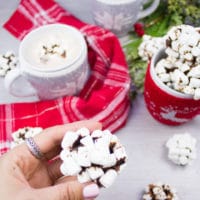 OREO Cookie Balls With Marshmallows
There's nothing like some sweet OREO Cookie Balls coated with marshmallows dipped in your hot chocolate to make this Holiday season even more festive!

Ingredients
36

OREO

Cookies, Birthday Cake Flavor

8

ounces

Cream cheese

Room Temperature
Coating
12

ounces

Semi Sweet Chooclate

melted

5

cups

marshmallows

mini size
Instructions
MIX cream cheese and cookie crumbs until blended in a food processor.

SHAPE into 48 (1-inch) balls. Freeze 10 min. Dip balls in melted chocolate using a toothpick, and and coat them halfway in the bowl of mini marshmallows. Make sure to wait a few seconds for the marshmallows to stick completely to the OREO cookie balls and press them firmly with your hands.

REFRIGERATE 1 hour or until firm. Share and enjoy!
Recipe Video
Nutrition Facts
 OREO Cookie Balls With Marshmallows
Amount Per Serving
Calories 82
Calories from Fat 27
% Daily Value*
Fat 3g5%
Cholesterol 10mg3%
Sodium 42mg2%
Potassium 13mg0%
Carbohydrates 13g4%
Vitamin A 125IU3%
Calcium 10mg1%
Iron 0.1mg1%
* Percent Daily Values are based on a 2000 calorie diet.