This shop has been compensated by Collective Bias, Inc. and its advertiser. All opinions are mine alone. #LatteMadeEasy #CollectiveBias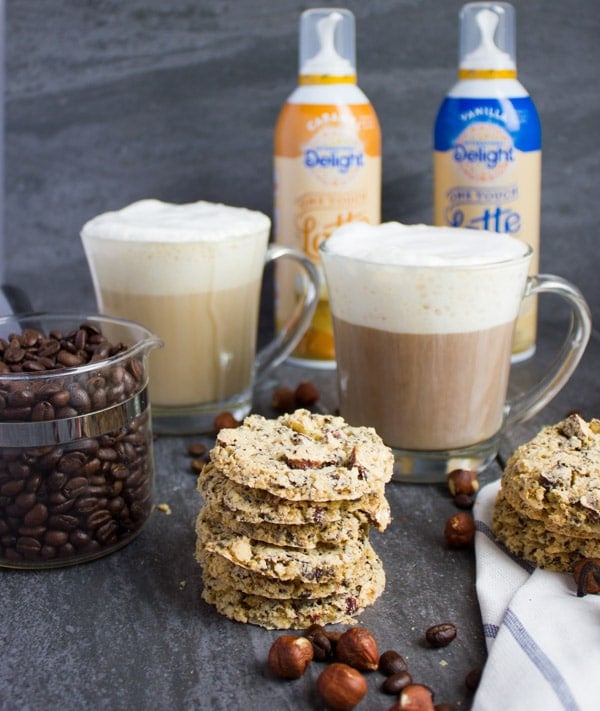 These Coffee Crunch Crisp Italian Cookies will be your latte's best friend! They're light as air, delicately crispy, loaded with chunks of coffee beans and hazelnuts, and not too sweet! Best of all, they're made with three basic ingredients and come together in minutes using a bowl and a whisk—no fuss at all 🙂
Latte lovers, I've got you covered! And I'm starting with myself since I've found my perfect cup of latte in just seconds. Seriously. You know how I brag about my love of coffee all the time, and I am super gonna brag today because it's double the LOVE! I'm making my perfect cup of caramel latte and pairing it with a light as air coffee bean crunch (yes more coffee!) Italian cookies! So with this gorgeous Spring weather, I can finally sit back and enjoy this perfect morning coffee fix in the garden 🙂 Obviously after the kids are off to school lol
The other day I was off to Walmart and found the International Delight® One-Touch Latte™ right next to the other International Delight® creamers in the fridge. I was intrigued. Sounded too good to be true, so I had to pick it up. I actually mentioned them in this Caramel Spiked Chocolate Donut Holes recipe (which by the way is chocolatey, moist and divine to pair with your latte too!). I love it when I'm grocery shopping and find something totally new that grabs my attention like this One touch Latte! So I got it and put it to the test the same evening lol
So before we get to the Italian cookies, I've included a video below for you guys to check out the amazing One Touch Latte. Firs of all it starts with your favorite regular brewed coffee, I love using a dark roast (unflavored) and rely on the One Touch Latte for flavor. Fill your cup 2/3 of the way only. For flavor I picked caramel today, but there's also Vanilla and Mocha flavors! Almost everyone gets their share of their favorite latte flavor 🙂 Another thing, make sure you shake the One Touch Latte really well, and point it straight at the hot cup of coffee. Then go ahead and press it firmly. Watch it foam and transform your good old coffee into a coffee-house style latte in seconds!! Literally!
At that point, just think of what to pair with your latte —hint: those crispy Italian cookies. Because the latte is perfectly done—it's sweet, creamy and frothy, no need to even use a spoon! Next time you're at Walmart, you need to give this One Touch Latte a try—you'll be pleasantly surprised 🙂 It's actually the FIRST ever frothing creamer, I don't know how they did it! The can is good enough for seven cups of latte, so it's a great value too 🙂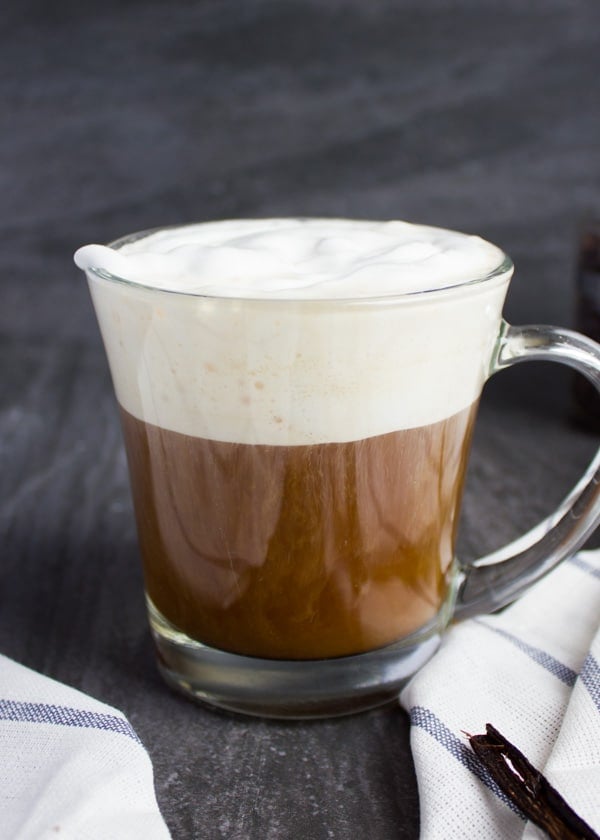 Back to the Italian cookies for a minute. When I was a little girl, I lived in Paris for nearly 5 years and we used to travel so much to Italy. I remember vividly those crispy Italian cookies that were close to the Amaretti cookie but thin and crispy with plenty of crushed hazelnuts. I loved that crunch, the texture, the taste. And the best part, it's basically a combo of an egg, little bit of sugar, vanilla, almond flour and a touch of baking powder. All in a bowl and whisk or even a fork would work.
In addition to how simple and delicious those Italian cookies are, they can totally be made in advance and the crunch ingredients are up to your taste! I added plenty of crushed hazelnuts because that's how I remember them when I was a kid. And I added crushed roasted coffee beans, because it's all about coffee today..and always 🙂 You can swap any type of nut, chocolate chips, dried fruits, seeds..etc. Bake for just 12 minutes and they're crispy ready for you to enjoy!
Since the season is all about outdoors now, these Italian cookies are light and fresh—perfect with a sweet cup of latte outdoor. I've been all about hanging out in the garden all day, like all day. Girls have been gardening with me which is really fun, until it's time to clean up and take a bath lol It feels like payback time, yet I would still do it every day! Hope you're enjoying this weather just like us! And don't forget to treat yourself , put a smile on your face and make a luscious latte, some Italian cookies while you're out 🙂 Enjoy! P.S there's plenty of Latte inspiration here  for an extra smile on your face 🙂
Coffee Bean Crunch Italian Cookies
Light as air Italian cookies made with just four ingredients! Not too sweet, perfectly crispy, loaded with coffee crunch and hazelnuts! They're coffee's best friend 🙂
Ingredients
1

egg

1/3

cup

of sugar

1

teaspoon

of vanilla

2/3

cup

of Almond Flour

(or Hazelnut flour)

1/4

teaspoon

of baking powder

1/4

cup

of crushed roasted coffee beans

2/3

cup

of crushed Hazelnuts
Instructions
Preheat your oven to 350 degrees.

In a large bowl, add the egg, sugar, vanilla, almond flour and baking powder, whisk them until smooth.

Add the crushed coffee beans and hazelnut and whisk them again.

Spoon about a tablespoon of cookie batter into a parchment lined baking sheet and bake the cookies for 15 minutes until they've set. Enjoy 🙂