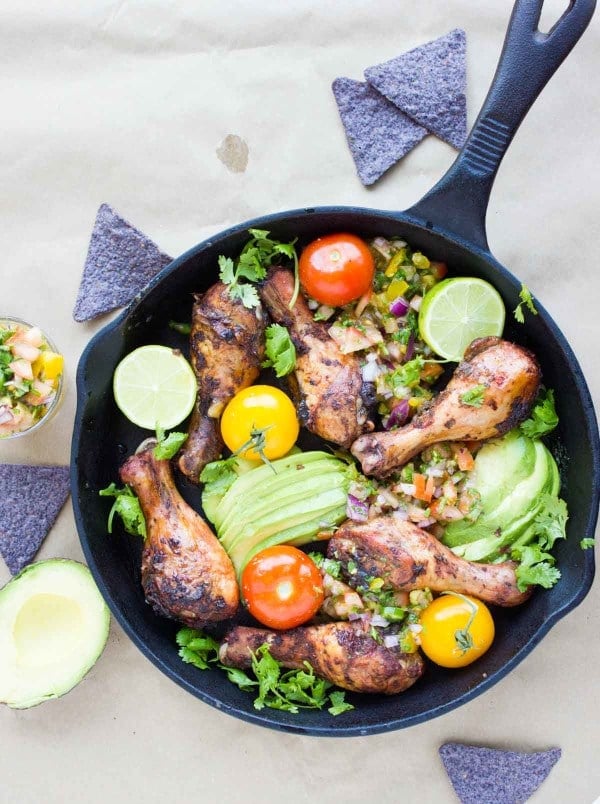 If you're craving real Mexican flavors, this salsa avocado roast chicken skillet recipe is one you don't want to miss! Chicken is coated in salsa and spice, roasted till the skin is crispy and meat is tender. Served with extra salsa, avocados and corn chips for a fresh, light and quick roast chicken dinner that's loaded with flavor!
This is one of those recipes which actually doesn't need much talk about, it's super straight forward and simple, and it totally leaves my Mexican side happy! Although I have absolutely no one in my family, near or far that is Mexican, I feel I am very connected to that cuisine and I always find myself making something related to Mexican food at least once a week. I am sure there should be a hidden gene somewhere, I just can't seem to find a clue to it yet.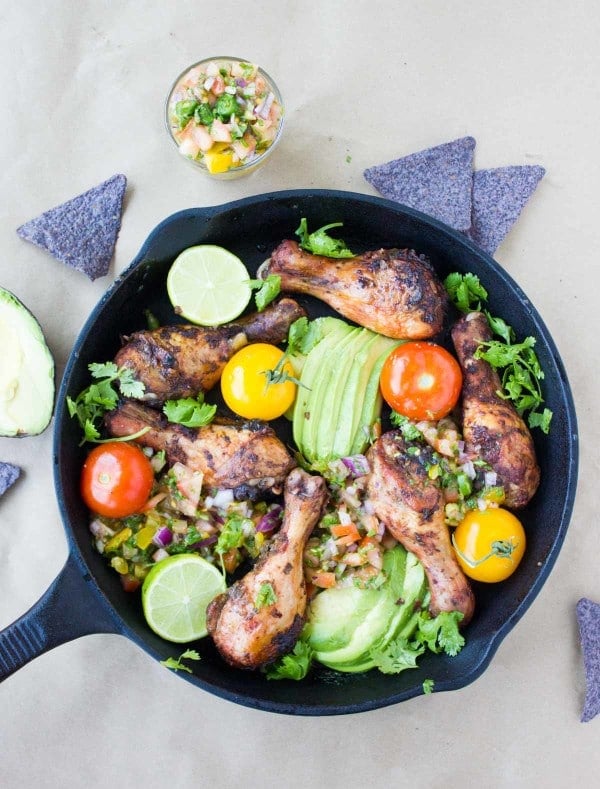 Roast chicken is one of my favorite dinners, or to re-phrase, it's the one of the only dinners my youngest will eat—so I find myself making it more often than before. This salsa avocado roast chicken skillet happens to pass her test, so I stopped spicing it up like I would like. But fear not, I will include all the spice and jalapeño I used to add to the original recipe and you can go for as much or less of it as your heart desires.


So let's get to it, the salsa—yes you guessed it—I use this restaurant style Mexican salsa, it's perfectly balanced in freshness and sweetness, just enough tang and spice which leaves room for more. Should I say, feel free to use your favorite jarred salsa? for sure yes! But if you have a food processor and 10 minutes, make that restaurant style Mexican salsa and you won't regret it! To that salsa (or your favorite), add in an extra half of red onion and 2 extra cloves of garlic, more spice—more cumin, oregano and chilli powder and more jalapeños! Now toss all this with the chicken.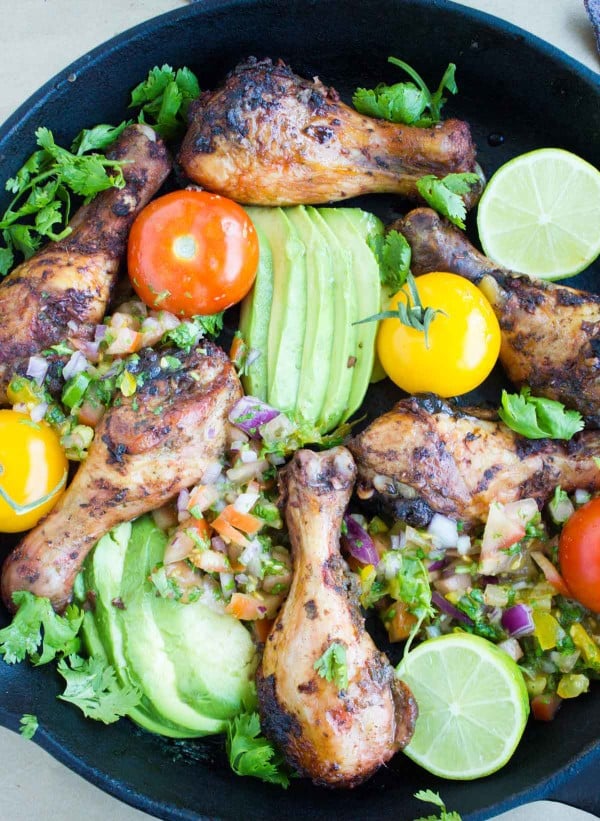 The salsa avocado roast chicken skillet then goes to roast at 400 degrees for 35 minutes and then it gets covered in more salsa, arranged with sliced avocados, tomatoes and corn chips, and any other toppings you like!  Make this easy peasy Mexican roast chicken today and enjoy!:)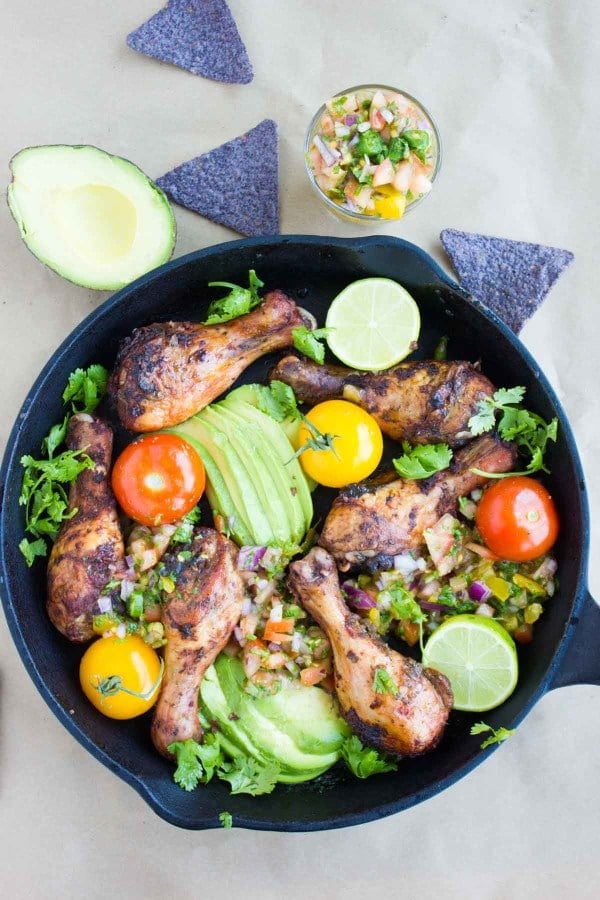 Salsa Avocado Roast Chicken Skillet
Total Time
1
hour
5
minutes
Ingredients
3

lbs

chicken drumsticks

(or your favorite chicken parts)

1

batch of restaurant style Mexican salsa

(or your favorite jarred salsa)

1/2

a red onion minced or pureed in a food processor

2

garlic cloves

, minced

1

jalapeno

, minced

1/4

cup

of fresh cilantro leaves

1

teaspoon

of chili powder

1/2

teaspoon

of cumin

1

teaspoon

of dried oregano

1/2

teaspoon

of salt

1/2

teaspoon

of black pepper
Instructions
Preheat the oven to 400 degrees F.

Line a baking pan, or individual serving size cast iron skillets, with parchment paper, or just cover the bottom with 1 teaspoon of olive oil.

In a large bowl, mix half of the salsa with all the ingredients and leave the other half in a separate bowl.

Toss in the chicken pieces in the bowl of the spiced up salsa.

You may leave this to marinate for 30 minutes and up to 3 hours.

Bake the chicken for 35 minutes ( time is for these drumsticks, more or less time will depend on the cut of the chicken).

Once chicken is ready and crispy on the outside, top it with the remaining salsa and arrange avocado slices, tomatoes, corn chips and your favorite sides.