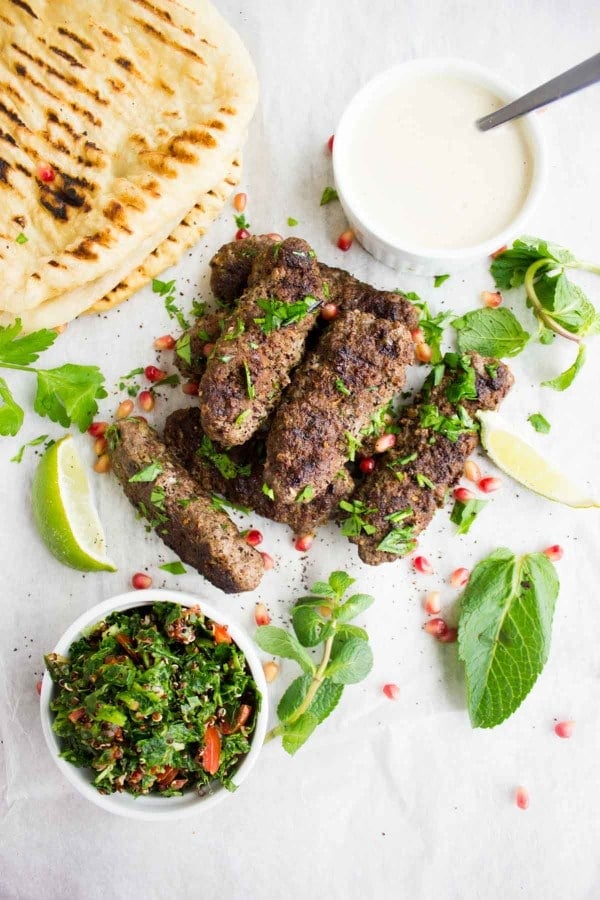 This ultimate lamb kabab platter recipe makes the best lamb kabab wrap you'll ever have. It's a setting for extreme flavors and textures—spiced up lamb is shaped and grilled till perfection, a perfect tahini sauce to drizzle on grilled flat bread, a tangy zesty tabouleh to top the kababs, plenty of fresh mint and sumac spice to scatter on top of that, a squeeze of lime and more tahini sauce drizzled to finish off this ultimate wrap experience like no other!
This recipe reminds me of a very special friend who used to live in Toronto for a while before she moved back to the US. Our kids went to the same daycare together and we spent plenty of time talking, sharing and enjoying food—yes she was a real foodie and I think that's how we connected in the first place.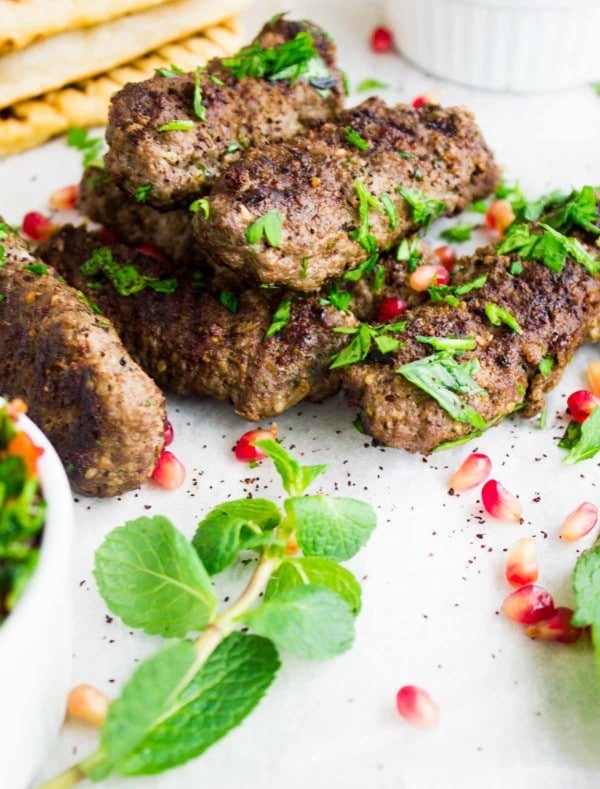 Her little toddler (at the time! now he's around 7 years old!) was a huge fan of lamb, and I mean huge! I hadn't met a toddler who appreciated that unique lamb flavor ever, and he ate noting but it. So I made them this ultimate lamb kabab platter, wrapped it up and left it at their building lobby the day before they left to the US. Now fast forward nearly five years from that day, every time we chat—this recipe comes up! She and the world's biggest lamb fan really enjoyed it, so that's like the seal for approval right there.


This ultimate lamb kabab platter starts with a mix of onions, garlic, parsley, spice that is pureed in a food processor and added into the ground lamb. The lamb is then shaped into mini log shapes and grilled on both sides will perfectly done. Once ready and still hot off the grill, it's immediately sprinkled with sumac spice to brighten up and bring a lemony finish to the lamb. Sumac spice is a favorite of mine because it adds such a nice bright lemon flavor—I've used it in this outstanding lemon artichoke garlic roast chicken and this fabulousTurkish pizza lahmacun recipe.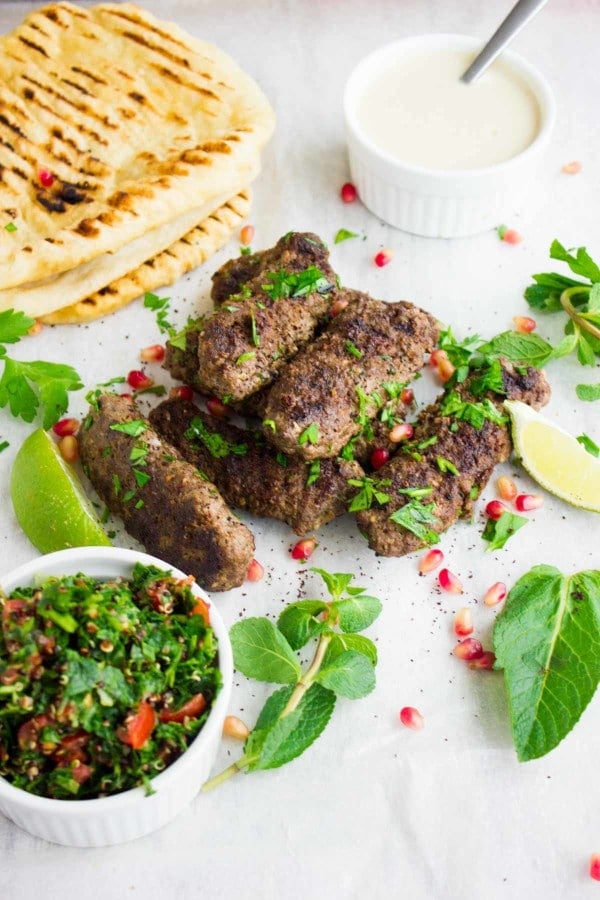 Once the lamb is ready, all it needs is the condiments—which I always have ready beforehand. I know you might think I'm asking way too much to get all these ready, but they're all very speedy to prepare while the lamb kababs are cooking, or a days ahead and store them in the fridge. Because really, the ultimate lamb kabab platter wont be ultimate without them! So one of them is this instant perfect tahini sauce—super quick, tahini lemon, cumin, water and salt all whisked together in a flash but the result is an outstanding sauce!


The other is this speedy quinoa tabouleh which is made in a food processor in a few batches but still super speedy, tangy, loaded with parsley and mint. Another is the grilled flatbread—so I love using naan bread, which isn't exactly authentically the correct type of bread, but it's just so perfect for this recipe. A recipe for authentic naan bread will follow up soon on the blog, but for now let's stick with store bought naan bread that's grilled on each side for 30 seconds.
Then to finish off this ultimate lamb kabab platter I keep plenty more of fresh mint to scatter on my kabab wraps, fresh parsley, lime quarters and more sumac. What else is this missing than for your to grab the ultimate bite! Give this a try and enjoy!:)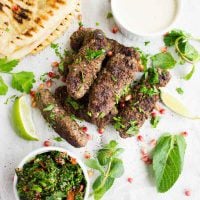 Ultimate Lamb kabab Platter
Ingredients
Lamb Mix:

2

lbs

of ground lamb

1

small red onion

5

cloves

of garlic

1/3

cup

of parsley leaves

1/4

cup

of mint leaves

1

teaspoon

of kosher salt

1

teaspoon

of fresh black pepper

1

teaspoon

of allspice

1

teaspoon

of cinnamon

1

teaspoon

of dried oregano

1

teaspoon

of sumac

Condiments:

Perfect tahini sauce

Speedy Quinoa tabouleh

Naan bread grilled on each side for 30 seconds

Fresh mint leaves

Sumac spice

Lime quarters

Fresh parsley

, chopped

sliced red onions
Instructions
In a food processor, mix all the ingredients for the lamb mix (minus the lamb) until pureed and smooth. Then add this marinade into the ground lamb and mix it well. Shape the lamb into mini logs and place on a medium high grill or stove top grill pan for 5 minutes per side ( 2 minutes more or less depending on the size of your kababs).

As soon the kababs are done, sprinkle them with a good amount of sumac spice.

To assemble the kabab platter, serve the perfect tahini sauce in a bowl, the speedy tabouleh in a separate bowl, the naan bread on the side, fresh mint and lime quarters on the side and serve.

To assemble the ultimate kabab wrap, take one grilled naan bread, and spread it with a teaspoon of the perfect tahini sauce, place a lamb kabab in the centre, mound 2 tablespoons of tabouleh on top, some fresh mint, a squeeze of lime and a final drizzle of the perfect tahini sauce and serve.