There are no words good enough to describe this pesto pistachio fish fillet recipe. Yes it's absolutely that good, and it's as easy and straight forward as can be all ready in 15 minutes. A tender juicy bite is packed with basil pesto, garlic, lemon and toasted crunchy pistachios.If you've been looking for a new way to enjoy fish and seafood, this is one recipe you can't miss!
Ok I know I get super excited about many many recipes, but today I am over the moon excited. I feel these photos and any words I try to use won't be good enough for this gorgeous piece of fish fillet. It's a lovely combination of flavors and textures, and is a 15 minute meal that needs nothing but a hot oven to do the work for you.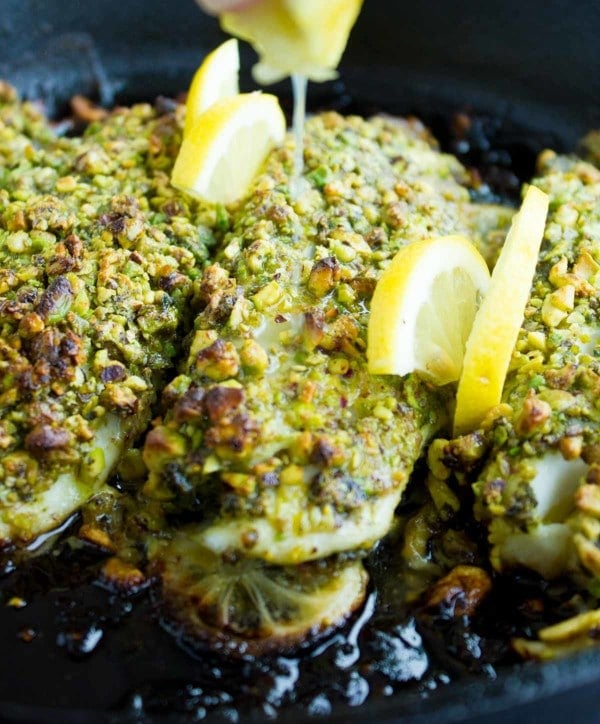 If you're a seafood person, or know a special person who is and want to have a huge smile on their face—well this is the perfect way! So as you might've guessed, we are very much seafood lovers—obviously and unfortunately excluding the kids!  And I very much am a pistachio lover, specially in savory recipes—like in those one of a kind goat cheese pistachio coated strawberries recipe. Almonds or walnuts can make a great substitute if you're out of pistachios.
The beauty of this recipe is that you need only five ingredients, no fuss in the kitchen and the unbelievably great outcome makes you feel like a star. I start this recipe with my protein packed nut free hemp basil pesto, now if you have any other pesto in your fridge—that would work for sure, and if you have this sun dried tomato basil pesto around or have 5 minutes to spare—definitely make it because not only will it work, it works magic!
I've chosen tilapia loin fillets for this pesto pistachio fish fillet because I had them on hand, and because I love how neutral tasting they are—so they allow me to as creative as can be with flavors. Salmon, halibut, haddock and any nice thick piece of fish would work great here too. A thinner type of fish fillet would probably not handle the pistachio crust very well, for that I wouldn't recommend it, but it's just a personal thing.
slices of lemon and garlic at the bottom of the pan
pesto coated fish
pistachio topped fish
ready to bake fish
In brief this pesto pistachio fish fillet come together like this; a nice cast iron (or baking sheet if you prefer) is coated lightly with olive oil. Then garlic slices and lemon slices are placed on top of that. Separately, each fish fillet is coated all over with a generous amount of pesto.Then a nice mound of roughly chopped pistachios is placed on the top side of the fish fillet covering the entire surface. Press down the nuts well so they stick on the top of the fish. Then place the fillets over the lemon and garlic slices in the pan, drizzle a thin light drizzle of olive oil on the pistachios and place the pan in a hot oven for 15 minutes.
Just like that, out of the oven and fish is perfectly cooked, nuts are perfectly toasty and crunchy, a fabulous fish dinner is perfectly done! Make this today and I promise you'll have a priceless seafood experience! Make this for company last minute and watch their priceless enjoyment! Pesto pistachio fish fillet is a recipe you'll be making more often than you can imagine! Enjoy!:)
Pesto Pistachio Fish Fillet
Ingredients
4

piece

of tilapia fish fillet loins

1

Tablespoon

of olive

1

large cove of garlic or 2 smaller cloves

, thinly sliced

1

lemon

, thinly sliced

1/3

cup

of protein packed nut free hemp basil pestoor sun dried tomato pestoor your favorite

1 1/4

cup

of coarsely chopped pistachios

1

teaspoon

of olive oil for drizzling

pinch of salt

lemon for serving

(optional)
Instructions
Preheat the oven to 450 degrees F.

In a cast iron pan or baking sheet (line up the baking sheet with parchment paper of foil for easier clean up) place 1 tablespoon of olive oil.

Scatter the garlic slices and lemon slices over the olive oil in a single layer, trying to distribute them as evenly as possible.

Take each fish fillet and slather it on all sides, tops and bottoms with pesto (a little over a tablespoon of pesto per fillet—more or less to your taste).

Take a little over 1/4 cup of the pistachios and mound it over each fish fillet along the whole length, making sure to cover the entire surface (more or less nuts to your taste). Press the nuts well with your hands so they stick to the fish.

Place the fish fillet directly on top of the lemon and garlic slices on the pan. Repeat with the remaining fillets.

Drizzle a thin drizzle of olive oil over the pistachios on each fish fillet (about 1/4 teaspoon each).

Place the pan on the bottom half rack of the hot oven and bake for 12-16 minutes (depending on how thick your fillets are) until the fish is cooked through and nuts are toasty.

Remove from the oven, sprinkle a pinch of salt over each fish fillet, drizzle with more olive oil, lemon juice of desired and serve.