This shop has been compensated by Collective Bias, Inc. and its advertiser. All opinions are mine alone. #ReadyPasta #CollectiveBias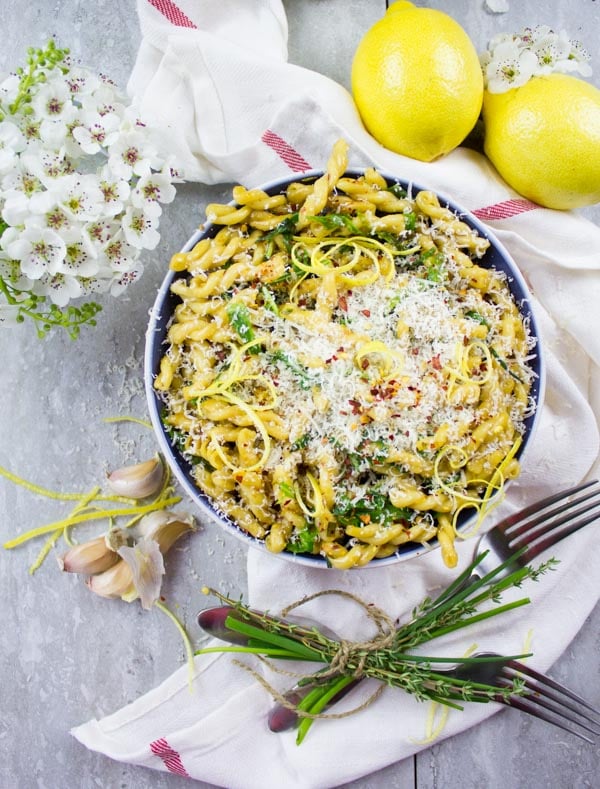 Calling all pasta lovers, you're in for a treat today! First of all it's a pasta day, and best of all it's a fresh, vibrant simple and Easy Garlic Lemon Pasta! Devour this on its own or pair it with ANY thing you're grilling this season, it's the type of pasta you'll whip in minutes start to finish! A dream come true.. 🙂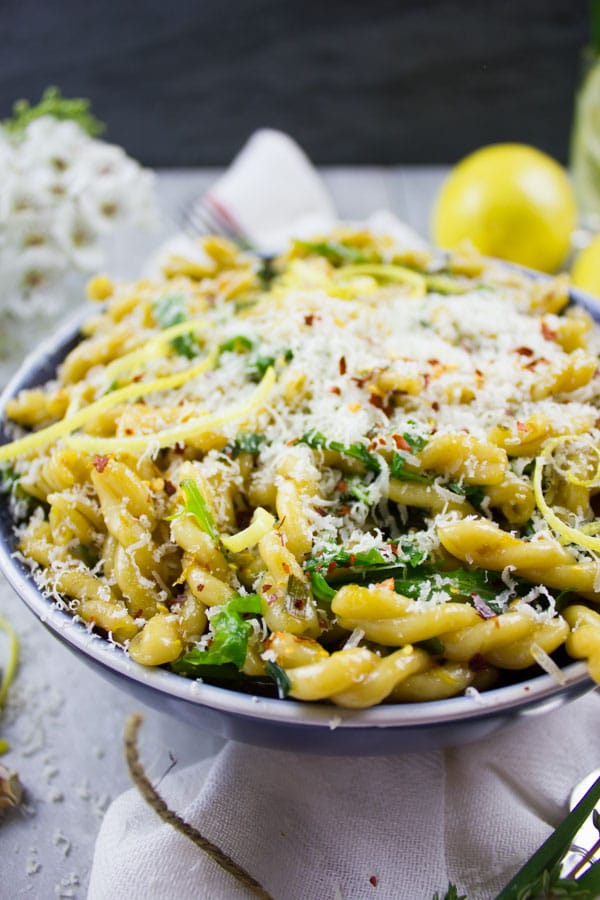 YAAAY for pasta day!! And big YAAY for Spring/Summer fresh pasta dishes like that, like an extra breath of freshness in life!  Weather hasn't been as warm as I'd like it to be lately, but frankly we've been getting plenty of sunshine in MI so I won't complain! Kids are playing outside everyday, like every-day. My BBQ is in full swing, grilling about twice a week! And I can't think of a perfect side dish for grilling season better than this lemon pasta!
This recipe isn't just exciting me because it's pasta, made with my favorite Barilla brand pasta (I've made this NO MISS Summer Pasta Salad Platter with Sweet Tea Dressing using it last year). But in addition to all that it's a NEW and amazing innovation from Barilla and it's called the Barilla Ready Pasta. The name says it all. The same delicious al dente Barilla pasta you love, only in a pouch that you microwave for 60 seconds (no boiling, draining no fuss at all!). And just like that your pasta is ready to devour! This pouch is perfect to grab and go because you don't need to refrigerate it, comes in a variety of shapes and best of all it tastes just the SAME!! I can't imagine how they did it! I'm just thankful they did it lol PS–You'll find them at your local Walmart 🙂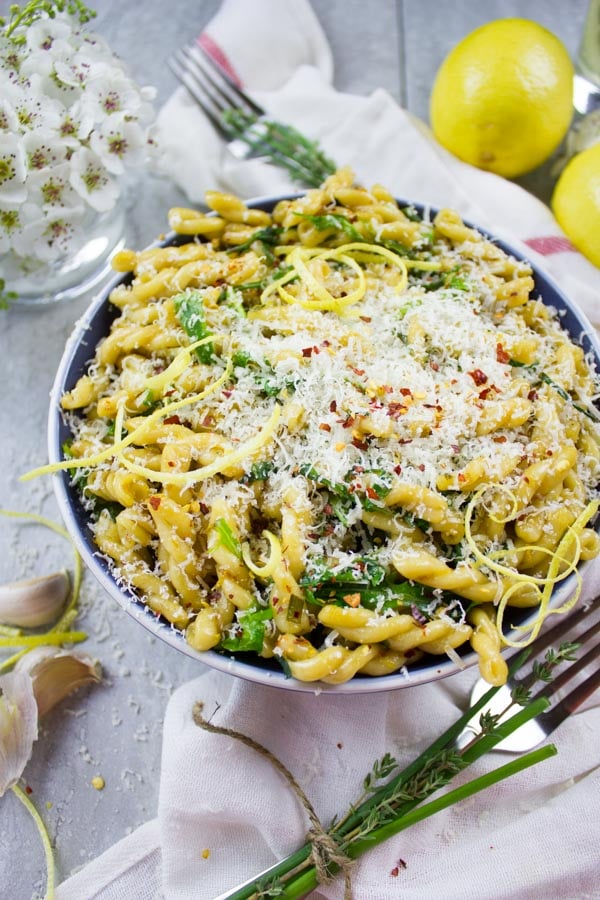 The beauty of this garlic lemon pasta is how you can customize it to your menu. What I made today is probably the most basic form, but the additions you can add to jazz this lemon pasta up are endless! My Mom, and speaking of Mother's Day—how sweet would this pasta be for a brunch or lunch with Mom? 🙂 My Mom loves pasta with minimal fuss, no fancy sauces or tons of additions to her pasta—so she wouldn't change a thing to this recipe 🙂 And honestly you don't have to, unless you wanna make it more often, then you'll like to play around with ingredients.
So imagine this, garlic, lemon zest, chilli flakes and olive oil. Add in the pasta goes, a handful of arugula, touch of grated Parmesan and it's ready!! This lemon pasta is amazing as it is with tuna. YES good old canned tuna, drained and added in chunks over the pasta. Nutritious lunch or dinner that's super delicious and comforting! I probably could eat this everyday lol If you're thinking of a vegan/vegetarian option, go for chickpeas, navy beans, black beans and even tofu. They add pretty much the same protein yet totally vegan.
Another thing you can do is make this awesome lemon pasta and serve it warm or cold like a pasta salad. While it has a nice punch of garlic and lemon flavors, you can still drizzle it with a bright lemon-olive oil-basil dressing to just brighten it up even more. I would add cherry tomatoes, some cucumbers, scallions, chickpeas and basil. Pasta Salad Perfection. You know what, however you swap and play around with ingredients, this lemon pasta will definitely make its' way in life so many times this season!
Another thing I wanted to mention is potlucks, leftovers (YUM), kids approved, picnics, work lunches and just everyday happy life lol I think you can't go wrong when pasta is this simple and flavorful! The other day we had our first picnic of the season and it was at a friends's farm. I made plenty of lemon pasta (minus the chilli flakes), put it in a box and we went off. When it was lunch time, every got excited for pasta. But the best part was watching how everyone ate their pasta!
Some kids and adults ate it just the way it was. Another group added a handful of cherry tomatoes, bocconcini and a squirt of lemon. Some added grilled chicken, corn, so much Parmesan and spice. Some added plenty of herbs, just herbs. Everyone basically made it their own, which was amazing because bottom line everyone enjoyed it so much!! Oh and I'm sure you will too!! Enjoy! 🙂
Easy and Fresh Garlic Lemon Pasta
Calling all pasta lovers, you're in for a treat today! First of all it's a pasta day, and best of all it's a fresh, vibrant simple and Easy Garlic Lemon Pasta! Devour this on its own or pair it with ANY thing you're grilling this season, it's the type of pasta you'll whip in minutes start to finish! A dream come true.. 🙂
Ingredients
1

pouch of Barilla Ready Pasta

(any shape you prefer)

1/2

tablespoon

of olive oil

2

garlic cloves

, minced

1

lemon

, zested

1/4

teaspoon

of chilli flakes

1/8

teaspoon

of salt

1

cup

of arugula

Grated Parmesan

(optional for topping)

Lemon zest

(optional for topping)
Instructions
Tear the top of the Barilla Ready Pasta pouch and place it in the microwave for 60 seconds.

In the meantime, heat a skillet ver medium heat, add the olive oil, garlic and lemon zest.

Sautee the garlic and lemon zest for a few seconds until they get fragrant, add the chilli spice, the Barilla Ready Pasta and salt.

Toss the pasta with all the fragrant garlic and lemon, then add the arugula and toss the lemon pasta for another 30 seconds over medium heat and then serve it right away!

Sprinkle with Parmesan and extra lemon zest (if needed). Enjoy! 🙂