This shop has been compensated by Collective Bias, Inc. and its advertiser. All opinions are mine alone. #InspireWithCheese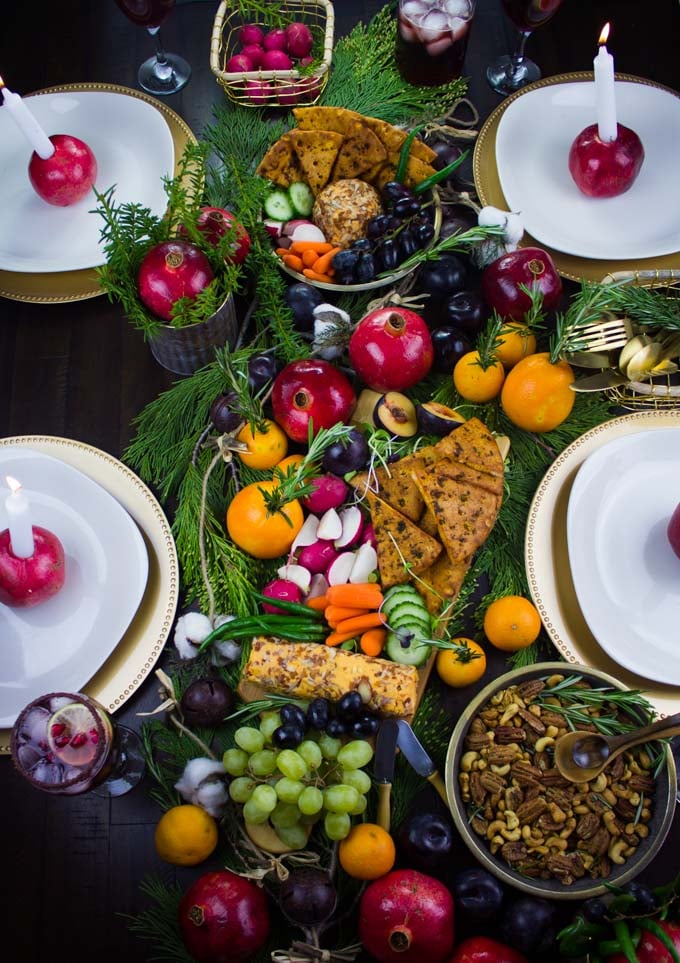 Oh how I've got a treat for you today! Im talking Rosemary Spiced Candied Pecans and Cashews, some herb and paprika spiced Pita Chips, sweet Pomegranate Mocktails and the most DELICIOUS cheddar cheeses! It's the perfect way to unwind and throw a party for your friends 🙂 Plus, I've also got you covered with a simple Holiday and Thanksgiving center piece using your good old fruits and herbs!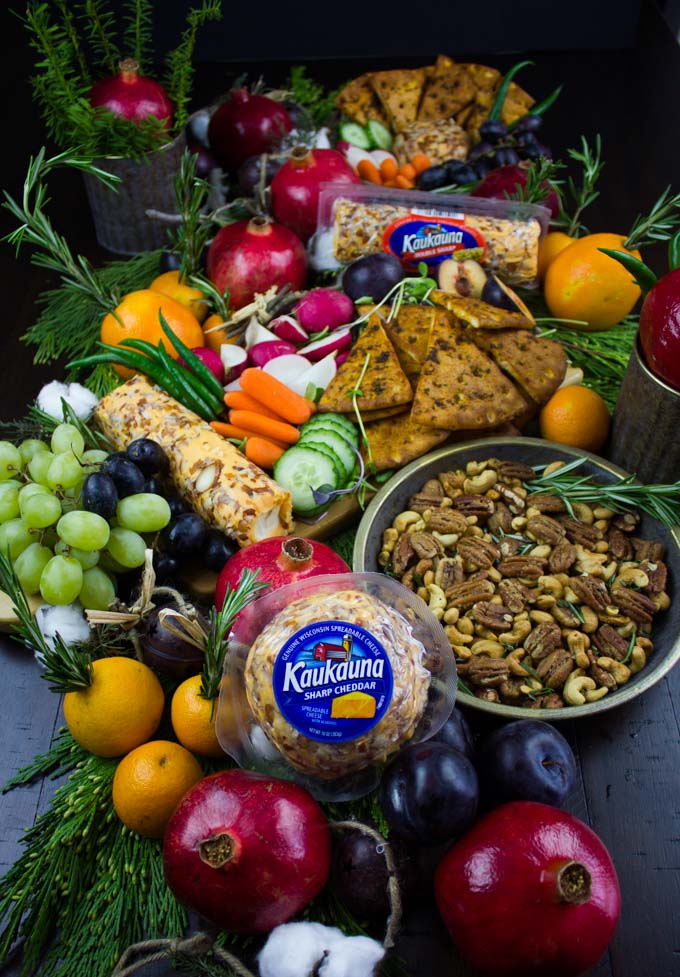 Super excited to share this post with you today. First of all, it's a PARTY!! Yes! We all need that. But we need it to be easy and relaxing. This is probably one of the easiest parties to throw. We also need it to be delicious. Today's party recipes are seriously delicious, and can be prepared a few day in advance! Finally, we need a festive Holiday look to our party without spending all day in DIY projects, or breaking the bank with expensive decor. Today, I'll walk you step by step to this festive looking decor with mostly fruits and herbs. Now all you need to do is ENJOY the party! 🙂
Before I chat about the candied pecans and pita chips, I wanted to mention that I picked up a collection of these divine Kaukauna® Cheeses at my local Walmart in the speciality cheese aisle. It was like LOVE at first bite. So smooth, so cheesy, so pure rich cheddar tasting with a touch of crunch from the almond coating. I've certainly found my "go to" cheese for snacking, gatherings, and even more, for everyday deliciousness! They're made with 100% real Cheddar, and the best part is—you absolutely TASTE that!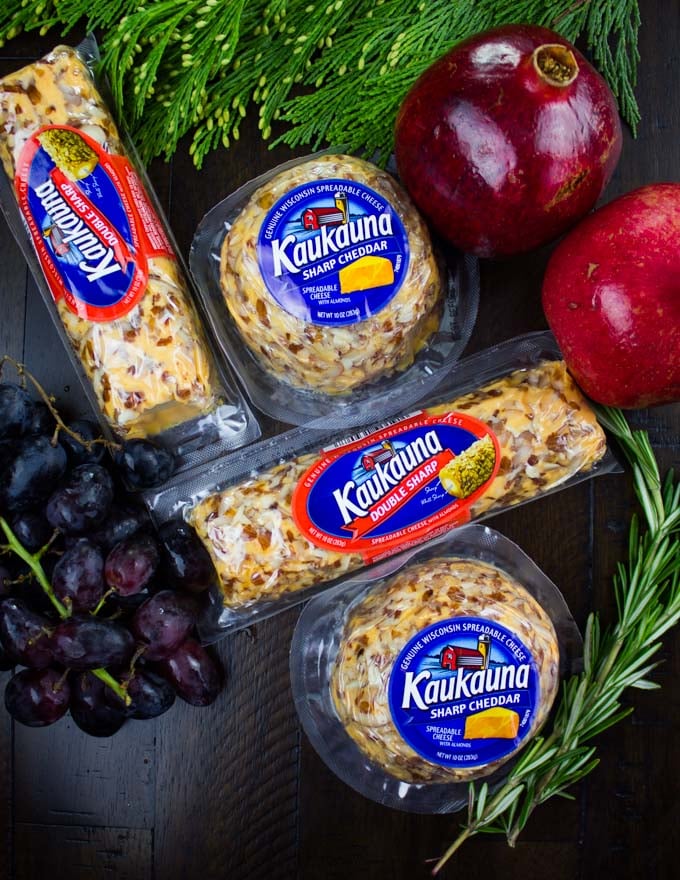 I've picked the Sharp Cheddar Kaukauna® Cheese Balls and the Double Cheddar Kaukauna® Cheese Logs. The Kaukauna® Cheese also comes in cups. I love finding goodies like that since they make a great addition to my entertaining table on heir own, or part of a recipe. For today's party, we've spread them on some herb pita chips, and topped that with fruits and veggies—SO good! And we've been secretly scooping the Kaukauna® Cheeses with the rosemary spiced candied pecans too—pure LUSH!
Now let's get this party started. Spicy candied pecans and cashews. It's your sweet candied pecans, only kicked up with some heat and freshened up with a touch of rosemary. Plus it's not as thickly coated as your good old candied pecans. So it's basically these five ingredients—chilli flakes, brown sugar, salt, olive oil and rosemary. Additionally you can throw i some orange zest, but that's optional. Tossed up and roasted for just 10 minutes. The hardest part is keeping yourself from munching on them before the party!
I love preparing the candied pecans a couple of days in advance and storing them in an airtight container. Likewise, my pita chips were made a day in advance. A mixture of herbs (parsley, oregano or your favorites), olive oil, paprika and salt is slathered over some thick Greek Pita breads. Cut the bread into wedges (size of your choice—I've made 8 wedges out of each pita) and bake for 8 minutes till crispy. Once cooled, these pita chips can be stored for a week in a ziplock bag. So GOOD! 🙂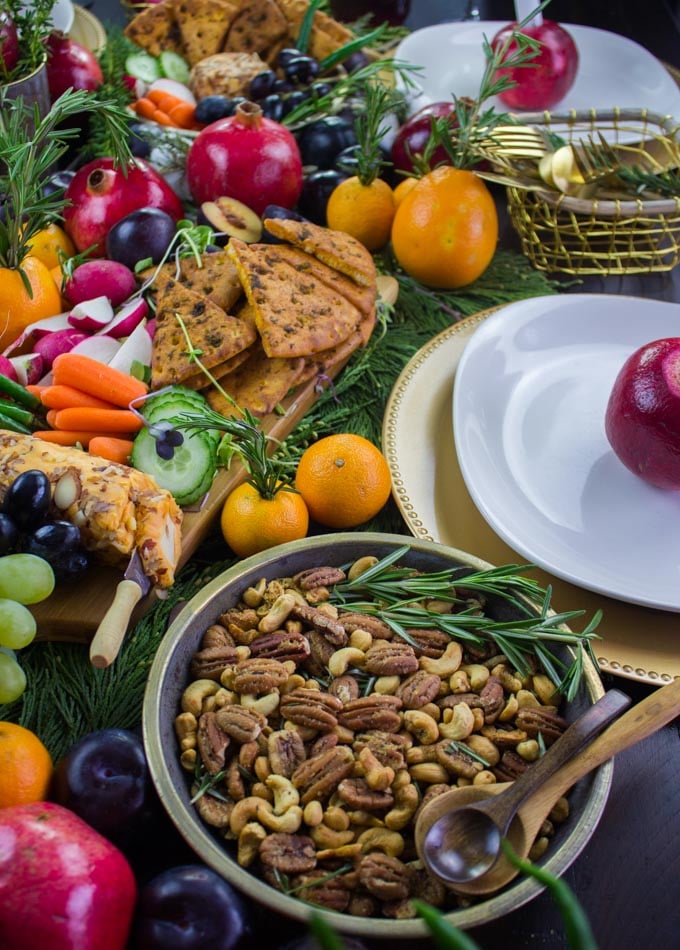 You can totally make the candied pecan and pita chips on the day of your party, but I really preferred making them in advance so all I have to do on the day of my party is the drinks and setting up! My pomegranate mocktails here are inspired by a drink I had in Maine last month which was the talk of the restaurant. Simply mix pomegranate juice, lime juice and some ginger ale. The secret here (again inspired by the same drink I had) is a touch of sumac—a fresh tangy lemony Mediterranean spice. The spice is added to the drink and glass rims. Amaaazing!
Finally it's the day of the party and let's chat about the simple yet vibrant set up. I've gathered some Holiday greenery from my garden (or you can pick them at Walmart while you're picking up the Kaukauna® Cheeses!) and used those as my table runner. Added some gorgeous pink pomegranates over that, some deep purple plums, some green chilli peppers and some rosemary stuffed oranges. I made that bi creating a tiny slit with a small pairing knife in the centre of the orange (or clementine) and then insert a sprig of rosemary.
Similarly for the plates, I've used a pomegranate as a candle holder. Use an apple corer for this trick. First of all slice off the top of the pomegranate and scoop out the centre (half way only) using an apple corer, then the candle fits in perfectly. Another way to infuse colors is by adding plenty of fruits (grapes for example) and sliced veggies (carrots, cucumbers, radishes—and your favorites) around the Kaukauna® Cheese. Arrange that on a board or plate, along with the herb pita chips and you're off to a great party! 🙂
Quick side note—do you remember this Shrimp Salad recipe with Lentils Avocado and shallot vinaigrette post, where I mention my friend who had a son struggling at the hospital? Well, they're OUT of the hospital!! YES!! He's feeling so much better and my friend can finally smile again! We've wanted to celebrate every single day. You know sometimes it seems like we don't celebrate enough the simple things in life. Because we take them for granted.
My friends'e experience with her son was an eye opening one for all of us around her. Every mom felt her pain, worry, strength and her joy when things started looking better. From the big things to the tiny things, it was all heart felt. For example a tiny funny phrase she mentioned yesterday was, she missed sleeping in her pyjamas. At first you laugh, but then you realize she's been sleeping with her clothes on a hospital chair near her son's bed for three weeks—which isn't a bit funny. So four of us today gathered today and we had a great time! Delicious food, great company and the simple things in life—like this simple party can put a smile on your face!

Sweepstakes!
Now for some REAL fun! First off, I have a great offer for you to save on any Kaukauna® Cheese product starting on 11/15/17 till 12/31/17 (or until offer expires)! And I've got you covered with more recipes and inspiration here. Finally, I've saved the Best for Last: Enter this amazing sweepstake below! If you win, tag me and I'll be envying you!!
For a chance to win prizes through a Kaukauna® sweepstakes, you can either share a pre-written tweet, visit the social hub, visit Kaukauna®'s Facebook page, or visit Kaukauna®'s Pinterest page! Four lucky winners will win an "entertaining basket" that includes a $250 Visa gift card, apron, oven mitt, kitchen towel, Kaukauna® cheeseboard, and serving platter. Ten lucky winners will receive a $100 Visa gift card, and fifteen lucky winners will receive either a $25 Visa gift card, a Kaukauna® cheeseboard, and an oven mitt or apron! Sweepstakes entry dates are 11/15/2017 12:00am ET to 12/31/2017 11:59pm ET. See Official Rules.
#InspireWithCheese #Sweepstakes (11/15 to 12/31)
Enjoy the tiny things in life with an easy, vibrant and delicious party like this one!
Rosemary Spiced Candied Pecans and Pita Chips for A Cheese Party
Oh how I've got a treat for you today! Im talking Rosemary Spiced Candied Pecans and Cashews, some herb and paprika spiced Pita Chips, sweet Pomegranate Mocktails and the most DELICIOUS cheddar cheeses! It's the perfect way to unwind and throw a party for your friends 🙂 Plus, I've also got you covered with a simple Holiday and Thanksgiving center piece using your good old fruits and herbs!
Total Time
1
hour
20
minutes
Ingredients
For the Kaukauna® Cheese Plate / Board:
Kaukauna® Cheese Ball —Shard Cheddar or your favorite flavor

Kaukauna® Cheese Logs— Double Cheddar of your favorite flavor

Herb Pita Chips

recipe Below

Black and Green Grapes

Quartered Radishes

Baby Carrots

Sliced Cucumbers

Chilli Peppers

Halved plums

Some Salad Greens
Rosemary Spice candied Pecans and Cashews:
1

cup

of raw cashews

2

cups

of raw pecans

1/4

cup

of brown sugar

2

tablespoons

of minced rosemary

1

Tablespoon

of chilli flakes

more or less depending on how spicy you prefer them

1

teaspoon

of salt

1/4

cup

of olive oil
Herb Pita Chips:
5

Greek thick Pita breads

2

Tablespoon

of olive oil

2

Tablespoons

of mixed minced herbs

Oregano, parsley or your favorite

1/4

teaspoon

of salt

pinch

of paprika
Pomegranate Mocktails:
3

cups

of Pomegranate Juice

1

can of Ginger Ale

1/4

cup

of lime juice

2

Tablespoons

of Sumac spice

divided

Extra: lime slices and pomegranate arils
Instructions
Preheat the oven to 375 degrees.

Prepare the candied pecans by mixing all ingredients in bowl. Spread them on a baking sheet as evenly as possible and roast them for 8-10 minutes until they start to look golden. Be careful not to burn the nuts! Let the nuts cool for half an hour at least before storing them in an airtight container.

Prepare the pita chips: Mix the oil, herbs and seasoning in a small bowl. Using a party brush, brush the tops of the pita bread with the oil mixture and then cut each pita into wedges (I made 8 wedges out of each pita bread). Place the pita wedges on a baking sheet in an even layer and bake them for 10-15 minutes (depending on the thickness of the pita bread) until golden. They will crisp up further as they cool. Once cooled down completely, the pita chips can be stored in an airtight container for a week.

Arrange the Kaukauna® Cheese board or plate by spreading the veggies and fruits around it.

Make the cocktails by mixing the juices together and adding in a teaspoon of sumac spice. Place the remaining sumac on a small plate and dip the rims of your cups in water, followed by the sumac spice. Pour the cocktail into the ready glasses and serve with a slice of lime and extra pomegranate arils if you like!

ENJOY!!