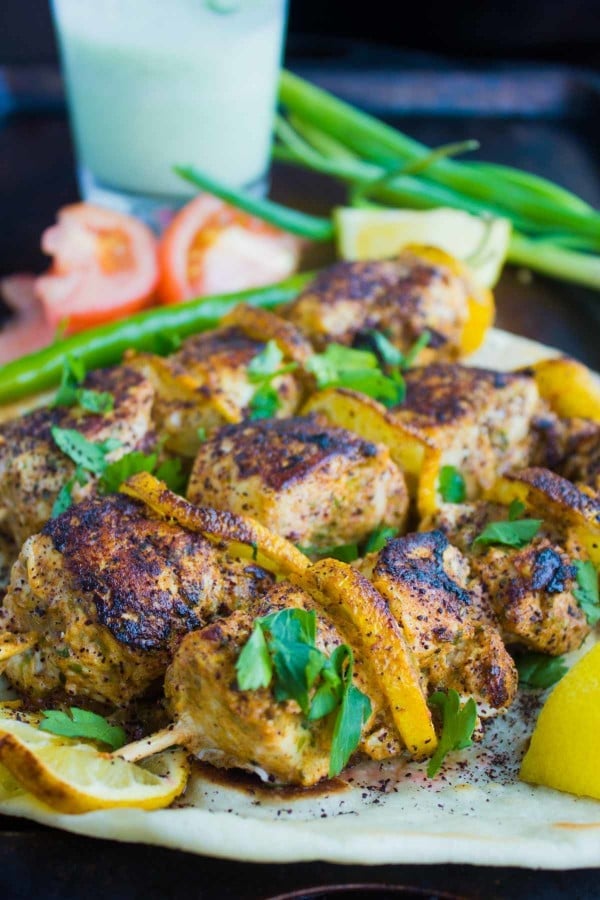 This Turkish style chicken skewers recipe has a vibrant garlic, lemon, tomato and yogurt marinade that's not too overpowering to the tender chicken. It's skewered with lemon slices for an extra tang and sprinkled with sumac spice when cooked. Served with a refreshing cooling mint-parsley yogurt drink that will keep you going back for seconds.
I love a really speedy meal like this because lately I'm finding myself in need of it more than ever. Girls out of school, weather is gorgeous and super quick dinners loaded with flavor like this Turkish style chicken skewers are a m-u-s-t. I mentioned before how much I love Turkish food in this Turkish pizza Lahmacun recipe post and today's recipe fits right in.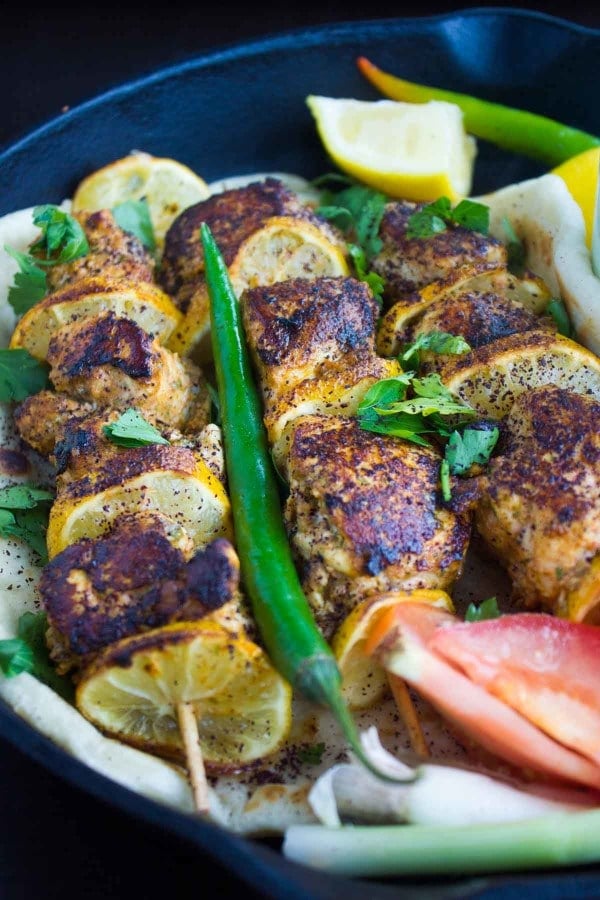 The beauty of this fabulously easy and ever so yummy chicken is in the marinade. And the ultra beauty of it, is that you don't need to marinate it for hours—just 10 minutes while you heat up your bbq or oven. That's all the time it needs to load up on a load of flavors!


This simple mixture of garlic, lemon, tomatoes, spices, herbs and yogurt used to marinade these Turkish style chicken skewers is whipped up in a food processor in a flash. Often times I double and triple this mixture and freeze the excess in a small ziplock for a really really busy day. I just take the marinade out of the freezer, defrost it and toss it with the chicken cubes, and just like that it's ready to be cooked.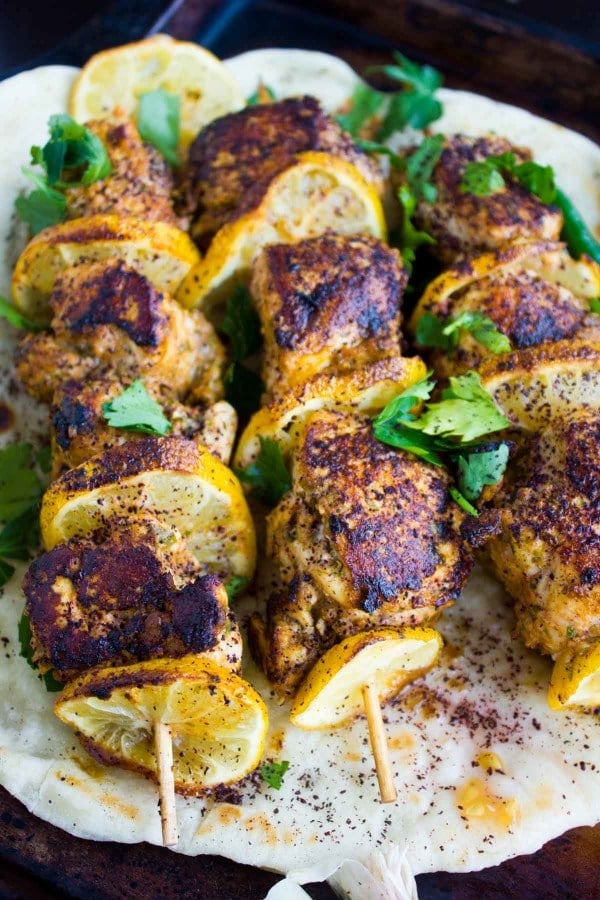 I cut up the chicken into 1 inch cubes and I skewer thin lemon slices between the each chicken cube, but you can go for onions, tomatoes, bell peppers or a mix of that. I stick to the lemon because it boosts the lemon flavor and I love that! These Turkish style chicken skewers are cooked on a hot grill for 3 minutes per side with the grill lid closed, and when I can't bbq for any reason, I sear the chicken pieces for 2 minutes on each side and then slide them into the oven for just 5 minutes more. If that's not speedy—then what is!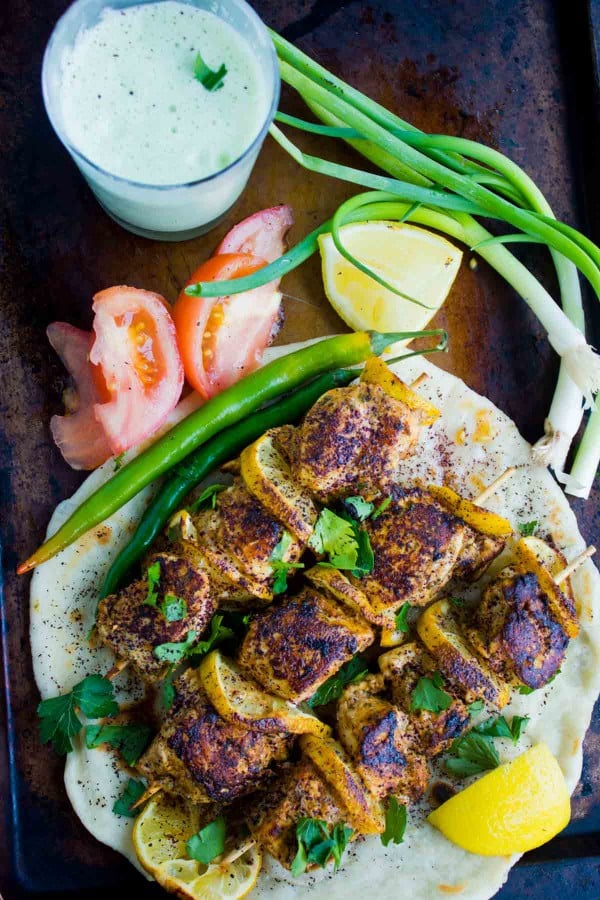 I have to talk for just a minute about this unbelievably good herb yogurt drink, called ayran. It's basically cold yogurt buzzed in a blender with ice, salt and some fresh herbs—classically parsley and mint. I love adding quite a bit more of herbs so it's super tasty and slightly greenish in color. The taste is just what it is—really cold, slightly salty, minty-parsley drink that is so refreshing, and compliments these chicken skewers beautifully! This drink is served with pretty much all main course meals in Turkey—and it really feels like a happy tastebud dance with every sip!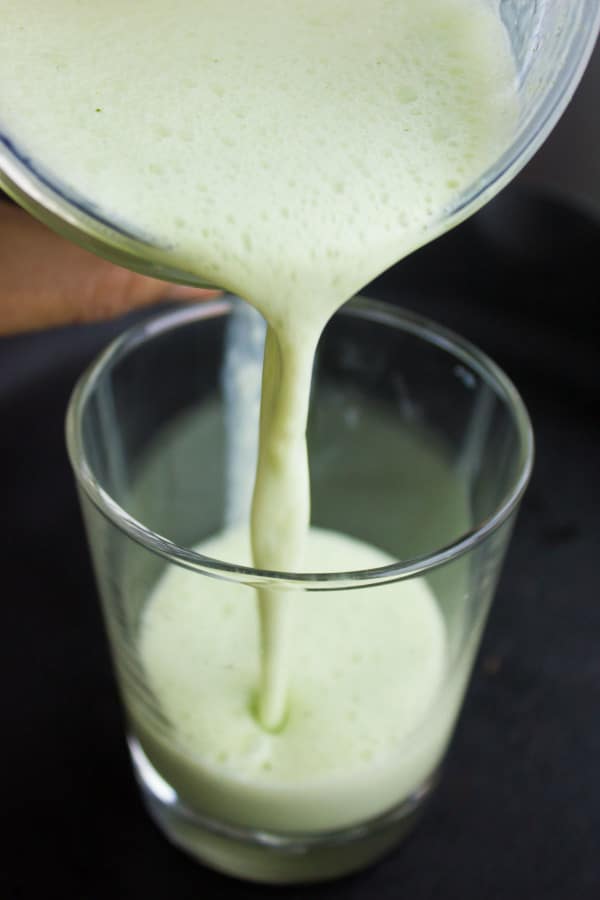 Make this speedy Turkish style chicken skewers and yogurt drink for dinner today and enjoy!:)
Turkish Style Chicken Skewers
Ingredients
2

lbs

boneless skinless chicken breasts cut into 1 inch cubes

5

cloves

of garlic

2

roma tomatoes

1

lemon juiced

1/2

teaspoon

of salt

1/2

teaspoon

of pepper

1

teaspoon

of oregano

1

teaspoon

of cinnamon

1/2

teaspoon

of allspice

1/4

cup

total of fresh parsley and cilantro leaves

(or either one)

2

tablespoons

of olive oil

1/4

cup

of yogurt

(full, low fat or fat free)

2

lemons

, thinly sliced for skewering

2

tablespoons

of sumac spice for sprinkling

For the yogurt drink Ayran:

2

cups

of yogurt

(full, low or fat free)

1/2

cup

of cold water

1/2

cup

of ice

1/4

teaspoon

of salt

1/2

cup

total of mint and parsley leaves
Instructions
Preheat a bbq on medium high heat or preheat the oven to 375 degrees F.

In a food processor, pulse together the garlic, tomatoes, lemon juice, spices, fresh herbs, olive oil and yogurt until smooth.

Toss the chicken in this marinade and skewer it on wooden skewers placing a thin slice of lemon in between each chicken cube.

Cook the chicken on the bbq for 3-5 minutes (depending on the thickness of your chicken cubes) on each side with the lid closed at all times.

Once chicken is ready, sprinkle it with a generous amount of sumac spice and serve with flattered and plenty of yogurt drink on the side.

For the yogurt drink: place all ingredients in a blender and blend until smooth and slightly foamy. Save cold right away.