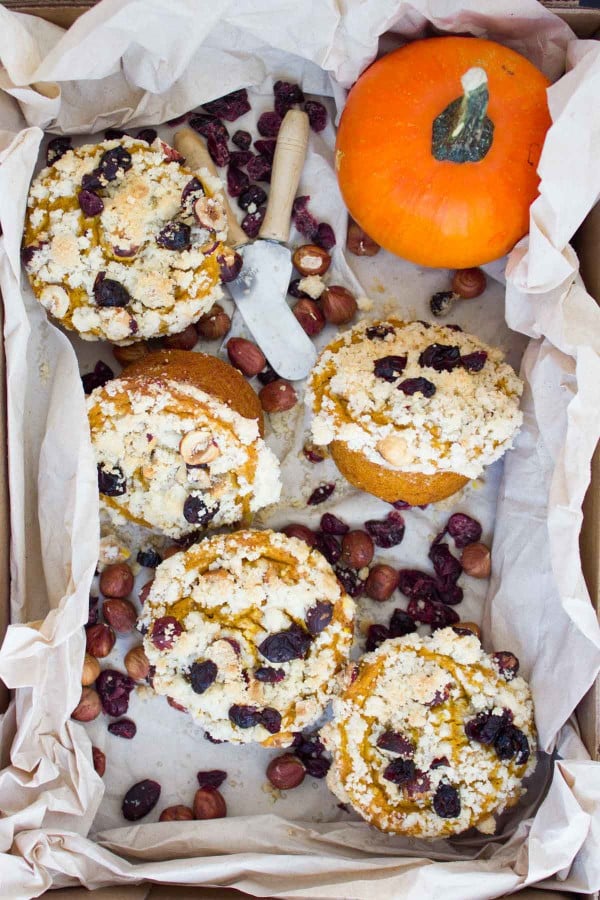 Another pumpkin recipe, this time a hazelnut cranberry pumpkin muffins recipe that's pillowy, tender, not too sweet, very pumpkin tasting, spiked with cinnamon and a few cranberries, topped with a buttery sweet hazelnut crunch for the absolute pumpkin muffins experience! Grab a bowl, a whisk, your pumpkin craving, and make these now! Then make a cup of coffee and invite me over 🙂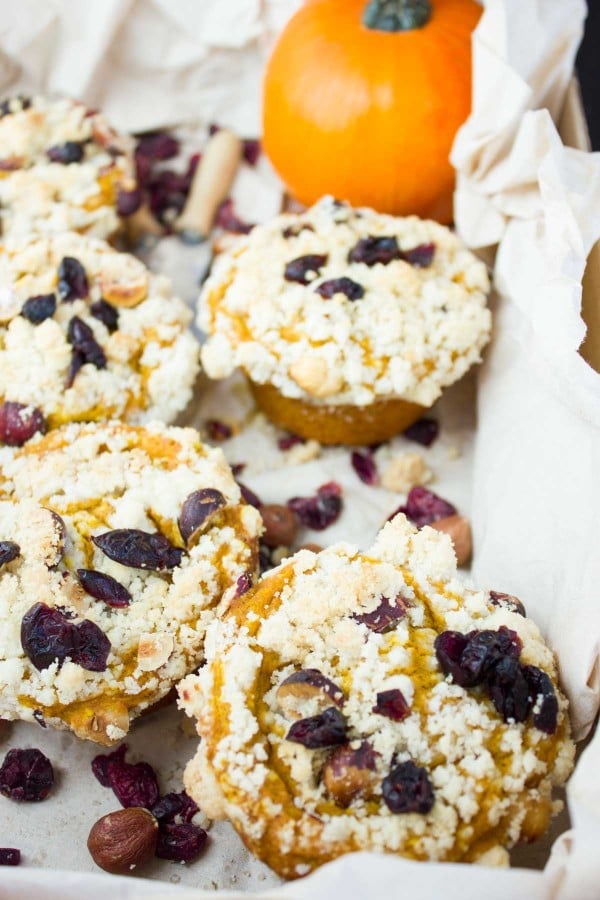 So yes indeed it is pumpkin season and the pumpkin love is in the air..I mean why deny it and why wait on it—it's a short season and sooner than you know it, it'll be all gone! So it started with these espresso glazed pumpkin spice donuts ( baked not fried, and no yeast or waiting around—just a straight forward pumpkin and espresso fix). That cake batter yields tender soft, almost melt in your mouth donut texture. I've made them twice already at the cooking school this season and I can't tell you how they've been DEVOURED! So here I am using it again as my base for these muffins, and it yielded yet another tender melt in your mouth texture.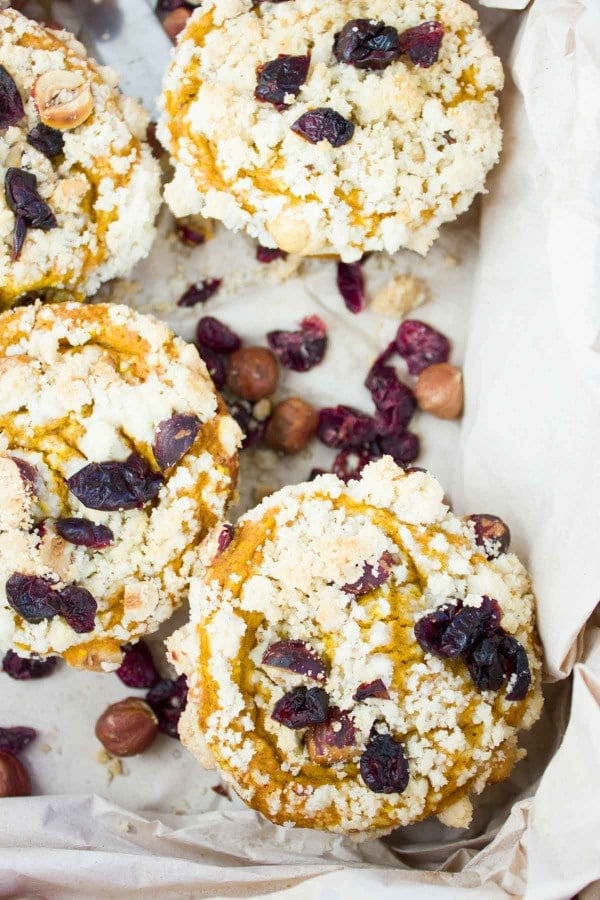 To kick up these pumpkin muffins, I had to go for the crunch factor. So the melt in your mouth muffin texture meets a buttery sweet hazelnut crunch for a lovely contrast and a load of flavor. You really can use any type of nut you like or have on hand, but it's no secret I love hazelnuts and always find myself using it ( flashback: this chocolate banana chocolate chip cake—a sweet banana, chocolate and hazelnut cake that you don't need to miss!)
The streusel (or crunch topping you may say) is a simple mixture of flour, sugar and a little bit of butter that are mixed together using a fork until the mixture looks like slightly wet sand. After that, chopped hazelnuts are mixed in and it's ready to go. The muffin batter comes together in a snap—wet ingredients together, dry ingredients together, mix them all up, scoop into the muffin pan, top with the streusel, bake and you've got yourself the best hazelnut cranberry pumpkin muffins there can be!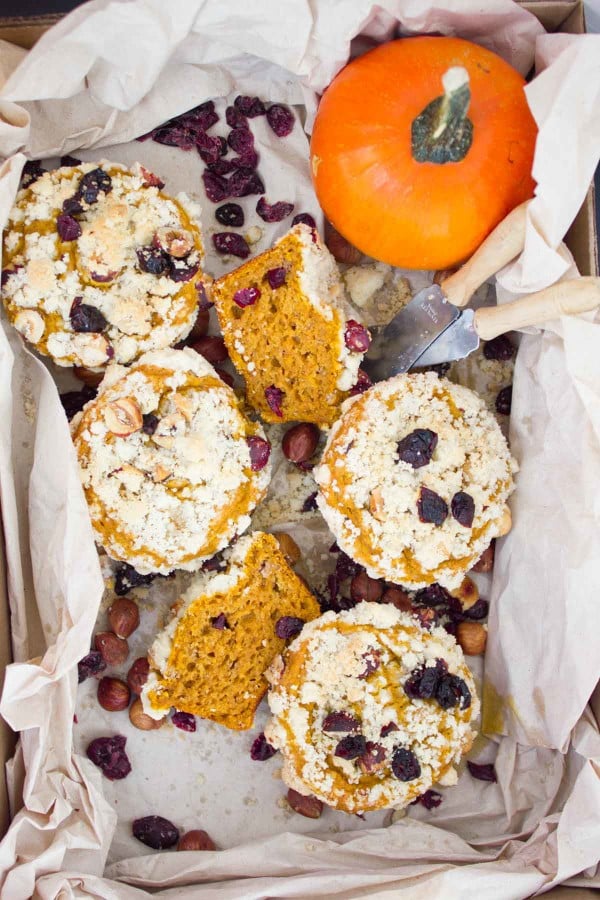 So for the cranberries, aside from them being perfectly seasonal with the pumpkin, they're slightly tart and break the sweetness of the muffin. They're very much optional, but I found they are a really good compliment. I used to make this recipe with raisins before which was still a good compliment. But today my littlest one was home with a cough and hugging a bag of cranberries because that was all she wanted to eat! And as I tried to take it away, she gave me some in my hand and said she won't give me more until I ate them all. To make a long story short, I threw some in the muffin batter to convince her I ate them and they ended up being a yummy co-incidence with the muffins!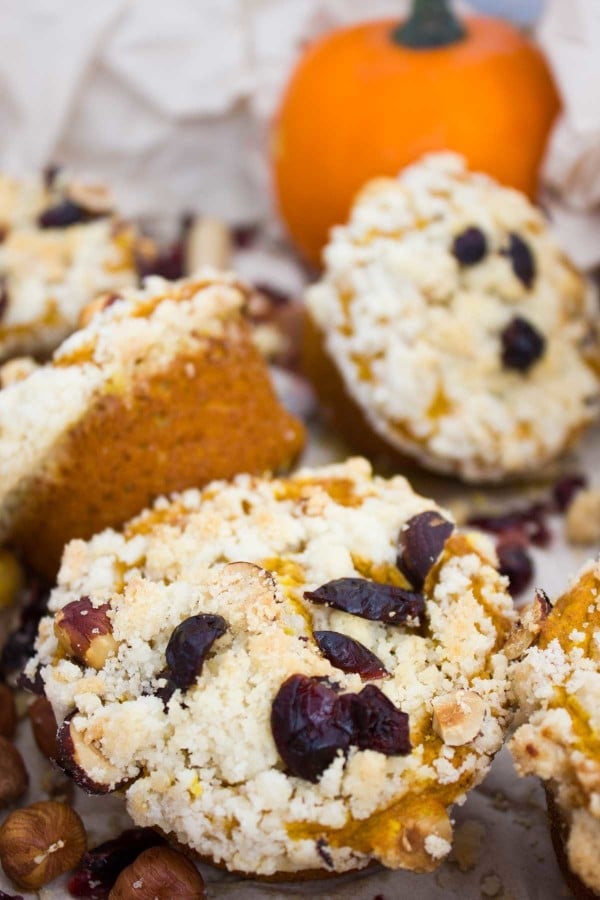 Now that everything came to light, I have to stress—these hazelnut cranberry pumpkin muffins are absolutely the best pumpkin muffins ever, ever! They are super tender and moist, they stay fresh for 3 days, they are not too sweet, they have a delicate sweet crunch, they are fabulous on their own and they are super fabulous with a cup of coffee! Now if you're a chocolate chip and pumpkin person, feel free to throw some chocolate chips in and have yourself the best chocolate chip cranberry pumpkin muffins and enjoy! 🙂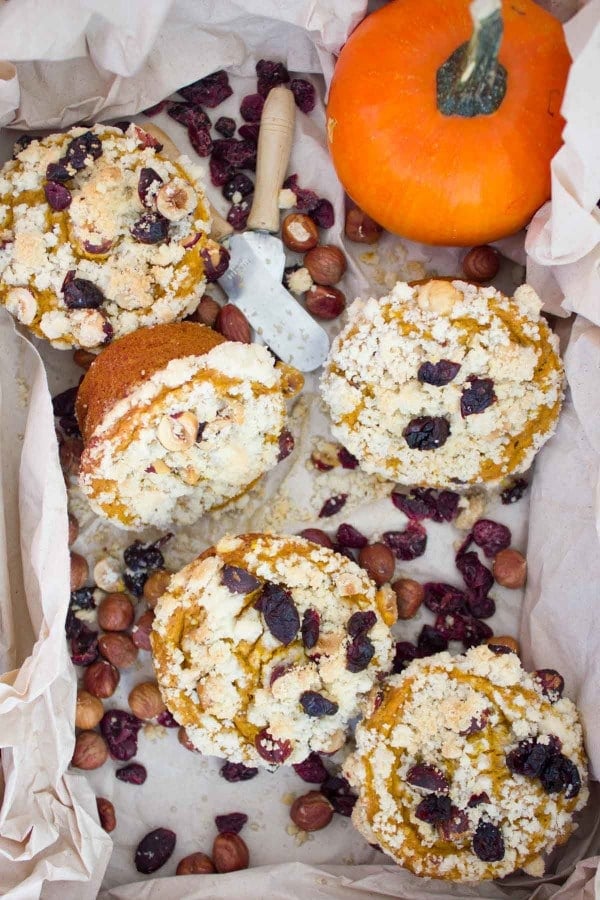 Hazelnut Cranberry Pumpkin Muffins
Ingredients
Muffin Batter:

Espresso glazed pumpkin spice donuts

1/4

cup

of dried cranberries

(optional)

1/4

cup

of chocolate chips

(optional)

Streusel topping:

1/3

cup

of all purpose flour

2

tablespoons

granulated sugar

2

tablespoons

of room temperature unsalted butter

1/4

cup

of hazelnuts

, chopped in half
Instructions
Preheat the oven to 400 degrees F.

Prepare the streusel by mixing the flour and sugar in a bowl. Then add in the butter and use a fork to mix everything in until the mixture resembles wet sand. Add int he nuts and give it a final mix.

Prepare the muffin batter as in this espresso glazed pumpkin spice donuts recipe and add int he cranberries and chocolate chips if using.

Divide the batter into a muffin pan (fill out only 10 cavities for bigger size muffins as they don't puff too much)

Top each muffin with abut a teaspoon of the streusel mixture (more or less to taste) and gently press them to the tops of the muffin batter so they stick, being careful not to push the topping inside the batter.

Bake the muffins for 18-20 mins until a toothpick inserted in the center comes out clean and the tops are golden.
Nutrition Facts
Hazelnut Cranberry Pumpkin Muffins
Amount Per Serving
Calories 79
Calories from Fat 36
% Daily Value*
Fat 4g6%
Cholesterol 6mg2%
Sodium 3mg0%
Potassium 21mg1%
Carbohydrates 10g3%
Protein 1g2%
Vitamin A 67IU1%
Vitamin C 1mg1%
Calcium 7mg1%
Iron 1mg6%
* Percent Daily Values are based on a 2000 calorie diet.