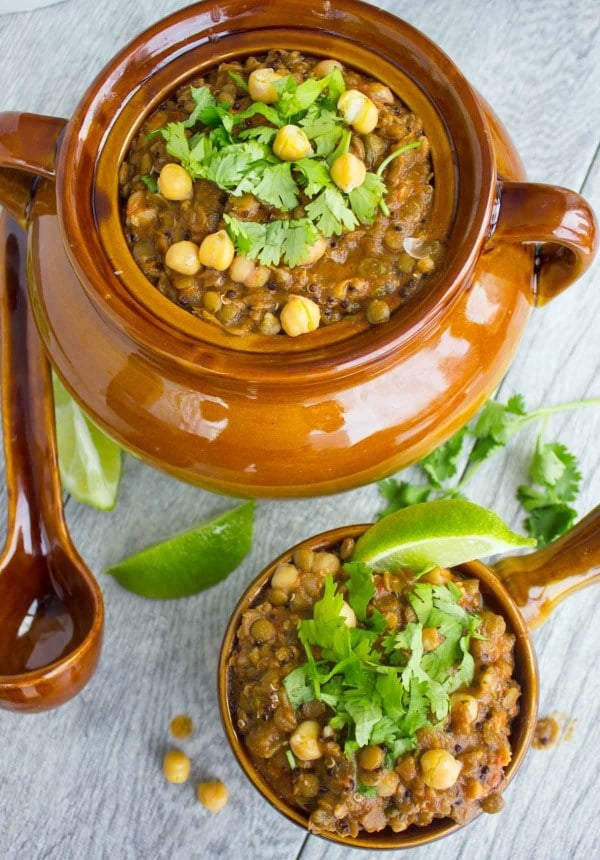 This Moroccan lentil beans soup recipe is a definition of comfort on its's own.. A hearty fulfilling soup that combines brown lentils, navy beans, chick peas and barely (or quinoa for gluten free ) in a faint tomato based broth which is thickened naturally by all the protein and fibre based lentils and beans. It's a one pot soup that can actually be a full meal!
I'm breaking away from all Holiday foods right now–I am saturated with everything cheese, cranberries, snacks, roast turkeys, potatoes, sweets (yes even sweets!), you name it. I absolutely need some SOUP. And I wouldn't go for a light soup with our winter starting to pick up, I'm all for a heartwarming thick hearty full meal type soup! Enter Moroccan lentil beans soup in a flash.
The very first time I had this soup, it was love at first taste! About 17 years ago we were living in Jordan, and we hired a Moroccan chef at home for about two years. She was very passionate and creative when it comes to delicious Moroccan food. It was as though she infused this passion. I was very fond of her, I remember staring at her as she toasted whole spices, assembled tajines, baked small round flatbreads everyday and meticulously crafted a variety of tiny sweet almond delicacies. There's much to admire about Moroccan cuisine. And when it comes to soup, by far I think this tops the list!
A tradition in all Moroccan homes, this soup called "Harira"  (pronounced hareerah) is often accustomed to taste. The combination of beans may vary, the combination and types of lentils may vary and the tomato flavored broth may be stronger than some. One common thing for sure, is that this soup is a staple in all homes as the ultimate Moroccan comfort food.
I've made this soup here vegan and gluten free by adding in some black quinoa instead of the barley, used a combo of brown and green lentils, and added navy beans and chickpeas. The beauty of this hearty soup is it doesn't need any thickening agents, as the lentils cook they will thicken and impact much flavor to the humble tomato based broth.
It starts with a nice sauté of onions and bell peppers, followed by garlic and herbs, then spice. After that the lentils go on, quinoa or barely (if using) and all is cooked. Finally the beans and chickpeas go in, and the soup is finished off with a burst of fresh herbs and lime juice at the end. If you crave a comforting fulfilling soup that is loaded with fibre goodness—this Moroccan lentil beans soup is the ULTIMATE way to go! Make this today and enjoy! 🙂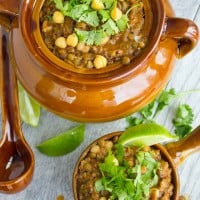 Moroccan Lentil Beans Soup
Total Time
1
hour
5
minutes
Ingredients
2

tablespoons

of olive oil

1

large yellow onion

, finely diced

1/2

a red pepper

(or your favourite) , finely diced

3

cloves

of garlic

, minced

1/2

cup

of fresh parsley

, chopped ( divided into 1/4 cups each)

1/2

cup

of fresh cilantro

, chopped ( divided into 1/4 cups each)

1/2

teaspoon

of ground cumin seeds

1

teaspoon

of paprika

1/2

teaspoon

of turmeric

1 1/2

cups

of brown

, or green lentils (or a combo)

1 1/2

cups

of crushed canned tomatoes

( use diced if you prefer a chunky tomato texture here)

1 1/2

cups

of unsalted vegetable broth

( you may add more or less depending on the thickness of your choice)

1

teaspoon

of kosher salt

1/4

cup

of quinoa

1/2

cup

of canned chickpeas

, washed and drained

1/2

cup

of navy beans

, washed and drained
Instructions
Heat a large pot over medium high heat and add in the olive oil.

When the pot is ready, add in the onions and red pepper and sauté over medium heat with a pinch of salt until they soften up. At this point add the garlic and keep sautéing for another minute until the mixture is really fragrant.

Add the spices to the onion mixture and sauté for a few seconds to bring out the flavours of those spices. Then add 1/4 cup each of the chopped parsley and chopped cilantro.

Then add in your lentils and mix them in. Sauté for another 30 seconds.

Add the tomatoes and broth and season the soup with salt.

Place the lid on the pot and wait for the mixture to come to a boil. Once it does, lower the heat to medium low and allow the lentils to fully cook (this may take anywhere from 45 minutes to an hour depending on the type of lentils).

Half way add the quinoa ( or barley, if using) and let them cook with the lentils for the remaining 20 minutes or so.

Once lentils are cooked and tender, add the beans of your choice and allow them to simmer in the soup for about 3 minutes.

When soup is done, turn off the heat, taste and adjust the seasoning. And throw in the remaining chopped parsley and cilantro.

Add a squeeze of lemon and enjoy!