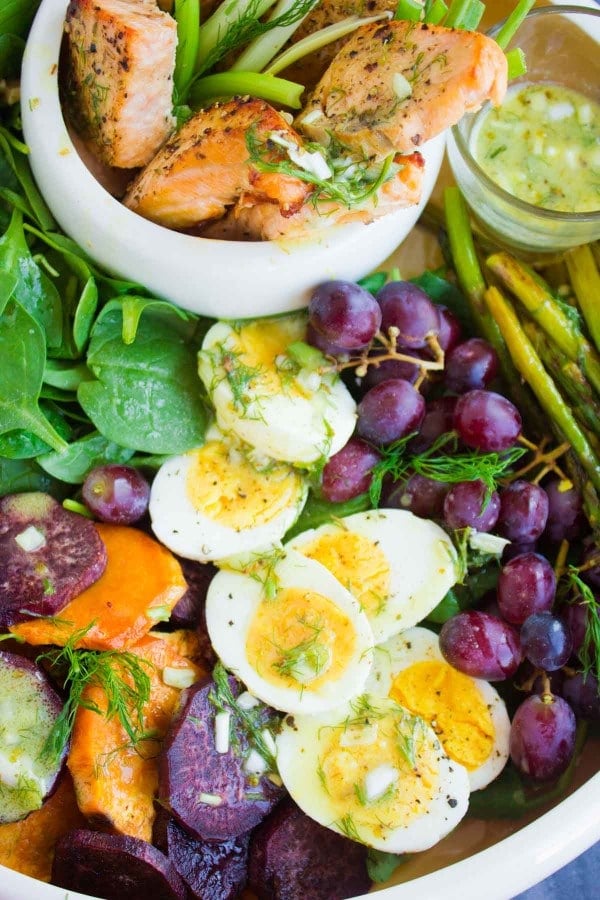 This salmon asparagus sweet potato nicoise recipe is a twist on an all time favorite classic from the south of France. It's not just a salad, it's a perfectly healthy way to load up on flavors and enjoy a seafood meal. Salmon and asparagus are broiled together and served with fresh spinach, roasted sweet potatoes slices, grapes, hard boiled eggs and drizzled delicately with a sweet mustard dill sauce to round off the taste.
This is one of my favorite ways to enjoy a nice happy salad day! And it's one of my favorite ways to have a casual lunch with friends last minute—specially now when the weather is just gorgeous. And it's the perfect seafood dinner for anyone who's trying to incorporate more seafood into their lifestyle. Aside from how good for you this salmon asparagus sweet potato nicoise salad is, it's a stunningly beautiful and ever so delicious twist on a classic tuna nicoise which comes from the beautiful region of South of France.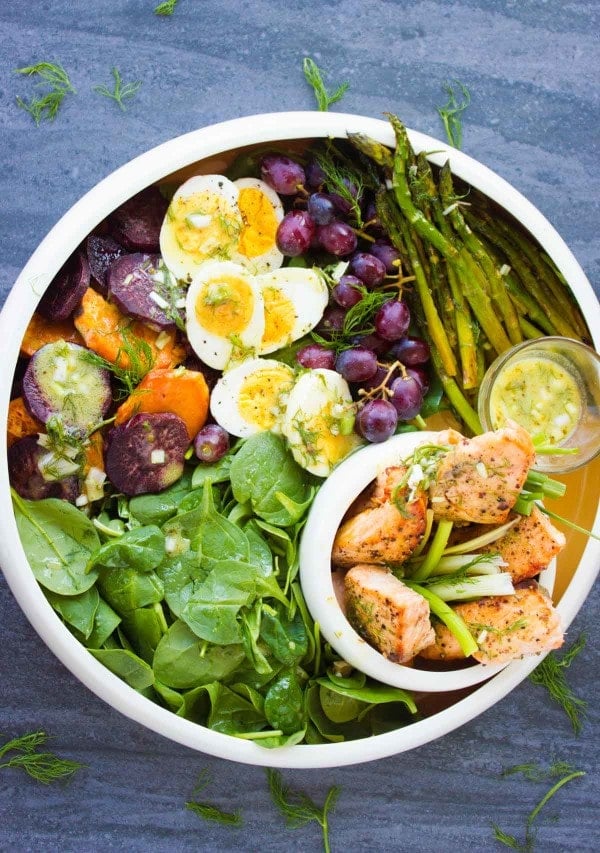 So classically the famous nicoise salad is made with tuna, haricots vert and potatoes. I love making it with salmon because it packs more flavor and I replaced the haricots vert with asparagus because it's just the perfect season for it. But also because asparagus broils perfectly with salmon in just 6 minutes. I use purple and orange sweet potatoes here because they add a touch of color and sweetness which pairs wonderfully with the salmon and spinach. Hard boiled eggs are a classic and I've kept them in place, I've replaced tomatoes with seedless grapes, and those tiny nicoise olives are usually a classic too—I didn't have any today , but I usually add them in.
The dressing is my sweet mustard dill sauce which really compliments the salad—strongly recommended! However classically the tuna salad nicoise dressing is mustard, shallots and dill with only a hint of sweetness, so feel free to make the sweet mustard dill sauce with half the amount of honey, but again I strongly recommend the sweeter version.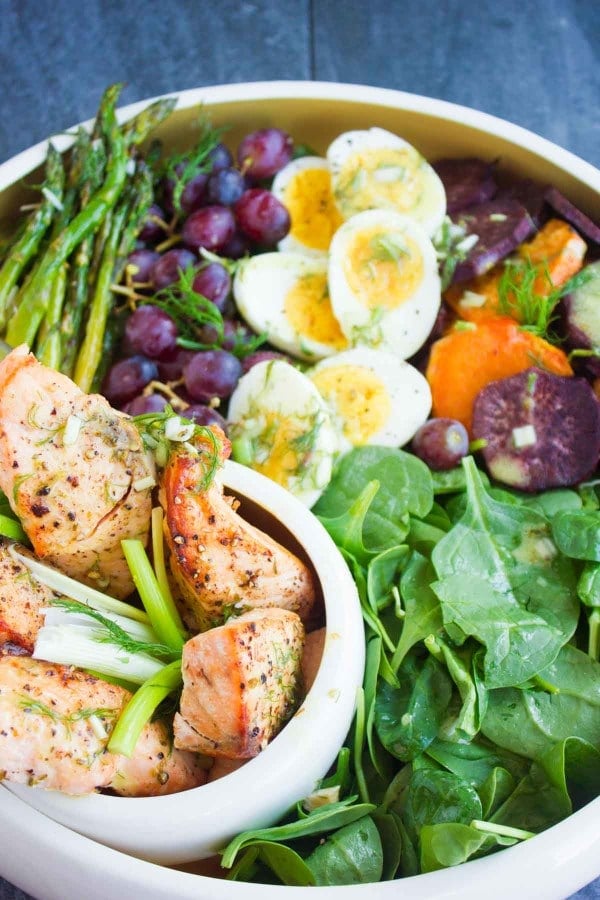 The beauty of this seafood goodness salad is that it's personalized to fit your meal—so it can be a great anti-pasti or starter to a big meal or a meal on it's own. It's also perfect served cold or warm. It can be prepared 2 days in advance but keep the sauce aside and drizzle it last minute. Feel free to use zucchini, haricots vert or any veggie you have on hand. Also try it with kale, spring mix salad or skip it all together, and add olives, cucumbers, onions or anything that puts you in a salad happy mood! I love to arrange this salmon asparagus sweet potato nicoise in a large plate with the salmon separate like that to make it easier to serve, but feel free to mix t up, or arrange it on a large cutting board, or neatly on your fancy plate.
The sweet potatoes here are roasted, but you can boil them if it's your preference. I love to slice them thin and roast them with olive oil and a pinch of salt for just 15 minutes while I prepare the rest of the ingredients, then broil the salmon and asparagus for 5 minutes and assemble my nicoise. On a busy day—it's a go to favorite!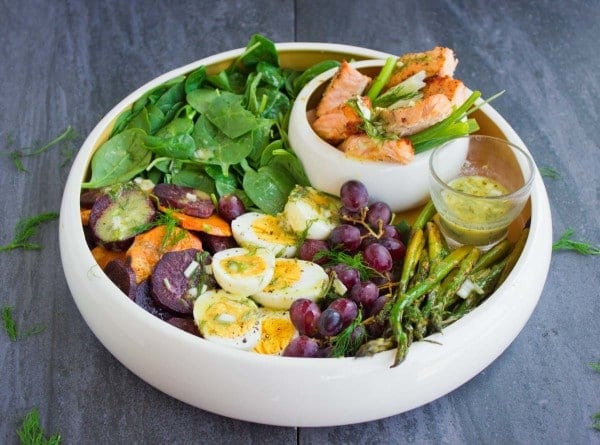 What else would you look for in a fresh and vibrant seafood goodness dinner?—this salmon asparagus sweet potato nicoise is so good for you, super simple and quick to prepare! It's also gluten free and paleo friendly. So give this simplified, twisted, fancy French salad a try and enjoy:)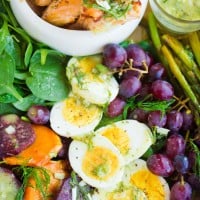 Salmon Asparagus Sweet Potato Nicoise
Ingredients
For the Salad:

3

hard boiled eggs

2

cups

of fresh baby spinach

1

cup

of seedless grapes

2

scallions

, sliced into 2 inch strips

For the Sweet Potatoes:

1

purple sweet potato

, peeled and thinly sliced into 1/8th of an inch thick rounds

1

orange sweet potato

, peeled and thinly sliced into 1/8th of an inch thick rounds

pinch of salt

1

teaspoon

of olive oil

For the Salmon and Asparagus:

2

large salmon fillets—about 6 ounce each

, sliced into 1 inch thick strips

2

bunches of asparagus

, ends trimmed

1/2

teaspoon

of salt

1/4

teaspoon

of freshly cracked black pepper

1/2

teaspoon

of herbs de Provence

( or substitute dried oregano)

1

Tablespoon

of olive oil

For the dressing:

Sweet Mustard Dill Sauce
Instructions
Preheat the oven to 425 degrees F.

Start with the sweet potatoes; toss them with a pinch of salt and olive oil and spread them in an even layer on a baking sheet. When the oven is ready, roast the sweet potatoes until fork tender-about 15 minutes.

While the sweet potatoes are roasting, prepare the remaining salad ingredients and arrange them on your serving plate.

For the salmon and asparagus; layer them in a single layer on a baking sheet and sprinkle the salt, pepper and herbs de Provence or dried oregano. Then divide the olive oil and drizzle the salmon with 1/2 Tablespoon and toss the salmon pieces together and re-arrange them back in a single layer on your baking sheet.

Drizzle the remaining 1/2 Tablespoon of olive oil over the seasoned asparagus and toss them well then re-arrange the asparagus back in a single layer on the baking sheet.

When the sweet potatoes are done, switch the oven setting to broil and broil the salmon and asparagus for 5-7 minutes (depending on the size and thickness of the salmon) until the edges are golden and salmon is cooked through.

Arrange the sweet potatoes, salmon and asparagus with the remaining salad ingredients and drizzle with a thin layer of

sweet mustard dill sauce

—about (2 tablespoons, more or less to taste).