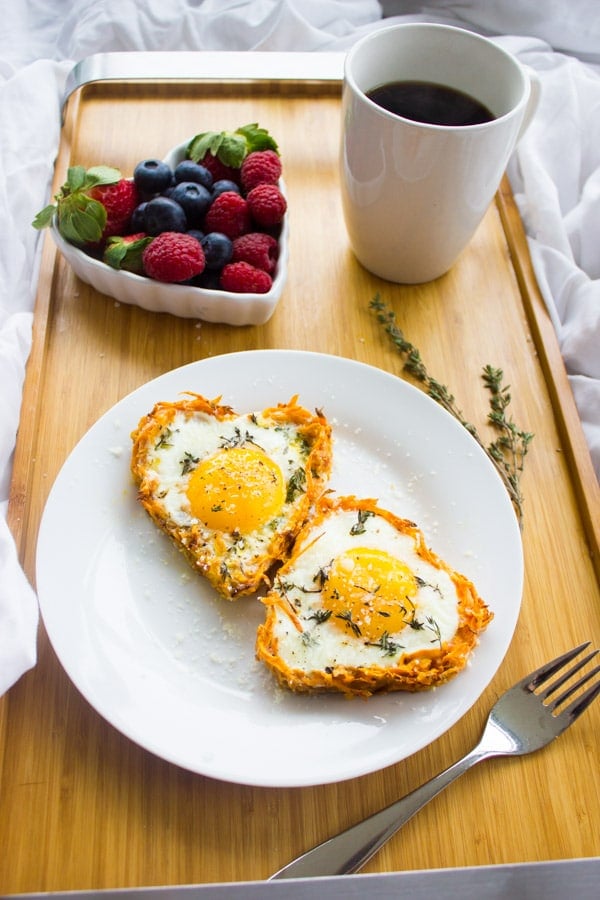 Say hello to your perfect breakfast, this recipe for Baked Eggs in Sweet Potato Crusts will put a huge smile on everyone's face in the morning! Make it on a special day for breakfast in bed or for a crowd on a Holiday morning cozy brunch. They're lusciously delicious, super easy, healthy and need only 15 mins to make—every egg lovers' dream come true! A must try recipe for the Holidays and every special occasion 🙂
Today's recipe is sponsored by my friends at the Egg Farmers of Canada—providers of the freshest eggs, farm to kitchen in just days! 🙂
Let's talk breakfast for a minute. It's my absolute favorite meal of the day, and I know it's the most important one. So with all the Holiday prep, we don't want breakfast/brunch to slip through the cracks..which is why these baked eggs in sweet potato crusts are my absolute favourite way to make breakfast for a crowd or special days. It's not only PURE deliciousness, it's also a great recipe to be prepared in advance, or for plenty of guests. I make it for special occasions,  like how about the perfect Valentine's Day breakfast in bed?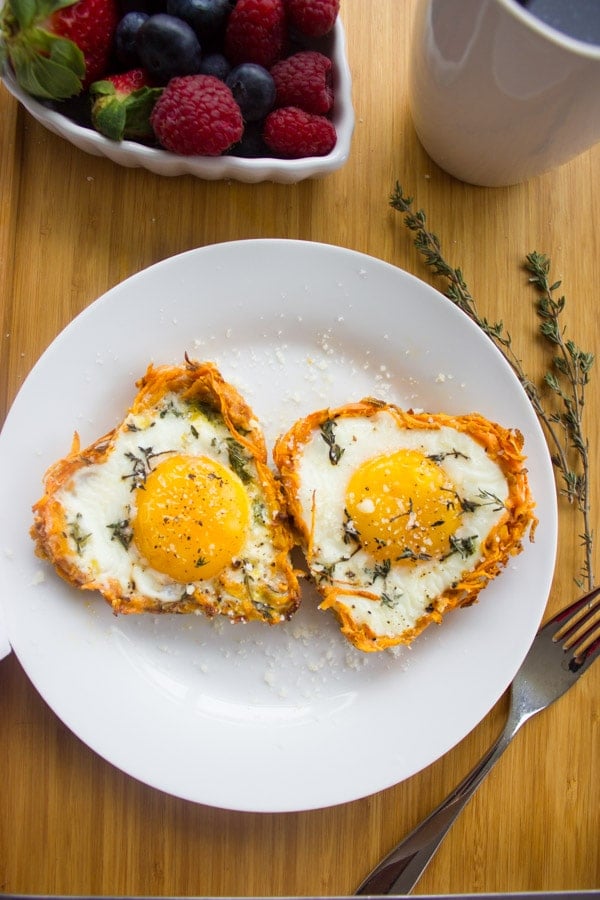 I love making these baked eggs with a sweet potato crust. The combo of sweet potatoes and eggs is pure LOVE for me. There's something about that sweetness and the rich egg together flavors together that makes this taste divine. You can always use regular potatoes or a combo, but if you're a sweet potato person—don't miss out! To make life easier, I shred my sweet potatoes in a food processor using the shredder disc. This has to be one of my favorite tools ever—it makes shredding everything a breeze. Now once your sweet potatoes are shredded, I love to give them a gentle toss in olive oil and salt. I sometimes add some fresh thyme leaves for a nice fancy French feel to my baked eggs—but this is totally optional.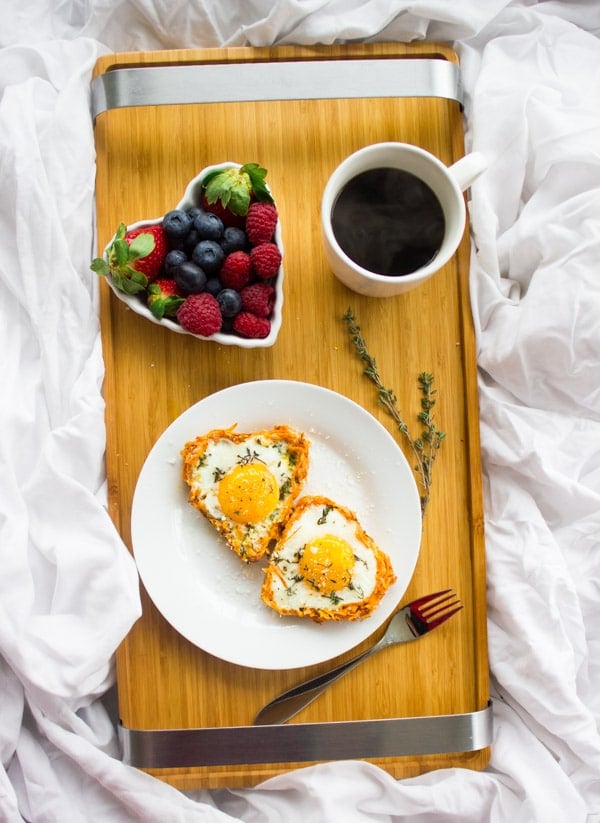 When it comes to baking, I chose my cute little heart molds to make this recipe feel extra special for a cozy weekend breakfast in bed which is my favorite way to serve these luscious baked eggs. But if I'm making this for a crowd—say a Holiday brunch or potluck party ( which I'm going to and will be making these 🙂 I would use a large baking pan or my standard muffin pan. And I love to line up my muffin pan with baking paper—because it never hurts to be extra safe on a party day 🙂
I'll walk you quickly through this MUST TRY baked eggs in sweet potato crust recipe. After your sweet potatoes are shredded, pack them at the bottom of your pan (either a large 9 inch pie pan, or a muffin pan, or any baking molds) and you'll bake them for just a few minutes to soften them before adding the eggs. Then you'll crack a fresh egg in the centre of each mold (or crack several eggs if you're using a large pie plate). Now I add in a tablespoon of cream per egg. It's like the secret ingredient, it's actually a very French thing that I picked up living in Paris for five years which makes their baked eggs out of this world. Salt and pepper next, extra fresh thyme (optional)..and in they go for baking.
Simple yet pure lush. This is the sort of recipe I love sharing at y cooking classes because you can make them with endless variations and flavors. Start with the crust—you can switch any shredded veggie or combo of veggies, cooked quinoa, or a simple bread base. Then flavouring the eggs, think spice, herbs and aromatics. Add in salsa for a Mexican feel to them, or more cheese and herbs, or rich turmeric spice, or chopped onions, bell peppers, feta and olives for  Greek style baked eggs..the sky's the limit and the star is the humble miracle—the eggs.
So now go ahead and take a deep breath if you're thinking of making a divine yet simple breakfast—just make these baked eggs in sweet potato crusts and enjoy every bite of this yummy goodness! Happy Holidays!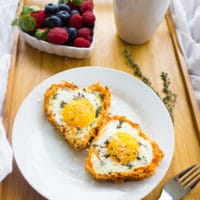 Baked Eggs in Sweet Potato Crusts
Ingredients
Crust:

2

large sweet potatoes shredded in a food processor to make 3 cups

pinch of salt

1

teaspoon

of olive oil

2

teaspoons

of fresh thyme leaves

Eggs:

12

Fresh eggs

12

Tablespoons

of light table cream

1/2

teaspoon

of salt divided

1

teaspoon

of black pepper divided

4

teaspoons

of fresh thyme leaves

(optional)

**1/4 cup of fresh Parmesan cheese grated **

(optional)
Instructions
Preheat the oven to 375 degrees. In a large bowl, toss the sweet potatoes, salt, olive oil and fresh thyme.

Take your baking molds, a 9 inch baking pan or a standard muffin pan and line them with baking paper.

Place the sweet potato crust at the bottom of the baking molds—for individual baked eggs, measure out 1/4 cup of the sweet potatoes for each crust.

Bake the sweet potatoes for 8 mins until it softens up.

Remove the sweet potatoes from the oven and crack the eggs on top. Crack one egg for each mold and in a tablespoon of cream per egg. Add the cream right over the egg. Repeat with the remaining eggs.

Season with salt, pepper and fresh thyme leaves.

bake the eggs to the doneness you prefer—for a cooked and still slightly runny egg yolk, bake the eggs for 10 mins.

remove from the oven and sprinkle some freshly grated Parmesan cheese.

Enjoy!