This shop has been compensated by Collective Bias, Inc. and its advertiser. All opinions are mine alone. #CollectiveBias #YogurtInspiration #HolidayEntertaining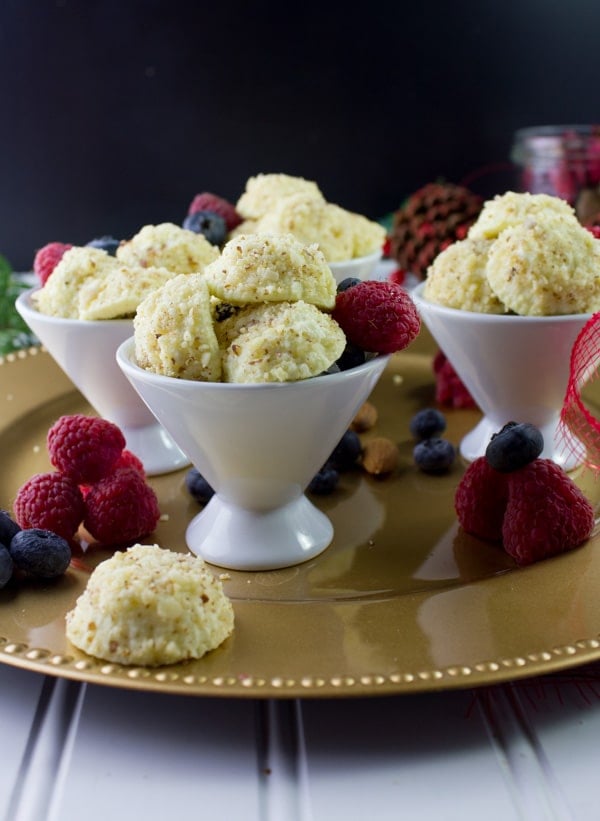 More Holiday Cheer, more Holiday baking and entertaining—but this time it's healthy bite size Holiday baking! This Almond Crunch Greek Yogurt Cheesecake Bites recipe is a pop in your mouth creamy dreamy vanilla cheesecake with a crunchy almond coating. It's made with only three ingredients, bakes for only 10 mins and stays in the fridge for a week—the perfect treat minus the guilt this Holiday season 🙂
Another cheesecake recipe you might think, but let me just say this is NOT yet another cheesecake recipe. This is pure Greek yogurt cheesecake recipe. So no cream cheese here, no sugar added, no fancy baking techniques, and yet it's pure divine. And coming from the die hard cheesecake loving person that I am—this recipe is simply luscious!
Let's talk for a minute about how you can make these Greek yogurt cheesecake bites in endless ways for your Holiday entertaining this year. The base is always the yogurt. I made this with Dannon Light and Fight Yogurt which I bought at meijer (check for store locator near you—there's a huge Dannon yogurt selection over there for you to chose from). I love Greek yogurt for a couple of reasons—the obvious one is it's got much more protein than regular yogurt, and it's super thick and creamy so it really feels like a treat-not a yogurt!
For the record you can make this recipe with regular yogurt-you'll find so many fruit flavors from the Dannon Light & Fit, and you'll find rich dessert flavors like Tiramisu, Cheesecake, Salted Caramel, Coconut and much much more!! what I'm trying to say is, while I made these yogurt cheesecake bites with classic vanilla—yours can be Lemon Coconut? Salted Caramel? Blueberry? A combo of different cheesecake bites flavors—for a crowd maybe?
Once you've settled on the flavor(s) of the yogurt, then comes the coating. Today I'm sharing these Greek yogurt cheesecake bites with an old friend who's been on a low carb diet for a while and finally in her maintenance phase—so for that I coated them in crushed almonds. But if you can spare a few carbs and need that cookie taste with your cheesecake—then coat the bites in crushed cookies. I've tried them with good old arrowroot cookies and they were perfect! Truthfully, the crushed almonds coating tasted just as perfect—because you get that perfect crunch contrasting the creamy cheesecake bite with an overload of divine scrumptious melt in your mouth cheesecake taste.
You'll notice I added a blueberry at the centre of each cheesecake—that's totally optional but I highly recommend it if you're going for a neutral vanilla, coconut or lemon yogurt cheesecake. I love the bite it adds and the extra fruity taste. I felt the Greek Yogurt cheesecake bites didn't need any extra sauces, drizzles or fuss—they were delicious as is, but..for the record my hubby loved them more with a drizzle of honey. It's no secret he has a sweeter tooth than mine, and if you feel you're like that too then try the honey drizzle 🙂
I know this season is all about Love, Joy and delicious FOOD—all types of food. Comfort food. Cozy food.Party food. Slow cooked food. Breads, Desserts, Appetzers..you name it. And I'll be the first to admit- I LOVE Holiday food! 🙂 But I'll also admit, I love to give myself a "health" break every now and then. So If I'm having a big meal, I'll go for a divine yet healthy dessert like these bites. And if I'm having a big party, these bites will be on my dessert menu for sure—they're easy. quick and almost everyone will opt for a sweet light end to their meal. Plus they keep i the fridge for a week—talking about Holiday meal planning!
A quick recap on how these Greek Yogurt Cheesecake bites come together: You'll add the Dannon Greek yogurt in a large bowl with an egg, whisk them up, then add in a tablespoon and half of flour, mix that up and it's done! you'll take a tablespoon of batter to fill up a mini muffin pan. Don;t forget to line up your mini muffin pan with baking paper—the cheesecake bites are hard to un-mold once they're done. Then you'll chill the cheesecake, unfold them form the paper and dip them in your coating of choice..and now watch your family and friends devour them one after the other! 🙂 Make these little bites of divine goodness and enjoy 🙂 P.S—Don't forget to follow Dannon on Facebook, Twitter and Pinterest for more updates..and have yourself a Happy Healthy Holiday! 🙂
Almond Crunch Greek Yogurt Cheesecake Bites
Servings
24
mins/6 serving
Ingredients
2

cartons of Dannon Light and Fit Greek Yogurt

(5.3 ounce each/150 grams)--any flavor, I used Vanilla

1

large egg

1.5

tablespoons

of all purpose flour

pinch of salt

Optional:

Fresh blueberries

(24 pieces)

Coating:

1/2

cup

of crushed almonds

( or any nut, or your favorite cookies crushed)

Optional:

drizzle of honey
Instructions
Preheat the oven to 375 degrees. Line a mini muffin pan with 24 mini paper liners and set aside.

In a largebowl, add the yogurt and whisk it with the egg until smooth. Add in the flour, salt and whisk them again.

Take a tablespoon measuring spoon and spoon it into each muffin cup (**you can make the cheesecake bites bigger with 1.5 tablespoons if you prefer).

Repeat with the remaining batter filling all the muffin pan.Optional--place a blueberry in the centre of each cheesecake bites and press it down to submerge in the batter.

Bake the cheesecake bites for 10 mins until set. Chill them for an hour or flash freeze them for 20 minutes before removing the baking paper.

Remove the baking paper and dip the cheesecake bites into the crushed almond (or cookies) bowl and pride it down gently.

Set aside and repeat with the rest.

Serve and enjoy as is or with a drizzle of honey!