Next time you're craving meatballs, you need to try this Juicy Spicy Turkish Meatballs recipe! It's  definitely not your average meatballs recipe and it's not your grandma's meatballs—unless your grandma was Turkish like mine 🙂 So it's an all beef meatball with plenty, really plenty of flavor and it's bathed in a spicy, slightly tangy yogurt sauce with a handful of fresh herbs. It's classically served with white rice or bread, but you can go bold and serve it with pasta too.
Have you been having a nice warm break this week from the cold cold winter like us? Last week our weather was gorgeous, seriously gorgeous. We not only took the snow pants off, we took off hats, mittens, neck warmers..you name it. Then we put on lighter jackets and happier faces 🙂 We haven't craved soups or hot drinks, we wanted fresh light salads and sandwiches..then my mom was sick of our daily salad menu and made us those Turkish meatballs one day. They were perfect.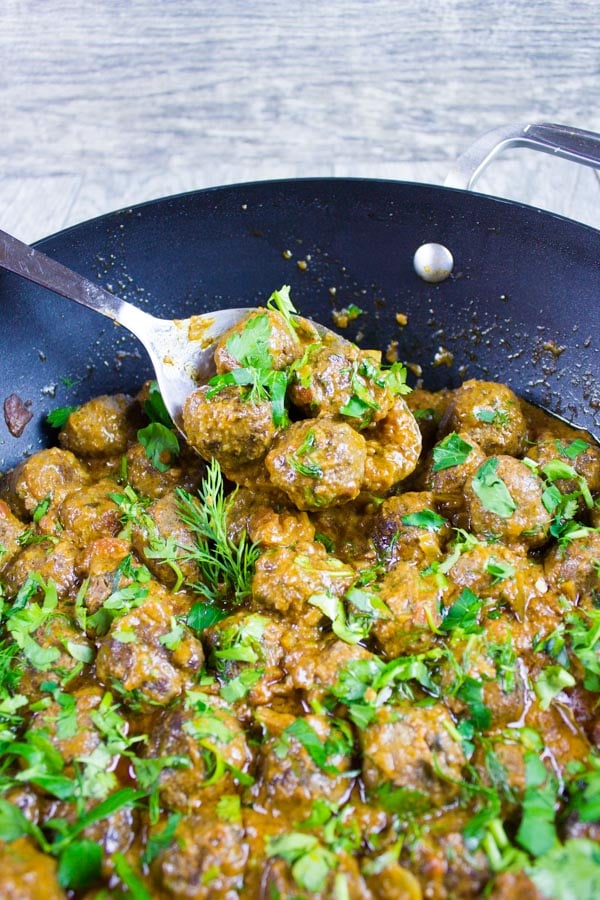 So my parents have been visiting for a couple of weeks now, and I've been spoiled and pampered like a little kid. I've been shamelessly enjoying it. My best friend would call and tell me I need to grow up, but I argue back and tell her they'll leave soon and I'll be all alone again. It's not like they live next door, they live MILES and MILES away. And since now they're staying with me, I'll totally take advantage of that. Totally. And part of the advantage means some of my mom's amazing food! Today she chose to make us those juicy ad spicy meatballs which have a Turkish blend of spices and a spicy tomato sauce that's lightened up with a touch of tangy yogurt..Pure meatball decadence.
So forget the classic Italian-American meatballs flavor and classic marinara taste, open up your tastebuds to a spicy blend of nutmeg, allspice, cilantro, parsley, dill, onion and garlic beef meatballs. These meatballs are seared for a perfects crisp and then cooked in a tomato, onion, garlic, green chilli sauce that's flavored with bay leaves, herbs and a touch of yogurt. Drooling yet? 🙂
For the record I'll admit that I'm not a meatball person. Ok maybe I shouldn't make such a bold confession when I'm writing a food blog. But at the same time I'm sure if you've been following my blog for a while, then you could be wondering why where how is there no meatball recipe here. So here's a breakthrough. I seriously devoured these Turkish meatballs. Seriously. Here are my reasons, the meatballs are nice and chewy NOT crumbly (if you love crumbly meatballs, then look away lol). The meatballs DON'T taste like onions lol they have a ton of flavor and spice. The meatballs are NOT stewed or boiled in tomato sauce, they're nicely crisped and seared first until nearly cooked through then they're coated and cooked for a little bit in sauce.
Sauce:
Now the sauce. Onion, garlic, green chilli, dill, parsley, tomatoes and bay leaves. Then a touch of yogurt brightens up the sauce. If you've never had yogurt sauces before, you are MISSING OUT! Again in Turkey, I've had zucchini cooked in a savory yogurt sauce and it was to die for! The trick to sustain a nice thick and creamy yogurt sauce without having the sauce separate is to add a teaspoon of cornstarch to the yogurt before cooking it. This trick is magic! You definitely won't taste the starch, you'll just get the creamy dreamy feel of it. If you're out of yogurt, then you can use light cream or half n half. But I strongly urge you to try the yogurt, it pairs beautifully with the sauce.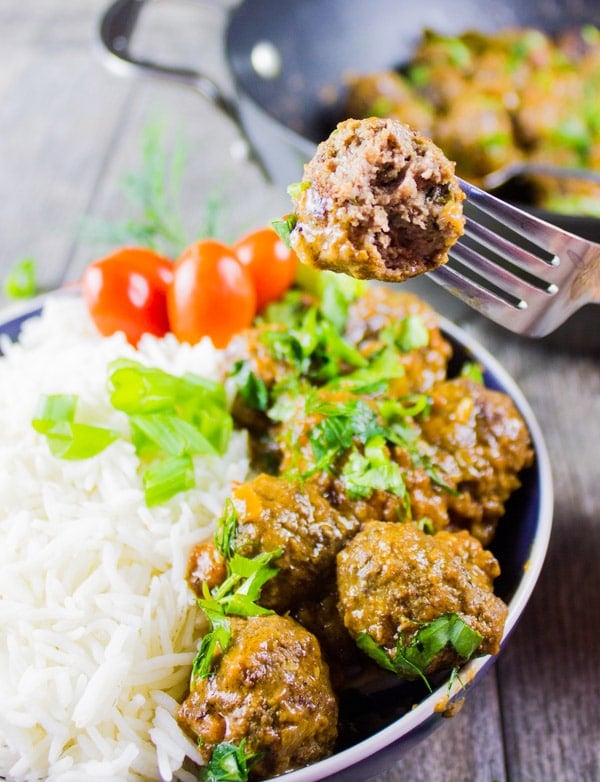 Don't miss out on these meatballs—coming from a person who never appreciated the classic meatballs and yet devoured these. I'm looking at meatballs differently now, I feel I should change everything and anything that I didn't like about them..and I can eventually LOVE them. Now don't be surprised if you see another meatballs recipe soon, I'm a meatball convert now! Make these soon and see for yourself—enjoy 🙂
Full Recipe
Juicy Spicy Turkish Meatballs
Ingredients
1

lb

ground beef

(lean or extra lean to your preference, lean is a tad better 🙂 )

1

small red onion

2

cloves

of garlic

1-2

fresh green chilli

(or jalapeños) to your taste—or skip altogether if you don't like a strong spice

2

tablespoons

of fresh cilantro leaves

1 1/2

tablespoons

of fresh dill leaves

2

or more tablespoons of fresh parsley leaves

1

teaspoon

of nutmeg

1

teaspoon

of allspice

1/2

teaspoon

of salt

1/2

teaspoon

of pepper

2

tablespoons

of ground rice flour

( or grind 1/4 cup of any type of rice till it's a fine powder)

1

teaspoon

of olive oil

Sauce:

1

teaspoon

of olive oil

1

small onion minced

2

cloves

of garlic

, minced

2

green chilli thinly sliced

( or use jalapeños) or skip altogether for a milder sauce

1

cup

of canned crushed tomatoes

2

bay leaves

1/2

teaspoon

of nutmeg

1/4

teaspoon

of salt

1/4

teaspoon

of pepper

1/2

cup

of cold plain yogurt

(Green yogurt works fine)

1

tablespoon

of cornstarch

1 1/2

tablespoons

of fresh cilantro

2

or more Tablespoons of fresh parsley

1 1/2

Tablespoons

of fresh dill
Instructions
To make the meatballs, place all the ingredients (except the beef) in a food processor and process until smooth. Then take this mixture and place it in a large bowl, add the beef to it and mix well. Then shape the mixture into 1 inch size balls and place them on a baking sheet.

In a large saute pan, add the olive oil and heat for a few minutes on medium high until it's hot. Then add the meatballs and start searing them.

Don't move the meatballs at all for the first 2 minutes so they can sear and get a nice crust. Then try swirling and shaking the pan slightly back n forth and to the sides to swirl the meatballs all around. Then use a wooden spoon or spatula, try to toss the meatballs evenly so they're seared on all sides. This takes about 7 minutes.

Remove the meatballs to a clean plate and to the same pan, add the olive oil, onion, garlic and green chilli to make the sauce.

Saute these over medium heat until soft and fragrant, then add the tomatoes, spice and bay leaves. Cover the pan and let the sauce cook for 5 minutes.

In a small cup, add the cold yogurt and cornstarch and use a spoon to dissolve the starch in to the yogurt.

Add the yogurt mixture to the tout sauce and once it starts boiling, add the meatballs ack to the sauce.

Cover the pan and let the meatballs cook all the way through in the tomato sauce for nearly 10 minutes over medium low heat.

Add in the fresh herbs, toss the meatballs and serve right away. Enjoy 🙂