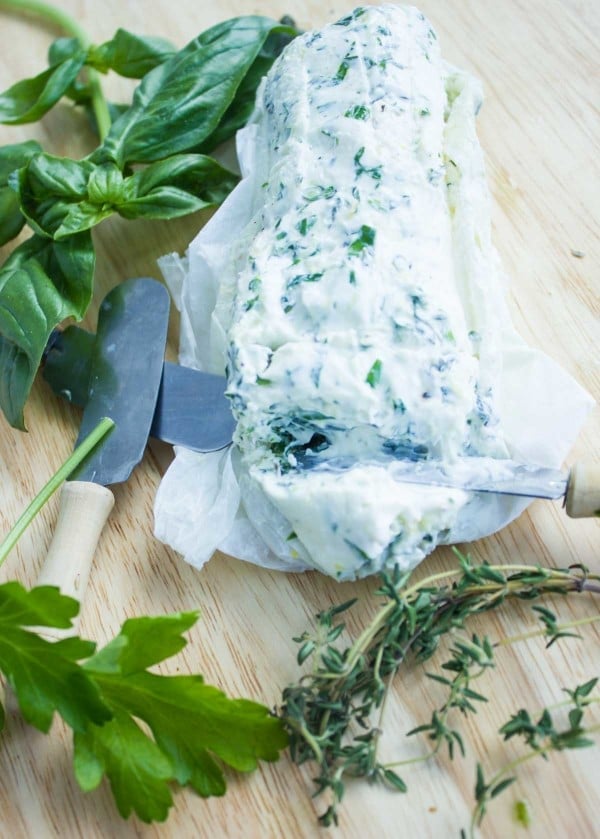 This garlic lemon herb cream cheese recipe is so much better than store bought and it comes together in 5 minutes! Softened cream cheese mixed with garlic, lemon zest and a combination of fresh herbs all perfectly balanced with the creaminess of the cheese. Use it in endless ways and flavor it in endless ways to make it your own. All you'll waste is 5 minutes but you'll be left with an incredible cream cheese you will be making over and over again!
A few years ago we moved from the US to live in Vienna, and while it's no surprise that dairy products are much richer and tastier in Europe, I was surprised to see so many more variations on our average flavored cream cheese there too. Even though it's the same US brand, I found a basil pesto one, sundried tomatoes and parmesan, black pepper cranberry, and more. They were so yummy and creamy even though they were nearly fat free.
Soft cream cheese and flavorings on top
Cream cheese mixed with flavorings and ready to be chilled
So I suppose from there, I fell in love with flavoring my cream cheese rather than settling down for store bought—with the exception of 1 or 2 that I already love. The best thing about flavoring your cream cheese is that you taste the freshness of herbs, cheeses, spices or anything you're adding to it. That fresh vibrant taste is what makes it stand out.
I also love that all it takes is for me to gather up my ingredients and mix them up in a bowl with a spoon (or just smudge them on wax paper like photos above!) for a few seconds and it's ready! At that point you will have a soft flavored cream cheese, so use it right away if that's the texture you want, or for a firmer texture of cream cheese, wrap it up in wax paper and chill it for an hour or flash freeze it for 20 minutes.
Next time you have cream cheese on hand, try adding pesto, or spices and minced dried fruit, cheeses, etc.. and try this easy fresh garlic lemon herb cream cheese and enjoy!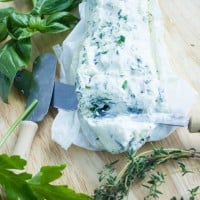 Garlic Lemon Herb Cream Cheese
Ingredients
8

ounces

of room temperature soft cream cheese

( full fat, low fat or fat free)

1

garlic clove finely minced or grated using a microplane

1/2

cup

of fresh herbs: basil

, parsley, thyme, rosemary (combined or whichever you have on hand) all chopped or minced finely ( according to your taste)

1/4

teaspoon

of salt

(or to taste)

1/4

teaspoon

of fresh ground pepper

Zest of 1/2 a lemon
Instructions
In a bowl mix all the ingredients together, taste and adjust seasoning.

Use it right away for a soft spreadable cream cheese texture or wrap the mixture into a log with wax paper and chill for at least 1 hour or freeze for 20 minutes.