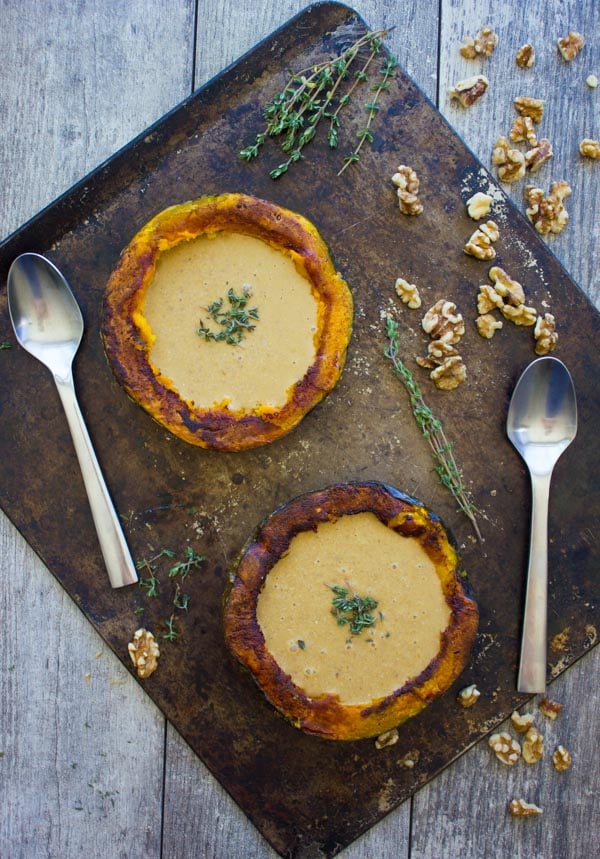 It's feeling like soup this time around, and I'm talking velvety smooth creamy Walnut Squash Soup in Squash Cups recipe. A soup that's packed with the goodness of veggies and walnuts, hearty, filling and totally vegan. Sweet squash paired with walnuts and pureed till velvety smooth– Perfect Fall comfort food! Here it comes, the first soup of the season.
I'm wishing for a sweet fall and winter season like we had last year, but that's actually the contrary of what's been predicted—I'm still wishing though. The one thing I don't complain about is the food. There's something about cold days food, something so comforting that you can't replace. I never forget those years I lived in beautiful Miami, weather was gorgeous all year long. There were days I used to crave this comfort and make soup, but it never felt the same.
Well today this soup was perfectly fitting, a windy rainy day, the start of Fall, and the cozy feeling of staying home watching TV. And this soup is particularly special because it's one of my mom's favorites. If you've been to Vienna, you would've noticed (among many other beautiful things!) the walnut trees everywhere in residential areas. I remember we used to take walks around our neighbourhood, and with the beginning of Fall, we'd see those lovely walnuts falling off the tress everywhere. There's something about eating fresh walnuts right off the trees that we loved, specially my mom. She has a thing for walnuts everything, desserts, ice cream, walnut sauces, and this walnut soup.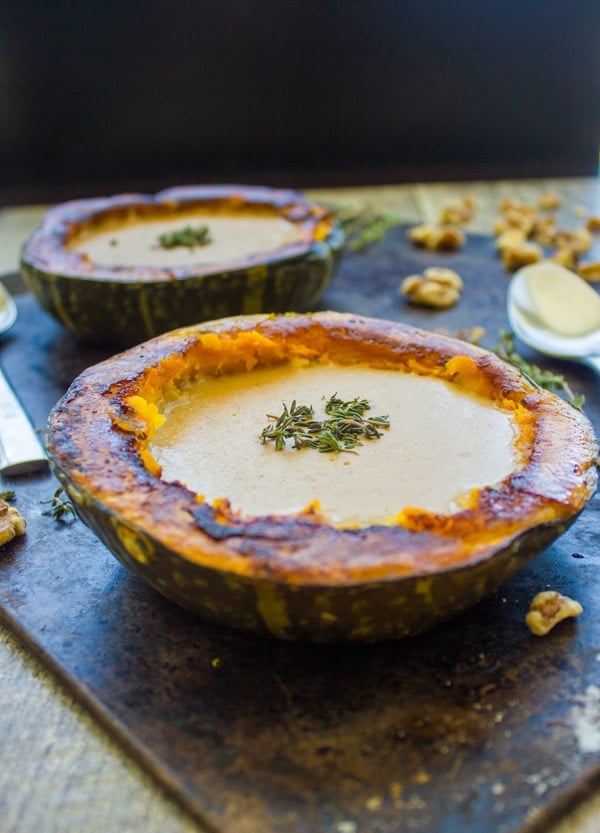 So we used to pick some of those fresh off the trees walnuts, break up plenty of shells and make this creamy dreamy soup. The only difference is today I've added squash so it's a walnut squash soup. The squash added a nice thickness and creaminess to the walnut soup which made it easy for me to skip the cream (sorry mom!) so it's a vegan soup. Also the squash adds a hint of sweetness which compliments the walnuts beautifully. And while I used the roast acorn squash, I didn't throw away the shells—I used used them to serve up the walnut squash soup!
If you're a hazelnut person, pecan or almond person—I would think this recipe would work perfectly well! I've just always made it with walnuts, and I've used nuts in other soups, but as a side ingredient—like this cauliflower hazelnut pear soup and this strawberry spinach salad artichoke soup brunch post as a recipe for a pear artichoke soup with pistachios. And while we're speaking of soup—this velvety smooth walnut soup happened to be this smooth thanks to my new Vitamix! Just a reminder that the amazing VITAMIX giveaway is still on!! Now you can enter and win one yourself so don't miss it! I've made a couple more amazing recipes using it—my new favorite Holiday table salad—this Roast Pumpkin Mediterranean Salad, it adds a kick to your Holiday menu! And this DIVINE Creamy Homemade Caramel Pudding with just four ingredients all whipped up in a flash—dangerously addictive!
So I'll quickly run this recipe for you—Just lice your squash in half and remove the seeds. Season the inside of the squash and place them cut side down on a baking sheet to roast. When they're done, you'll simply scoop out the flesh using a spoon while keeping the shells intact. Add the scooped out squash to the walnut soup, cook for 10 minutes and blend the soup. The walnut soup is basically a sweet sauté of onion, bell peppers, garlic and walnuts. Some vegetable stock, a bit of oats, the roasted squash and that's it! Easy , sweet and cozy comfort food! Enjoy 🙂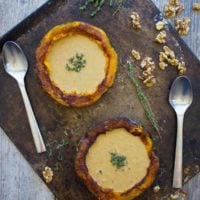 Walnut Squash Soup In Squash Cups
Ingredients
2

squashes

, cut in half and seeds removed ( your favorite type—I used Kabocha squash)

pinch of salt and pepper

1

teaspoon

of olive oil

Soup:

1

onion

, diced

1/2

cup

of diced yellow bell peppers

1

teaspoon

of olive oil

1/2

teaspoon

of dried oregano

pinch of salt

1/4

cup

of rolled oats

1 1/2

cup

of walnuts

5

cups

of vegetable stock/broth

1/4

teaspoon

of salt

1/2

teaspoon

of black pepper

2

teaspoon

of fresh thyme leaves
Instructions
Preheat the oven to 400 degrees F.

Season the inside of the squash with salt, pepper and olive oil. Place the squash on a parchment lined baking sheet with the cut side down, and roast for 20 minutes until the flesh is tender.

In the meantime prepare the soup. In a pot, sauté the onion and bell pepper with the olive oil over medium high heat until soft. Add the salt and oregano and sauté until the onion starts turning golden. Add in the garlic and sauté.

Add the oats, the walnuts and keep sautéing for 2 minutes until they're toasty.

Add in the broth/stock and increase the heat to high. Cover the pot and bring the soup to a boil. Lower the heat back to medium low and let the soup cook for about 20 minutes.

Using a spoon, scoop out the flesh of the squash without disturbing the shell of the squash (so it stays intact), and add the squash in to the soup.

Cook the squash in the soup for 10 more minutes.

Transfer the mixture to strong blender (I used my Vitamix) and blend until smooth. Taste and adjust seasoning with salt and pepper.

Serve the walnut soup in the squash cups and enjoy!