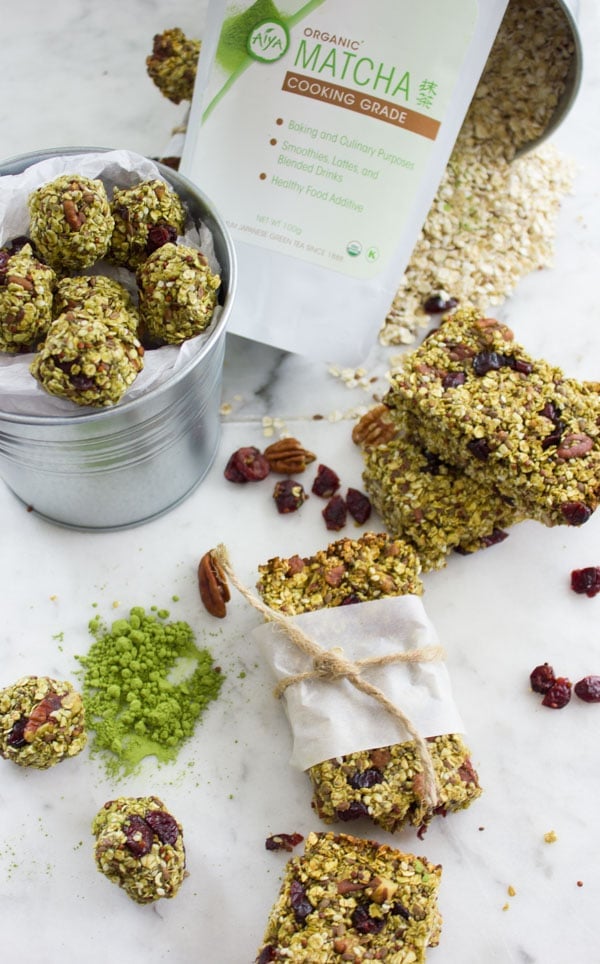 This healthy Banana Matcha Energy Bites recipe is a favorite breakfast and on the go snack to fuel you up with the goodness of Matcha green tea and all the superfoods. They're perfectly sweetened and flavored with bananas—so no sugar added at all. Slightly crispy on the outside and ultra chewy on the inside–it tastes better than any energy bar and energy ball you buy from the store! Add in your favorite nuts and dried fruits, and you've got yourself a power boosting ultra satisfying sweet treat that you can feel GOOD about!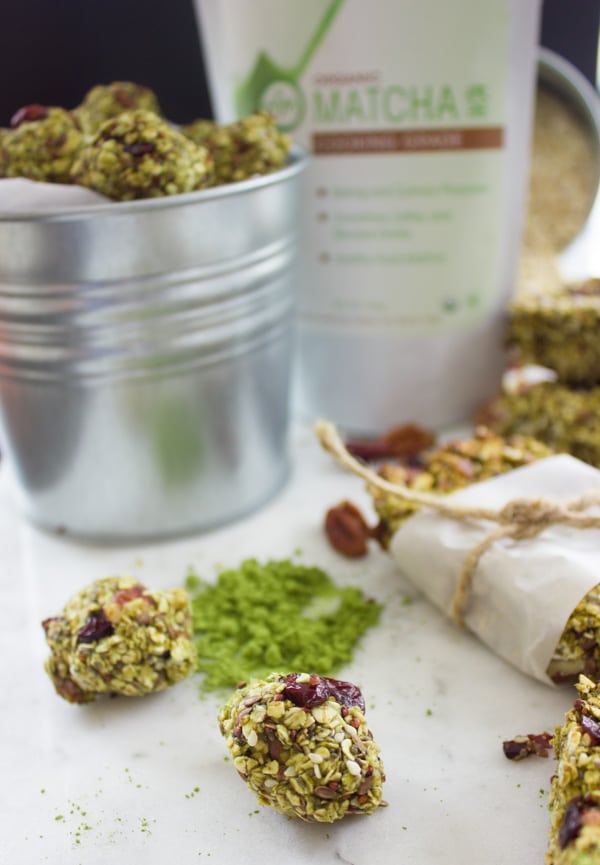 This fabulous recipe is sponsored by the amazing friends at Aiya Matcha. As you know, I am absolutely in LOVE with Matcha Green Tea Powder. It's one of the world's best treasures from Japan, and Aiya Matcha happens to be the largest supplier of cooking grade Matcha green tea powder, which is why I'm super excited to work with them again! If you check their website, you'll find interesting facts, health benefits, and how to order some of the world's finest Matcha green tea powder 🙂 So don't wait!
Now before we get into today's energy bars, I can't help but remind you about my new favorite obsession (again using Aiya Matcha) this Matcha Power hummus. Which by the way happens to be the talk of every party I bring it to— It's the green color, it's the deep earthy and slightly sweet taste to the hummus, and then it's the WOW hummus made healthier than it already is! 🙂
And today's recipe, well because even though Matcha green tea is one of the healthiest ingredients out there, we still need a bit of sweetness once in a while 😉 And we're still keeping it healthy! It's like a dream come true! So I've written quite a bit about the many health benefits of Matcha green tea in the Matcha power Hummus post, I'll just briefly mention some of them again—super load of anti-oxidants and amino-acids. And that's because unlike regular green tea, Matcha green tea is grown only in the shade, handpicked and milled in an ever so slow gentle grinder into fine powder, preserving all the anti-oxidant properties.
If you're new to Matcha green tea, the best tip I can give you is—USE it as often as you can! It's fabulous in savory and sweet recipes, drinks and baking recipes, specially this Aiya cooking grade Matcha. You'll be surprised how well Matcha green tea pairs with chocolate, and yet wonderfully pairs with hummus…And finally, when using Matcha, always remember that a little bit goes a long way, so 1-2 teaspoons will be the range you're looking at depending on the recipe.



So are you a fan of energy bites? Energy bars, energy balls, energy everything? Do you have a favorite homemade version? If you love your energy bars to be chewy on the inside, yet slightly crispy on the outside, and not overly sweetened with sugars or honey– just a perfect balance of sweet with an earthy green tea tint of flavor, loaded with nuts, cranberries and superfoods seeds…then hello this will be your favorite energy bar!! If you love all these things in the form of a ball, these will be your favorite energy balls. These will simply be your favourite energy bites!
You can use any type of nut you like here, and any type of dried fruit too. I love a combination of oats, nuts and superfood seeds like flax seeds, quinoa seeds, sesame and sunflower seeds. But you can very much use only oats, or only seeds and nuts.
So in brief, these banana Matcha energy bites come together like this—toast the oats, seeds and nuts for 10 mins in the oven (this step is completely optional, but I find that toasting them brings a deeper richer flavor to them—so I recommend it very much). In the meantime, in a food process I add 2 bananas, 2 tablespoons of almond butter (you can use Peanut butter or seed butter, or coconut oil—all work beautifully!!) until smooth, and then the glorious Matcha green tea powder and vanilla. Then when the oat mixture is ready, simply toss it with the Matcha mixture and press the whole mixture into a parchment lined 8 inch square pan. Bake the mixture for 25-35 mins until crispy on the edges and the tops are slightly golden. Remove them form the oven, let them cool and slice them into the shape you want.
Now if you're a fan of those cute energy balls in the photos just like my best friend, she prefers those energy balls over any bar—and I agree they are cute, bite size and best of all—no baking needed! So if you want to make those Matcha energy bites into this ball shape, simply take the final mixture before it bakes, and take an ice cream scoop (or guesstimate) and make about golf size balls (just like if you were making meatballs). These energy balls need to be chilled for at least an hour to firm up and hold their shape. And remember to toast the oat-nut-seed mixture unless you don't mind the raw taste of oats in your energy balls.
I've made those insanely delicious energy bites at least 3 times now and we can't get enough! They're perfect for after work-outs, snack on the go, breakfast when you're rushed, picnics and any time you crave a sweet treat! They stay fresh for 3 weeks when wrapped in an airtight container at room temperature, and if you keep them in the fridge they last at least 6 weeks. Oh did I say these perfectly perfect energy bites are completely vegan and gluten free (using gluten free oats) too? Seriously give those amazing Matcha energy bites a try and you will ENJOY them!! 🙂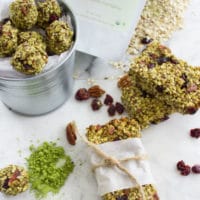 Banana Matcha Energy Bites
Ingredients
1

cup

of oats

(any type, any size)

1

cup

of seeds

( One type of a combo—I used a combo of flax seeds, quinoa seeds, sunflower seeds, chia and sesame seeds)

1

cup

of nuts

( One type or a combo— I used walnuts, pecans, hazelnuts and almonds)

2

bananas

2

tablespoons

of almond butter

( or peanut butter or coconut oil)

2

Tablespoons

of flax powder

1

teaspoon

of vanilla

2 1/2

teaspoons

of Aiya Cooking Grade Matcha Green Tea Powder

2/3

cup

of cranberries
Instructions
Preheat the oven to 375 degrees F.

In a parchment lined baking sheet, place the oats, seeds and nuts. Toast them for 10 mins. Leave the oven on.

Remove the tray from the oven and place the oat mixture in a large bowl and add the cranberries into that bowl too.

Add the Matcha mixture into the oat mixture and toss it very well.

***if you're making the no bake energy balls, use this mixture as it is, take golf size pieces and roll them between your hands into balls. Refrigerate the energy balls for at least 1 hour to firm up.

***If you're making the energy bars, take the oat mixture and press it into a parchment lined 8 inch baking pan. Press the oat mixture well with your hands to make sure it's intact. Bake the pan for 25-35 minutes until the mixture is golden on top and crispy on the edges.

Remove the pan from the oven and let the mixture cool down before slicing. Slice into bars, squares, triangles or any shape you like. Enjoy.

Store the bars wrapped in a cling film and then in a sealed container for at least 2 weeks, and up to a month in the refrigerator.