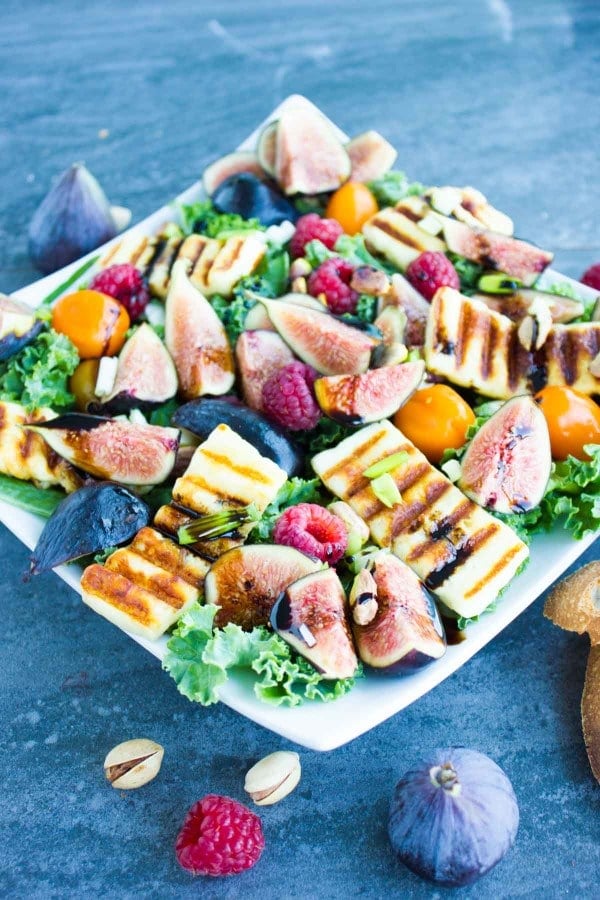 When you want to throw a salad that's quick, easy, yet boosting with vibrance and flavor—try this rainbow power grilled haloumi salad recipe! Drizzled with fig balsamic reduction to compliment flavors and accentuate the sweetness, this gourmet salad is sophisticated enough to impress your harshest critic, yet simple, fresh and healthy enough for you to whip up enjoy any day of the week!
I love salads. Many times I would dream of a salad like this for dinner and dream of my little girls eating it too—a dream that has not come true yet! And often times I put my salad dreams aside when I'm rushed and have time for just one dinner option that works for all. Today is not one of those times! Today is my happy salad day 🙂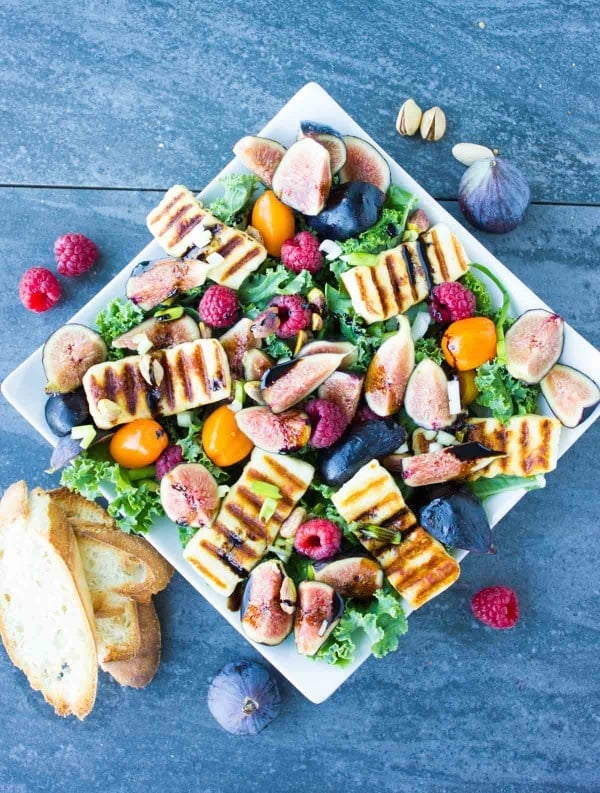 This gorgeous rainbow power grilled haloumi salad is also a lovely addition to your next BBQ, pot luck, wedding, engagement and just any colorful happy occasion you might be celebrating with family and friends. I love to add as many rainbow colors to it as possible to make it as vibrant as possible—but it's totally personal so feel free to use your favorite fruit, veggie and nuts or which ever ones you have on hand. Scatter them as neat or rustic as your heart desires.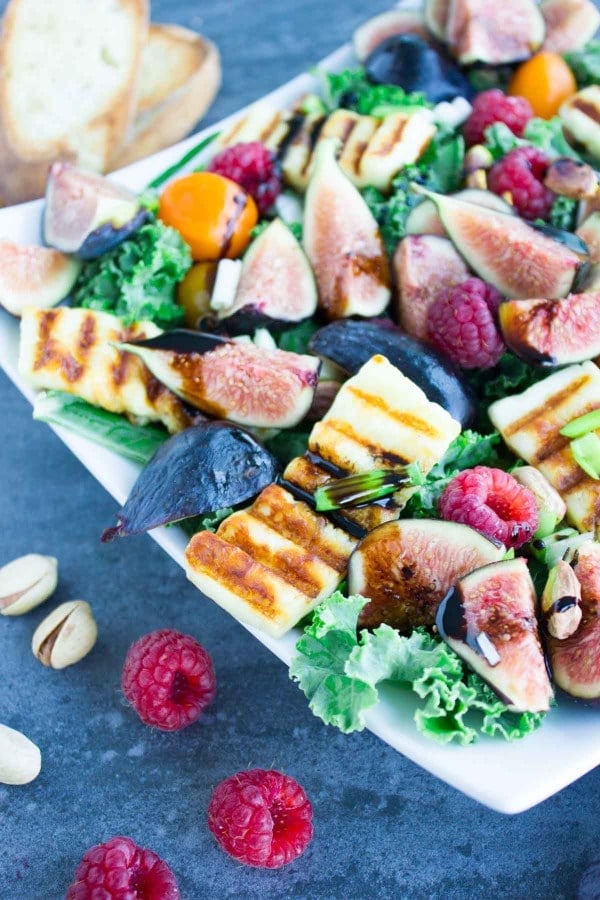 If you're unfamiliar with Haloumi cheese, it's readily available in all grocery stores with the specialty cheeses. It has an almost neutral taste but a nice firm texture which makes it ideal for grilling. After grilling, it still retains a nice chew and tastes a little saltier because it loses a lot of moisture. If you're a goat cheese lover, you'll want to buy the goat cheese Haloumi, otherwise stick to the good old cow Haloumi! On a side note, if you're really a goat cheese lover—have you tried my goat cheese pistachio coated strawberries yet? It will blow your mind!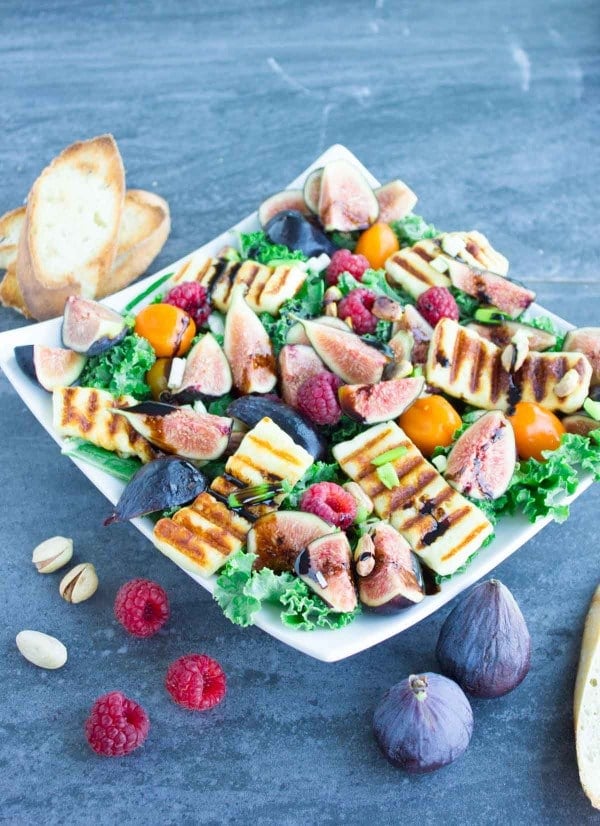 When it comes to dressing this rainbow power grilled Haloumi salad, I love to keep it as simple as possible—there's quite a lot going on already and many flavors which I love to compliment without over powering or taking away from. So I use fig balsamic reduction to drizzle on top. If you've never made a balsamic reduction before—be prepared to be pleasantly, ever so pleasantly surprised 🙂
Feel free to use any type of balsamic vinegar for this, here I used fig balsamic because I had it and because it has a deep fig-y flavor. Basically you want to take abut 1/2 cup of balsamic vinegar and bring it to a boil, then let is bubble gently over low heat for about 8 minutes until it reduces to nearly 2 Tablespoons. Those reduced 2 Tablespoons taste nothing like balsamic vinegar—or vinegar as such. They taste very sweet and rich, and they have a syrup-y consistency. You can use it as a sweet sauce on a toast with strawberries and ricotta cheese, or you can use it to sweeten up your salad dressings instead of honey.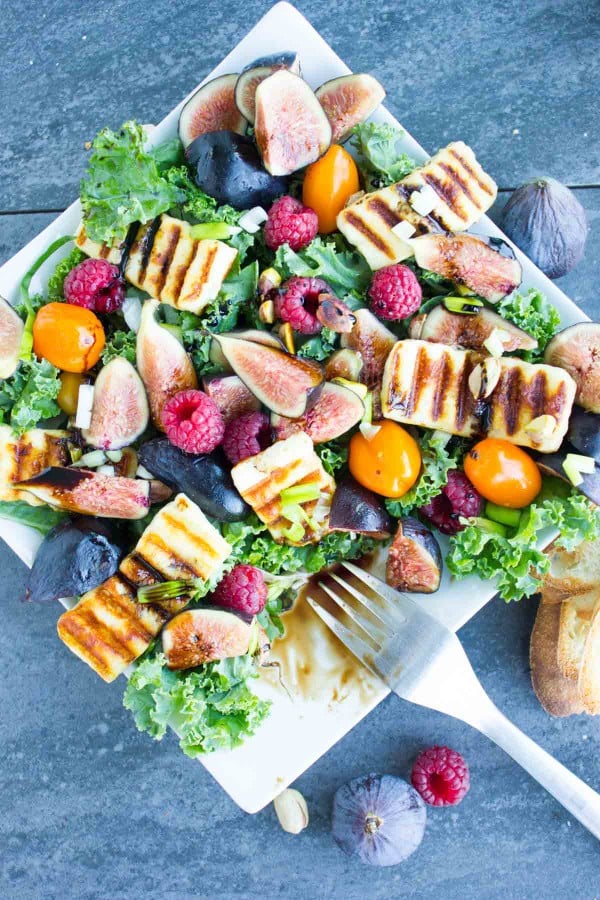 Here I use it as it, drizzled on this vibrant rainbow power grilled Haloumi salad to sweeten up and compliment my happy salad day! Make this beautiful rainbow power salad and enjoy a happy rainbow day:)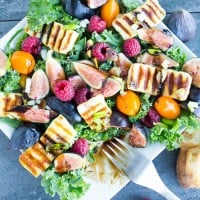 Rainbow Power Grilled Haloumi Salad
Ingredients
1 1/2

cups

of roughly chopped kale

6

large figs

, quartered

1/4

cup

of coloured baby heirloom tomatoes

1/4

cup

of fresh raspberries

1

scallion chopped

8

slices

of Haloumi cheese cut into 1/4 inch thick slices

3

Tablespoons

of shelled pistachios

pinch of salt

Balsamic Reduction:

1/2

cup

of Fig Balsamic Vinegar

(or plain Balsamic vinegar)
Instructions
On a plate layer the kale at the bottom and top with the figs, tomatoes, raspberries, and sprinkle scallions and nuts.

To make the balsamic reduction, bring the balsamic vinegar to a boil over high heat and then power the heat to low and allow it to bubble for 5-8 minutes until it has reduced to almost 2 Tablespoons of balsamic syrup (the syrup will thicken as it cools). Let it cool for a few minutes before using.

To grill the cheese, preheat a grill pan on the stove over medium high heat and place the cheese slices one at a time on the pan. Let the cheese grill for 2 minutes before flipping to the other side and grill for 2 more minutes.

Place the grilled cheese over the sides of the salad plate and sprinkle a pinch of salt on top of the salad. Then drizzle with the 2 Tablespoons of cooled balsamic reduction (more or less to taste). Serve with toasted baguette slices if desired.