Just reading the words Espresso Brownie Chocolate Smoothie recipe. Speechless. Basically imagine your favorite fudgy dense chocolate-y brownie and take a couple nice squares of it. Pour over that some brewed luscious espresso. Add your favorite type of milk ( coconut milk works great too and is vegan). Add some cocoa powder and dates. Blend away. Serve this one of a kind chocolate smoothie with a drizzle of caramel sauce and chocolate shavings. It's happening. I'm sorry.
I know I know it's not the time for this. It's all about detox smoothies and detox everything. And I've been really good following up with salads and healthy foods. So good in fact that I needed this. YES it just happened to call my name. I can't hep it. I had made a batch of my ultimate Super Loaded Fudgy Brownies for a friend who came over for coffee. She happens to be gluten free and so do the brownies—and that's why they're extremely rich, chocolate-y and fudgy! P.S— You need to make that brownie recipe!!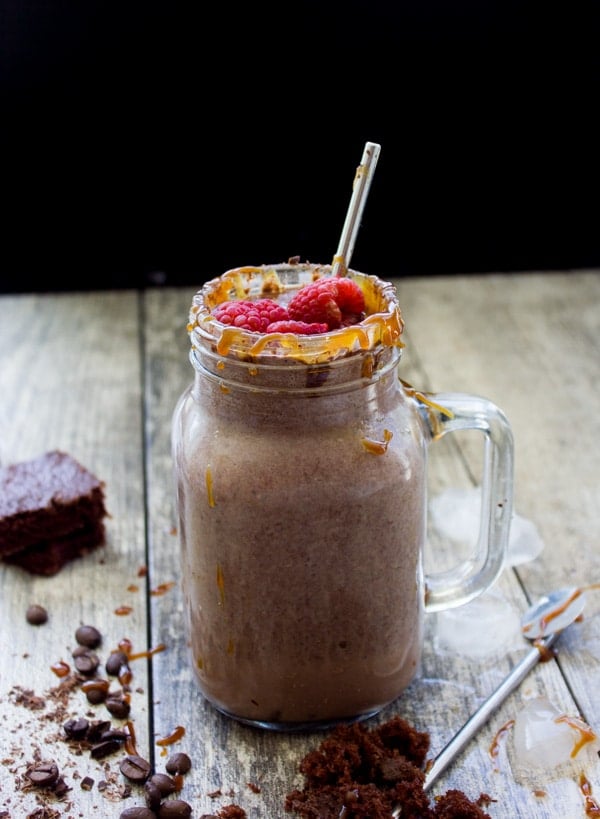 So I had the base for the chocolate smoothie. I didn't feel like another milk and cocoa drink or chocolate milk, so I added in my shot of espresso. There's something about espresso that infuses happiness in life, in my life to be exact 🙂 My dad is the King of Espresso, I mean if there's such a position ever he would be the perfect fit. He can't go a day without it, and ever since I was a kid I can remember the smell of espresso brewing and infusing my senses. But I never started my coffee journey with espresso, it took me probably ten years to give in and be a complete espresso aficionado.
Quick How To
Now the chocolate smoothie tasted more of a coffee chocolate smoothie, which is great—but I felt I needed to add in some milk. I used regular milk. But any type of milk would work great here—any! You won't need too much unless you prefer a runny type of smoothie. I made mine quite thick, almost in between a pudding and a smoothie. To reinforce the chocolate taste (like it even needed that lol) I added some raw dark cocoa powder. I prefer a really deep chocolate flavor, not a milky chocolate flavor. So when you're making your smoothie keep that mind, if you're into a milky chocolate flavor skip the cocoa powder.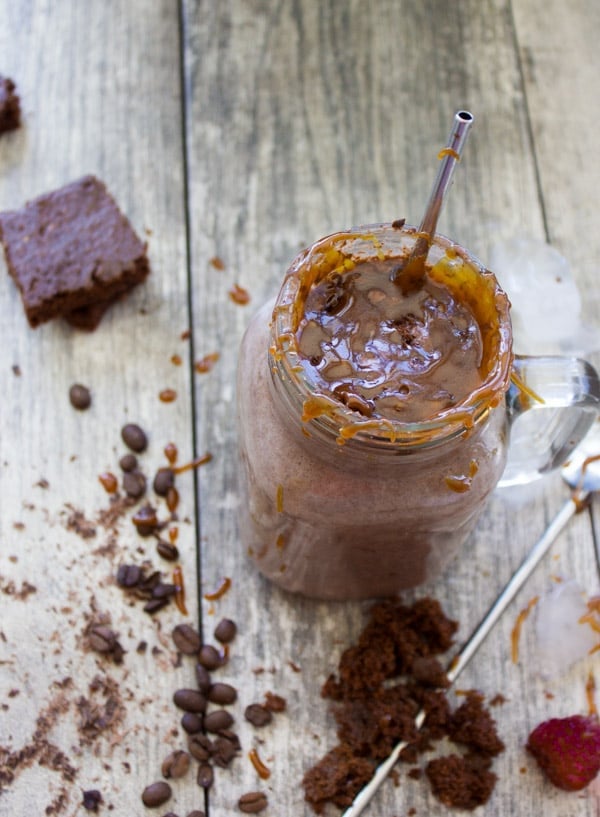 My chocolate smoothie gets a bit of sweetness from dates. To me, dates are like PURE magic. Forget the taste (if you're not a fan of the taste), soft Mejdool dates have an unbeatable smooth creamy texture, a perfect load of sweetness that's not too sweet and a mellow neutral taste. Plus an abundance of nutrients. So whenever I want to avoid sugar yet need sweetness, I go for dates. Sometimes banana too, but the banana taste is overpowering so you'll taste it—like this chocolate banana cake. A super moist and chooclate-y chocolate cake. In some cases when I don't need the banana flavor, I pick the dates dates. Like this chocolate chia pudding—this recipe has been a hot one at my daughter's daycare a few years ago and it spread around like a good virus 🙂 Make it yourself and see!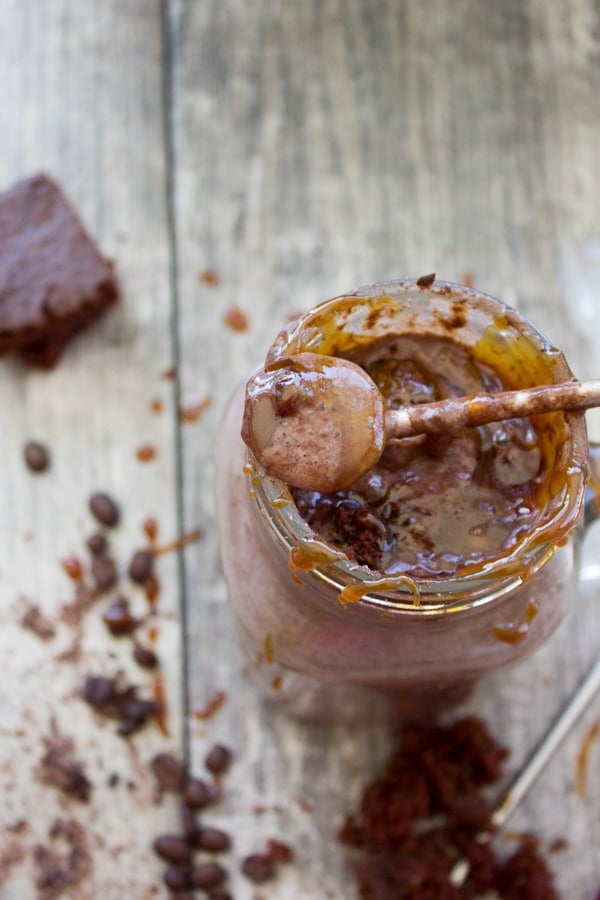 Dress it up!
Now blend all this chocolate-y espresso- brownie-smoothie goodness and serve it up right away! If you want to make this in advance, you can store it in the fridge but remember to give the chocolate smoothie a nice shake or stir with a spoon before serving. And serve it up as it is, or close your eyes and drizzle some homemade caramel sauce on top, chocolate shavings and keep your eyes shut while you sip on this luscious drink! In all honesty I had the caramel sauce ready in the fridge, because I mention this a lot and I will again—this homemade caramel sauce is like liquid gold!
It tastes amazing, you can flavor it endlessly and it stays in your fridge for MONTHS! yes months! So I always make a large batch and use it at moments like these.. For the record, the photos I took for that sauce are beyond hideous..and overtime I keep saying I will take new photos and update that recipe but it never happened. In a way I feel good to see how far I've gone with my photography, but I really feel bad because those photos don't do any justice to that magic sauce.
Ok now I'll let you go and hope you make this decadent treat really soon.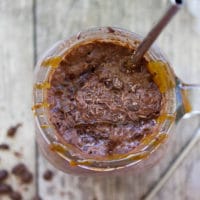 Espresso Brownie Chocolate Smoothie
Ingredients
4

squares about 1 1/2 inches each of Super Loaded Fudgy Brownies

(or store bought)

1/2

cup

of freshly brewed espresso

3

cups

of milk

(any type)

1/4

cup

of Cocoa powder

8

large Medjool dates

pinch of salt

Toppings:

(optional)

Homemade Caramel Sauce

Chocolate shreds

Chopped nuts

fresh berries
Instructions
In a power blender, place all the smoothie ingredients (not toppings) and blend until smooth. Serve the chocolate smoothie with your favorite toppings and enjoy 🙂