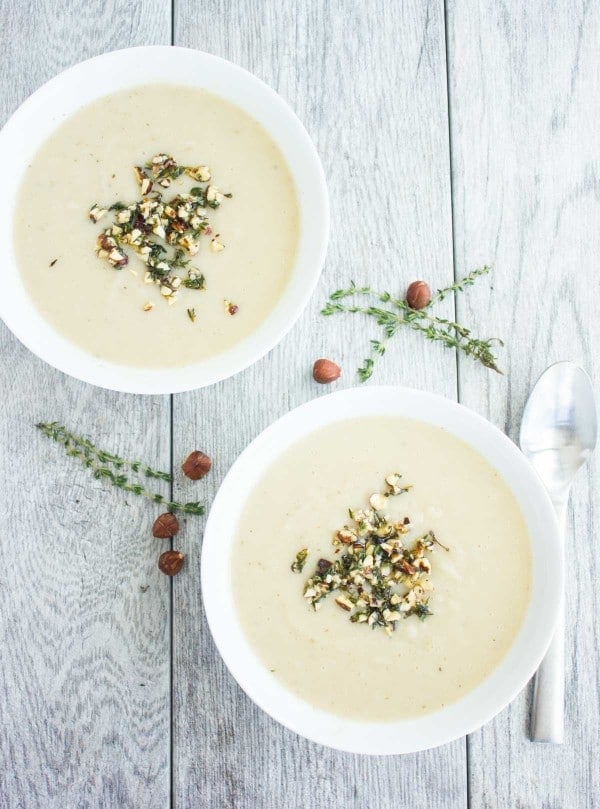 This cauliflower hazelnut pear soup recipe is smooth, rich, satisfying and the best thing to cheer you up on a cold rainy day. The flavors are a complete harmony— creamy cauliflower with a touch of sweetness from the pear and a smooth nutty hazelnut with fresh thyme, thickened up with gluten free oats and all blended together with broth and white navy beans for extra protein and richness, all topped with chopped hazelnuts and thyme for a slight crunch!
I know quite a bunch of cauliflower haters, my sister most probably being the absolute number one. And every time she argues about how the taste annoys her, I would think—what? annoying taste? Cauliflower is sweet and almost neutral tasting! At some point I gave up and moved on. Until one day…this soup happened..and when asked, I mentioned all the ingredients except cauliflower, so she tasted it..and kept on.. and towards the end I broke the news to her.. She couldn't believe it, and it was too late to deny she had loved every sip of it, so she said—I actually liked it because I didn't taste the cauliflower!
So while in a way it's true this soup is not pure cauliflower, at the same time it can't be the fabulous soup that it is without the cauliflower! It gives it a smooth almost floral taste.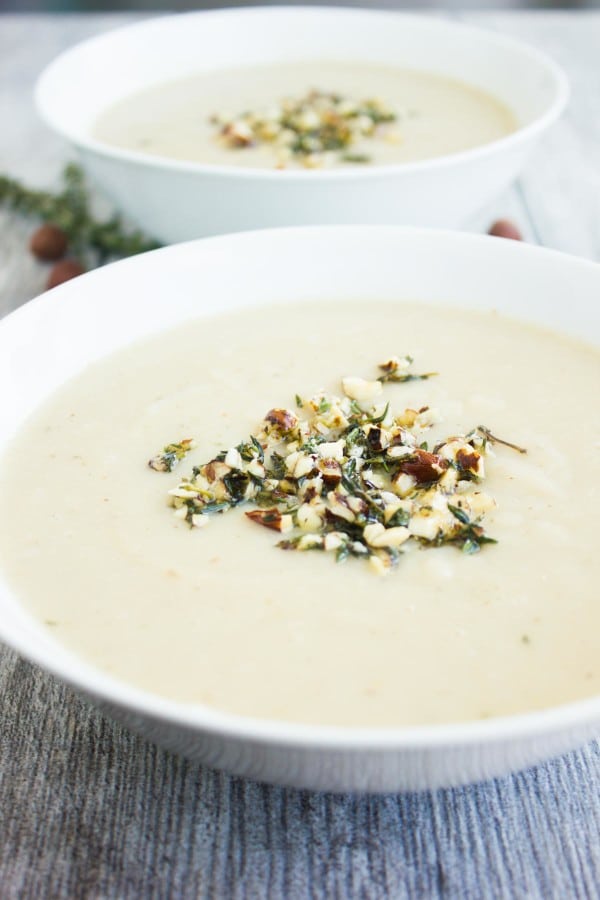 It starts like all soups with sautéed onions, garlic and spices. The cauliflower is added to the sauté and then the toasted hazelnuts, broth, oats and white navy beans all simmer together until it's done.I like to add just half a pear to the soup for a hint of sweetness and to balance out the flavors. I love using oats versus potatoes, or flours to give some volume and thicken up the soup—primarily because it's healthier and also because i prefer the oat-y flavor I get from it. Navy beans or cannelini beans here are added again to help with thickening the soup and giving it that smooth creamy texture (minus the cream!). They also boost the protein and fibre which is why I love using them as a secret ingredient in almost all my soups!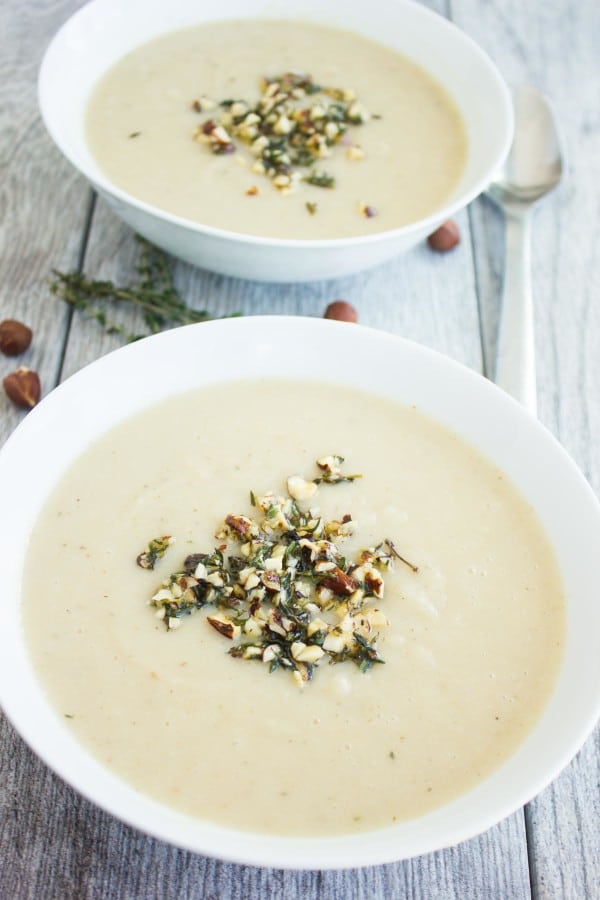 The soup is then blended (or left chunky if that's your preference) and finished off with a crunchy toasted hazelnut, olive oil and herb topping for a wonderful contrast of textures with every sip! I usually sprinkle some freshly grated Parmesan cheese on top-I am skipping it here to make this soup vegan and dairy free.
Anytime you crave a luscious creamy soup (minus the cream!)—reach out for this soup and you won't regret it!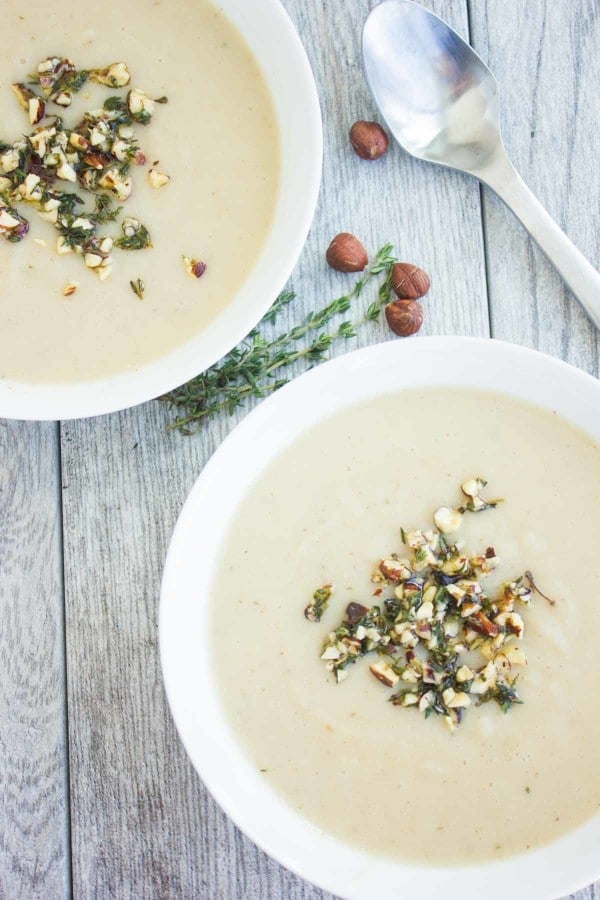 If you're a cauliflower lover like me, you'll have to make this soup right away! If you're not, well next time you pass by the produce aisle and find a head of cauliflower looking at you, grab it and give this soup a try! Enjoy!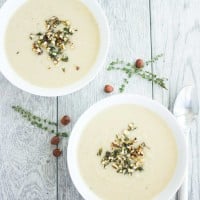 Cauliflower Hazelnut Pear Soup
Ingredients
2

tablespoons

of unsalted butter

1

white or yellow onion

, diced

1 1/2

teaspoon

of dried oregano

, divided

2

cloves

of garlic

, minced

1

medium head of cauliflower

, washed and cut into small florets

1/4

cup

of gluten free oats

1/4

cup

of toasted

, skinned hazelnuts

1/2

a pear

, cored and diced

½

cup

of canned white cannellini beans

, strained and rinsed

About 5 cups of chicken

(or vegetable) stock—less or more depending on your desired soup thickness

¾

teaspoon

of salt

, divided

½

teaspoon

of pepper

, divided

1

tablespoon

each of fresh thyme and parsley leaves chopped

2

tablespoons

of chopped toasted skinned hazelnuts

1

tablespoon

of olive oil

pinch of red pepper flakes

(optional)

Optional ** ¼ cup

(or to taste) or freshly grated Parmesan cheese
Instructions
Heat a large pot over medium high heat and add in the butter. As it starts to melt, add the onion and sauté with ¼ teaspoon of salt and 1 teaspoon of oregano. Lower the heat to medium and cook for about 2 minutes.

Once the onion mixture is soft, add the garlic and sauté until opaque and fragrant, about another minute.

Now add in the cauliflower, the remaining ½ teaspoon of oregano and sauté the mixture for just a minute. Season the cauliflower with a pinch of salt and pepper.

Add the oats, hazelnuts, pear, beans and stock. Then bring the soup to a boil over high heat. At this point, lower the heat to medium low and cook the soup until the cauliflower is tender.

Puree the soup until creamy and smooth using an immersion blender Season with another ¼ teaspoon of salt (or to taste) and ¼ teaspoon of pepper (or to taste).

In a small bowl, mix the hazelnuts and fresh herbs with the olive oil and red pepper flakes (if using).

Serve the soup with a tablespoon of hazelnut herb crunch at the centre.