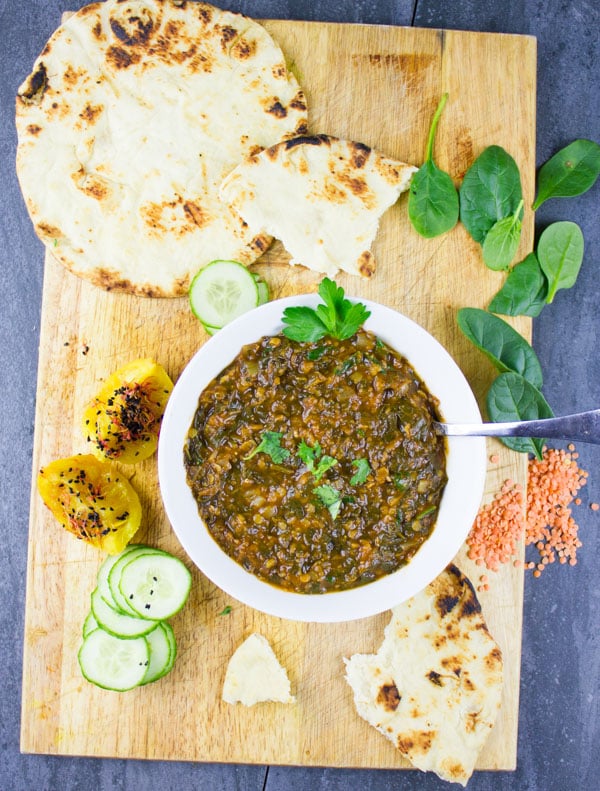 You know how they say you can't judge a book by its cover? Well you can't judge this One Pot Meal of Lentils and Spinach recipe by its looks—it's absolutely delicious and heart warming! It's as simple as can be, very few ingredients, all in one pot for less than 30 minutes, and it keeps you full for a long time! So it's a must try recipe specially if you're looking for a vegetarian or vegan meal to sneak in to your busy week.
I'm really excited about this recipe. Like many other recipes on the blog—this one pot meal has a special place in my heart. You see my mom used to make it when I was a kid and I resented tasting it just by the look of it. Horrendous I know. Specially now that I keep pushing my kids to "just taste" anything even if it doesn't look familiar. I'm hoping one day they won't judge food by the look of it like I did lol
This recipe is actually a really old one, and it's ver popular in North Africa so I made it as is without changing or twisting a thing about it. It's very unlike me, you know how I always love twisting recipes. But I thought this time, I'll just watch my mom make it her way. The same way my grandma made it too. And I didn't feel I needed to change a thing. It was simply perfect the simple way that it is— a flavorful base of onions, garlic, tomatoes and herbs to which a generous amount of lentils and spinach are added and cooked through.
Since I've been lucky to have my mom stay with me the last couple of months, I've been asking her to make those meals I rarely make on my own. Don't ask why, I just don't know. Like those amazing Juicy Spicy Turkish Meatballs, why on earth didn't I make them for so long! They're another MUST try by the way if you're looking to jazz up or swap your everyday meatballs.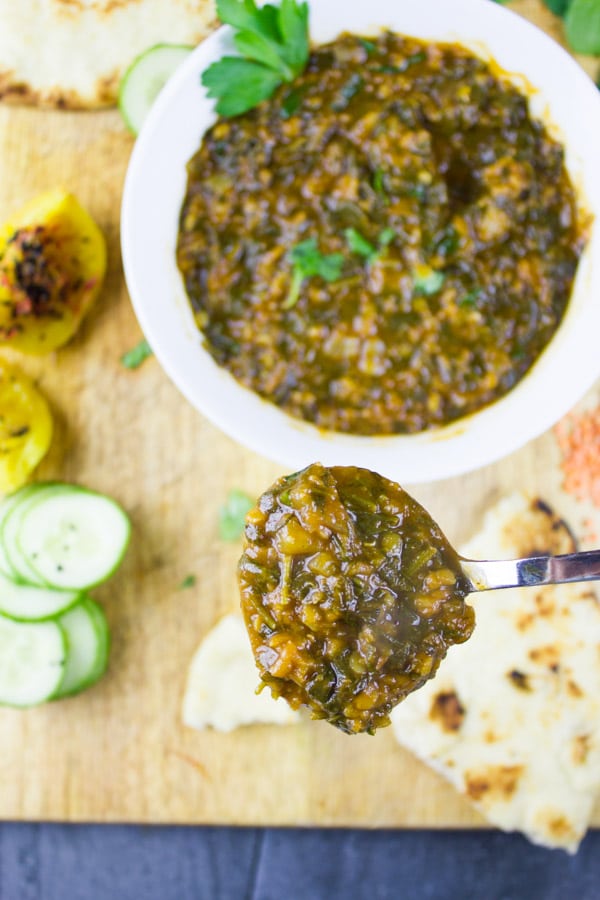 Lately we've been eating out quite a lot, at days we'd be invited for dinners here and there, or my mom and I would be spending all day at the mall and just come back to whip a quick hearty salad for dinner. But at some point I felt like I needed a light vegetarian/vegan meal which isn't a salad or soup—like a nice hearty meal. So this one pot meal was perfect. And I can't stress enough on the look of it because I felt those photos didn't do it justice, but believe me it's absolutely divine.
Classically this lentils and spinach meal is served with bread. I had some naan bread which I just warmed up a bit and it did the job! And on the side, my lovely mom had made some of her famous pickled lemon—which I promise to have up on the blog too, it's super easy and seriously addictive! I just love simple meals like that—a one pot meal, quick, delicious, nutritious and heart warming. You just can't go wrong.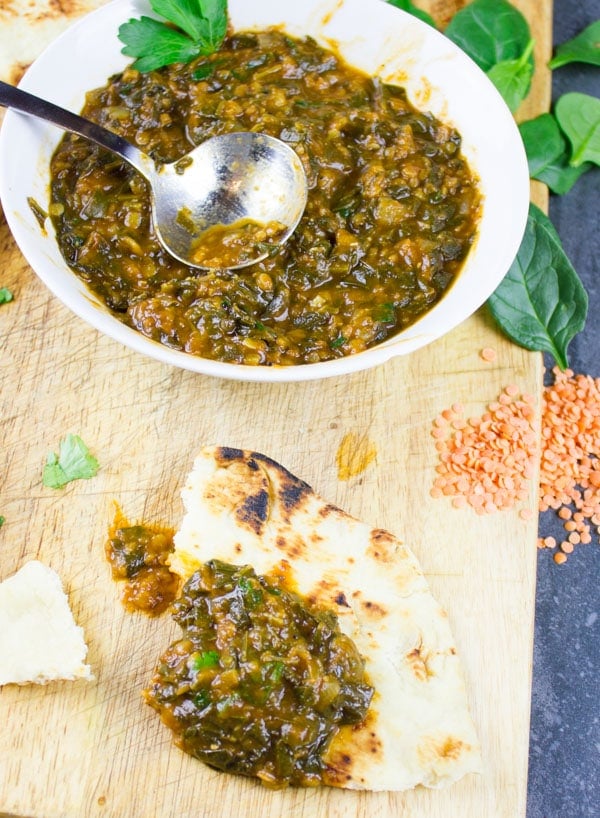 Quick How To:
I'll quickly brief you through the recipe. Just start sautéing the onions and garlic, and add in some tomatoes, cilantro and parsley with a touch of spice. Then the lentils and spinach go into your pot. Some more spice, water and a few minutes later it's done. Nice and thick, almost like a stew but it doesn't need to be looked for hours like a stew. Just gather some bread and dig in! Try this classic really old fashioned recipe, and I'm sure you'll enjoy it 🙂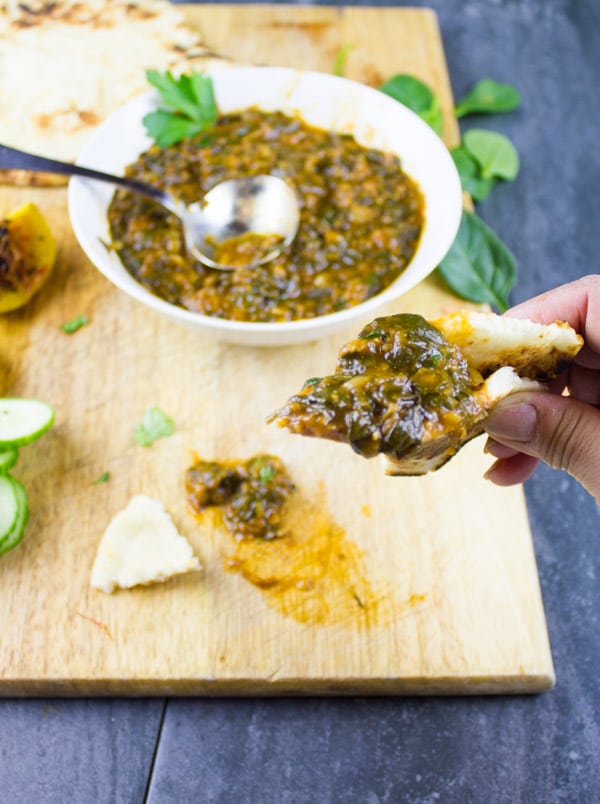 One Pot Meal Of Lentils And Spinach
Ingredients
1

Tablespoon

of olive oil

1

onion

3

cloves

of garlic

2

Roma tomatoes

, diced into 1/4 th inch dice

2

Tablespoons

of tomato paste

1/4

cup

of mixed parsley and cilantro

, chopped

1/2

teaspoon

of salt

1

teaspoon

of all spice

1/2

teaspoon

of dried coriander

1

teaspoon

of turmeric

1

teaspoon

of paprika

3

cups

of vegetable stock

(or water)

1

cup

of red lentils

5

cups

of fresh spinach leaves

, loosely packed

1/4

cup

of mixed cilantro and parsley

, chopped
Instructions
In a medium sized pot, sautee the onion and garlic with the olive oil until soft and nearly golden. Then add the tomatoes and paste and keep sautéing until the tomatoes release all the water, and keep cooking util most of the tomatoes water is evaporated.

Add the herbs and spices and sauté for another couple of minutes until the mixture looks like a thick paste.

Add the stock and bring it to a boil, then add int he lentils and cover the pot. Cook the lentils for 15 minutes until they start to soften up and then add the spinach.

Keep the pot covered and allow it to cook for 10 minutes more until the spinach has wilted and the lentils have cooked completely. Add the remaining herbs. Taste and adjust the salt. Serve right away and enjoy 🙂