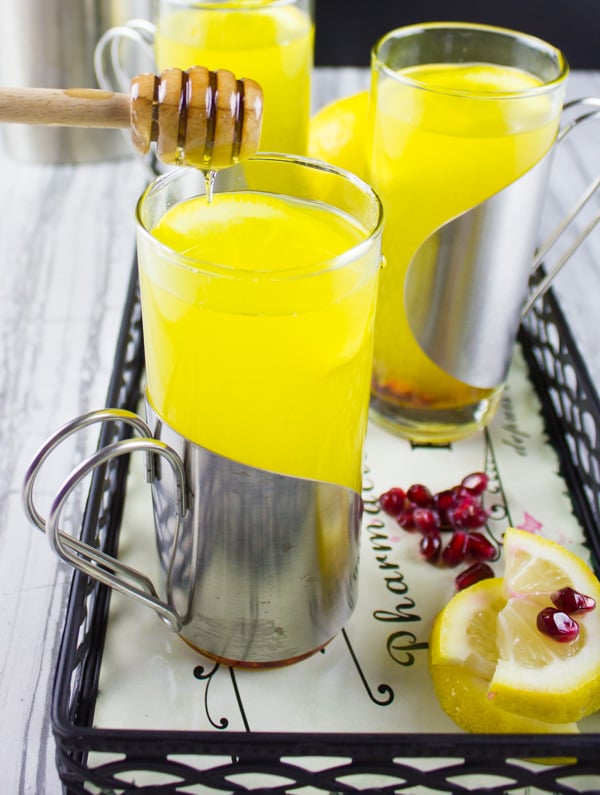 We've been feeling in and out of flus lately, and it feels like one after the other is going through the same cycle. So we made ourselves a nice big batch of this Soothing Lemon Ginger Turmeric Drink recipe, and it helped us feel SO much better! I sweetened it with honey, but you can most definitely skip sweetening it or use regular sugar, zero calorie sweetener, agave, maple syrup or your favorite type of sweetener. I just felt I needed to sweeten it for my taste 🙂
Is it just us or is everyone going through a cold winter again after a week of Spring weather?! It's actually been a rollercoaster of warm cold warm cold for us..and when I say warm I mean gorgeous sun and no coats/mittens/hats type of weather, then a week later we drop to below zero and pile on the layers as if those warm days were a sweet dream. Another week later we get a few days of sweet warm weather but before we live the dream, a cold wave suddenly hits. And so on.
So it's no surprise, we've been getting sick. All of us. Each of us in a different way. Even our friends, neighbours, everyone seems to be feeling under the weather. The worst part is the kids, if you have kids you'll totally relate to this—I find the hardest part about being sick is NOT the fact that I'm sick, but it's the fact that I don't have enough energy and power to take care of the kids! And for some people I know this sounds pathetic but like many other pathetic sounding things I say/do, I'll just add it to the list of "Joys of Motherhood".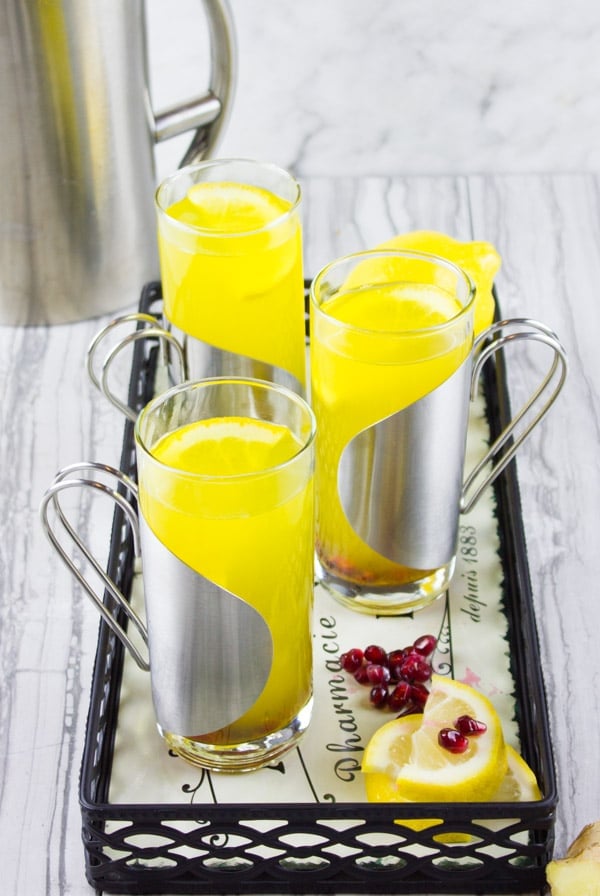 Ok I think it's better to get back to the turmeric drink instead of complaining about the fact that no matter how sick I am, I'm always up by 5 a.m because kids are, I never get a chance to nap or rest throughout the day—because my kids now don't, my headache and entire head feel like the heaviest thing on earth and instead of of staying in a quiet room, I get to listen to kids chatting, whining, signing, screaming etc.. I mean being sick feels like a luxury compared to taking care of kids WHILE you're sick. Again quite pathetic, I know.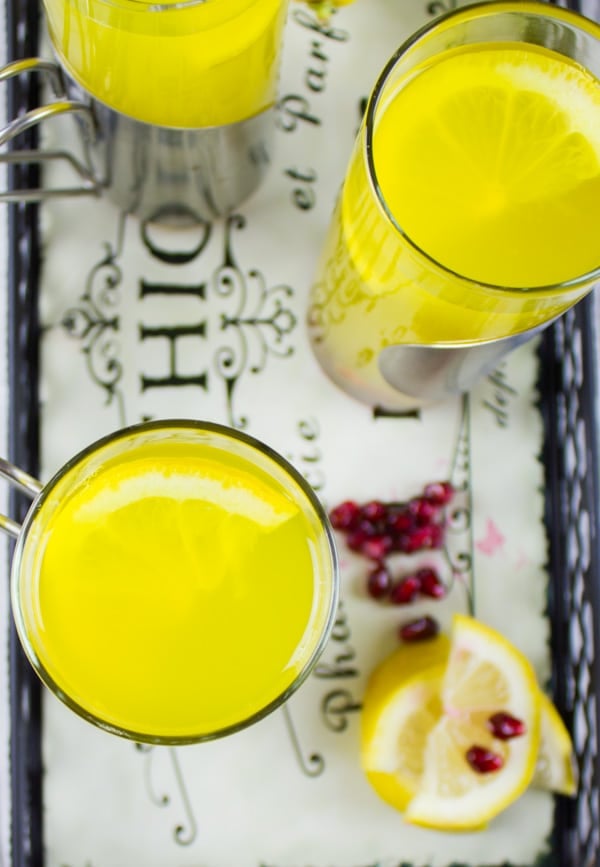 Turmeric. Are you into the whole turmeric vibe yet? I know it feels like everyday something comes up and it's claimed to be the healthiest best-est ever for you. It's hard to keep up and it's hard sometimes to sort of force your palate to accept strong flavors. I know for sure I forced and forced and forced myself SO much to accept coconut water, and it wasn't fun at times. But the worst part was that I later found out it wasn't really worth it lol And the funny part was, after I decided to let it go I found myself missing it and actually craving it and buying it! I'm still not crazy about it, but at the same time I can't imagine my summer days without it 🙂
But seriously turmeric is something else. Turmeric spice, turmeric drink, turmeric paste, turmeric anything is truly amazing! I'm lucky I was exposed to turmeric since I was probably 10 years old. And I love that deep flavor it has when added in moderation—too much turmeric can make your food or turmeric drink taste quite bitter. I love adding it to soup, rice, cook quinoa with a half teaspoon of it, add it to some veggies, meats..everything. The idea of a turmeric drink is something quite new to me. Although there are plenty of turmeric teas, turmeric lattes out there, I haven't found myself in love with them yet.
Quick How To
Today's turmeric drink is amazing because it's slightly touched with turmeric, while the base is a nice lemon ginger honey drink which I absolutely LOVE! So basically you boil some lemon juice, lemon slices, freshly grated ginger and ginger slices and some turmeric. Once it boils for a few minutes, strain the mixture and sweeten it with you favorite sweetener—I used honey. Oh and that bright yellow color is pure turmeric love! Plus those tiny ruby red gems at the bottom of each cup are some pomegranate arils which soften up and blend beautifully into the turmeric drink!
And I really don't want to make health claims or anything here, but honestly we were in such bad shape. My mom had lost her voice completely from coughing and we started drinking this soothing turmeric drink for about 2-3 days (2 really hot cups of it per day), we instantly started feeling better! Now we're both well, and we were just thinking we should still make this turmeric drink since we enjoyed it so much and it really does soothe your body!! Make a nice batch and store it in the fridge, and then heat it up to a nice piping hot tea like drink and enjoy! 🙂
MORE DRINK RECIPES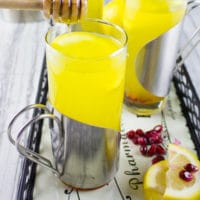 Soothing Lemon Ginger Turmeric Drink
Soothing Lemon Ginger Turmeric Drink recipe is soothing, healing and perfectly sweetened it with honey, but you can most definitely skip sweetening it or use regular sugar, zero calorie sweetener, agave, maple syrup or your favorite type of sweetener.
Ingredients
Juice of 2 lemons

1

lemon sliced

2

tablespoons

of grated ginger

2

tablespoons

of sliced ginger

1

teaspoon

of Turmeric powder

6

cups

of water

1/2

cup

- 3/4 cup of honey

(depending on your taste)

2/3

cup

of Pomegranate arils

(optional)

lemon slices for garnish

(optional)
Instructions
In a medium pot, add the lemon juice, lemon slices, ginger (grated and sliced), turmeric powder and water. Bring the mixture to a boil and continue boiling it for about 3-5 minutes.

Strain the turmeric drink and add in the honey to sweeten it to your taste (you'll need more than you think!!—try adding sugar, agave, maple, or zero calorie sweetener too!).

Once the mixture is sweetened, pour it into the drinking glasses, sprinkle some pomegranate arils (they will sink to the bottom) and garnish with a fresh lemon slice. Serve hot.

You can store it in the fridge for unto 5 days and heat up the amount you'll need every time. Enjoy! 🙂
Nutrition Facts
Soothing Lemon Ginger Turmeric Drink
Amount Per Serving
Calories 111
Calories from Fat 9
% Daily Value*
Fat 1g2%
Sodium 15mg1%
Potassium 110mg3%
Carbohydrates 29g10%
Protein 1g2%
Vitamin C 12mg15%
Calcium 16mg2%
Iron 1mg6%
* Percent Daily Values are based on a 2000 calorie diet.