This Pierogies Alfredo recipe is one of those one-pot wonders that takes less than 15 minutes from start to finish! It's serious comfort food over here, and best of all, it's kid-friendly so you know your family will want to dig in!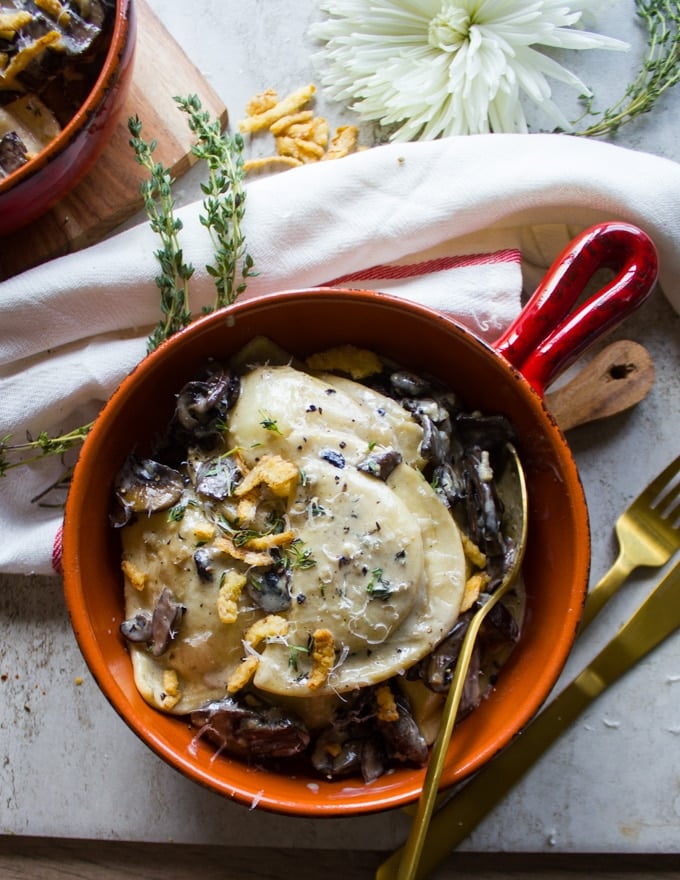 Today's easy comfort dinner is in partnership with my friends at Mrs. T's Pierogies, the makers of authentic pierogies that taste better than homemade!
We're serious Alfredo sauce lovers at home, kids included. It's what we order when we dine out and what we crave when we're at home. And guess what, pasta isn't the only way to enjoy this creamy sauce! Today, I'm making a special version using Mrs. T's Pierogies Classic Onion.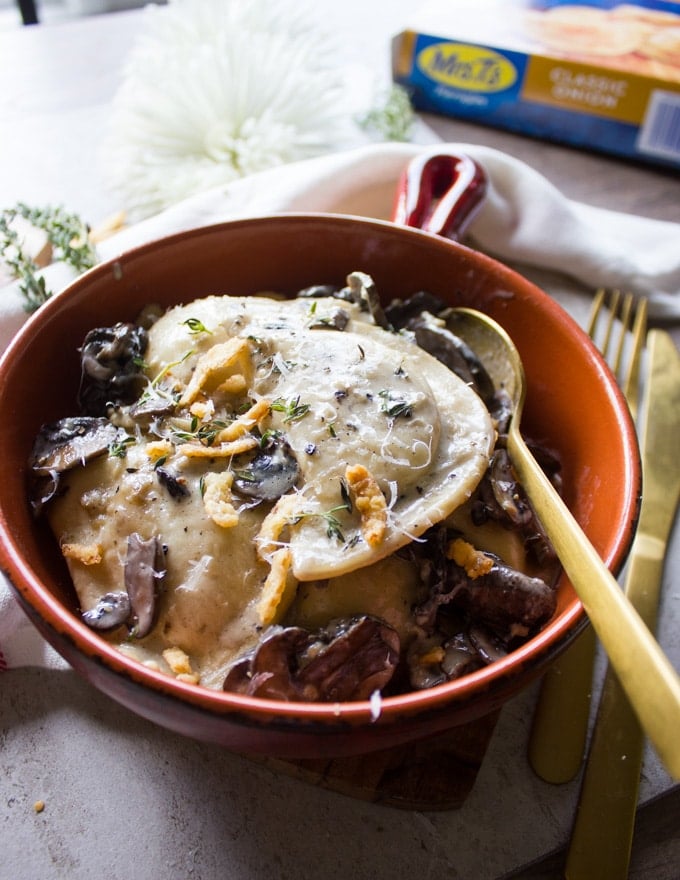 For today's Alfredo recipe, we'll chat about:
Alfredo Sauce

Mrs. T's Pierogies

Video: How to Make Alfredo

Other Delicious Pierogies Recipes to Make NOW!
ALFREDO SAUCE
This classic Italian sauce is a luscious combination of butter, cream and Parmesan.
You'll find, however, at many of your favorite restaurants, that Alfredo sauce is made in a similar way to Bechamel sauce. The difference is that addition of flour to thicken and stabilize the sauce, and also, to avoid the sauce from drying out.
I often use flour if I'm making Alfredo sauce ahead of time, but it's not my favorite, as I feel like it loses authenticity and that extra creaminess.
The beauty of today's Alfredo recipe is in how simple it is. Absolutely no fuss and 100% delicious.
RECIPE VIDEO
Ingredients for the BEST Alfredo Sauce:
Butter

garlic

cream

parmesan

seasoning
The seasoning here is mainly salt and pepper. In some areas of Italy, you'll find that white pepper is commonly used in order to keep the sauce looking white and creamy. However, I prefer the taste of black pepper so much more, so I stick to it.
Also, I love adding fresh thyme to my Alfredo recipe. It's a taste thing, and absolutely optional, but I highly recommend it!
Pierogies and why Mrs. T's Pierogies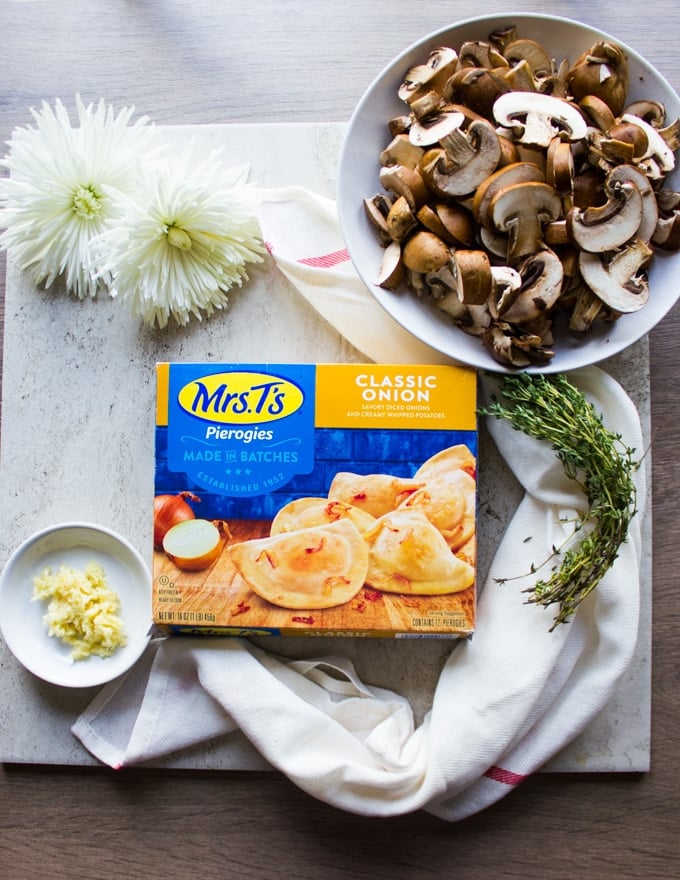 If you try replacing Pierogies in any of your favorite pasta dishes, you'll soon fall in love with them more than the pasta! And if you ask why, well it's not rocket science, pierogies are pure comfort food.
Imagine the soft shell or outer dough of the pierogies and imagine fluffy mashed potatoes filling inside. Now dress them up in your favorite pasta sauces. Irresistibly delicious!
That's exactly what I did here.
I picked the Classic Onion flavor from Mrs. T's today (which you'll find at a variety of grocery stores in the freezer section), which made a great complement to the earthy taste of my next ingredients…MUSHROOMS.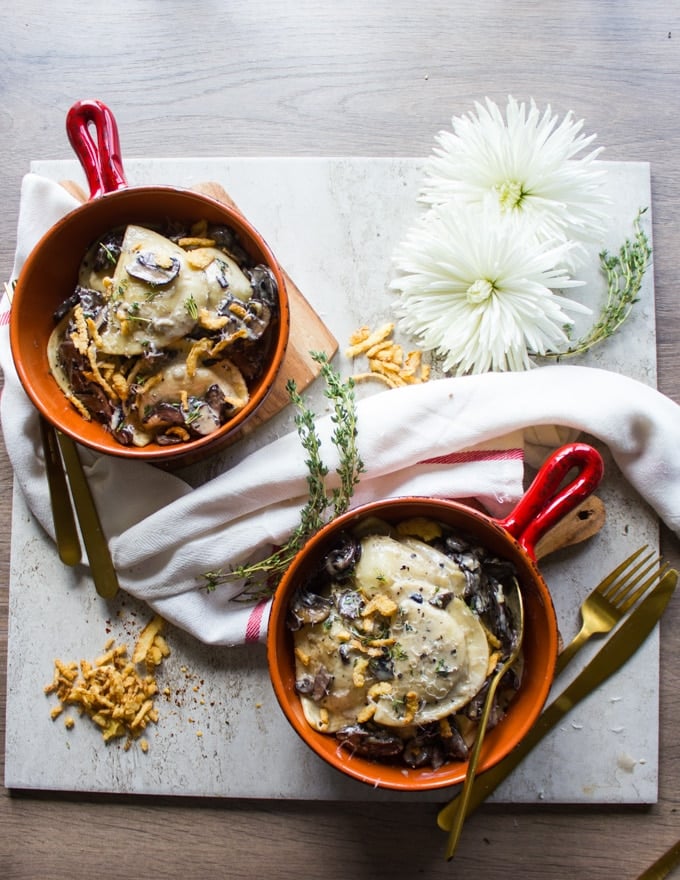 Did you know one of the most common types of Alfredo sauce is the mushroom Alfredo? They add the perfect earthy and hearty flavor to the meal.
Finally, I garnished my Alfredo Recipe with Parmesan cheese and some crispy onions (store bought). While again, these are optional, but add a delightful texture to the Pierogies!
HOW TO MAKE EASY ALFREDO SAUCE
First, you'll need a deep sauté pan of skillet that has a lid for this Alfredo recipe.
Start off by sautéing your butter and mushrooms until the mushrooms have softened up.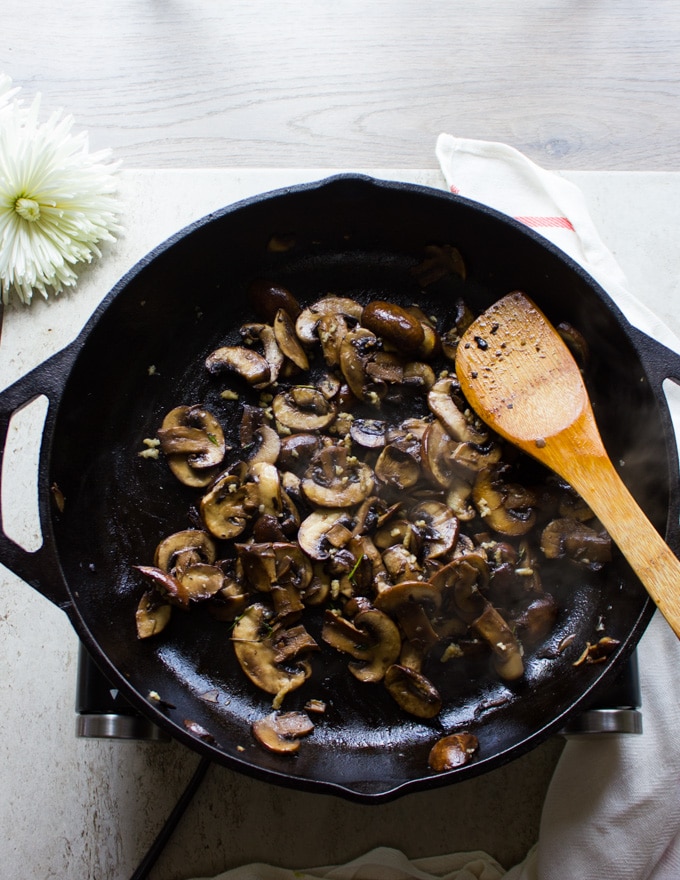 Add in the garlic and sauté for a minute more.
Go in with Mrs. T's Pierogies (straight from the freezer) and add in the cream.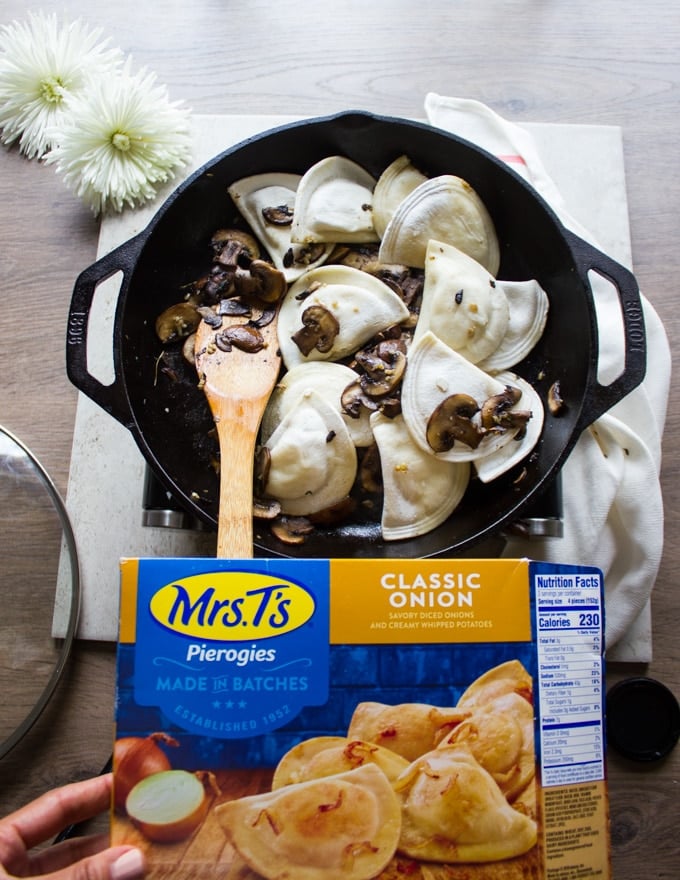 I add a little bit of extra water to the cream because I'm cooking my pierogies in that liquid. If you want to make it all cream, then the cream will thicken before the pierogies cook through. A combo is best.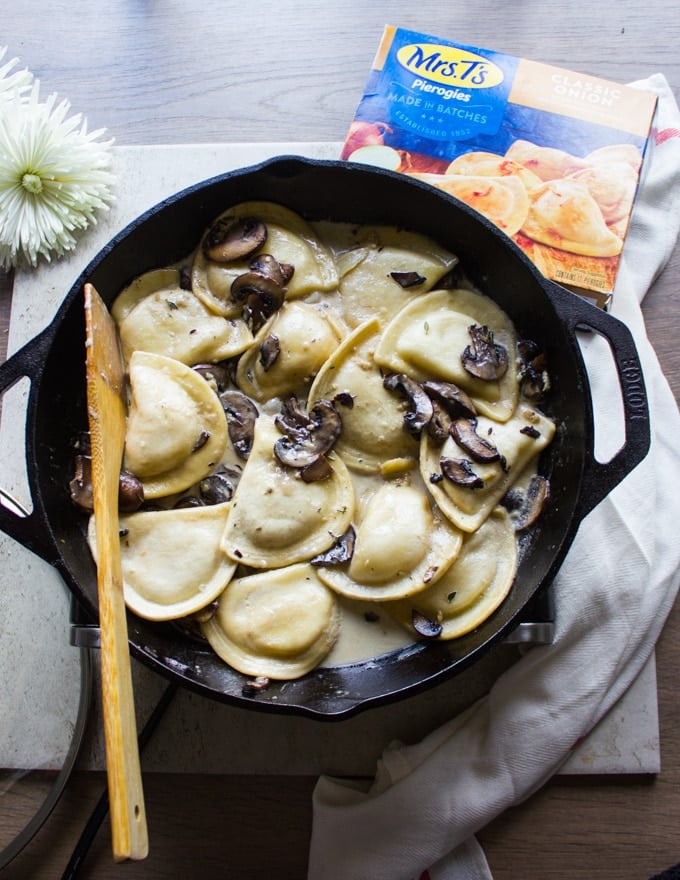 The Pierogies will cook until they're tender and absorb the luscious sauce and flavors in 5-6 minutes. How awesome is that?!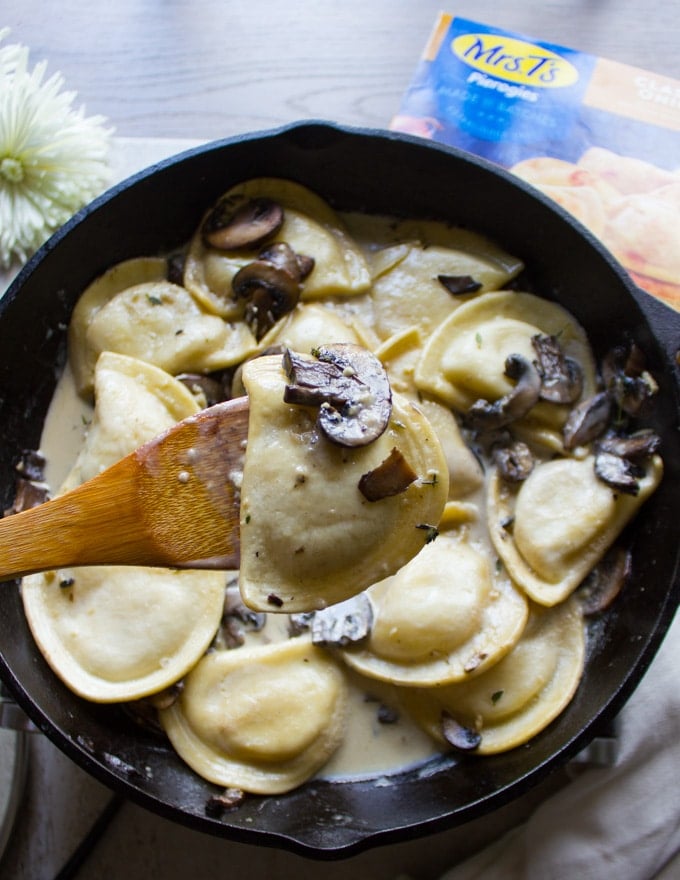 Once they're cooked, you'll add in Parmesan to the sauce and serve your one-pan dinner right away!
Garnish is optional; however, I strongly recommend it! Extra Parmesan, crispy onions, fresh thyme leaves, maybe some chili flakes and you're in for a serious burst of flavor.
ALFREDO SAUCE TIPS
Alfredo sauce is best when served right away or within the hour.

If making Alfredo ahead of time, add a teaspoon of flour to the butter before adding in the liquid. The best liquid to add would be half-and-half not cream.

The authentic Alfredo sauce requires simple ingredients: butter and Parmesan only. Garlic is added for extra flavor and cream for body.

There are many different ways to cook pierogies (see below recipes), but if you love one-pan dinners like us, then this is a great recipe to start with.

Adjust the thickness of your Alfredo sauce to your taste. Once Pierogies have cooked, that's when you add extra cream (creamier sauce) or allow to sauce to bubble without the lid on for 2 more minutes to thicken it up.

Mushrooms are optional, and you may add spinach, too.

Garnish is optional, but highly recommended.

Store leftovers (if any!) in the fridge and you can reheat them in a microwave or in a small skillet over medium heat. Make sure to add an extra 1/4 cup of cream.

ENJOY
PIEROGIES RECIPES
Crispy Baked Pierogies with Broccoli Pesto
How To Make Lasagna With Pierogies
ONE POT MEALS
One Pot Quinoa Sweet Potato Salad
One Pot Meal Of Lentils And Spinach
One Pan Chicken Potato Bake With Zaatar
15 Minute One Pan Ravioli Recipe
One Pan Creamy Mushroom Tortellini
One Pan Pierogies Alfredo Recipe
This Pierogies Alfredo recipe is one of those one-pot wonders that takes less than 15 minutes from start to finish! It's serious comfort food over here, and best of all, it's kid-friendly so you know your family will want to dig in!
Ingredients
1

box Mrs. T's Classic Onion Pierogies

1

tablespoon

Butter

2 - 3

cups

sliced mushrooms

to taste

1/4

teaspoon

salt

1

teaspoon

fresh thyme leaves

2

cloves

garlic

minced

1

cup

cream

heavy cream 35%

1/2

cup

water

1/4

teaspoon

salt

1/4

cup

Parmesan Cheese
Garnish:
1

teaspoon

black pepper

3

Tablespoons

crispy onions

1/4

cup

Parmesan cheese

1

Tablespoon

fresh thyme

pinch

chili flakes
Instructions
Preheat a 10-inch deep skillet over medium heat. make sure your skillet has a lid.

Add the butter and mushrooms, season with salt and thyme, and sauté until the mushrooms have softened up. This will take about 3 minutes.

Add in the garlic and sauté for a minute longer until fragrant.

Add in the Pierogies straight from the box, followed by the cream and water.

Season with the salt and parmesan cheese.

Cover the lid on the pierogis and let them cook for 5 minutes over medium low heat until the Pierogies are tender.

Serve the Alfredo recipe in your bowl and add the garnishes you prefer. ENJOY
Recipe Video
Recipe Notes
ALFREDO SAUCE TIPS
Alfredo sauce is best when served right away or within the hour.
If making Alfredo ahead of time, add a teaspoon of flour to the butter before adding in the liquid.
The best liquid to add would be half-and-half not cream.
The authentic Alfredo sauce requires simple ingredients: butter and Parmesan only.
Garlic is added for extra flavor and cream for body.
There are many different ways to cook pierogies (see below recipes), but if you love one-pan dinners like us, then this is a great recipe to start with.
Adjust the thickness of your Alfredo sauce to your taste. Once Pierogies have cooked, that's when you add extra cream (creamier sauce) or allow to sauce to bubble without the lid on for 2 more minutes to thicken it up.
Mushrooms are optional, and you may add spinach, too.
Garnish is optional, but highly recommended.
Store leftovers (if any!) in the fridge and you can reheat them in a microwave or in a small skillet over medium heat.
Make sure to add an extra 1/4 cup of cream.
ENJOY