Caramel lovers—this one's for you! A super Creamy Homemade Caramel Pudding Recipe with a caramel walnut crunch on top—PLUS a video to see how easy and quick this luscious dessert comes together!! Four ingredients, half an hour and chill..Then take your spoon, and you're in caramel heaven! Time for more video recipe fun!! YES my 2nd video! This time more luscious.
My first video was a fiery zesty Roast Pumpkin Mediterranean Salad, and this one is all about creamy dreamy velvety smooth luscious caramel goodness! Serious LOVE happening here. I absolutely LOVE caramel. I'd blame my mom—she's the queen of caramel and I'm following her footsteps lol And you know what, this amazing recipe is as amazingly easy and simple because it's made using my Vitamix blender—real LOVE!
By the way, if you're a resident of Canada, you'll need to enter this VITAMIX BLENDER GIVEAWAY while it lasts! You can win a $579 value blender for free!! And believe me, you'll never go back to who you were before this rockstar blender. For the record, this recipe can only be done as is because of my Vitamix blender, any other blender would crack—so please read the **Note** at the bottom with the recipe for the alternative way to bake those homemade caramel beauties if you don't have a Vitamix blender yet.
So this homemade caramel pudding is the type of dessert you can prepare well in advance, and it starts to taste richer and deeper as it sits in your fridge. It starts with a simple brown sugar and butter cooked caramel, why brown sugar—I love the rich flavor it adds compared to regular white sugar. Then I remove half of the cooked caramel and mix walnut with it to make the caramel crunch which tops my homemade caramel pudding. This is totally optional, but seriously good!
I keep this walnut caramel crunch in a sealable box in the fridge and use it on chocolate cakes, tarts, ice cream, apples..anything! If you chose to skip this crunch, then use half the amount of caramel and proceed with the recipe. Now the pudding, it's basically a combo of the luscious homemade caramel, some half n half and egg yolks—all whipped up in a Vitamix blender until smooth and poured in ramekins. Again PLEASE see the **note** below if you don't have a Vitamix blender.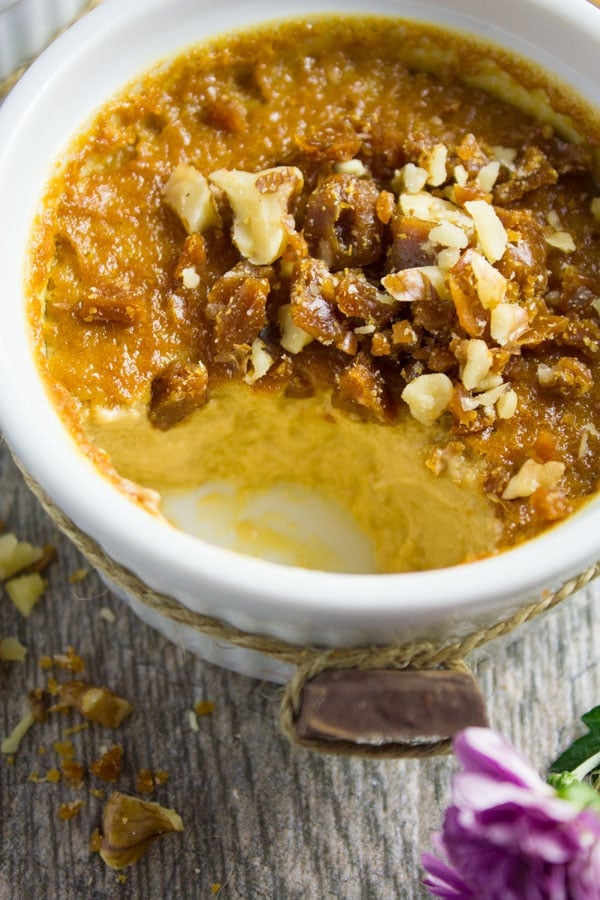 You can easily bake this in one large 4 quart dish, but you know me I have a thing for minis/single serving goodies like that. And these puddings bake in a water bath (just pour hot water around the ramekins on a baking pan lined with a towel—the towel keeps the ramekins from sliding and slipping). Bake and chill those babies for about an hour in the freezer or 3 hours in the fridge. I've tied a piece of chocolate around each ramekin just because chocolate and caramel pair so well 😉 And a bit of caramel crunch topping, et voila you're off to a sweet, luscious perfect homemade caramel moment in life—which you can not miss! Go ahead watch the video, make this amazing recipe and enjoy it! 🙂
This post is sponsored by my friends at VITAMIX — the makers of amazing blenders! All opinions expressed are mine alone.
Creamy Homemade Caramel Pudding
Ingredients
For the Caramel:

2/3

cup

of Light Brown Sugar

4

Tablespoons

of Butter

(room temperature, unsalted)

For the pudding:

1/4

cup

of the cooked caramel above

1

cup

of hot half n half

3

egg yolks

For the Caramel crunch:

1/4

cup

of the cooked caramel above

1/4

cup

of walnut halves

(any nut is ok)
Instructions
Preheat the oven to 350 degrees F.

Prepare the caramel by combining the brown sugar and butter, and cook the mixture for 5 minutes over medium heat until smooth and thick.

If using a VITAMIX blender, take 1/4 cup of the cooked caramel and add it to the blender with the hot cream and blend until smooth. Add in the egg yolks and blend until all smooth.

**note**

If you do not have a VITAMIX blender, add the hot cream mixture to 1/4 cup of the cooked caramel and return the pot over medium heat until the mixture is dissolved. Then quickly whisk in the egg yolks, one at a time.

To the remaining caramel, add the walnuts and toss them well. Then spread the caramel crunch mixture over a parchment paper and set aside to set.

Prepare a baking pan and line it with a kitchen towel to prevent the ramekins fro slipping or sliding. Then place 4 ramekins on top of the kitchen towel.

Pour the caramel mixture evenly over the 4 ramekins.

Pour hot boiling water on a corner of the baking pan so the hot water surrounds the ramekins and fills up up to halfway of the ramekin height.

Bake the puddings for 30 mins until they've set.

In the meantime, chop the caramel walnut crunch using a knife.

Remove the ramekins from the hot water bath on to a baking sheet and chill for at least 3 hours. You can also freeze the puddings for 1 hour at least.

Remove the ramekins and top with the caramel walnut crunch. Serve and enjoy 🙂