Caramel lovers—this one's for you! A super Creamy Homemade Caramel Pudding Recipe with a caramel walnut crunch on top—PLUS a video to see how easy and quick this luscious dessert comes together!!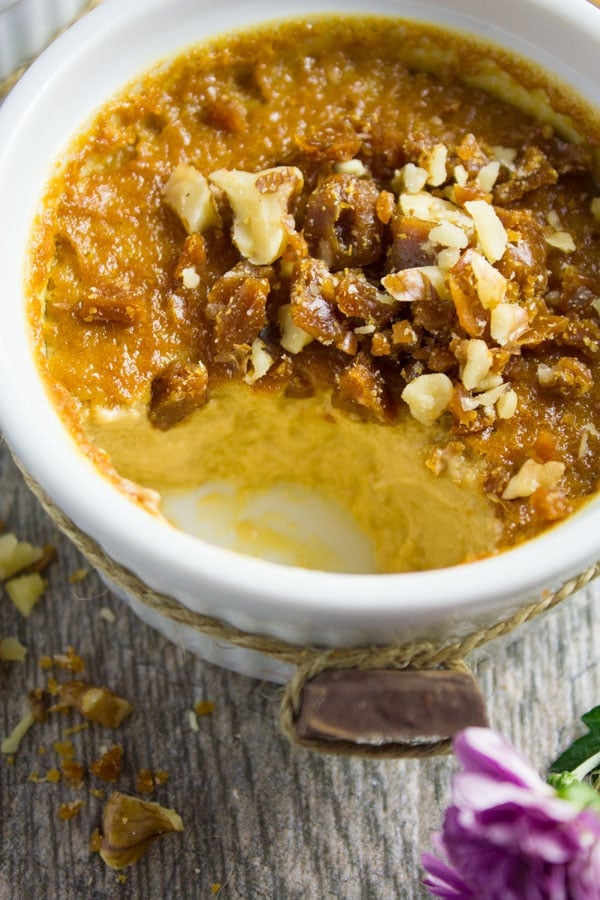 Four ingredients, half an hour and chill..Then take your spoon, and you're in caramel heaven! Time for more video recipe fun!! YES another video! This time more luscious.
For the record, I LOVE Caramel. Caramel anything , on anything , with anything. I blame my mom—she's the queen of caramel and I'm following her footsteps lol. So I'm going far beyond caramel sauce, homemade caramels and more.
This is a Caramel Pudding. It's not a Creme caramel. Not even close. Think of this as a rich, velvety smooth and luscious creamy caramel flan. So instead of having a probably faint flavor of caramel in the classic creme caramel, you get the real deal here.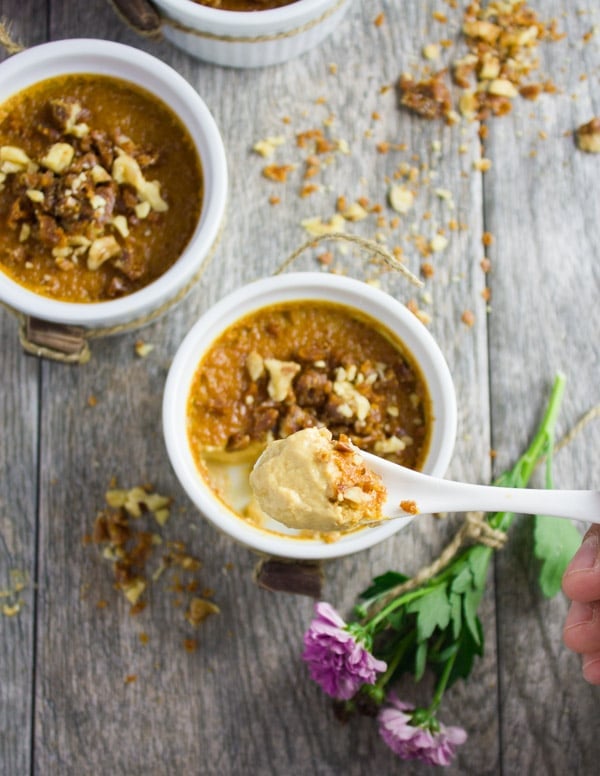 It's like a caramel infused creme caramel. And above all, it's much easier to make! Serious LOVE happening here.
CARAMEL PUDDING
It tastes like a caramel dream. Nothing else takes away from the caramel flavor.
Unlike many caramel recipes, this caramel pudding is actually not too sweet. It's more creamy and luscious than it is sweet.
Fool proof, no fancy techniques needed especially if you have a Vitamix blender. If you don't, then you'll need to cook the mixture over a stove for just 3 minutes. More on that in the How To section below.
You can make this dessert recipe well in advance, think at least 4 days in advance. However, you can't freeze it. I've tried storing it for a week in my fridge and it tasted just as luscious on serving day!
HOW TO MAKE CARAMEL PUDDING
First of all, start off by making the caramel using brown sugar and butter. Why brown sugar? It's got so much more flavor and I prefer it in this recipe.
Once your caramel is ready, you'll take half of it out and add some walnuts to make a crunchy caramel topping for your homemade pudding.
Now here's where your Vitamix comes in handy. If you've got one, you're lucky! You'll be adding that other half of caramel, along with half n half and egg yolks until you get a smooth creamy pudding texture.
That silky texture is very similar to a creme caramel recipe, except it's got so much more flavor!
Have yourself some ramekins on a square plate over a kitchen towel to prevent them from sliding, and then divide the pudding mixture evenly.
Bake the homemade caramel pudding and cool it off completely before serving. Then just crust that caramel walnut crunch we made and sprinkle it evenly on top.
LOVE with every bite. Luscious velvety smooth deep creamy caramel falvor with crunchy caramel bits and walnuts. Seriously. A. Dream.
If you don't have a Vitamix, simply keep half of the caramel in the pot, and to the same add the half n half, whisking it well and add in the egg yolks. Keep whisking over medium low heat until all blended. Bake the same way!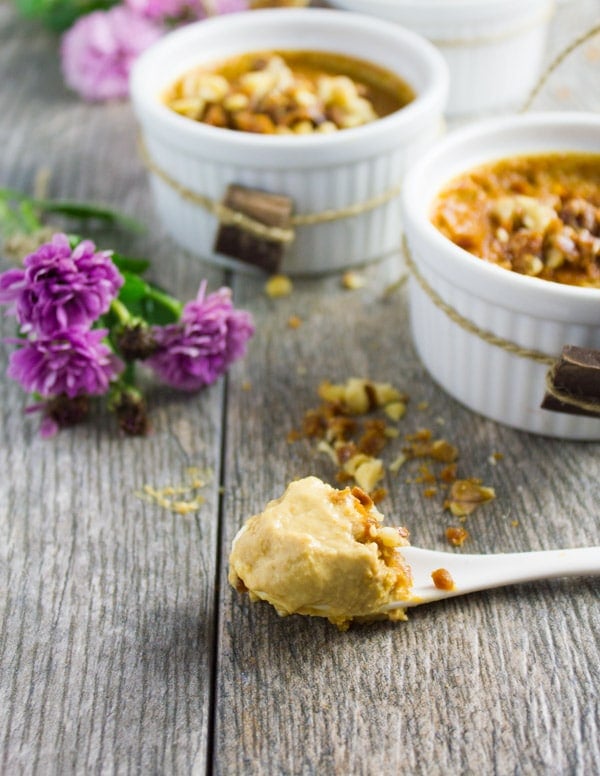 PUDDING TIPS
Watch the sugar, it can burn unexpectedly when making the caramel!
If using a Vitamix or not, make sure the half n half is really hot before adding it to the homemade caramel. Otherwise you'll end up with lumps of caramel which may need to be reheated over the stove for a while to dissolve.
When adding the egg yolks, keep the Vitamix running so it blends right in. Similarly if you're making this over the stove, add the egg yolks while whisking the mixture so that you don;t end up with egg curdles.
Make sure you line you baking pan with a towel, because the ramekins may slip around.
To make this caramel recipe in a large dish, you can pour it over an oven safe baking dish and also use a water bath, but increase the bake time significantly to nearly an hour.
If you have extra walnut caramel crunch, use it for chocolate cakes, tarts, ice cream, apples..anything! If you chose to skip this crunch, then use half the amount of caramel and proceed with the recipe.
Enjoy! 🙂
DESSERT RECIPES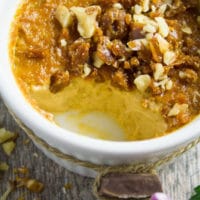 Creamy Homemade Caramel Pudding
Caramel lovers—this one's for you! A super Creamy Homemade Caramel Pudding Recipe with a caramel walnut crunch on top—PLUS a video to see how easy and quick this luscious dessert comes together!!
Ingredients
2/3

cup

Light Brown Sugar

4

Tablespoons

Butter

(room temperature, unsalted)

1/4

cup

caramel sauce

from the above

1

cup

half n half

hot

3

egg yolks

1/4

cup

caramel sauce

from the above

1/4

cup

walnut halves

(any nut is ok)
Instructions
Preheat the oven to 350 degrees F.

Prepare the caramel by combining the brown sugar and butter, and cook the mixture for 5 minutes over medium heat until smooth and thick.

If using a VITAMIX blender, take 1/4 cup of the cooked caramel and add it to the blender with the hot cream and blend until smooth. Add in the egg yolks and blend until all smooth.

**note**

If you do not have a VITAMIX blender, add the hot cream mixture to 1/4 cup of the cooked caramel and return the pot over medium heat until the mixture is dissolved. Then quickly whisk in the egg yolks, one at a time.

To the remaining caramel, add the walnuts and toss them well. Then spread the caramel crunch mixture over a parchment paper and set aside to set.

Prepare a baking pan and line it with a kitchen towel to prevent the ramekins fro slipping or sliding. Then place 4 ramekins on top of the kitchen towel.

Pour the caramel mixture evenly over the 4 ramekins.

Pour hot boiling water on a corner of the baking pan so the hot water surrounds the ramekins and fills up up to halfway of the ramekin height.

Bake the puddings for 30 mins until they've set.

In the meantime, chop the caramel walnut crunch using a knife.

Remove the ramekins from the hot water bath on to a baking sheet and chill for at least 3 hours. You can also freeze the puddings for 1 hour at least.

Remove the ramekins and top with the caramel walnut crunch. Serve and enjoy 🙂
Recipe Video
Nutrition Facts
Creamy Homemade Caramel Pudding
Amount Per Serving
Calories 480
Calories from Fat 234
% Daily Value*
Fat 26g40%
Cholesterol 199mg66%
Sodium 240mg10%
Potassium 198mg6%
Carbohydrates 58g19%
Protein 5g10%
Vitamin A 785IU16%
Vitamin C 0.6mg1%
Calcium 137mg14%
Iron 0.8mg4%
* Percent Daily Values are based on a 2000 calorie diet.