This crispy, flavorful, easy no knead overnight pizza dough recipe will make you never reach out for take out.. All ingredients are just put in a bowl, covered, and the magic happens in 12 hours. A perfect dough to roll or stretch, top it up endlessly and bake it for ultimate pizza satisfaction. I really really love pizza. I love topping it with as different of toppings as I can possibly think, I love sharing it with friends, I love enjoying it after a long day and I love making the dough myself.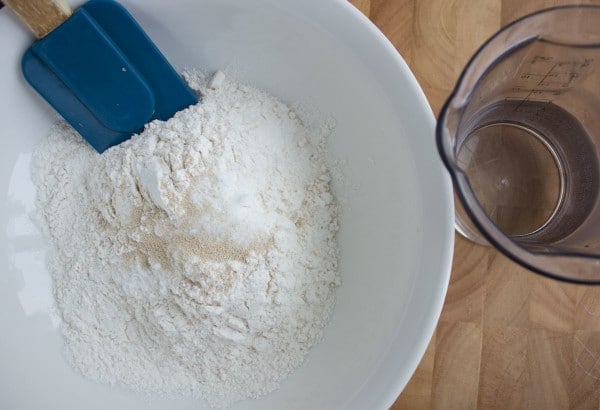 There's much you can control when you make the pizza dough at home, not just how thin or thick the pizza is. How much toppings and cheese there is on a pizza. But also how crisp and how soft the interior of the crust is, how airy the pizza is and how fabulous your kitchen smells!
Let's go back to this no knead dough, it's as simple as dumping flour, yeast, salt into a bowl, then adding a water and honey mixture on them and mixing them up with a spatula for a few seconds. Then this "dough" is covered with plastic wrap and left at room temperature fro 12 hours at least and up to 24 hours before it has to be shaped and baked.
If, after the dough is ready, you decide you want to freeze the dough for another happy day, it comes out and bakes beautifully so no worries about that. How thick or thin, soft or crisp you like your dough is included in the notes on the recipe below. To make it simple, I've made my kale mushroom brie pizza using this dough—check out the recipe and gorgeous crust!
This dough does not puff up to double it's size in the oven so if you're especially a fan of crisper thinner rustic pizza—you've found everything you're looking for!
Mix yourself a no knead dough in a few seconds tonight and tell me how you enjoy it tomorrow!
No Knead Overnight Pizza Dough
Ingredients
1

cup

of cool water

1/2

teaspoon

of honey

2

cups

of flour

1/2

tablespoon

of kosher salt

1/4

teaspoon

of instant yeast
Instructions
Mix the honey and water in a measuring cup and set aside.

In a large bowl, add the flour, salt and yeast and mix them well.

Add the water to the flour mixture and use a spatula or wooden spoon to mix everything together until it starts to look like dough. Don't make it perfect!

Cover this bowl up with plastic wrap and leave it on your counter for 12 hours, and up to 24 hours.

Preheat your oven to as high as it can go.

Place a pizza stone on the middle rack of your oven, and if you don't have one, place a rimless cookie sheet directly on your oven rack. If you don't have one either, take a regular cookie sheet and place it upside down on the rack (the rim of the cookie sheet should land on your oven rack).

Using a rolling pin, or with your hands, shape the dough into your desired shape and thickness—Remember the dough will puff in the oven to double the thickness you roll it into!

cover the dough for 10 minutes while you gather your toppings.

Sprinkle your favourite toppings and bake the pizza for 8-12 minutes ( depending on the size and thickness of your dough).

NOTES:

*To make a crisper pizza: roll out the dough thinner than you prefer ( it will still puff up to double its' size during baking) and right away add your toppings and bake the pizza. Do not let it wait for 10 minutes after being rolled out.

To make a soft interior pizza with a good crisp on the outside, be sure to roll out the dough and cover it for at least 10 minutes before adding your toppings and baking it.

To make a softer crisp on the pizza, allow the rolled out dough to sit for half an hour before adding your toppings and baking it.

To make a really soft pizza, roll out your dough and let it sit half an hour before adding the toppings and bake it at 425 degrees for about 12-15 minutes (depending on the thickness and size of your dough). To make an even softer feel to your pizza, add 1 tablespoon of olive oil to the dough ( Right after adding the water mixture to the flour mixture, add the oil).

To add a more airy texture to your pizza, Let the dough feel sticky after you knead it, and when it's ready to shape, use your handle and apply minimal pressure on to the dough. Shape it by stretching and pulling rather than pressing.

To freeze or chill the remaining dough:

Fridge: allow the dough to sit back in the oiled bowl in the fridge for up to 3 days. To bake, simply take out of the fridge and let it come to room temperature before shaping and baking.