This shop has been compensated by Collective Bias, Inc. and its advertiser. All opinions are mine alone. #BigLotsHoliday#CollectiveBias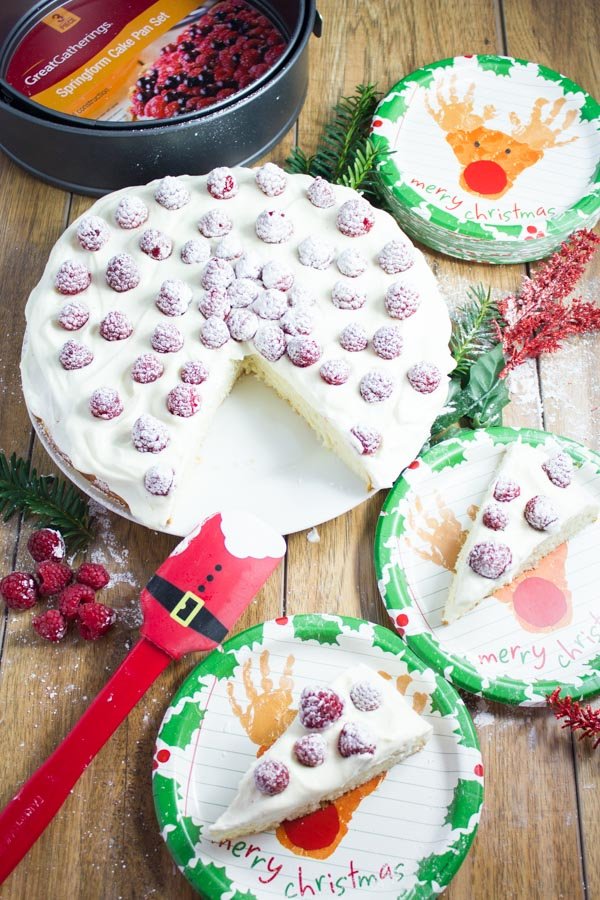 Confession: If I had to pick a cake recipe for everyone to have on hand—it would be this Holiday cake! Yes that's how much I LOVE it—actually that's how much my entire family LOVES it! And that's how GREAT it is. I'll also confess that this Holiday cake recipe started way back when my grandma used to make it with like a ton of butter and eggs. Then eventually my mom lightened it up a little bit with less eggs and butter, and it managed to remain that way for a while. A few years ago, I tweaked the recipe with the help of my pickiest taste tester—my lovely sister, and we managed to keep it that way in the family for a while now.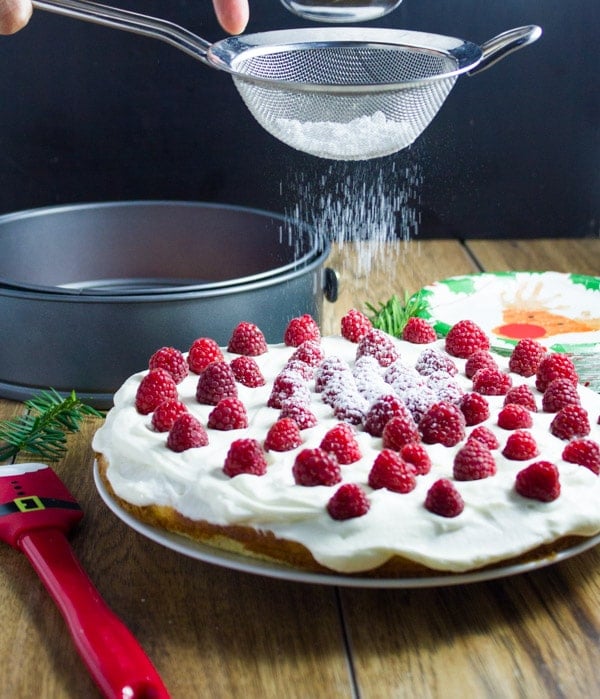 There's something about pure simple vanilla cake that reminds me of my grandma's baking and Holiday baking. There's something just comforting about that good old cake. Something that you can't get from a fancy dessert cake. But the bonus is, once you make this really classic white fluffy old fashioned vanilla cake—you can keep it as classic and comforting as it is, or turn it into a fancy dessert cake with all sorts of fillings, toppings and glazes!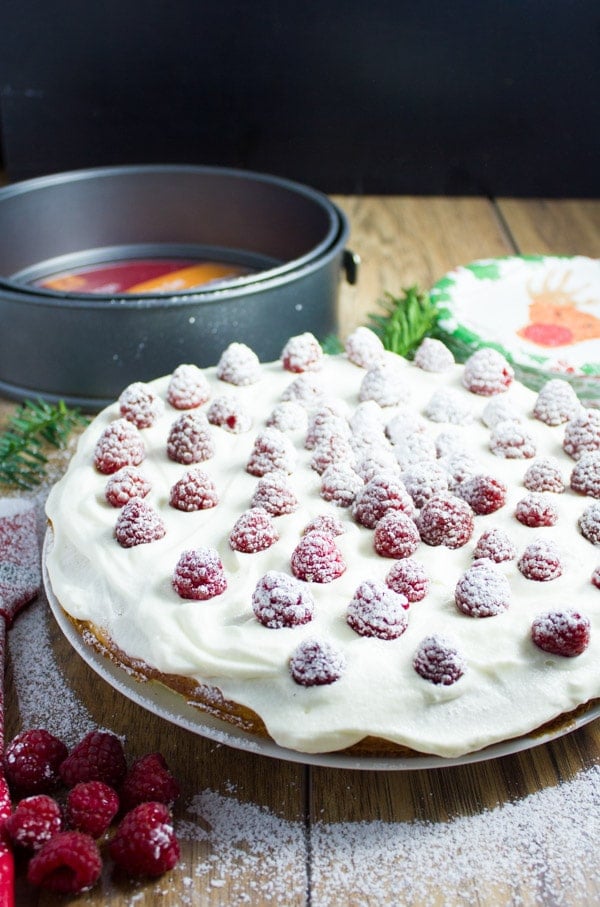 If you guys are having a nice warm Holiday, this cake will make you feel a bit closer to a snowy white Christmas. When I used to live in Miami, our Holidays were warm and felt like summer. Everywhere in the malls, beaches and downtown areas, there would be "fake" snow so the kids can play and feel like it's the Holidays—but for us, we never really felt it. This Holiday cake with it's nice thick white coating of vanilla cream, dotted festive raspberries and generous sprinkle of white confectioner sugar on top , it felt close enough to a snowy white and festive Holiday! Now, umm all I do is complain about the cold and the snow lol so this Holiday cake still fits right in 🙂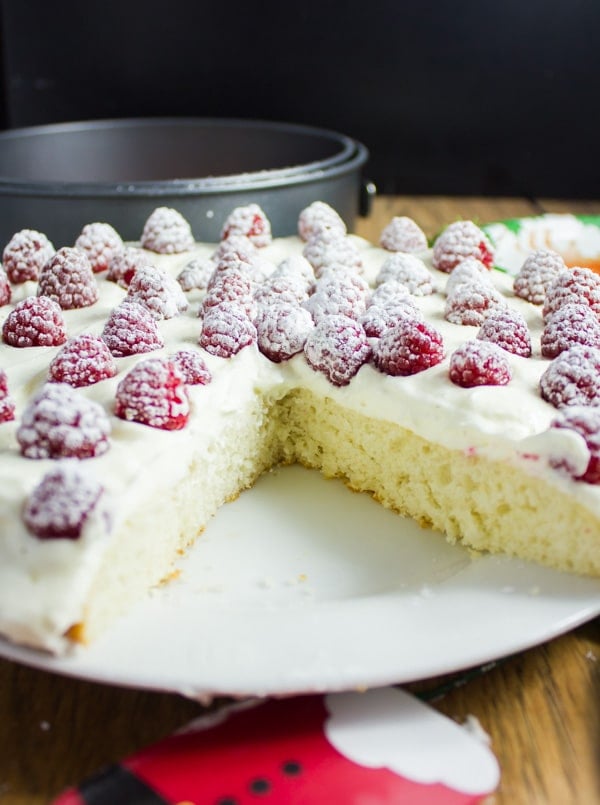 Alright now for some real Holiday cheer—i.e shopping 🙂 I went to my one and only BigLots! store. I felt like I want to buy everything in that Holiday section—great quality, great value and so many varieties to chose from. So I went in and asked for the Holiday baking section—found all sorts of fancy Holiday plates, serve ware, table tops, napkins—you name it. The girls were with me and they went straight to the more cute looking items. They picked this santa spatula—and I couldn't resist. Then they picked these sweet looking reindeer plates with handprints, and I picked the set of 3 spring form pans to make my Holiday cake! Just look at a few shots of the Holiday bakeware section!
Speaking of cake again—Here's how easy and sweet this comes together! You'll add the shredded cold butter into a mixture of flour, baking powder and sugar. Then you'll go in with the vanilla and buttermilk. In a separate bowl you'll whip up the egg whites till nice and stiff and gently fold them in to the cake for a light as air white cake. Bake the Holiday cake in a springform pan so it can release easily, and top with homemade vanilla whipped cream, raspberries and some confectioner sugar (snow) dusting. The butter in this Holiday cake is really little and I mix in a bit of oil too, and the fact that it's made with egg whites only gives it a nice white color and a light as air feel—which is why we can afford some whipped cream..after all it's the Holidays!!
I can't urge you enough to make this ONE cake and keep it safely in your recipe box for all your cake-isn occasions. Make it as light and plain or as fancy as you like, either way you will LOVE this go to white cake recipe 🙂 Happy Baking and Happy Holidays!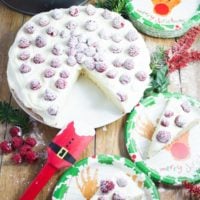 Fluffy White Raspberry Holiday Cake
Ingredients
Cake:

1 1/2

cup

of All purpose flour

3/4

cups

of sugar

2

teaspoons

of baking powder

pinch of salt

5

tablespoons

of grated frozen butter

2/3

cups

of buttermilk

1

teaspoon

of vanilla

4

egg whites whipped until stiff

Homemade Vanilla Whipped Cream:

1

cup

of cold whipping cream

1

teaspoon

of vanilla

1/3

cup

of confectioner sugar

Topping:

Fresh Raspberries

Confectioner sugar for dusting

(optional)
Instructions
Preheat the oven to 350 degrees F. Line a 10 inch spring form pan with parchment paper and set aside. Whip the egg whites separately in a large bowl and set aside.

In a large bowl, add the flour, sugar. baking powder, salt and whisk them up until combined. Add the frozen grated butter and use a fork to simply blend it in.

Pour in the vanilla and buttermilk and use a spatula to combine the ingredients into a batter.

Use the same spatula to fold in the egg whites gradually in to the cake batter.

Bake the cake for 25 minutes until springy and cooked through (use a toothpick inserted in the centre to test for doneness).

Let the cake cool down completely before frosting it with the whipped cream.

For the whipped cream: Use a kitchen mixer to whip the cream, vanilla and confectioner sugar until stiff ( be careful not to over whip the cream as it will separate—so as soon as it holds its' shape, turn it off).

Frost the top of the cake with the vanilla cream and dot the raspberries all over the cake, then dust it with more confectioner sugar! Serve and enjoy!

**the cake keeps in the fridge for up to 6 days and can be prepared well in advance.