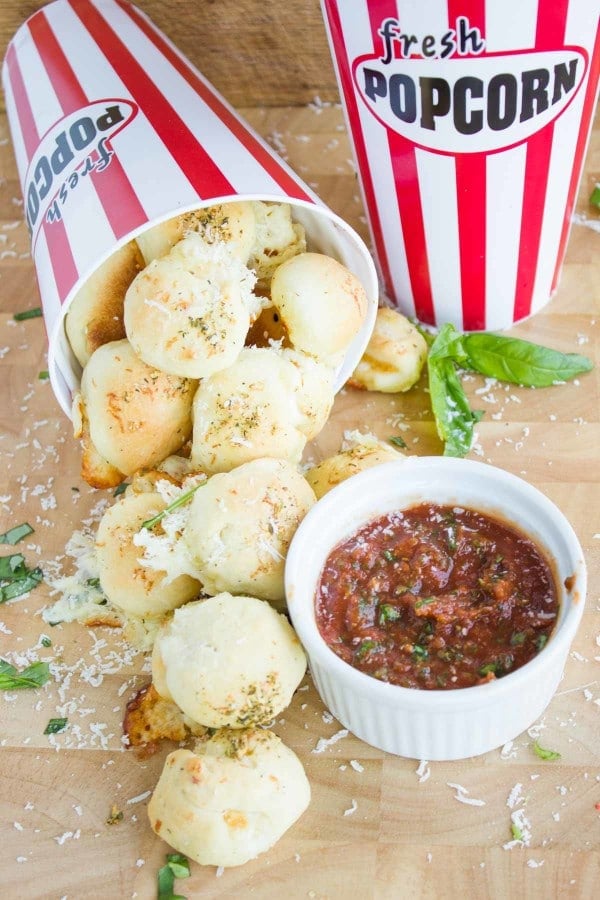 If you're a snack person and a pizza lover, this pizza popcorn bites recipe with no cook pizza sauce, is the perfect treat for you! It's snack size, pizza tasting, and super quick once your pizza dough is ready! The sauce takes 1 minute to mix up and it's loaded with basil, garlic, oregano and parmesan—tastes like fresh tomato pizza sauce. Snack and enjoy pizza one bite at a time!
This is such a fun recipe to make and enjoy with kids, friends, family, neighbours, your dog, and just about anyone. I definitely had help from my girls here, and they snacked on it while I was taking the photos. Well they have a good reason—they claimed it's not yummy when it gets cold, which I have to agree with. But I think the real reason which they won't admit to, is that it's hard to resist!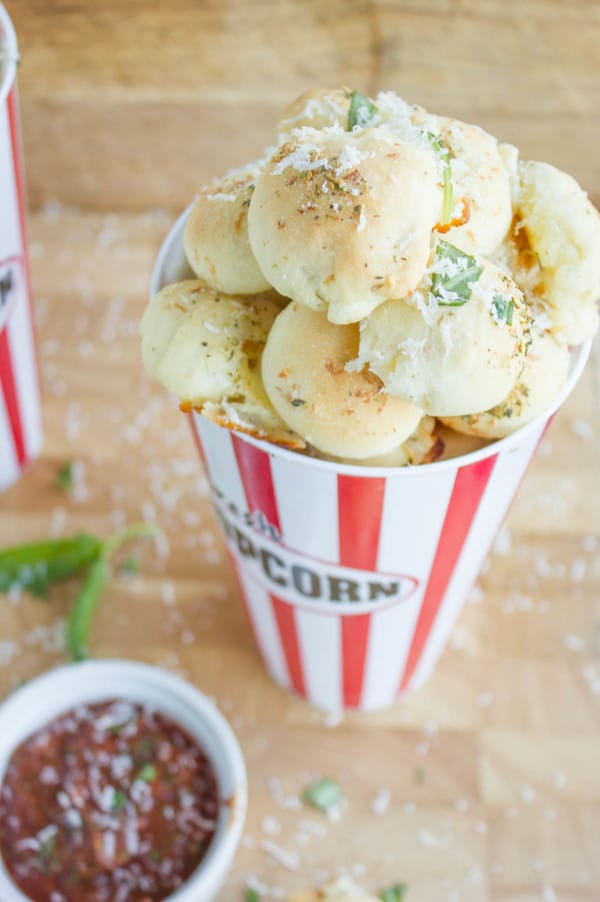 I start this off with my best pizza dough, because I always make extra and keep it in the freezer. By all means don't be discouraged if you have no dough patience, any store bought pizza dough would work for you, and actually ready biscuit dough works too. So as sweet and easy as I'm making the dough for you, I won't skimp on my easy no cook pizza sauce! It takes seriously 2 minutes.


The sauce is made from canned crushed tomatoes which are mixed with fresh garlic, fresh basil, dried oregano and parmesan cheese. It tastes like the best pizza sauce you'll make, and it has a fresh feel to it with a burst of flavor which only need a couple of minutes to make! So by all means don't miss out on it.



Now all you'll do for this delicious pizza popcorn bites is take tiny balls of dough and roll over a tiny piece of mozzarella cheese, and dip it in olive oil flavored with oregano. Baked off, these turn out soft, cheesy, flavorful tiny bites which are dipped in the pizza sauce for a snacking pizza lover experience like no other!


I love finishing this pizza popcorn bites with no cook pizza sauce sprinkled with minced fresh basil and freshly grated Parmesan cheese. If you're a pepperoni person, stuff the dough right in with pepperoni and mozzarella. This recipe is the perfect snack for your snack loving occasions, and it's a great get together finger food recipe that brings the whole family—big and small together. Make those and super enjoy!:)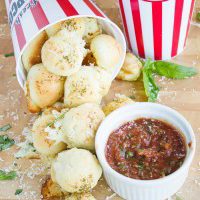 Pizza Popcorn Bites
Ingredients
1/2

batch ofbest pizza dough

( Or your favourite, or ready made biscuit dough)

1

cup

of mozzarella cheese cubes

2

Tablespoons

of olive

1

teaspoon

of garlic powder

½

teaspoons

of salt

1

teaspoon

of dried oregano

¼

cup

of freshly grated parmesan cheese

2

tablespoons

of fresh basil

, minced

Easy No cook Pizza Sauce
Instructions
Preheat the oven to 375 degrees F.

Pinch off half golf size pieces of dough (depending on your taste, you may make them bigger or smaller) and work with one at a time leaving the rest covered with plastic wrap.

Take one piece of dough in one hand and using your other hands, press down the center making a cavity to stuff the cheese.

Take a cube of cheese and stuff it into the cavity and gently close up the dough covering all the cheese and roll it between the palms of your hands into ball shapes.

Arrange the prepared balls into a parchment lined baking sheet in a single layer. Repeat with the remaining dough and cover up the balls with plastic wrap.

In a small bowl, mix the olive, garlic powder and oregano.

Take a pastry brush and brush the tops of the pizza balls with the olive oil mixture or take a pizza ball and dip half of it in the oil mixture.

Bake the pizza popcorn balls for about 12 minutes (depending on the size and your oven).

In the meantime prepare the easy no cook pizza sauce.

Once the pizza popcorn balls are done, you can brush them with the remaining half of the olive oil mixture (optional). Otherwise serve them sprinkled with fresh basil and parmesan cheese. Variation: You may add pepperoni in the stuffing with the cheese for a different flavor.